Tickets Bar in Barcelona is one of the toughest reservations in the world.We could write a stand-alone article just on how to get a table here. For us, it was the first time we could not get an online reservation to a restaurant. So we we had to try different tactics to get in 🙂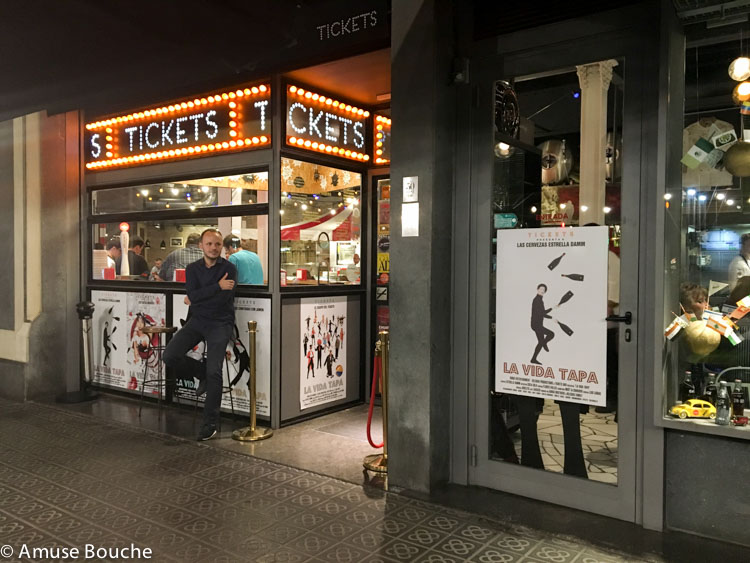 What makes Tickets Bar so special?
Tickets is not your regular tapas bar. The place looks like a Circus show with multiple acts happening at the same time. It has a Michelin star and it's ranked no. 29 in the World's 50 Best Restaurants list for 2016. It's affordable, with many dishes around 8-10 euros. On top of  that, the owner is the famous Albert Adrià, the brother of the even more famous Ferran Adrià, one of the most influential chefs all-time and the creator of the legendary elBulli.
Albert has worked with his brother for 23 years at elBulli and he is considered to be "the brain" behind many innovations and top dishes. Especially desserts and pastry.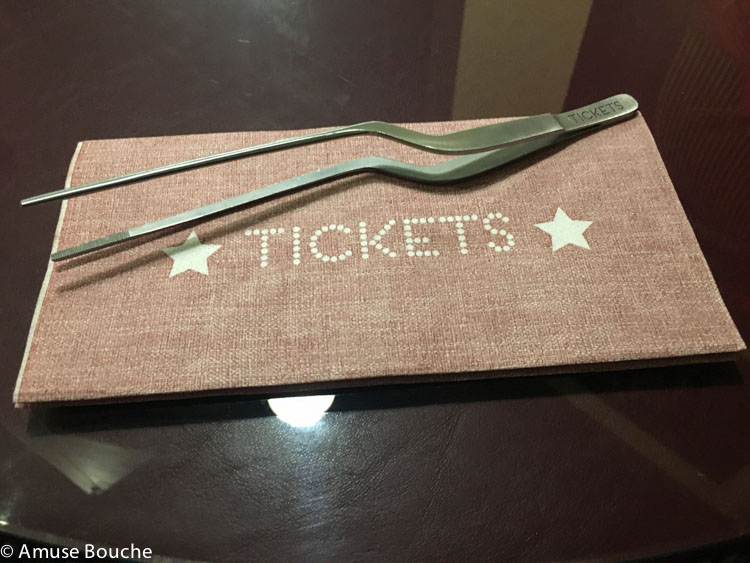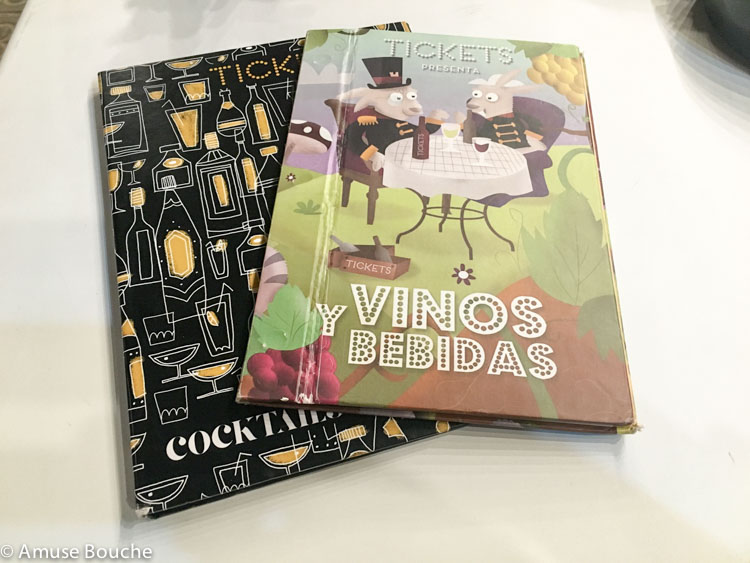 How we got in to Tickets Bar?
It's almost impossible to get a table here Almost. Because of the hype, because it's affordable. And because the online reservation system can be quite frustrating. We will tell you how we managed to get in without an online reservation.
Step 1 – Online reservation. We tried this first. The tables at Tickets Bar can be booked 2 months in advance on their website. Every day, at midnight. This part didn't go as planned for us, even if we tried for more than 2 weeks. Every day. And they have this "auto-reply" to emails, stating there're no need to get your hopes pumped up, they are not going to answer.
Step 2 – By phone. This works just for current day. At 17:00, you can call to see if there are any cancelations ( we recommend 16:55). The first day we called all the reservations were confirmed.
Step 3 – Show up. Go to the restaurant. They have 2 evening services. Right before the second service, around 21:30 there is a slight chance of last minute cancellations. If you're around, you might get lucky. On our first day in Barcelona, we went to Tickets just before the second service, as planned. Again, all the reservations confirmed, no place available whatsoever.
But we were so genuinely disappointed and told them about our struggle to eat here and everything, so we ended up leaving our details to the staff "just in case anything comes up".  And it worked!
We got "the call" next day with a table proposal for the second service at 22:00. We said yes and Today we can tell youall about our Tickets Bar experience.
Tickets Bar – location
Tickets Bar is located in Eixample district, on one of the main streets in Barcelona – Av. Parallel. From the outside, the place looks like a cinema. But on the inside, is more like a Circus Show, organised on multiple areas, each one with its own specific type of food.
It's hard to talk about the design of Tickets. It's a mix that gives the feeling of intentional kitsch. Everything levels up with their desserts room, transferring the guest into another universe: Charlie and The Chocolate Factory. Just to give you a hint: the entire ceiling is covered in huge plastic strawberries, flowers and candies.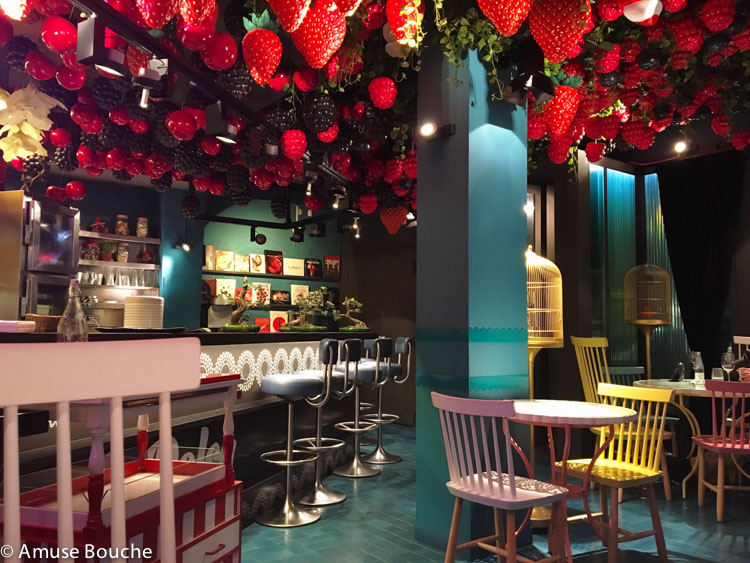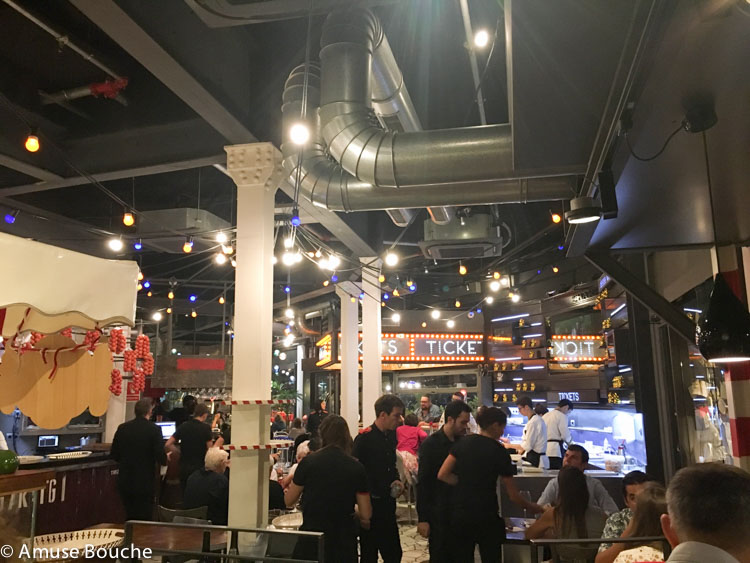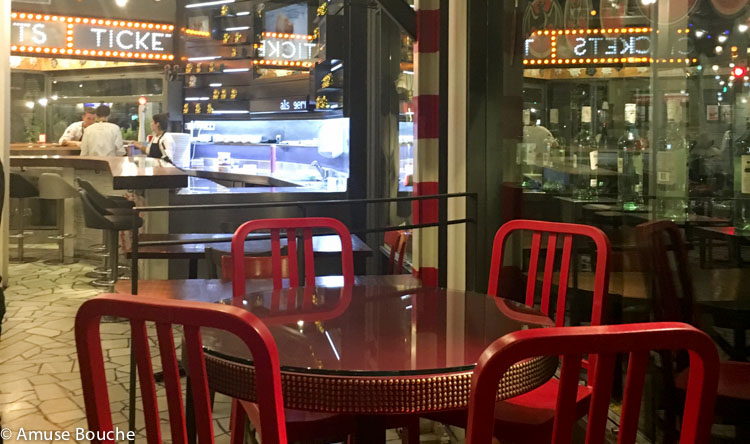 The staff uniforms are also  inspired from the same movie/circus theme.
Menu
Albert Adrià is the gastronomic coordinator of Tickets, while Fran Agudo is the head chef. Together, they take a modern and unexpected approach to the tapas concept.
Tickets doesn't have a tasting menu. There is only a list of tapas and some stated categories like appetizers, oysters, specials or "to share". It's a common practice here to "go with the flow". Meaning you let the staff decide what's best for you to eat based on a preliminary chat and, of course, your allergies or restrictions.
That was also our approach. And we adjusted the number of dishes as we went on with our meal. But before that, we have chosen 2 specials as our final dishes: the lobster and the Wagyu beef.
By the end of the night we had 20 dishes/tapas. And just two of them were desserts. Here is our list and some mentions for the top favourites.
#1 Liquid Olives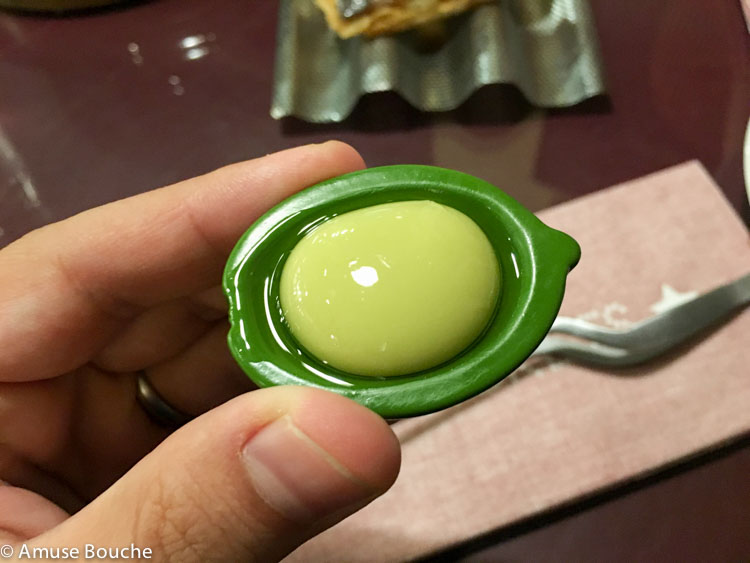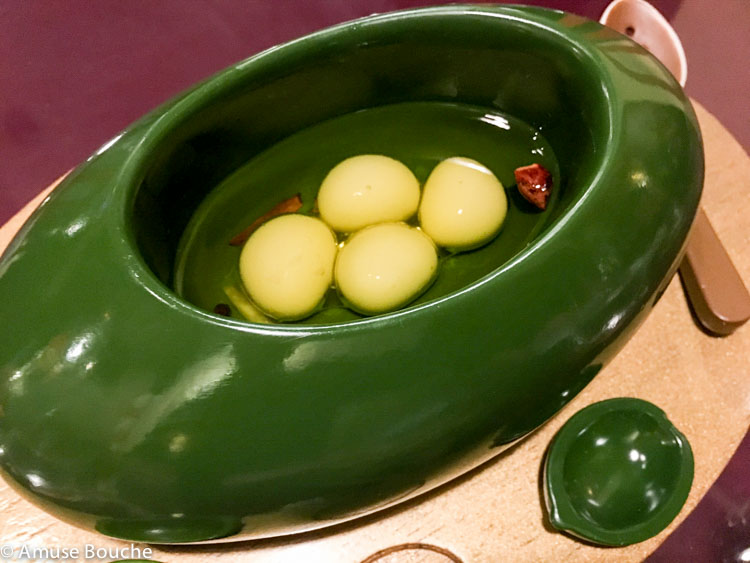 Our evening started with the most famous Tickets dish – The Liquid Olives. One recipe that made history at elBulli back in the 2000's. It's based on a molecular technique invented by Ferran Adrià called Reverse Spherification.
The juice from about 6 olives is transformed into a sphere that looks like a real olive. This result comes with a surprising texture and intense, concentrated aroma explosion of olives and lemon on the palate.
#2 Crostini with marinated white anchovies on crispy chicken skin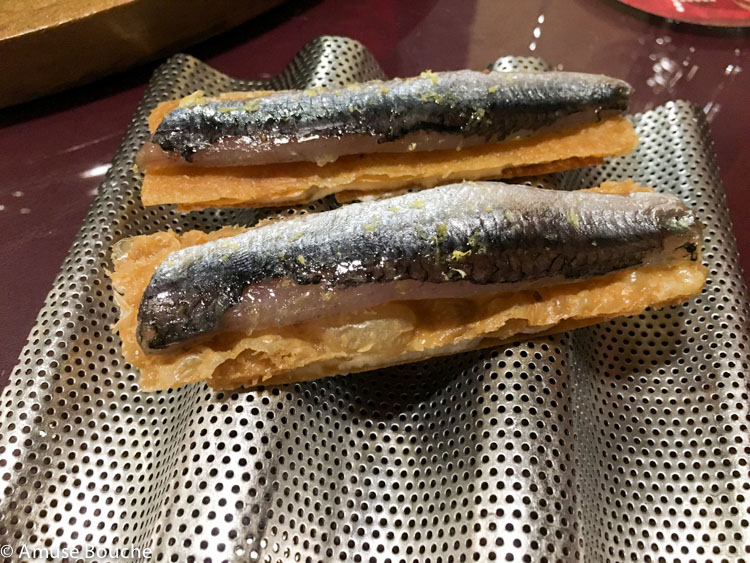 #3 Baby Cuttlefish with pepper emulsion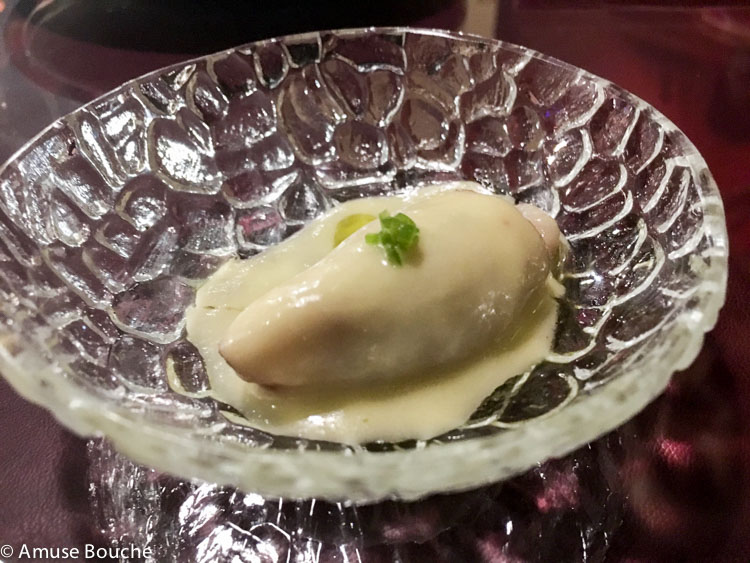 #4.Basil air waffle with Scamorza cheese and pine nuts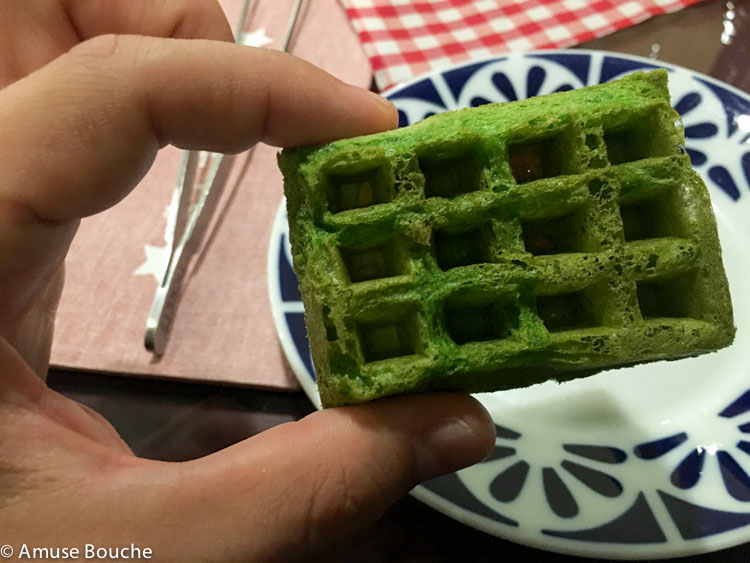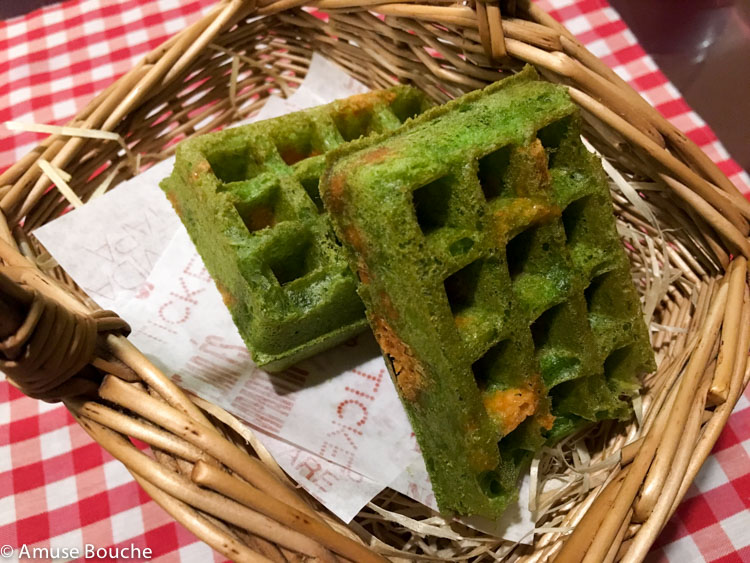 One of the tastiest dishes in the menu. A basil waffle filled with Scamorza cheese (soft Italian cow cheese) and pine nuts.
#5 Gorgonzola and anchovies pizza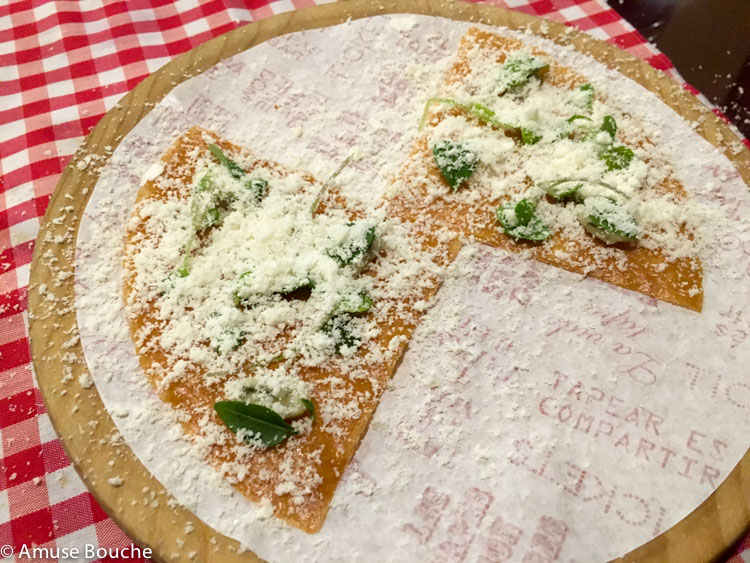 #6 Porex de calix with smoked cream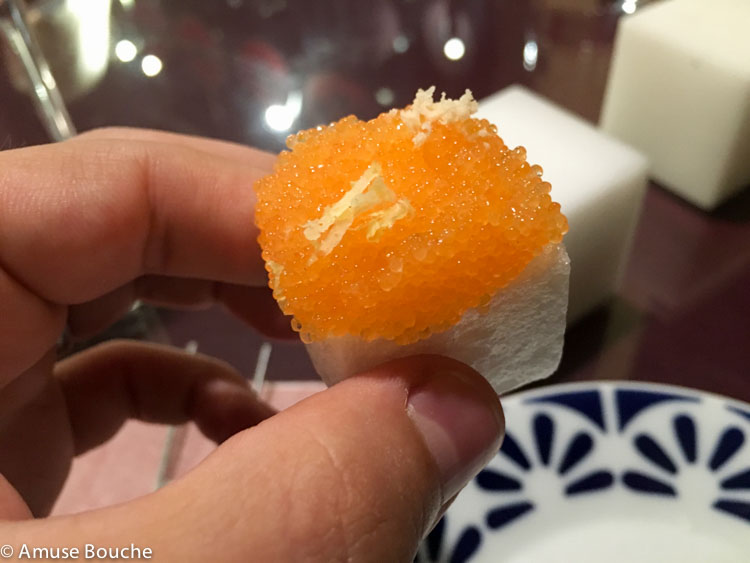 #7 Mini Airbag with Manchego cheese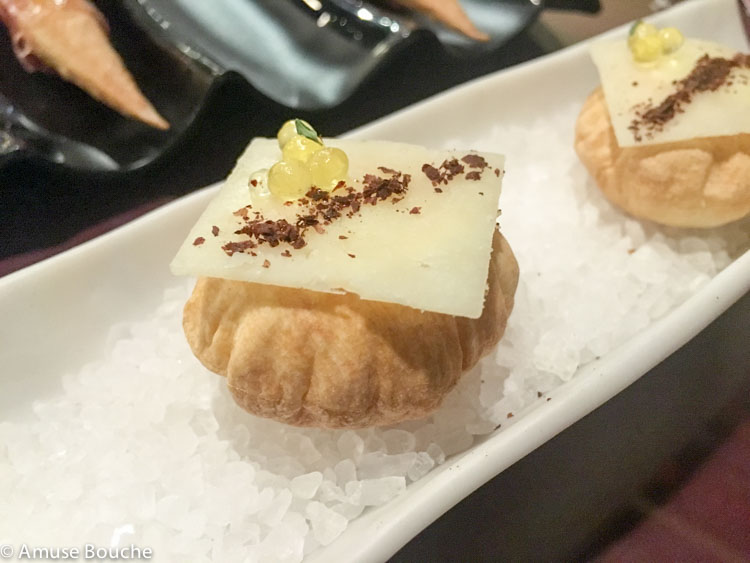 #8 Airbaguette with Wagyu jerky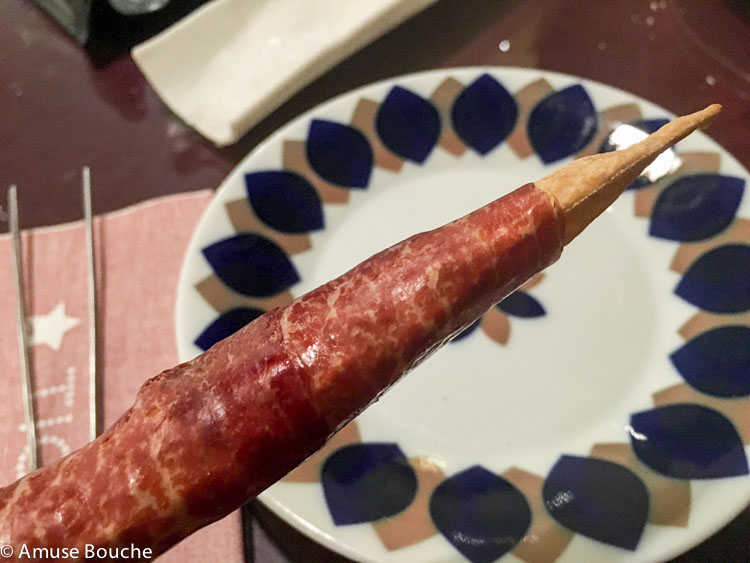 #9 Nordic Landscape with marinated and smoked tenderloin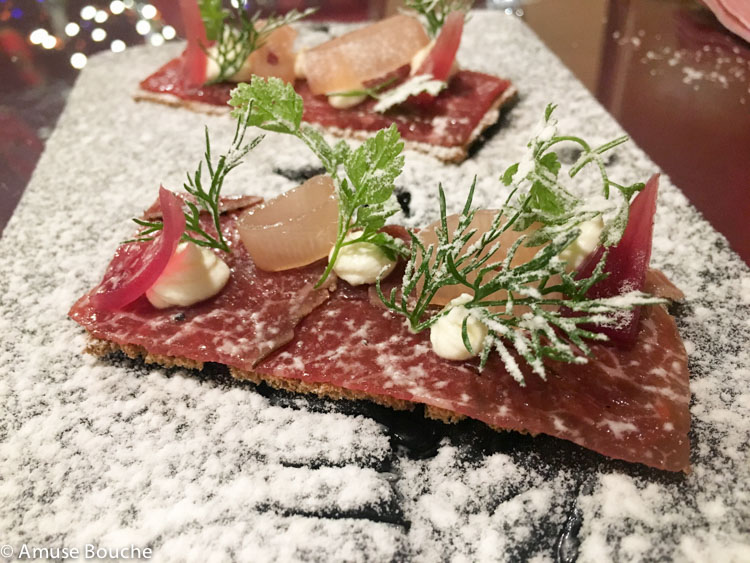 Vită marinată cu emulsie de brânză și "zăpadă" de oțet # 10 Tomato Salad with ponzu sauce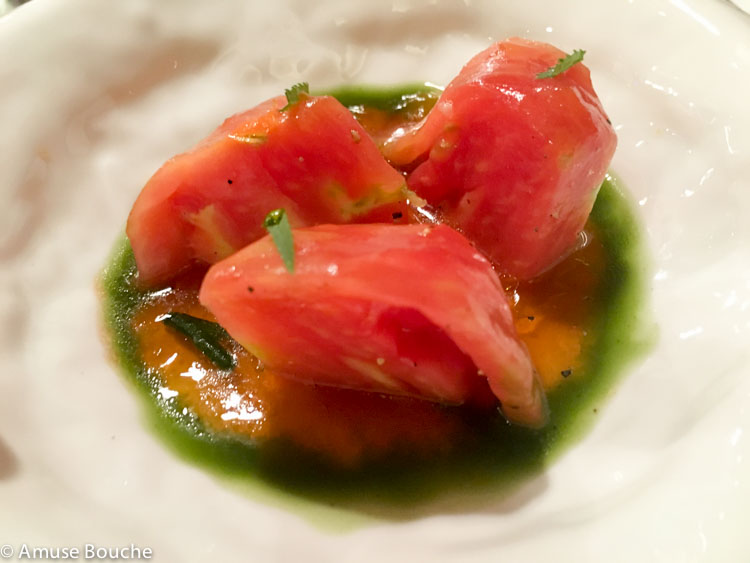 # 11 Clams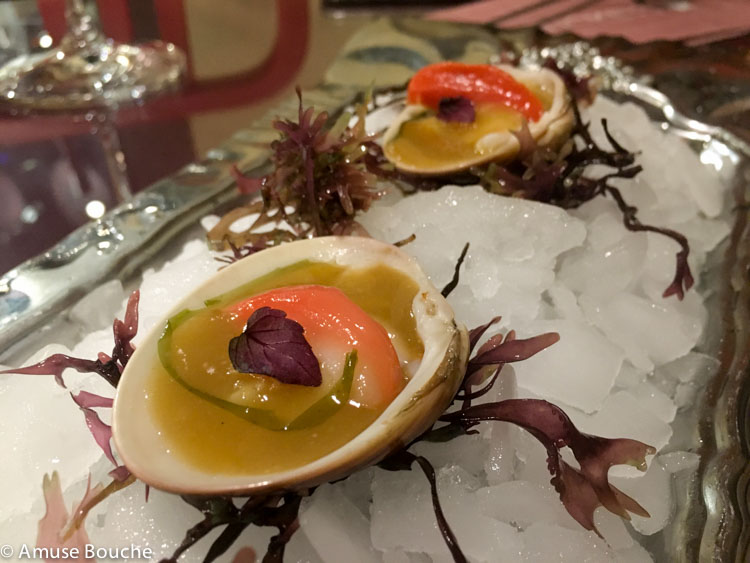 # 12 Smoked Eel Mini Ciabatta with soy gelatine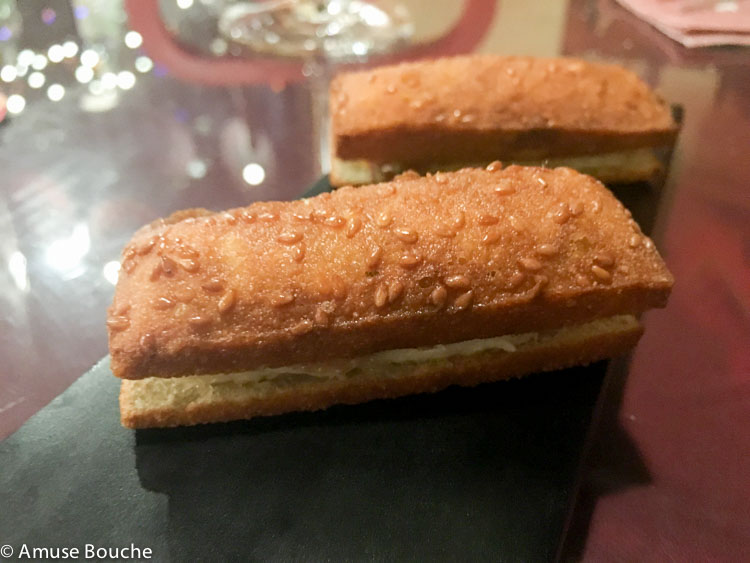 # 13 Maison Mitteault Foie Gras in escabeche sauce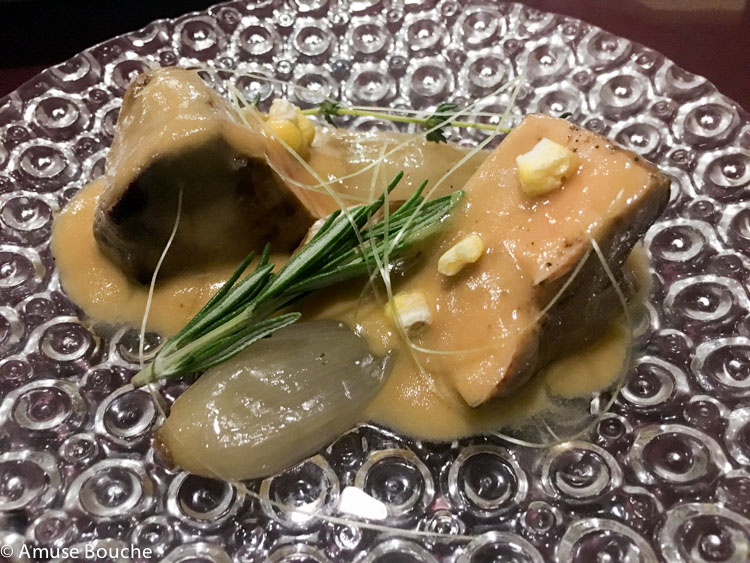 A dish with intense flavours. The foie gras is covered by the escabeche sauce.
Escabeche is a classic Spanish food in which the meat or fish is seared, then marinated in a vinegar sauce with herbs and spices. For this one we had thyme, rosemary, garlic, onions and crunchy sweet corn.
# 14 Crunchy Octopus with kimchi mayonnaise and pickles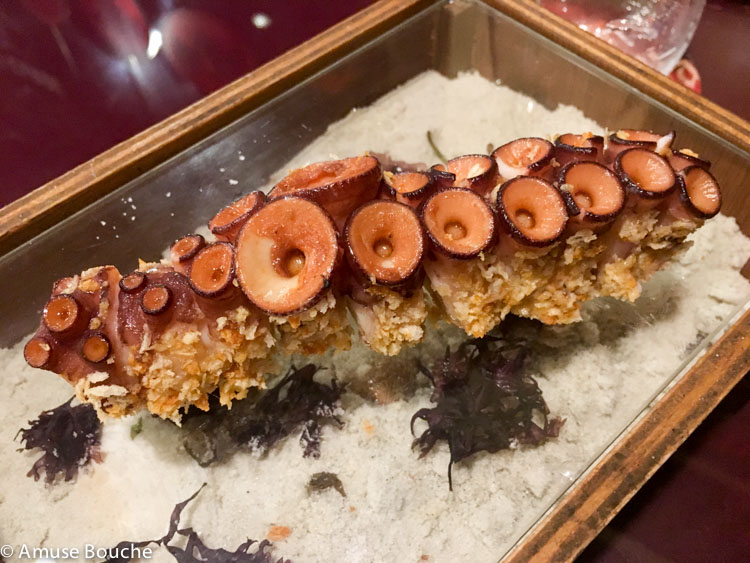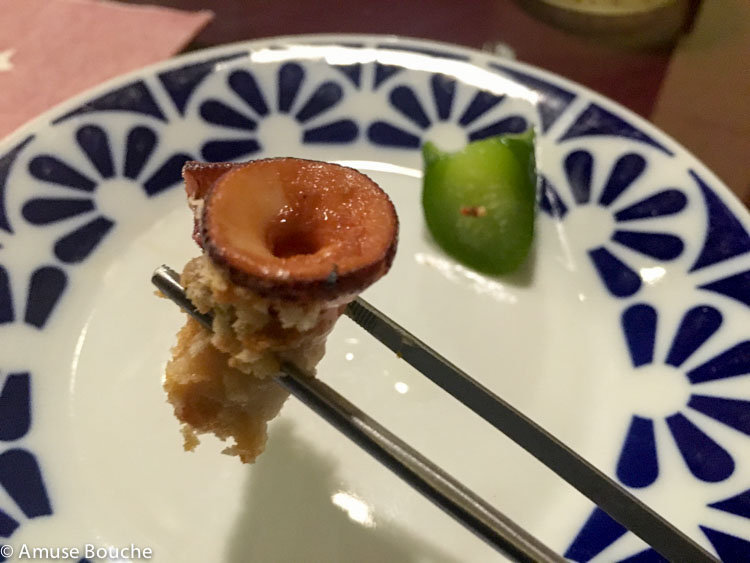 Our favorite dish from the entire menu. Impressive from texture to taste and the association with pickles. Crunchy on the outside and very tender on the inside.
# 15 Oriental broth lobster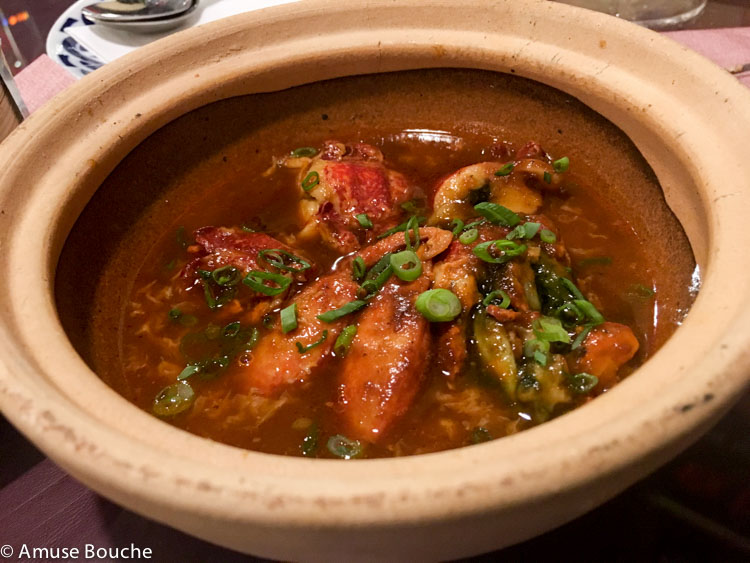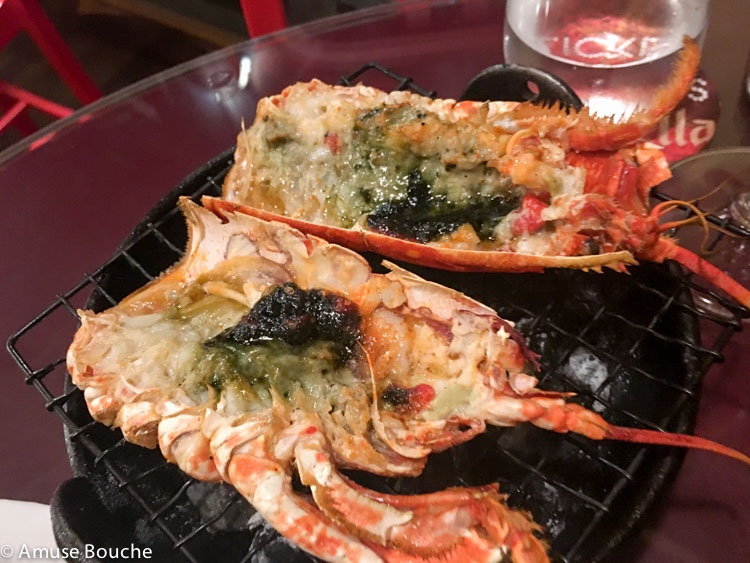 This is one of the Specials. At the same time one of the most expensive dishes in the menu together with the Wagyu beef. But probably the tastiest dish we had at Tickets, so it's totally worth it.
#16 Wagyu beef – Charcoal Josper wagyu with portobello mushroom and souffle potatoes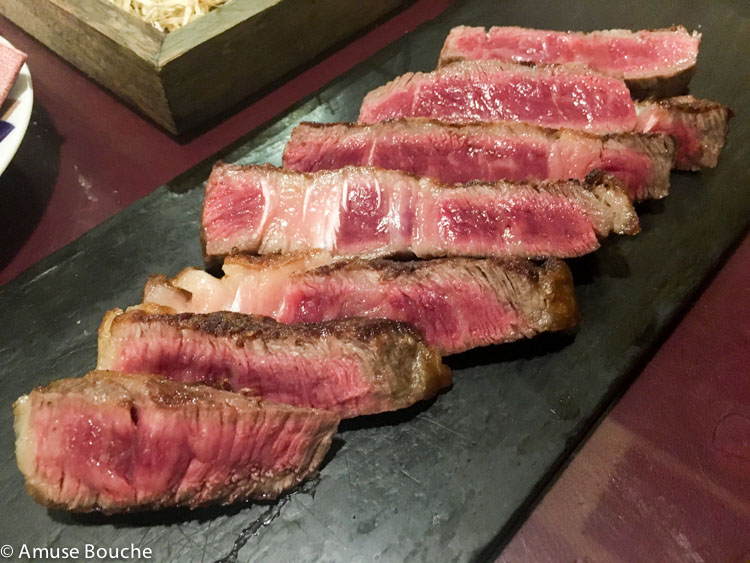 The desserts represent a special chapter of the Tickets Experience. And that's because Tickets is the only restaurant having a dedicated desserts room. This eccentric attention given to desserts doesn't come as a surprise given the fact Albert Adria has a background as a world applauded Pastry Chef. He was awarded Best Pastry Chef in the World in 2015.
The Desserts Room from Tickets is every kid's fantasy. The entire room is an explosion of colours that stimulate the taste and imagination. The ceiling is covered with white flowers, giant strawberries and lollipops. And you can see video cuts from Charlie and The Chocolate factory rolling on big TV screens.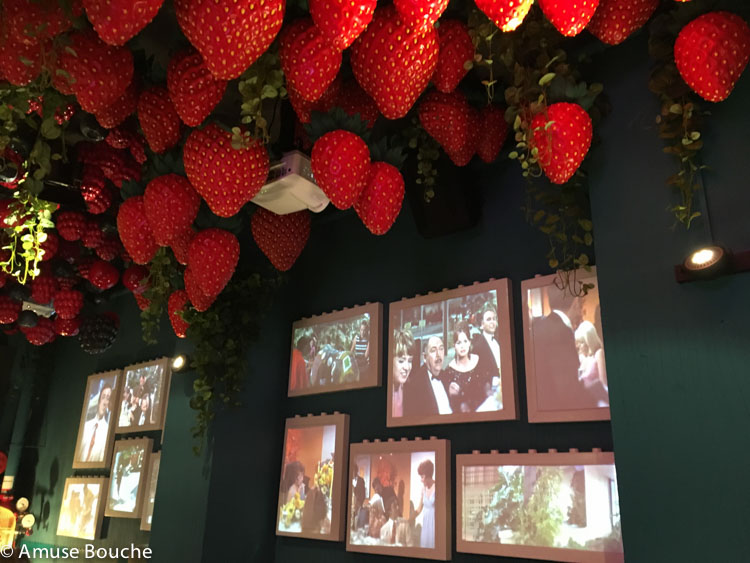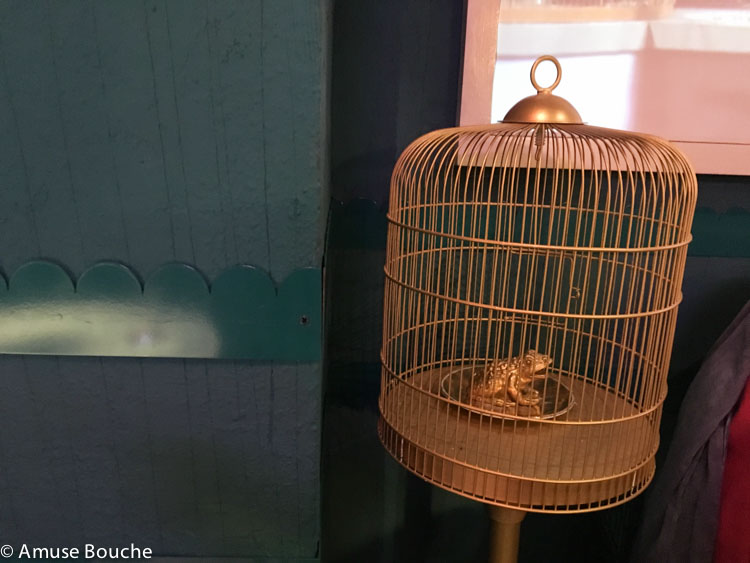 Unfortunately, we didn't spend too much time here. We could "accommodate" just 2 sweet dishes, although our initial intention was to go for more. So, the guys from Tickets also pick two desserts for us (out of 9 possibilities).
#17 Tatin cone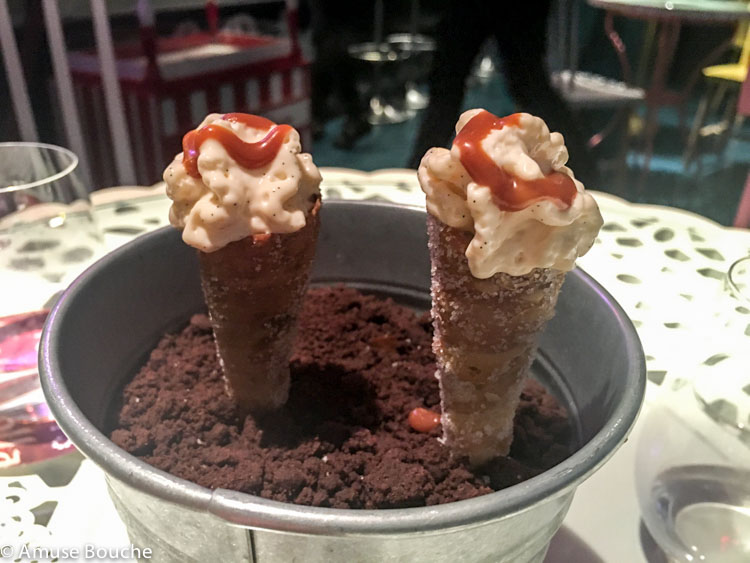 Apples, vanilla and toffee.
#18 Chocolate air
Cork shaped dessert – a delicious mix of chocolate, sponge cake and hazelnuts.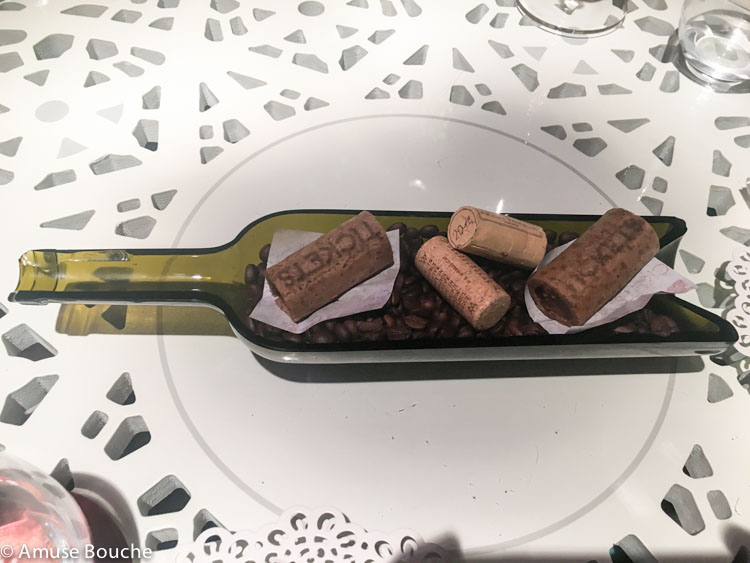 Wines
We experienced some kind of wine paring, going along with the sommelier's recommendations. It wasn't the best fit for us, but somehow didn't affect our perception of the whole experience.
But we understand how this is a difficult call to make because there's no tasting menu or   fixed number of dishes. For the next visit, we'll probably make our own selection.
Service
The service is in line with the place and the atmosphere. Relaxed, informal, professional. We loved the staff's presentation skills and passion. We felt them with every dish arriving at our table.
After dining here, we understand why Tickets is so hard to book and its well-deserved place among the World's 50 Best Restaurants. The dishes are creative and so tasty.
We have two things in mind for our next visit here: to get an earlier reservation (maybe lunch on Saturday) and to allocate more time for desserts.
Good to know:
Tickets Bar is open Tuesday to Friday for dinner (starting 18:30) and on Saturday for lunch and dinner.
A full culinary experience of 15 dishes is priced around 80 euro/person, without the specials – Wagyu beef or Lobster. Everything we ate was app. 150 euro/person.
If you can't manage to book a table at Tickets, a good alternative is Bodega 1900. That's another restaurant owned by Adria brothers, placed just across the street It has the same tapas concept and it also serves some of the Tickets dishes.