"Maybe we'll see an elk. I see them a lot these days. What a great picture would that make" says our driver while we're rushing into the frozen woods. We look down the window. All we can see is a long line of pine trees on both sides of the road and the snow falling down. Our anticipation, excitement and curiosity mixes up with thoughts about the wild animals living out there.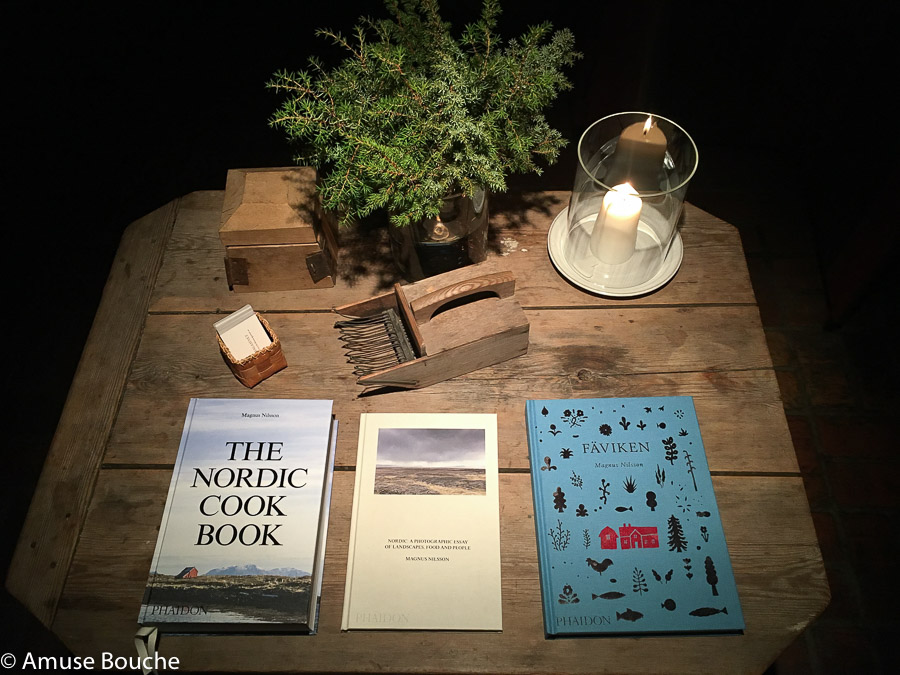 20 minutes later we leave the trees behind. No elk. But we've reached our destination and this will most surely make a memorable picture. We step into the 10-cm layer of snow and reach for the red barn. The door opens.
"Welcome to Faviken" says Magnus Nilsson while shaking our hands with a smile on his face. This is how one late November evening started for us. Also known as our most daring culinary adventure so far.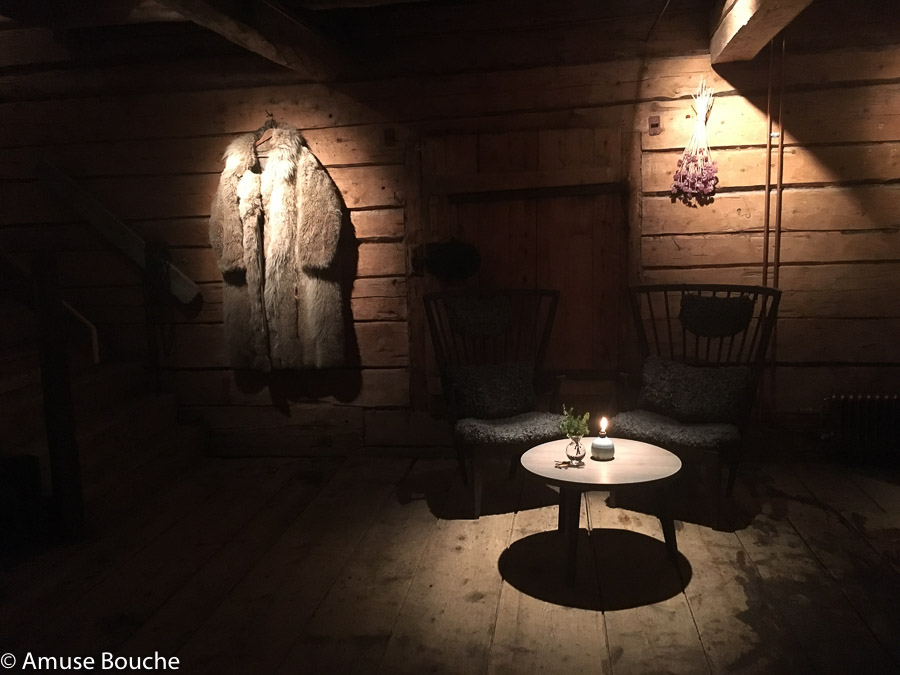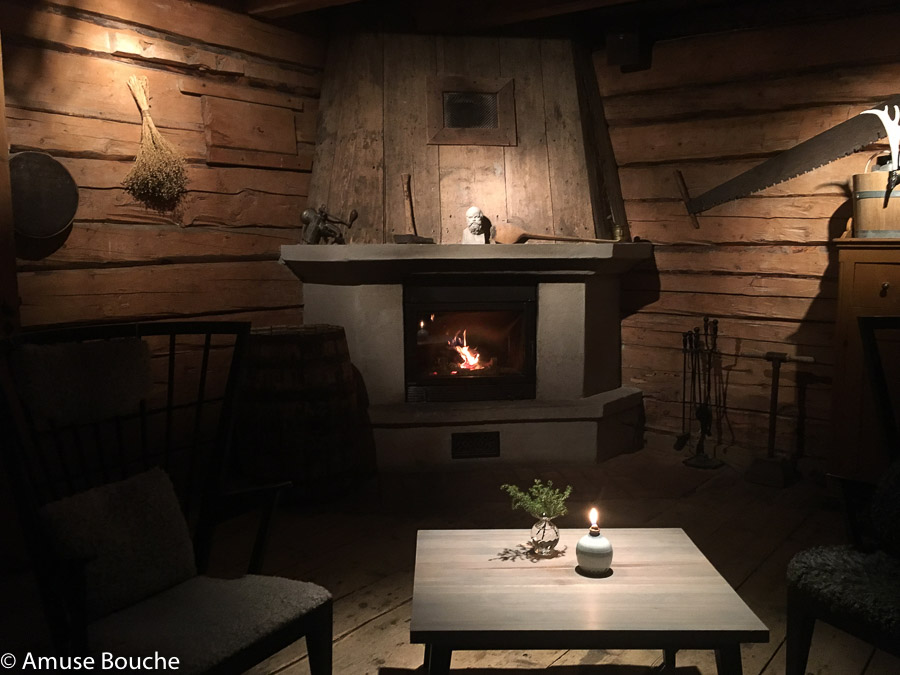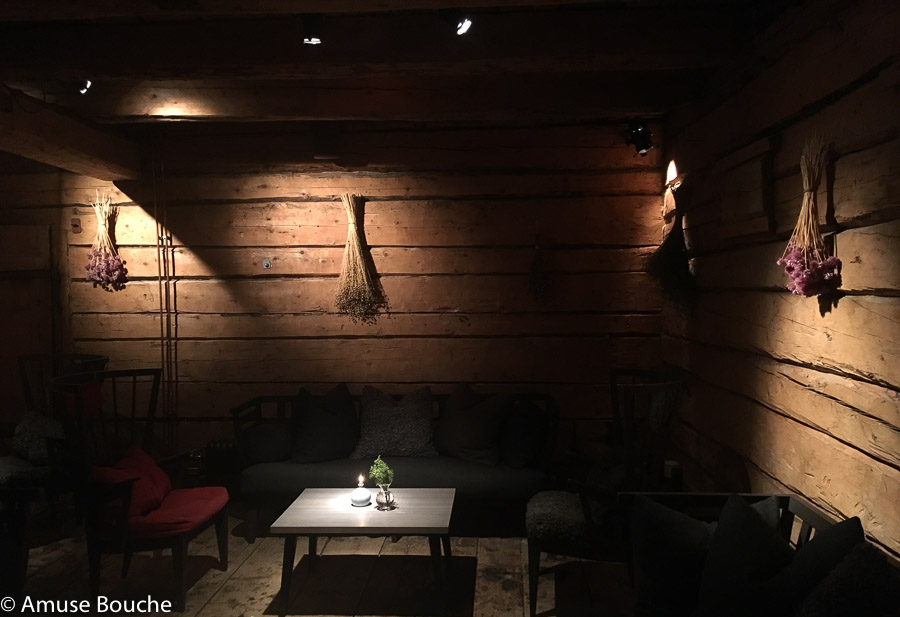 World's most isolated fine dining restaurant
Faviken is the most isolated fine dining restaurant in the world. It has 2 Michelin stars and it's a constant presence in the World's 50 Best Restaurants List since 2012. The chef, Magnus Nilsson, is nowadays a real super-star among foodies.
And he is one of the main reasons why  Faviken is a top culinary destination for food enthusiasts all over the world (us included). If you're familiar with Netflix series "Chef's Table" or "Mind of a chef" you know what we're talking about.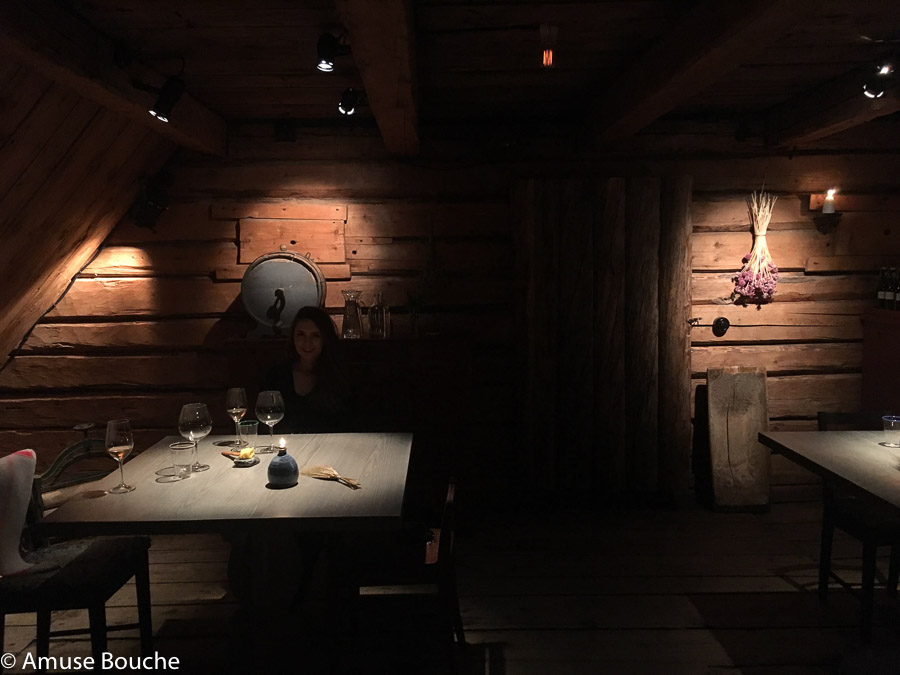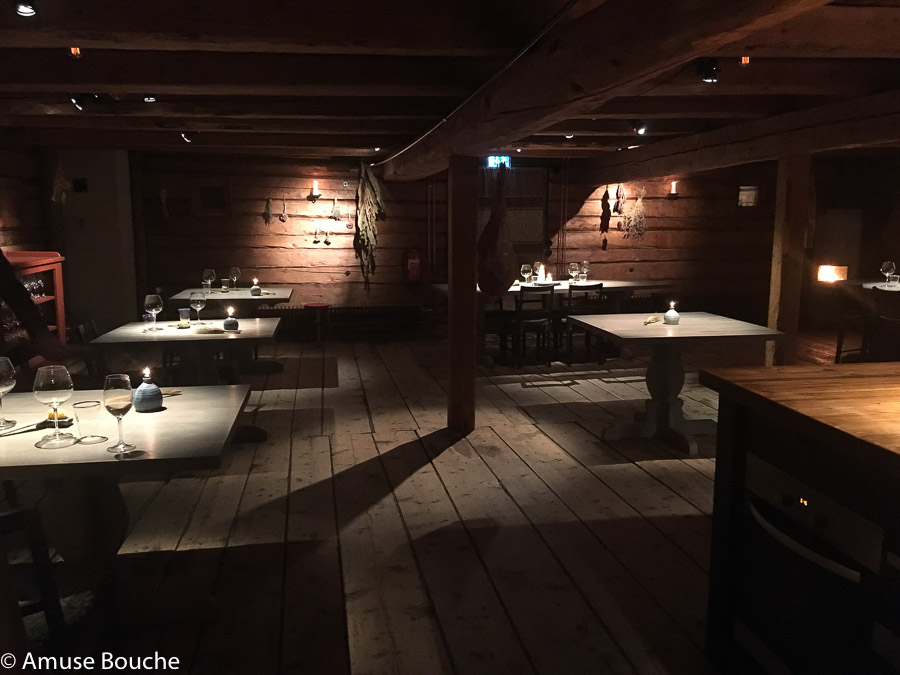 The road to Faviken
Faviken sits 750 kilometers North of Stockholm and about 300 km South of Polar Circle, in Jamtland, Sweden. The closest city to Faviken is Are (25km), a ski resort popular among the Nordics. You can also spot The Northern Lights here, if you are very lucky. It was not the case for us 🙂 No elks, no Northern Lights. But we had snow every day.
The restaurant is placed in the middle of an impressive hunting estate of 8000 acres. The entire area between Faviken and Are is actually a natural reservation. Any new construction here is strictly prohibited. This stands as a solid argument for "the most isolated fine dining restaurant in the world"
The main building is an 18th century old barn. This place hosts a restaurant since the 80's, but only the recent history worths a mention for the foodie travelers. Faviken was bought by its current owners back in 2003. Their main objective was to raise the standard of the culinary experience. Magnus Nilsson was the right man at the right time. He came with the idea of a a fine dining restaurant in the middle of nowhere.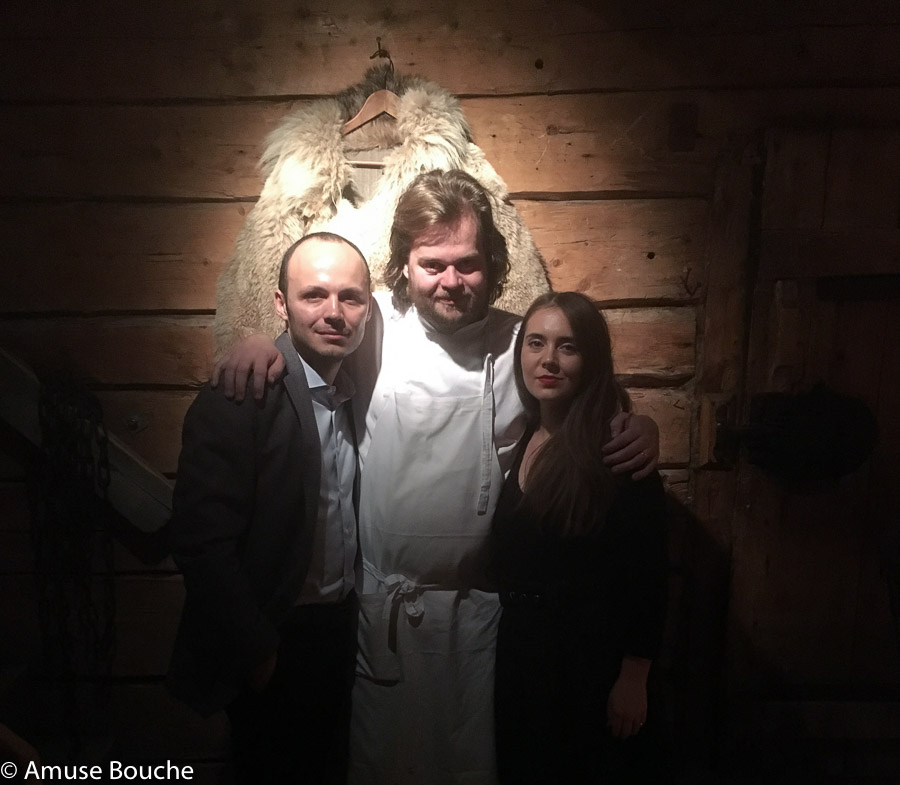 Magnus Nilsson, the magic want behind Faviken
Magnus arrived at Faviken in 2008, by coincidence. After years spent at Astrance in Paris under Pascal Barbot (3*) and a short run in Stockholm, Magnus decided to come back to Jamtland, the place of his childhood. Tired and a bit disappointed of cooking, his intention was to focus on wines and become a sommelier.
He joined the Faviken team convinced by a friend working there. The rest is history.
Magnus persuaded the owners to transform Faviken into a fine dining restaurant with focus on local products and local identity. A crazy idea that led to the birth of one of the most spectacular culinary destinations in the world.
In the meantime, Magnus took over the role of head chef and made a whole lot of research. He travelled the region, interviewed people and studied thousands of articles.
The success and global awareness of Faviken came along with its inclusion in The World's 50 Best list in 2012 (no. 34). In 2013 was named one of the top ten restaurants in the world by Zagat guide. After that, Magnus starred in some of the top documentaries for foodies: Chef's Table and Mind of a Chef. From 2016 Faviken also has 2 Michelin stars. More than deserved.
How to get to Faviken
The Faviken hunting estate is 25 kilometers away from Are. There are a couple of ways to get here. From Norway via Trondheim or from Sweden via Ostersund (1-hour flight to Stockholm). We went for the second route and booked a transfer Ostersund- Are with the help of the Faviken team.
During the summer months is probably more convenient to rent a car, in terms of money and flexibility. But we went at Faviken for the winter menu, so it was easier and safer to let the driving part to a local. Cause everything was quite frozen and it snowed every day.
Where to stay
First choice has to be Faviken. It has 6 rooms for guests. You can stay here for the night of the dinner reservation, if you book in advance (together with the table). Although it sounds great to have dinner and breakfast at Faviken, for us didn't work. We wanted to properly enjoy the dinner experience, so we expanded our stay for 3 nights in Are. This way we avoided having dinner at Faviken after a long day on the road. The hotel recommended by Faviken Team: Åregården.
The culinary experience.
There are only 16 seats for dinner at Faviken. Plus a shared table of 8. The entire experience takes the guest from one floor to another. The ground floor is where the welcome part happens. It's quite a lounge area where we got into a tasty relaxed mood before the actual meal, with glasses of champagne and mises en bouche. Following the symmetry, we also ended the meal in the same place, with coffee and sweets. For the main part of the dinner we were led upstairs.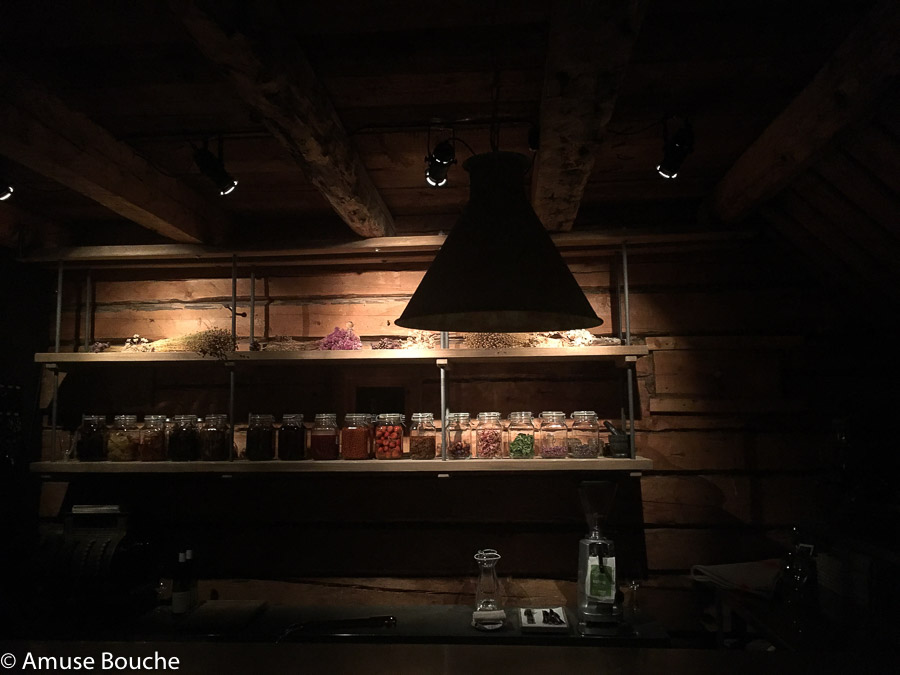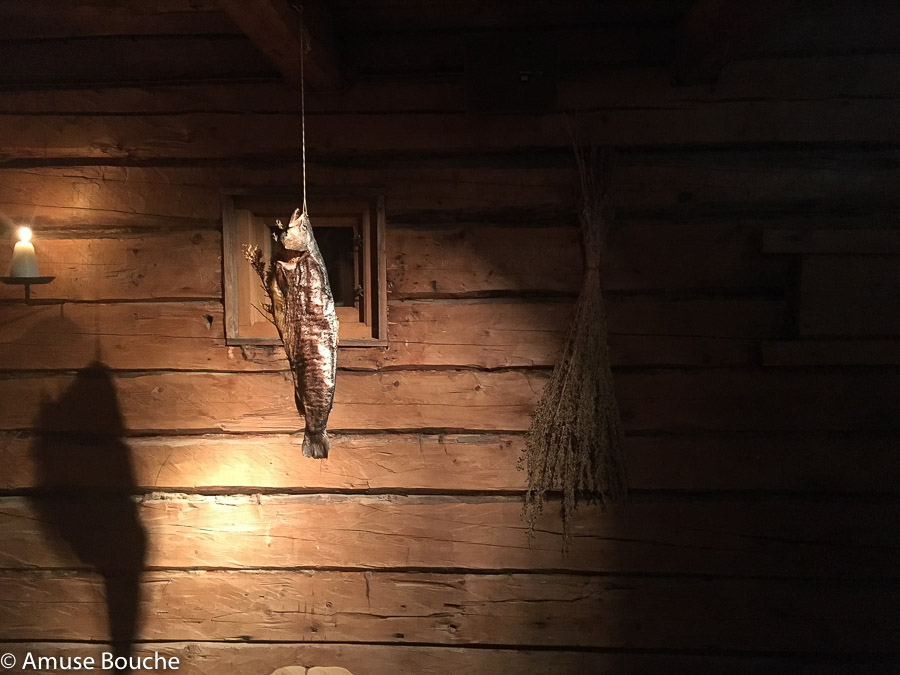 The interior of each floor is 100% wood. We could see from place to place decorative elements in line with the Faviken concept: local spices, dried vegetables or fish, shepherds clothes.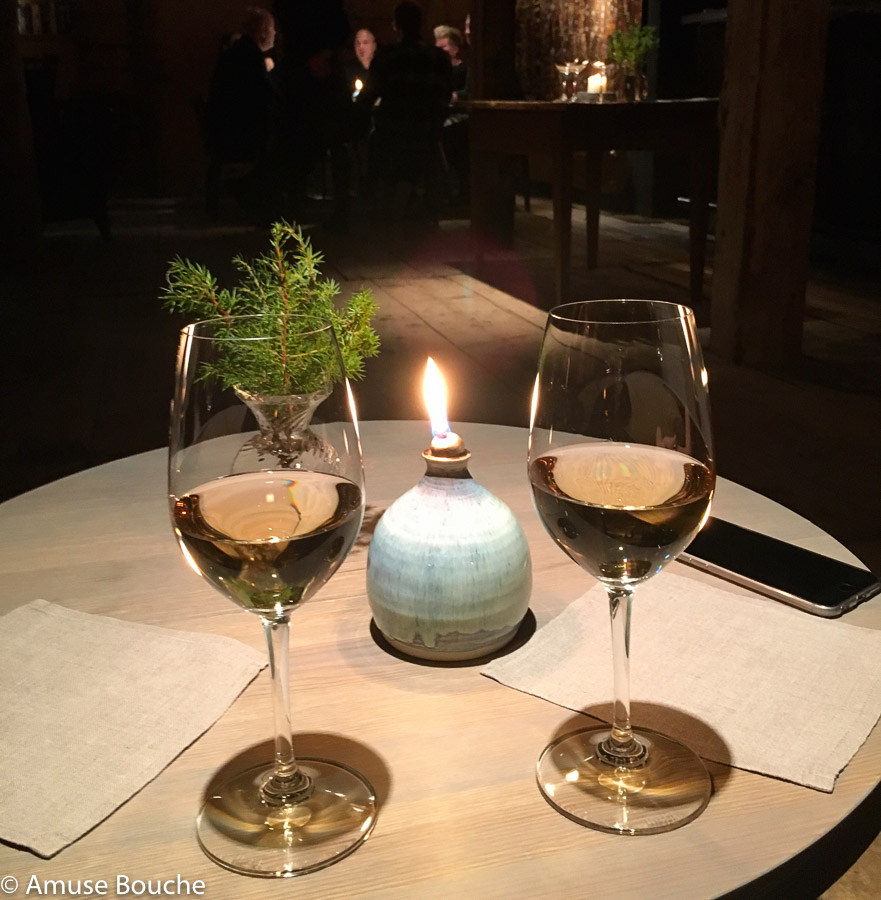 We got a bit emotional right from the start with Magnus beeing the first person to say "Hi". It was basically our ideal dinner scenario becoming reality step by step.
Magnus introduced the other guys from the team. Everything and everyone was relaxed and friendly. We appreciated this approach that matches perfectly with a place like Faviken – creating a relaxed and informal setting from the start.
The Menu
The tasting menu at Faviken is based on The New Nordic Cuisine, with a rustic touch. All the ingredients are local or sourced from nearby. It's the only way to keep up the high standard and create an unique experience in such a remote location.
The vegetables are grown on their domain, the fish comes from a lake nearby, the scallops arrive from Norway.  The game season also provides some top ingredients for the main dishes.
We went at Faviken during the cold season, when everything is frozen and nothing grows. So, the entire winter menu contains preserved vegetables, fruits and the meat and fish they can source during this season. They use a lot of ancient surviving methods to preserve different ingredients, giving them extra layers of flavor.
After tasting everything and just being amazed by what fermentation can do, we had the opportunity to see the famous "root cellar" that makes the winter meals possible.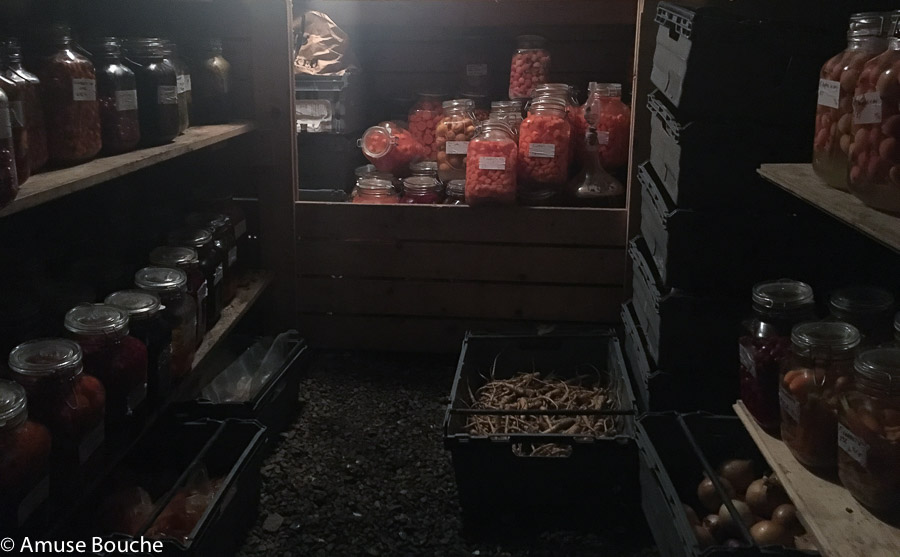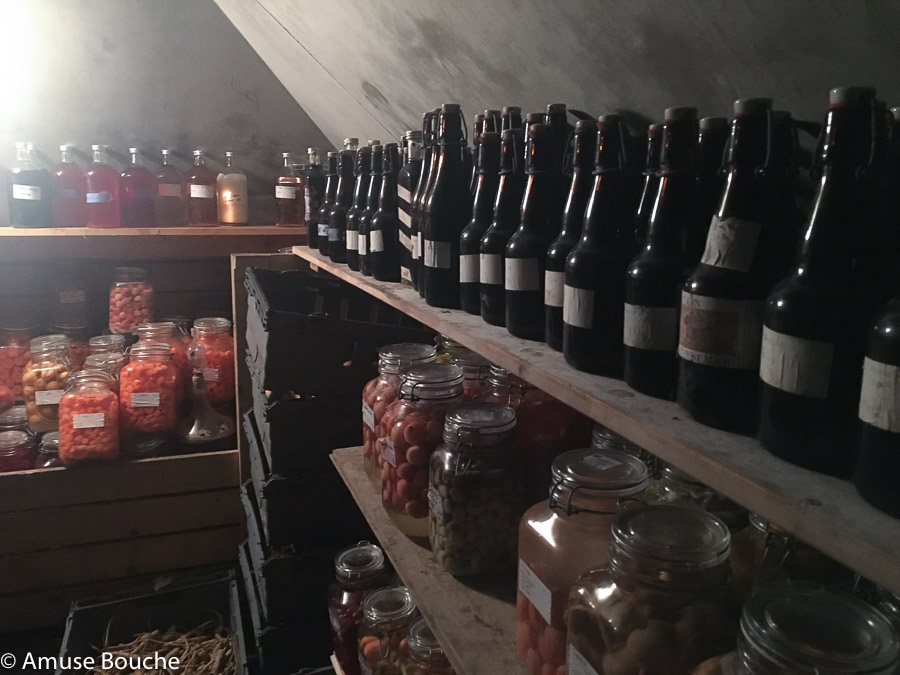 Dinner at Faviken begins at 7 sharp. It stretches to 4 hours, together with the socializing part, kitchen visit and estate discovery. Probably even more in the summer months when the sun is up for the entire visit.
The menu contains about 30 items. Including the small bites and the petit fours.
Small bites / Appetizers:
Linseed and vinegar crisps, mussel dip
Wholegrain wheat cracker with carrot salad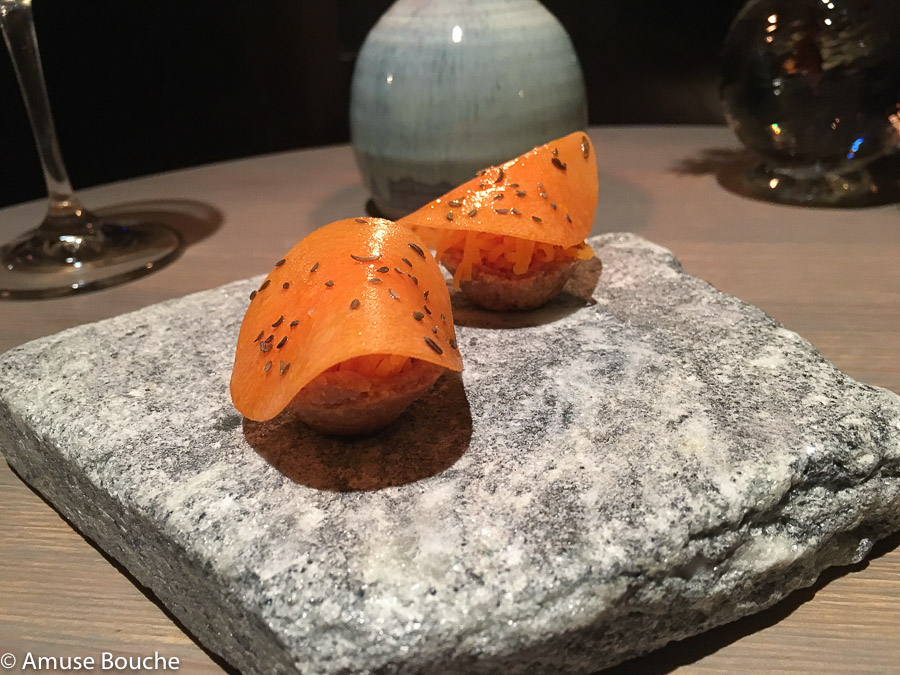 Broth of smoked and dried reindeer, decomposing leaves, very fresh cruds and crowberries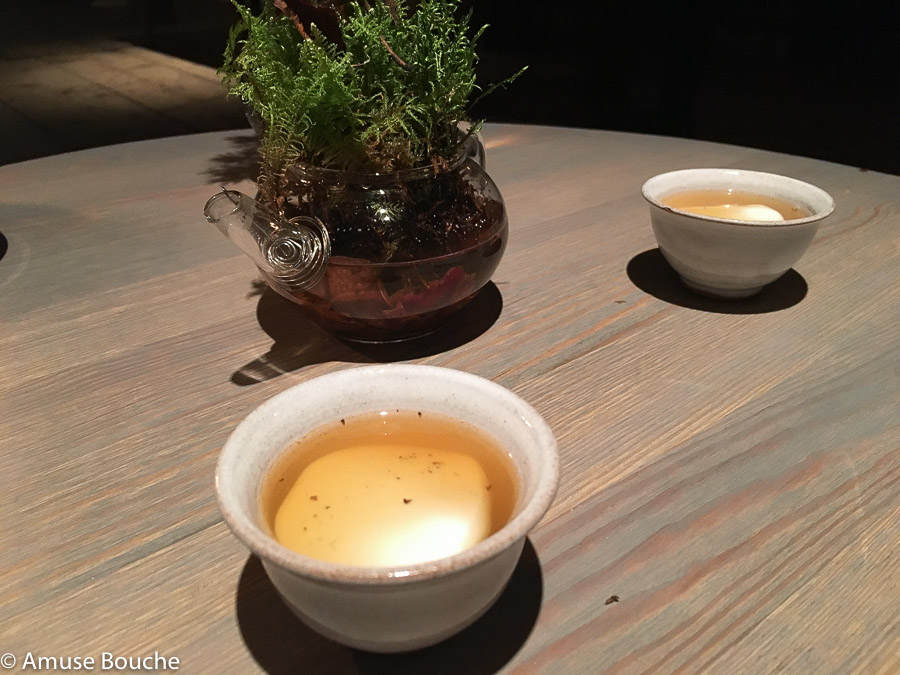 Wild trout roe served in a crust of dried pig's blood (favorite)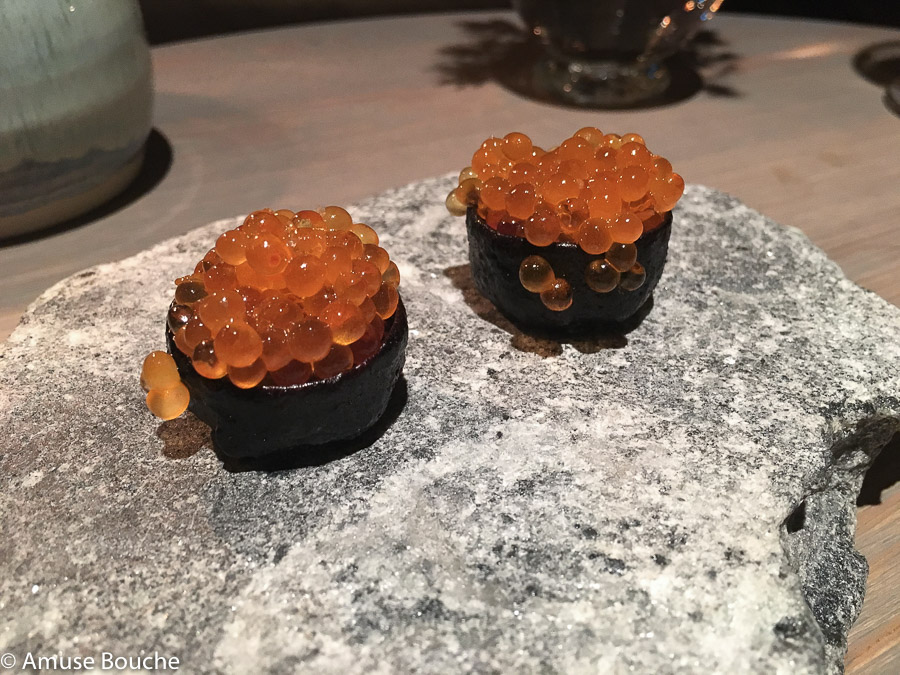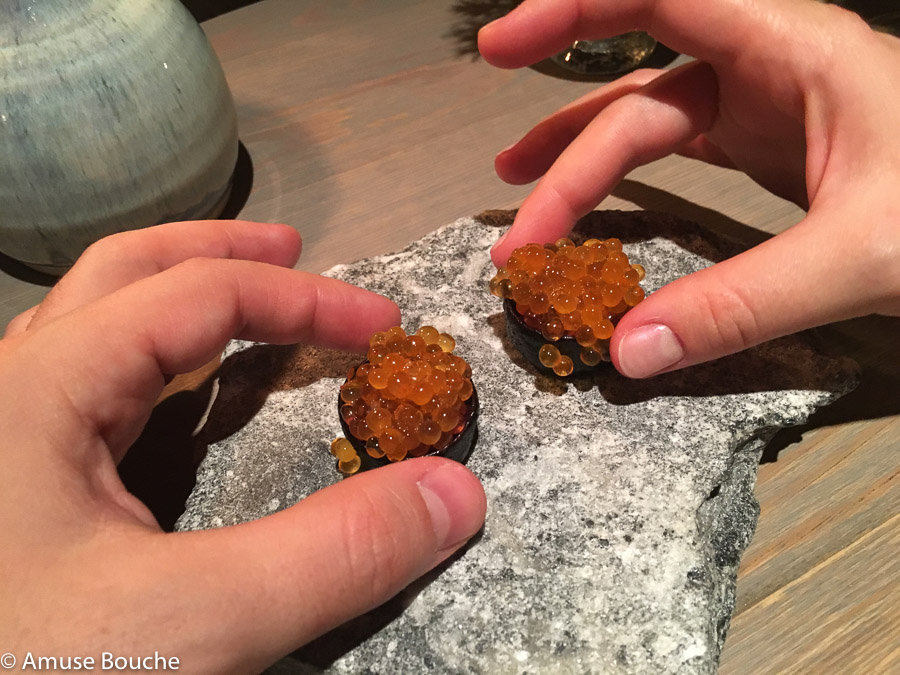 One of the signature dishes. A crispy crust made of pork blood filled with wild trout roe. Unusual ingredients, wonderful textures and great flavors. We knew about this dish from Chef's Table, so we had some time to emotionally process the idea of eating pig's blood.
Pig's head, dipped in sourdough and deep-fried, gooseberry, tarragon salt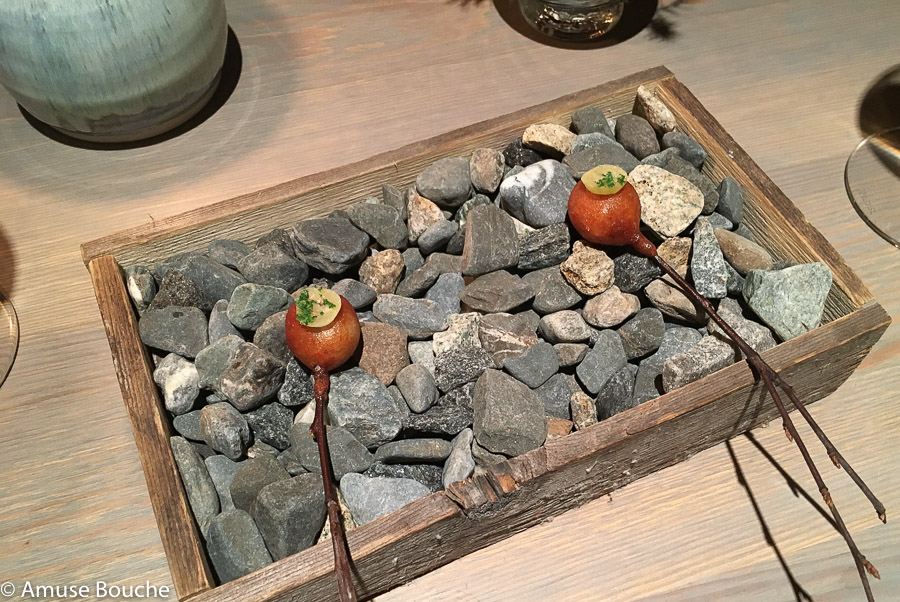 Braised pig's head mixed with sourdough and fried. Garnished with tarragon salt and gooseberry. Some basic ingredients transformed into one delicious plate.
Bird's liver custard, malted cabbage, rowan berries and parsley stems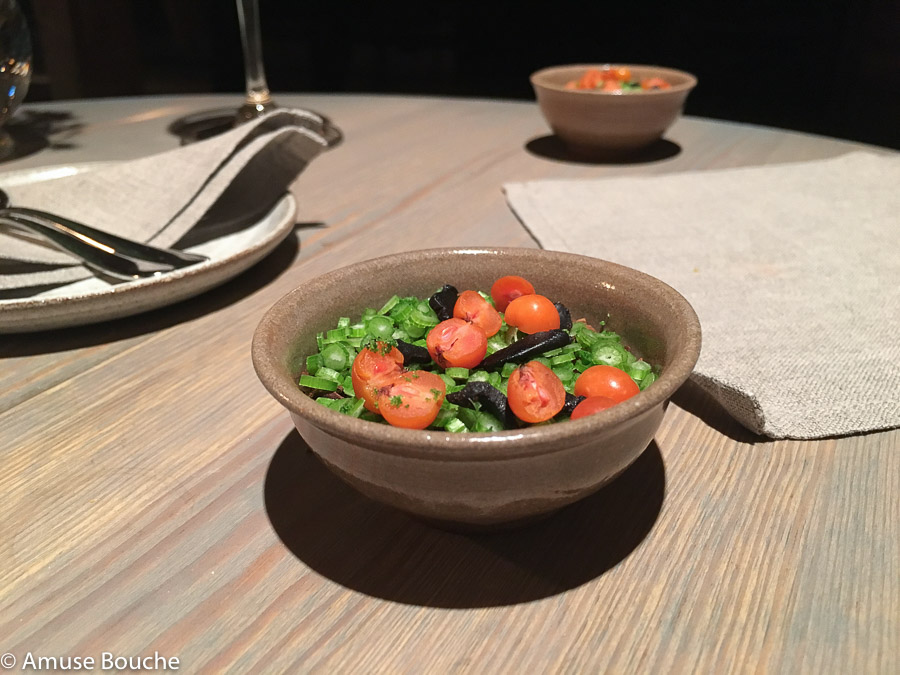 Slices of cured pork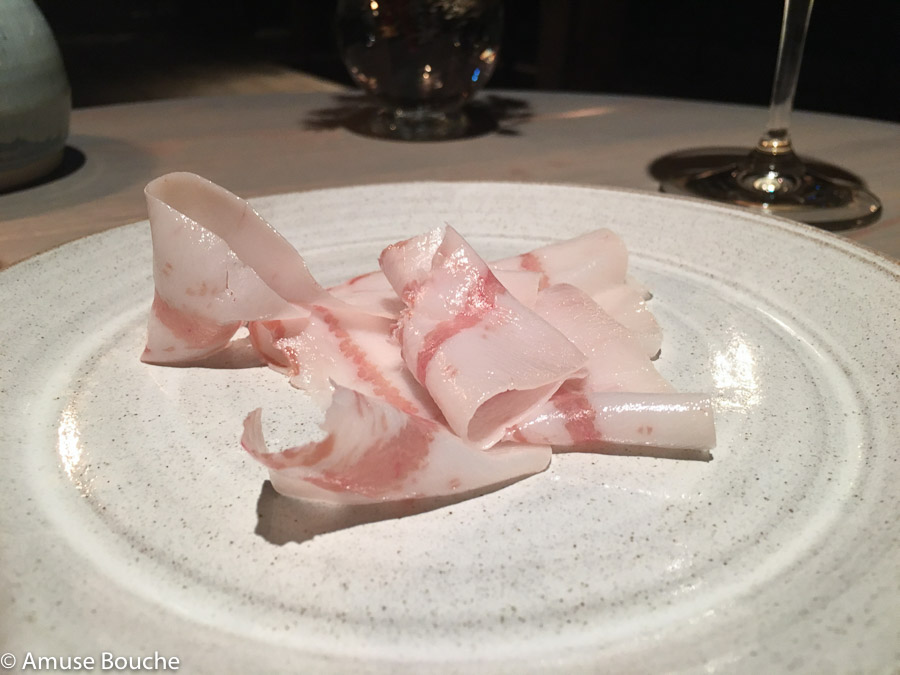 Main dinner:
Scallop "I skalet ur elden" cooked over burning juniper branches (favorite)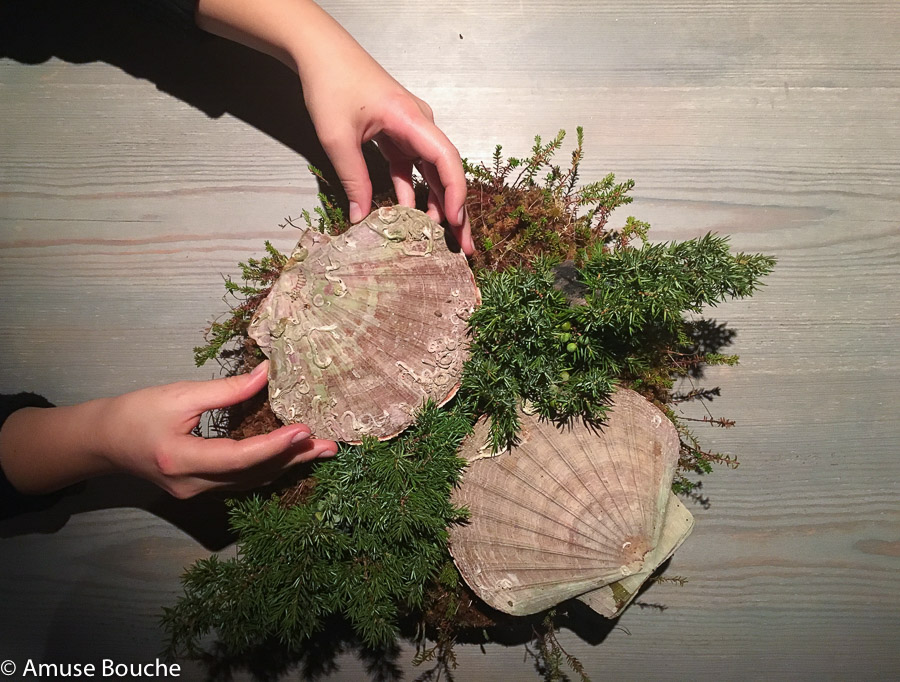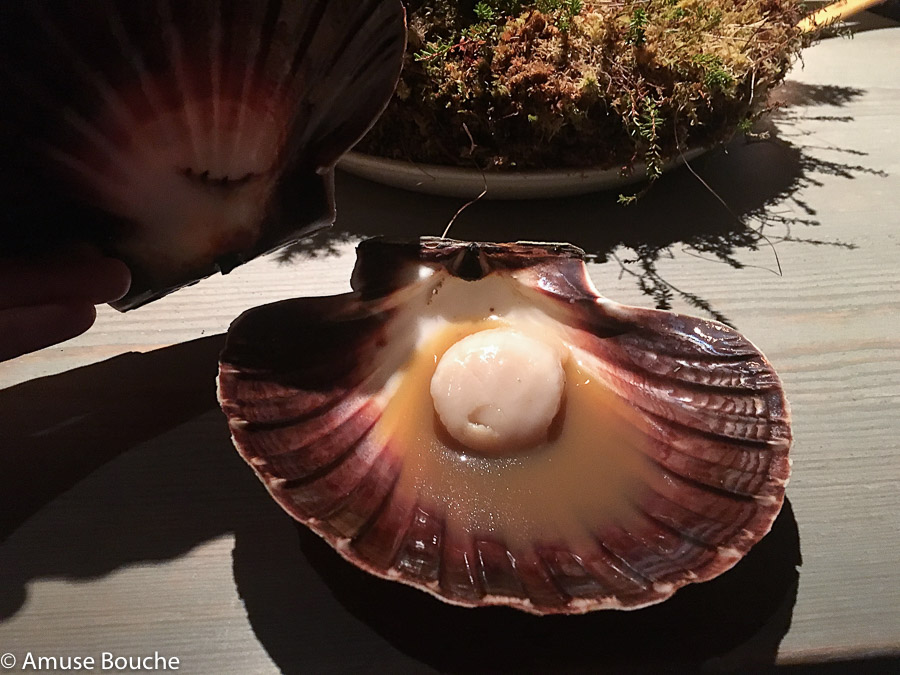 Probably Faviken's most famous dish. It's mentioned in almost all the materials referring to the restaurant.
These beautiful scallops from Norway are cooked simple over juniper branches. They are served on on a bed of moss and juniper and the guest is invited to eat them without cutlery. Eating with hands it meant to enhance the experience.
King crab and almost burnt cream (favorite)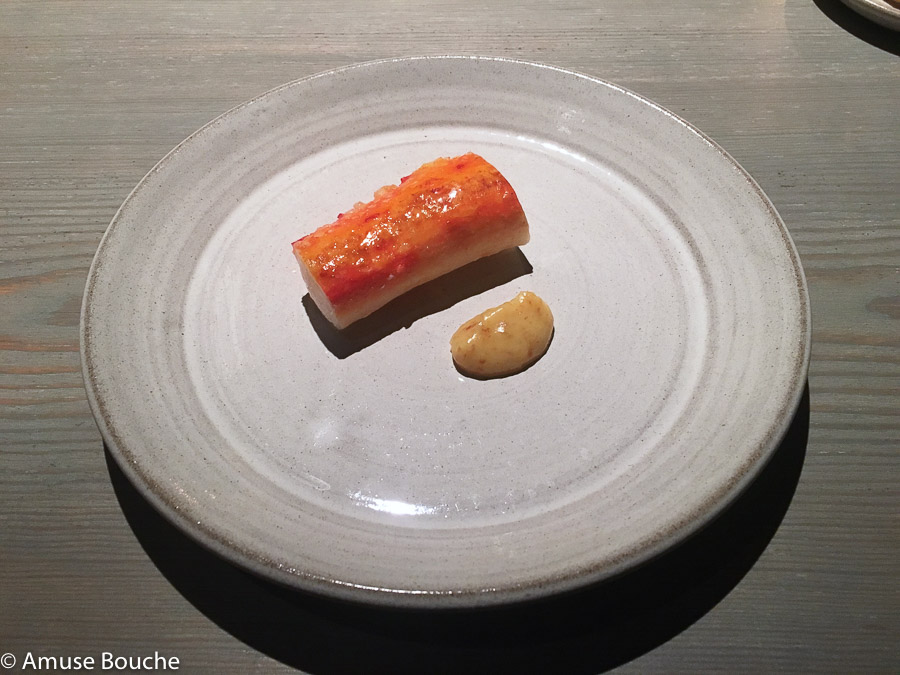 Another signature dish and our favorite from the menu. This dish is another sample of what you can do when you use the best ingredients. Simple plate, two ingredients, intense flavours.
Cod steamed with spruce needles, fermented Jerusalem artichoke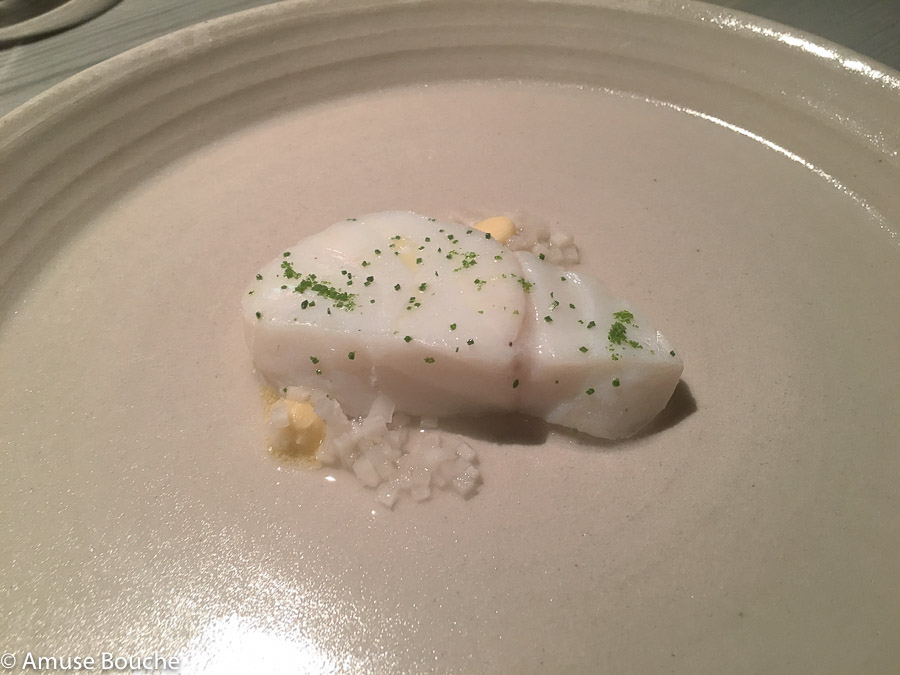 Sourdough pancake, seaweed, beef butter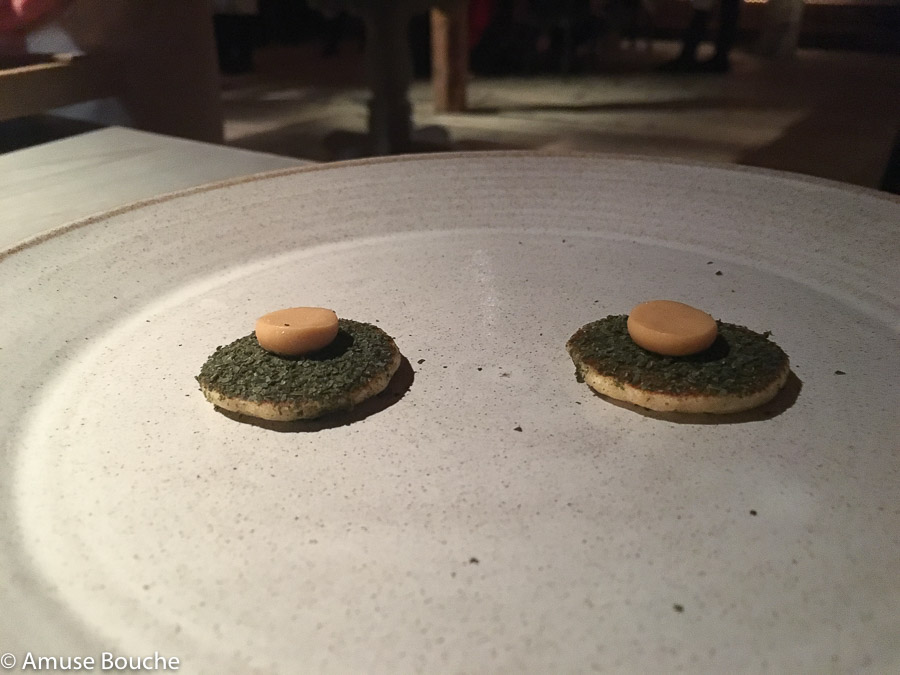 Lupin curd gratin
Razor clam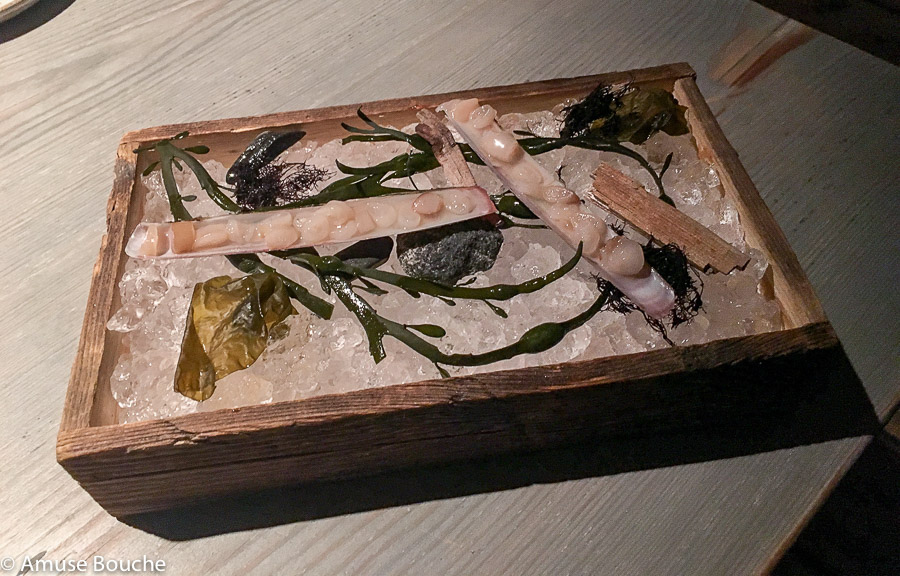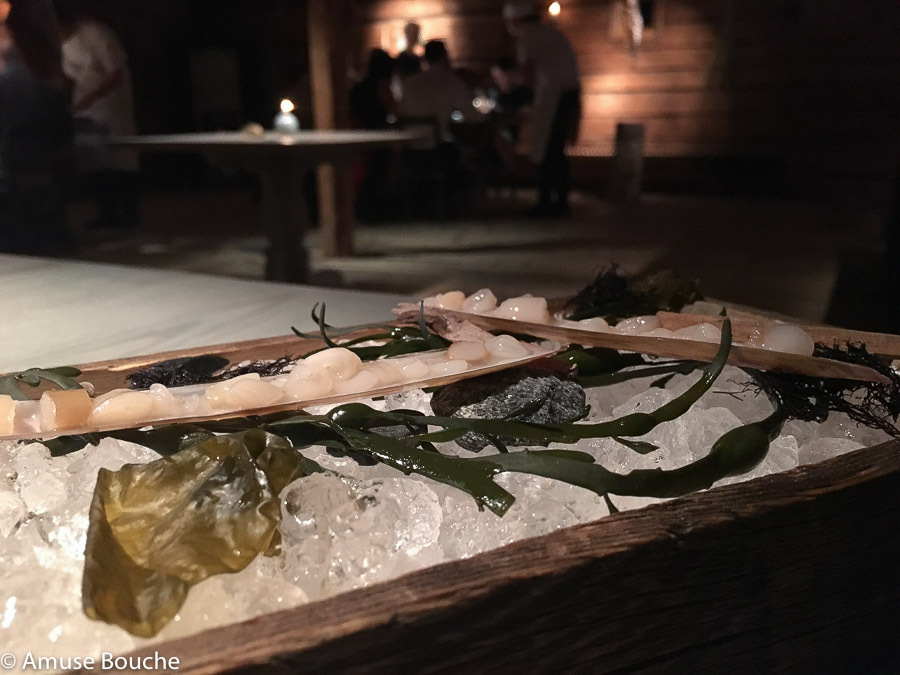 A small egg coated in ash, sauce made from dried trout and pickled marigold (favorite)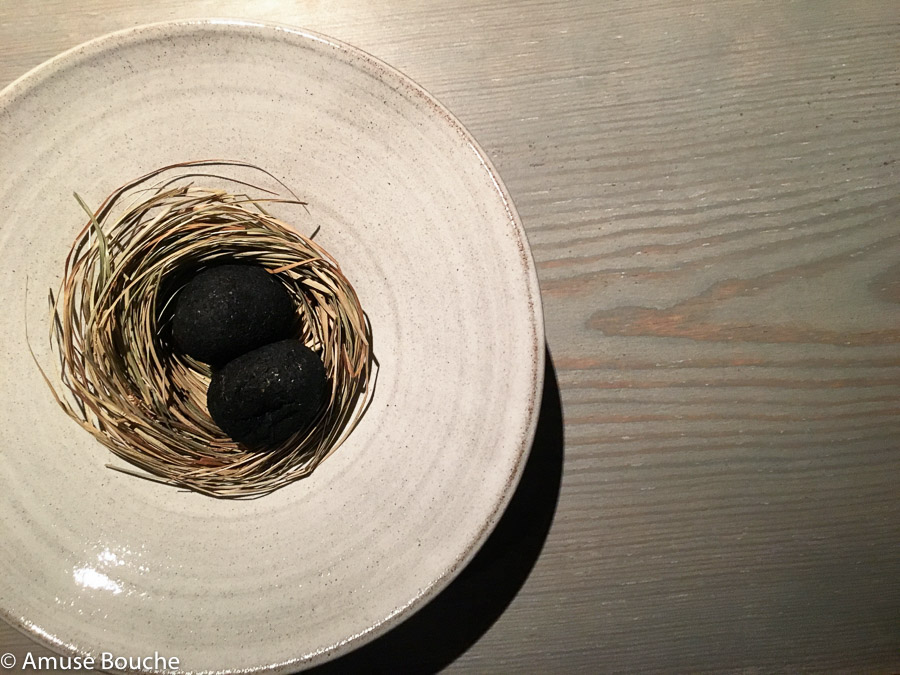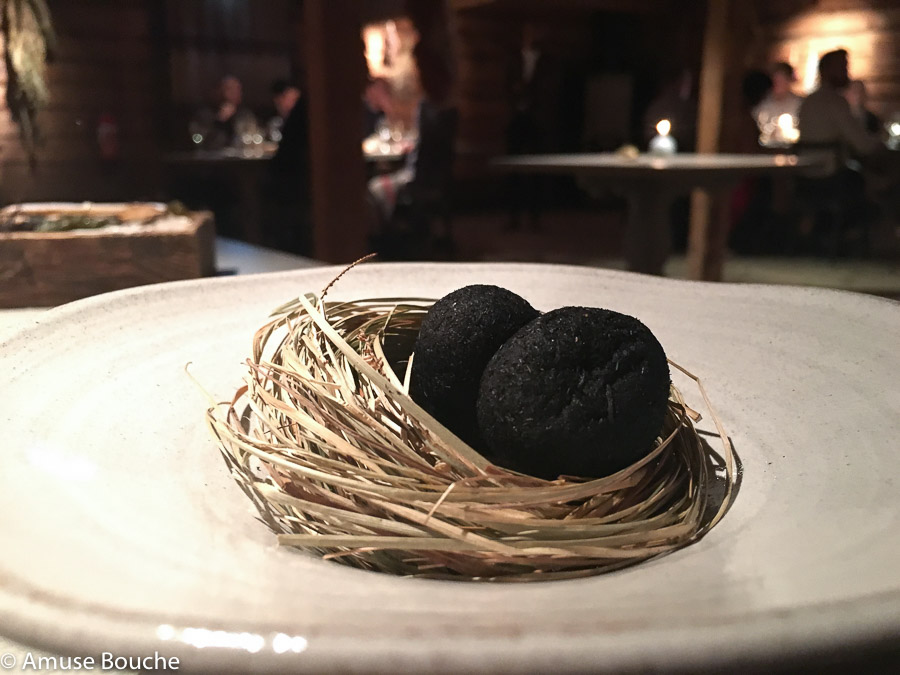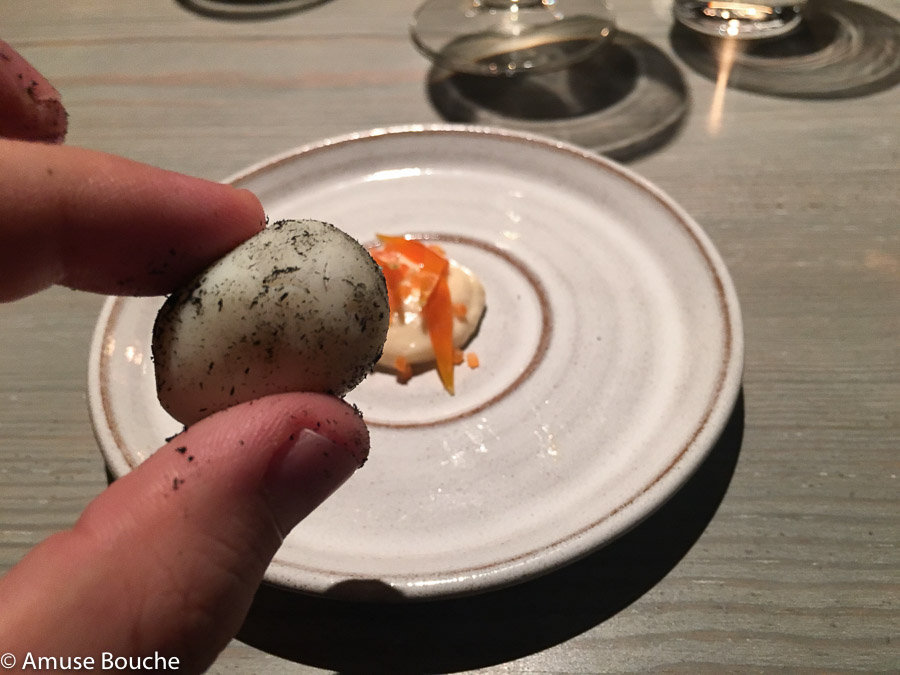 The most adventurous dish in the menu. Again, the documentaries and the research helped us understand it better. Because otherwise, the idea of eating something prepared using sheep dung is "hard to digest".
Using an old preservation technique from Iceland, the quail's egg is prepared in a layer of ash made from sheep's dung. The egg is served together with a sauce made from dried trout and pickled marigold. One word: delicious.
Steamed cabbage, very good cream and Finnish fish eggs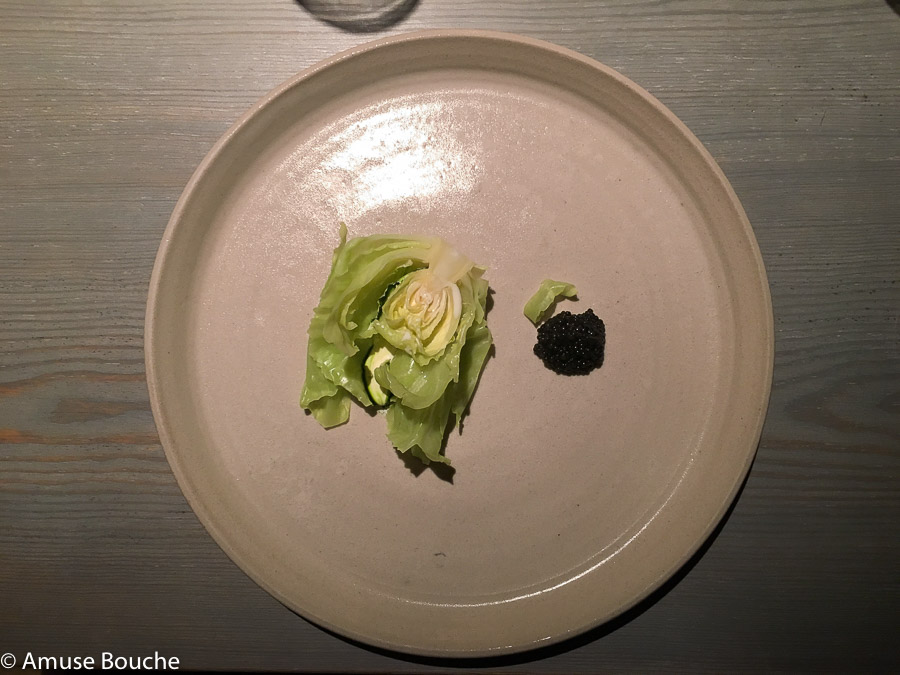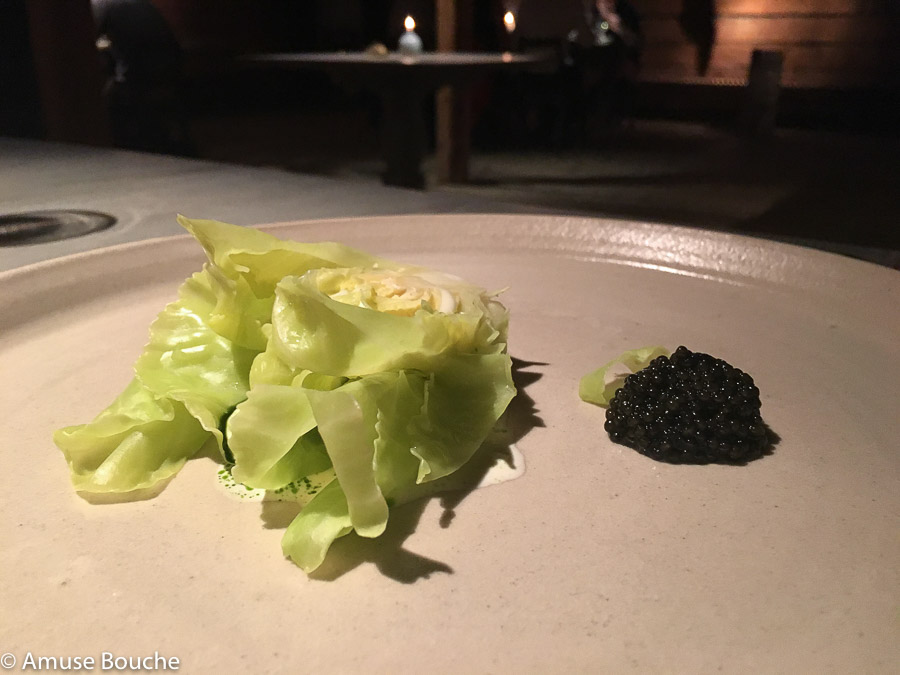 Wild duck and Set broth, truffles and beer cream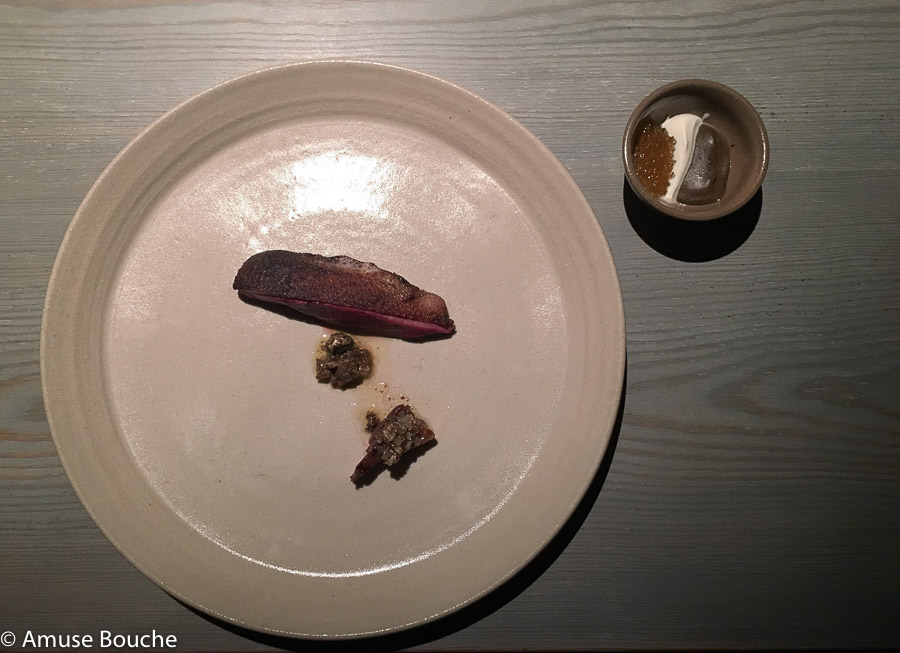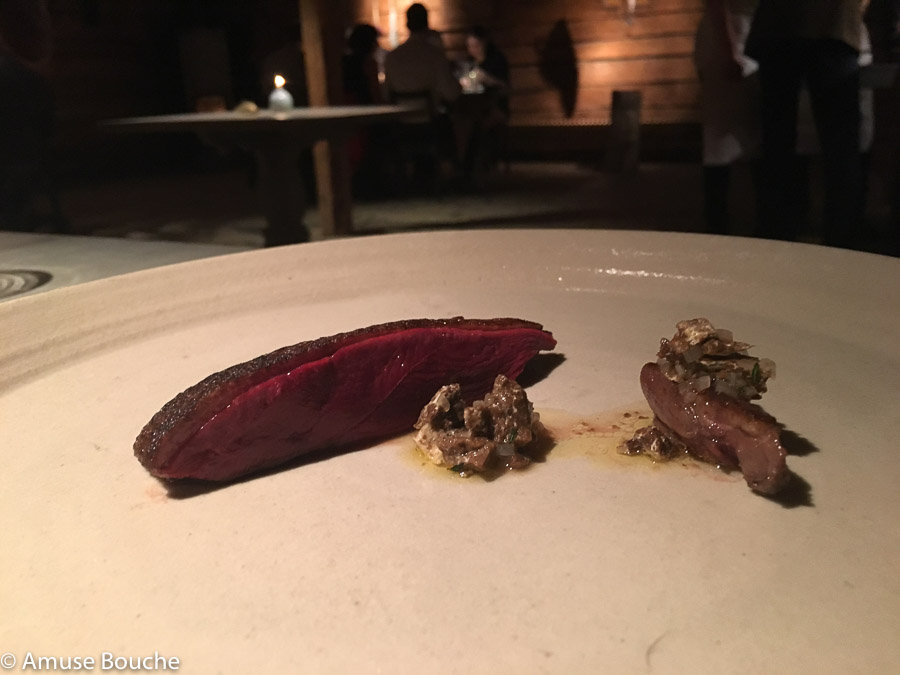 Colostrum with medowsweet (favorite)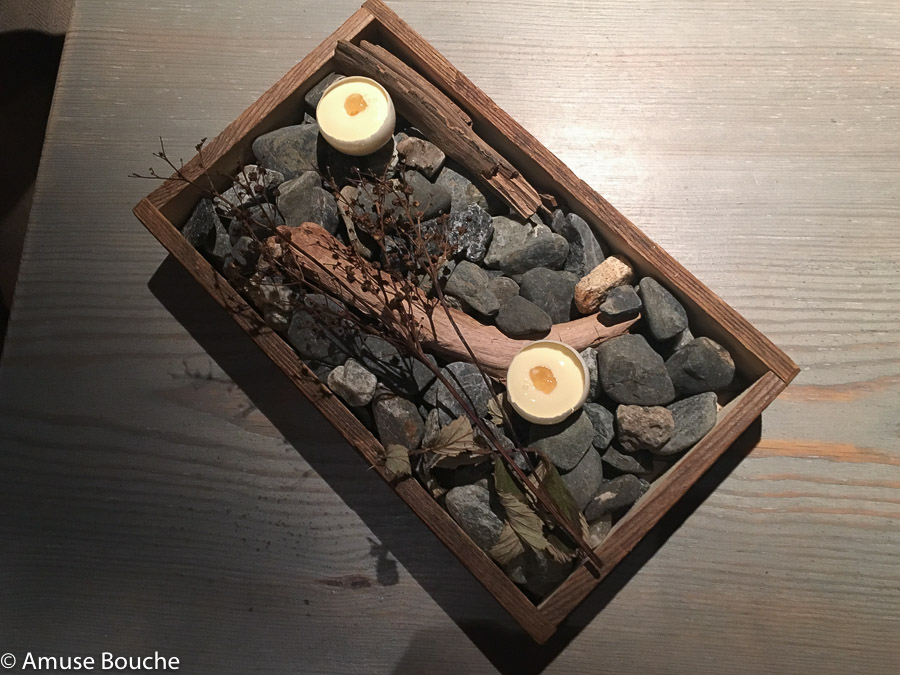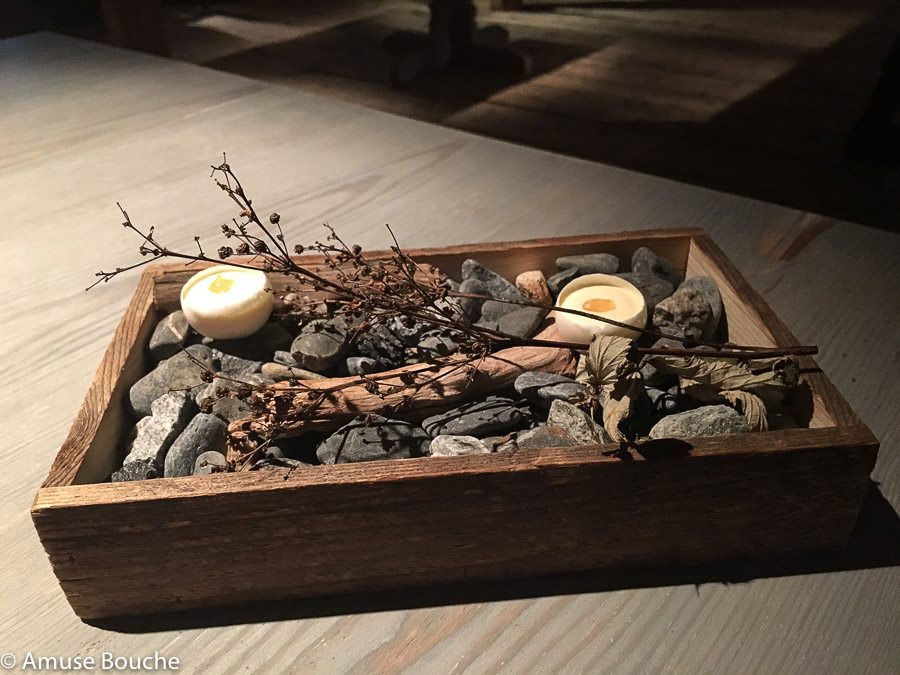 Another controversial dish. Milk crust filled with colostrum (the first milk of the cow) and meadowsweet.
Raw Jerusalem artichoke, dark roasted cereals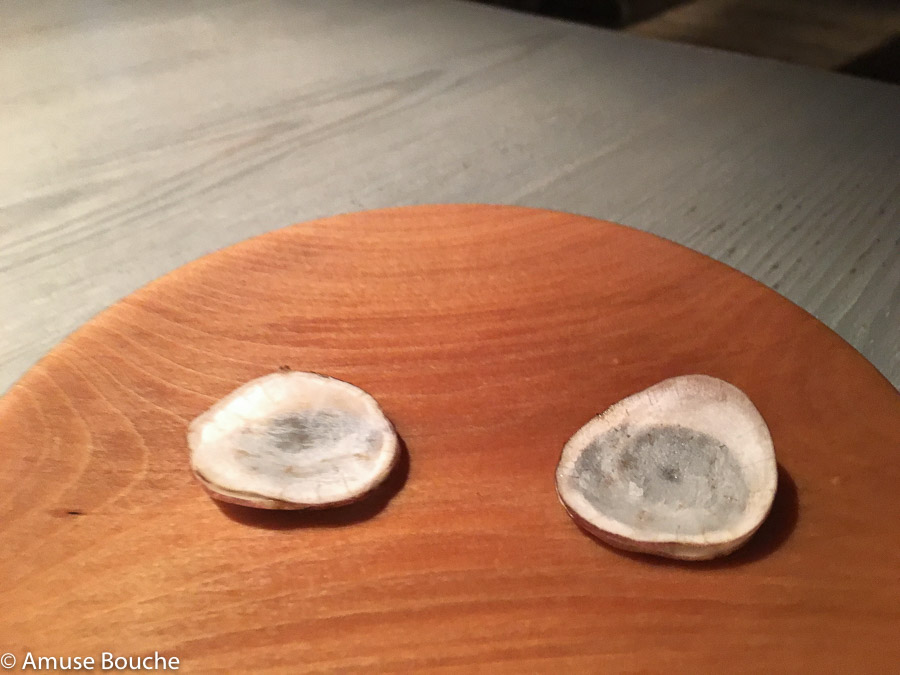 Potato dream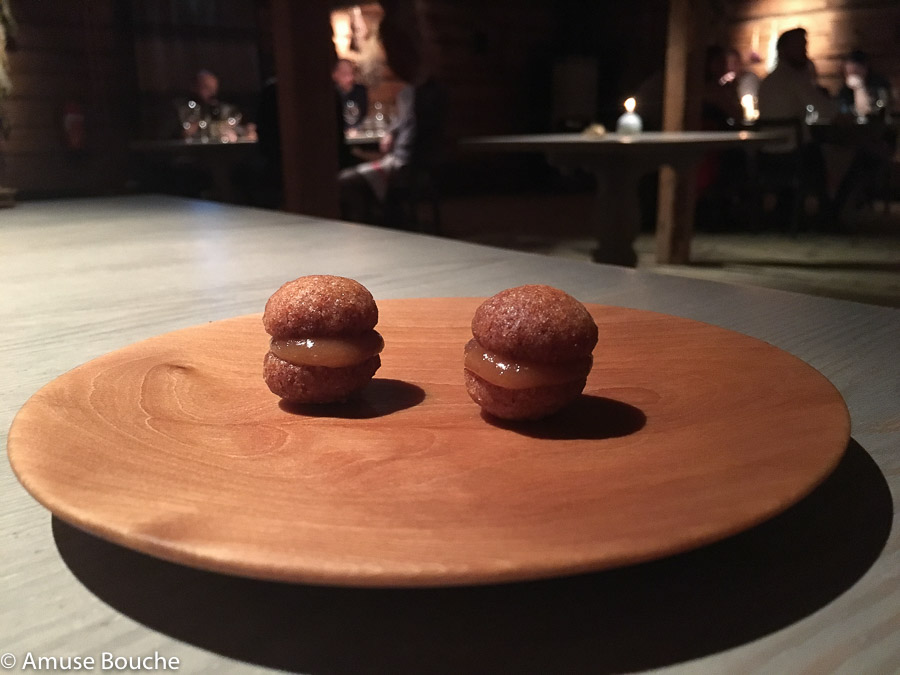 An egg yolk preserved in sugar syrup served on a pile of crumbs, made from pine tree bark, ice cream seasoned with spruce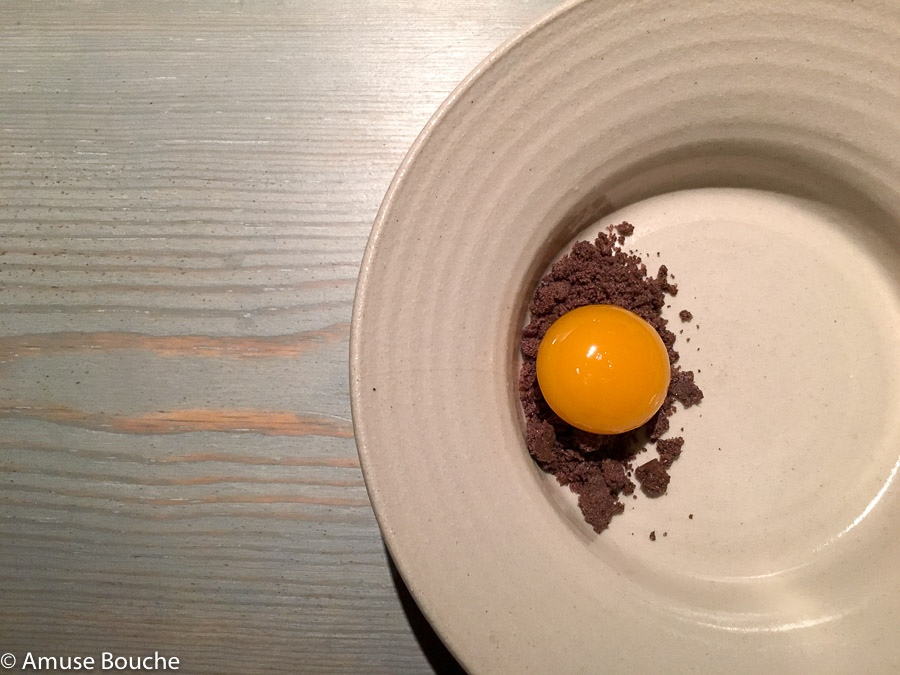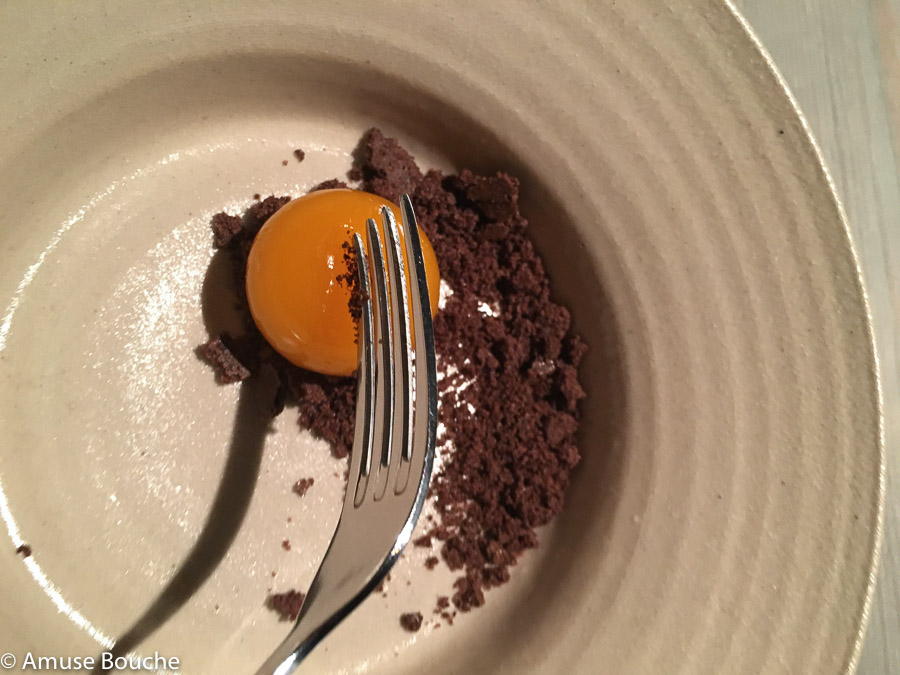 Petit fours/ lounge
Raspberry ice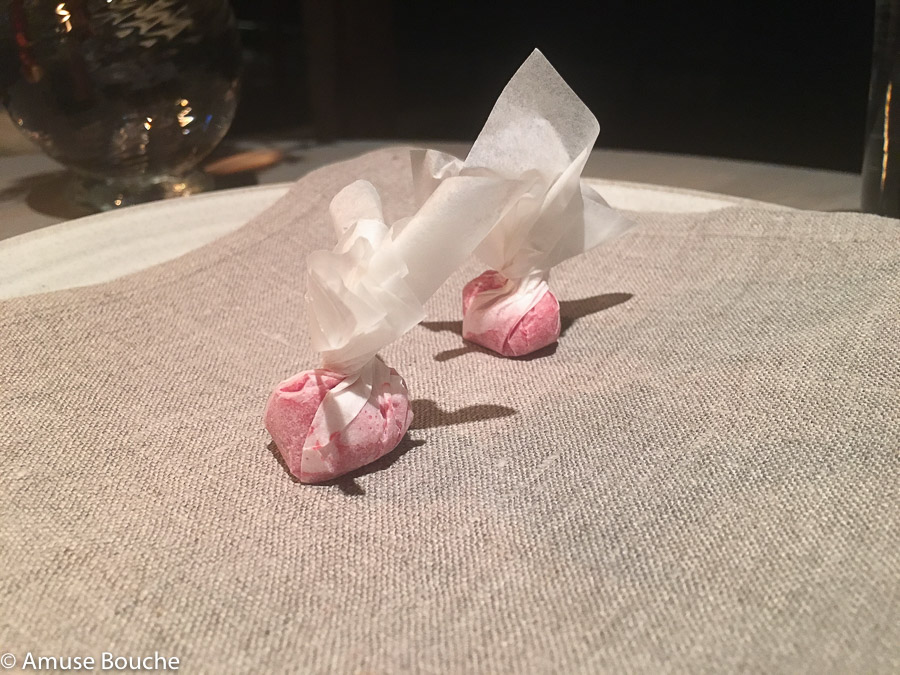 Bone marrow pudding, frozen milk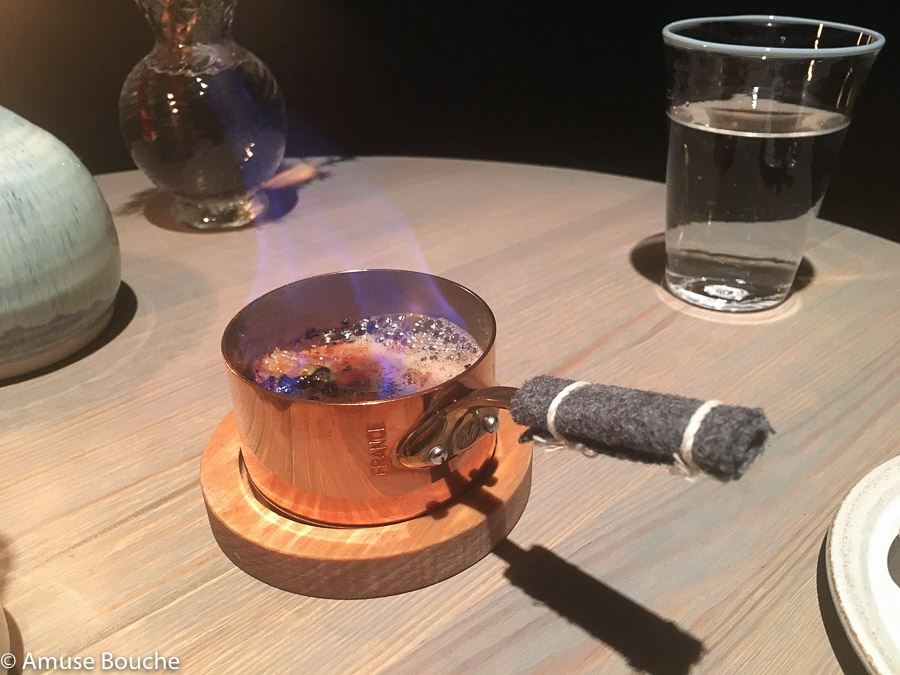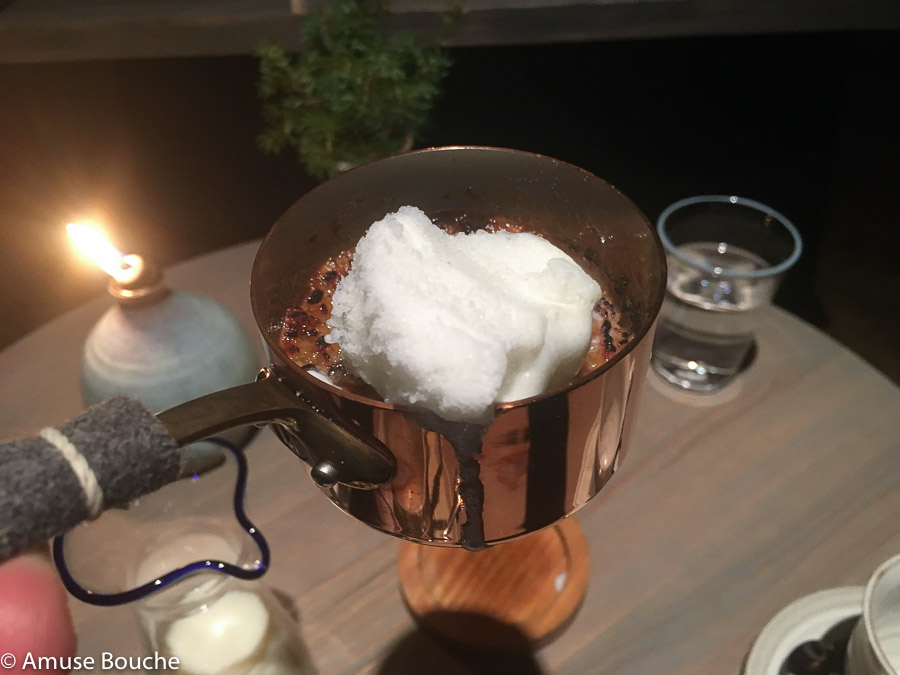 Pickled semi-dried root vegetables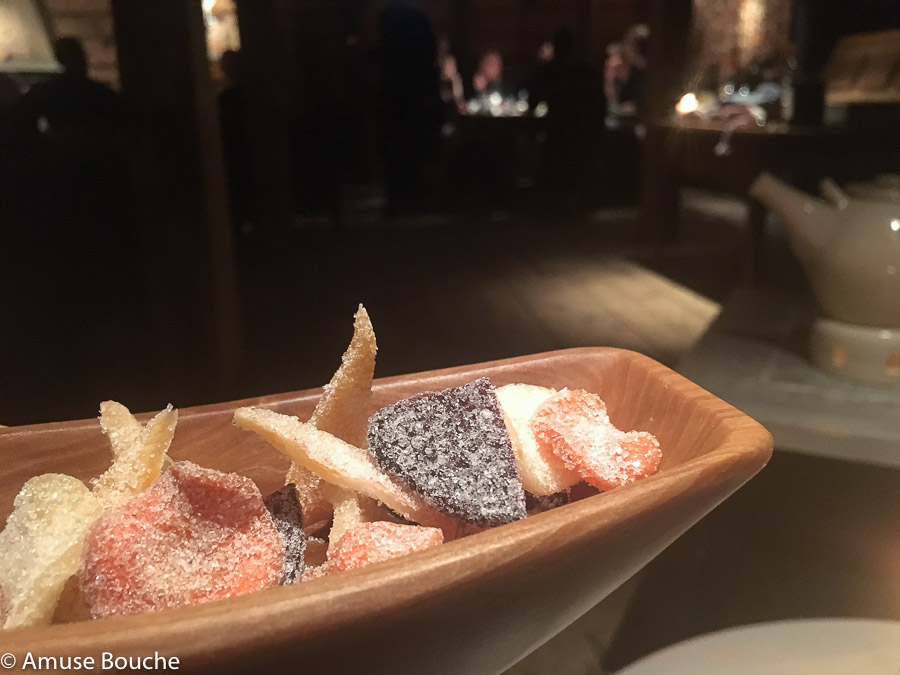 Meat and birch pie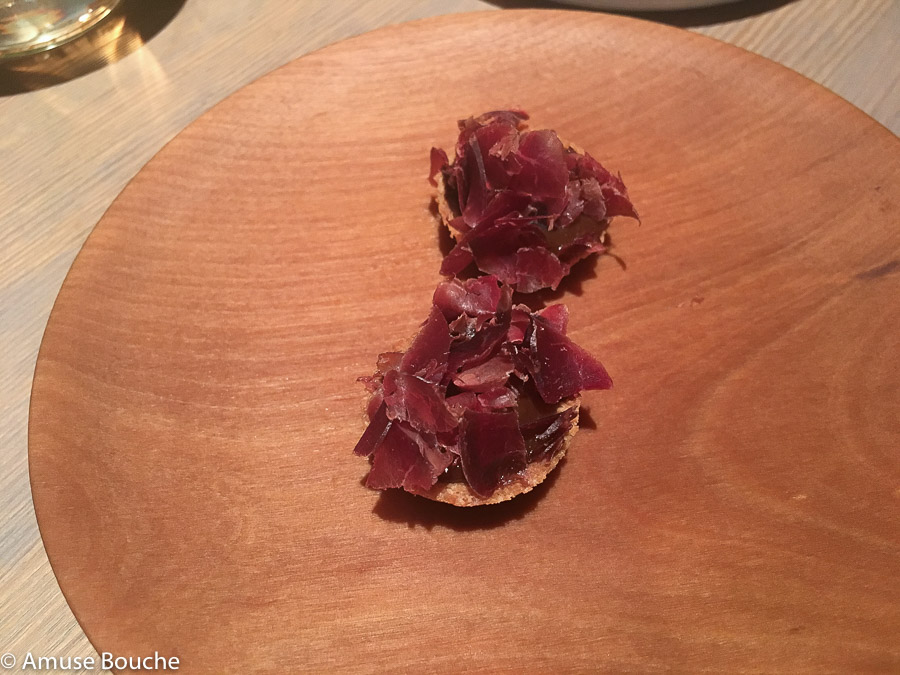 A wooden box filled with tar pastilles, meadowsweet candy, dried rowanberries, smoked caramel, sunflower seed nougat, dried black currants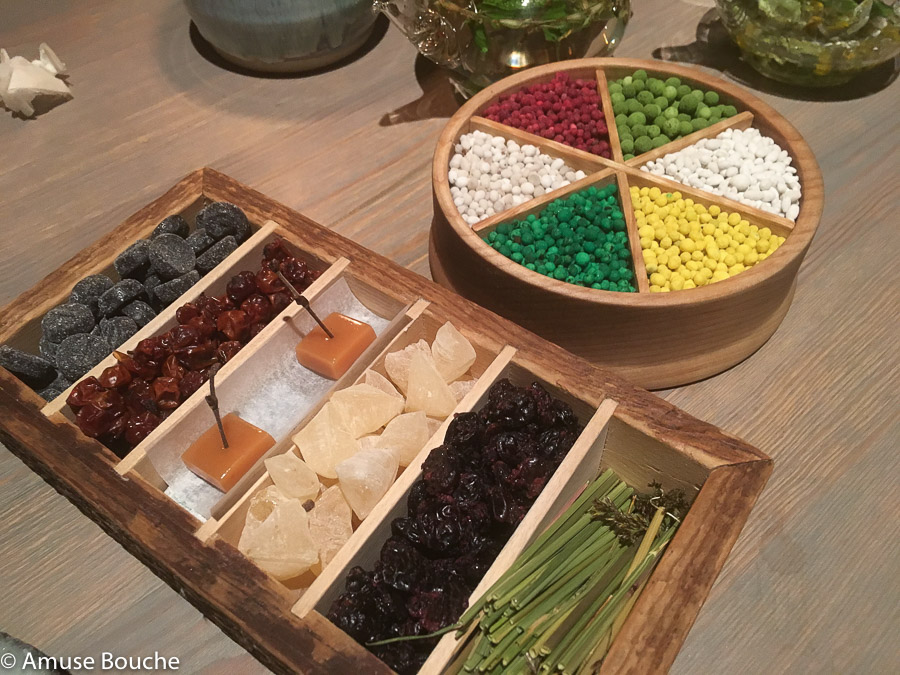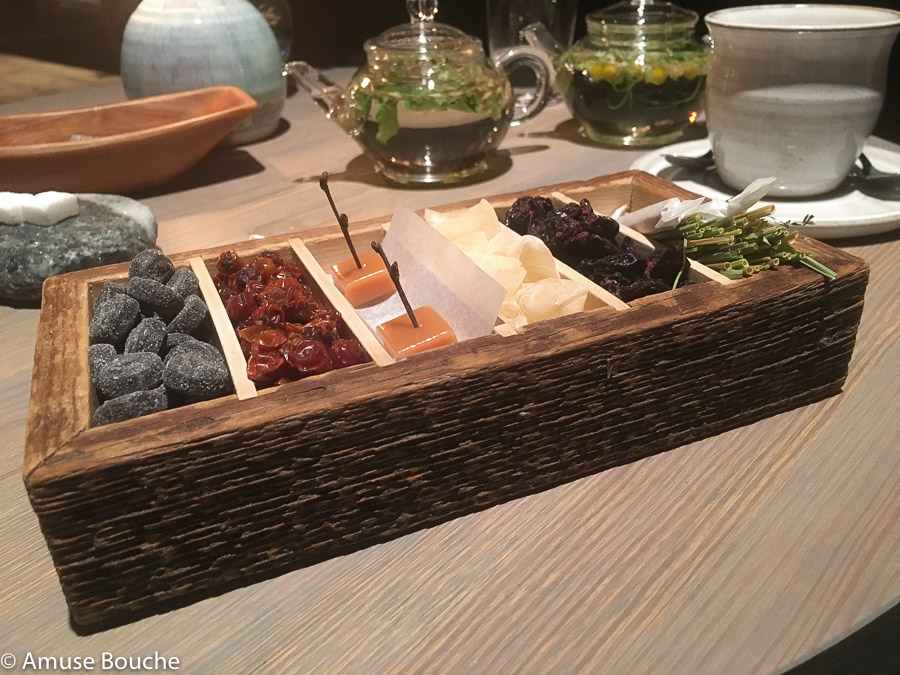 Aromatic seeds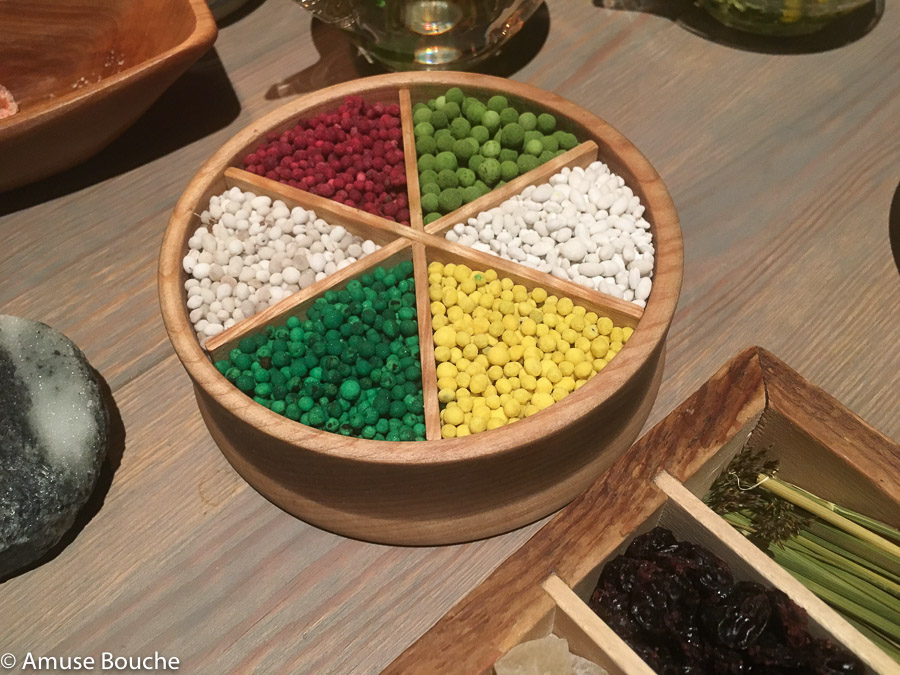 Snus fermented in a used bitters barrel
Wines
We went with the wine pairing. It includes 4 wines plus a local beer. And they didn't care about the number of glasses. We enjoyed this approach, but we believe this menu deserves an extended list of wines.
Wwine pairing list:
Jamtland Vingard, Faviken Ljust Mjod, Oster-Ovsjo, Jamtland
2014 Domaine Emmanuel Giboulot, Le Pierres Blanches, Bourgogne
2012 Reichsrat von Buhl, Riesling GG Pechstein, Pfalz
2011 Michel & Stephane Ogier, Cote-Rotie, Rhone
2011, Klein Constantia, Vin de Constance, Constantia, South Africa
Service & Atmosphere
The Faviken team knows how to create a cozy, informal atmosphere. We felt this from the first contact with Magnus and the team. At the end of our meal we socialized with the staff and shared some culinary memories from around the world.
Faviken represents a new milestone for us in terms of culinary adventures and efforts to get to a restaurant.  But it was a tasty journey and a also one from which we had much to learn. Totally worth the extra effort.
Good to know:
There are 2 booking seasons at Faviken.  On 1st of September they open the reservations for January / June next year. And 15th of April is the date for July/ December. The food in paid in advance.