"Go ahead. I'm sure you'll guess just fine which are the edible charcoals" says the curly guy while placing a big plate in front of us. On it, real charcoals and surprise nourishing elements in disguise sit along in a dark, textured, intensely visual set-up. Every expectation we had is now exceeded. They like to play games. In the most visual and imaginative way.
We visited Restaurant Andre in 2017, March. And it was one truly memorable experience.
The restaurant that "has them all"
Andre is the best restaurant in Singapore and second best in the whole continent according to Asia's 50 Best Restaurants 2016&2017. It also has an impressive No.14 position in World's 50 Best Restaurants 2017 and owns 2 Michelin Stars since the guide's entrance in Singapore, 2 years ago.
Hosted by an elegant 30's villa in a cosmopolitan city, Andre restaurant mixes excellent technique, quality ingredients (thanks to the amazing logistics system of Singapore), great flavours and creativity. Around that, a strong concept stretches its hands embracing every detail along the way. From the visual lines of the culinary story to gamification elements, everything starts and ends in the Octophilosophy.
Restaurant Andre is the kind of project that can only come out of clear vision, great experience and a strong connection with one's self.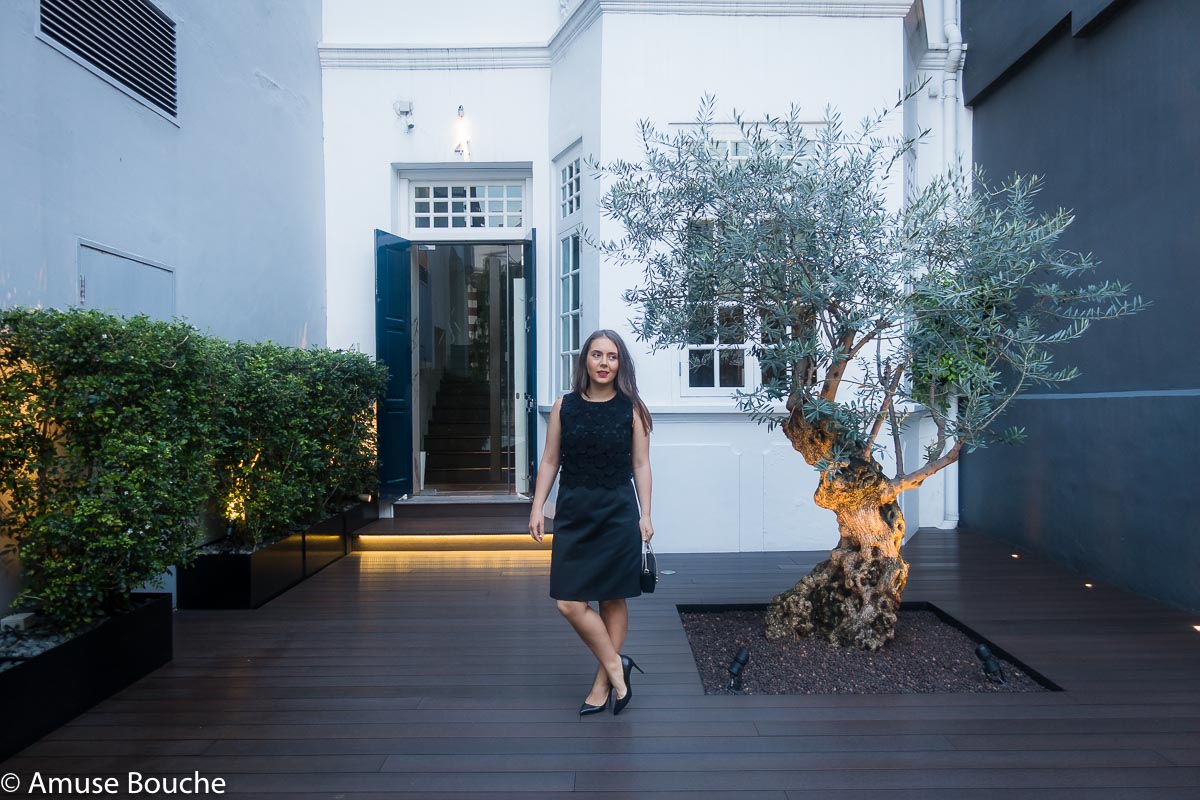 The picture painted at Andre feels authentic and harmonious. It gained a special place in our memory and onto our palates as a consistent, elegant, emotional whole. More important, we felt we had this experience at the right time. A few years ago, we most probably would have not had "the eye" for all the subtle touches.
The French connection
Andre Chiang was born in Taiwan, grew up in Japan and moved to the South of France when he was 15 years old. His first job was under Jacques and Laurent Pourcel. During his many years in France, Andre worked only in 3 Michelin stars restaurants, learning precious skills from famous chefs: Pascal Barbot, Pierre Gagnaire, Joël Robuchon and Michel Troisgros.
Andre came back in Asia, when turning 30. This time in Singapore. He put to practice the French heritage in a very personal way, adding influences of his Taiwanese roots and the ones discovered in his new home country.
He rapidly became a name of reference in Asia. Andre Chiang is today proud owner and chef of Andre and co-owner of other few restaurants climbing in a hurry the ladder of world recognition: Burnt Ends in Singapore (no.10 Asia's 50 Best), Raw in Taipei (no. 24 in Asia's 50 Best), Porte 12 in Paris and Bincho Singapore.
An eclectic framework for a memorable experience
In a country where mostly everything was built in the last 20 years and at impressive dimensions, Andre occupies a narrow, 1930 villa layered on 3 levels.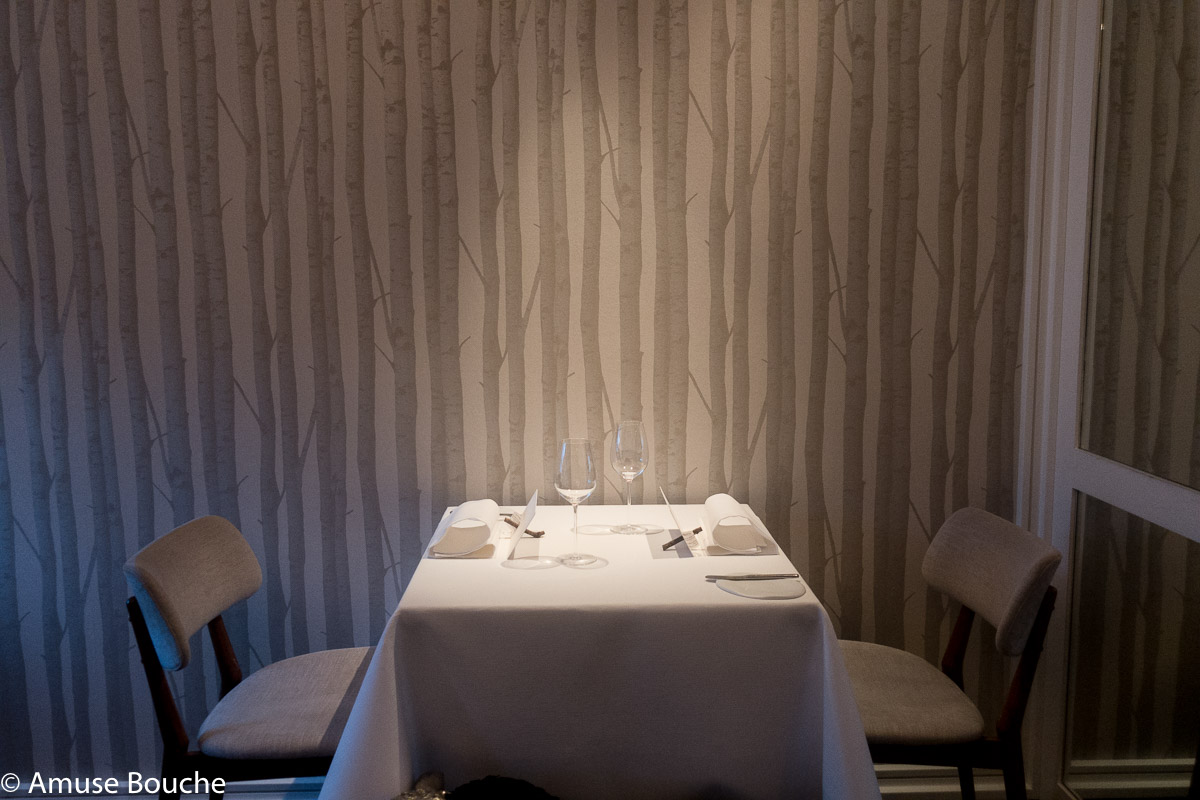 The space where all the tasty magic happens is eclectic. A framework in which French and Asian elements coexist along much "forward" elements. Like this true size black sheep (picture below) sitting beside our table and silently bearing Ruxandra's mini bag. An Instagramable corner, one may ad.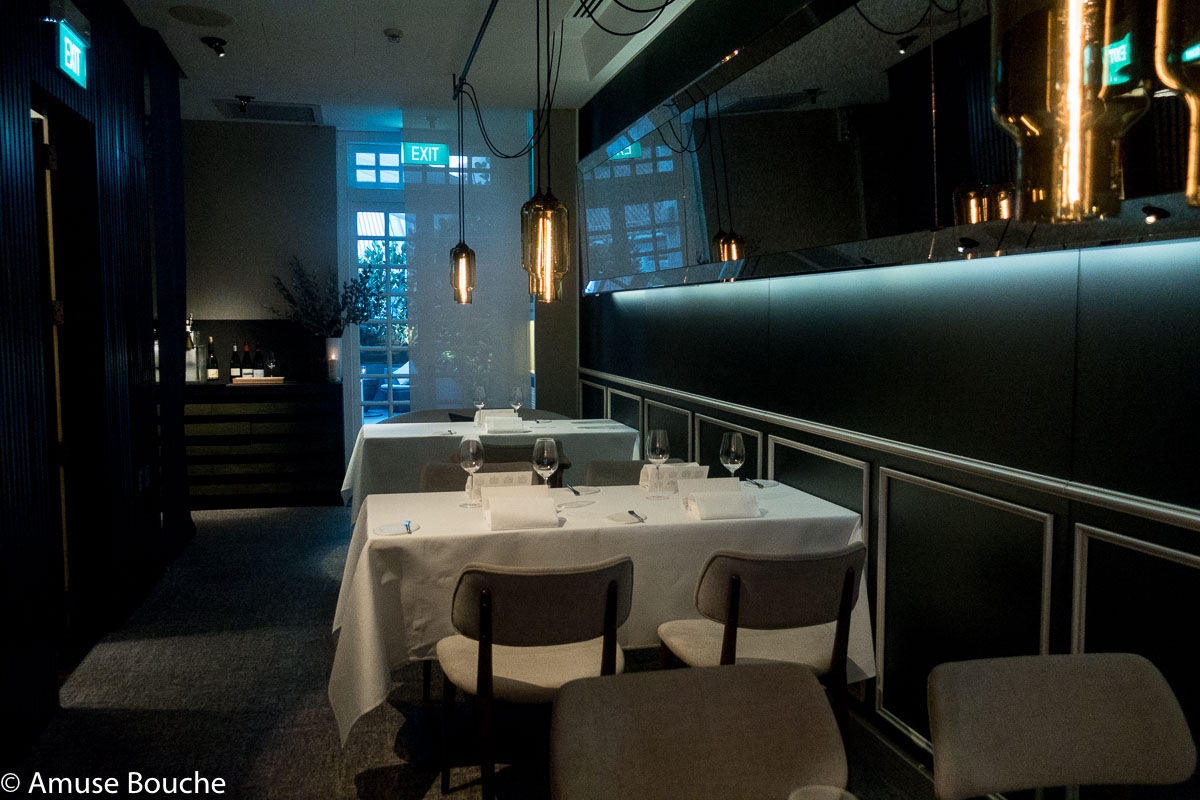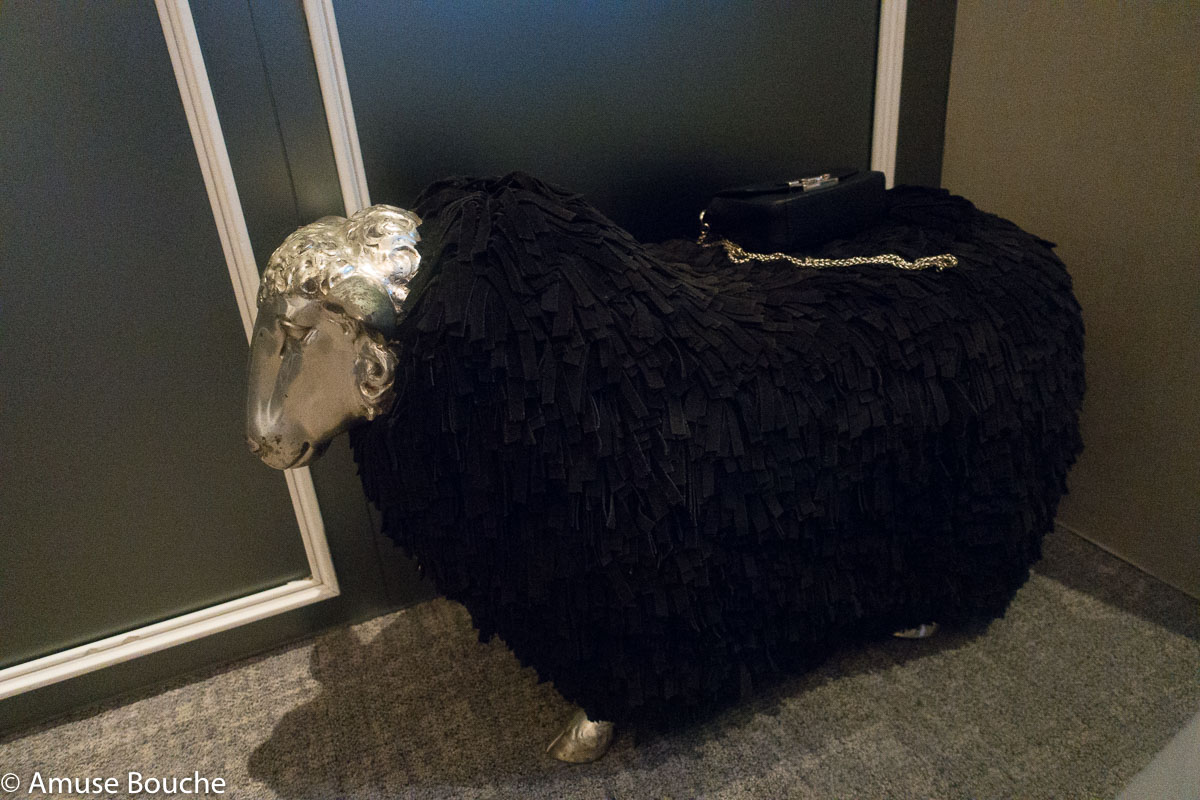 Andre Chiang's sparkling creativity also translates into sculptures and ceramic shapes, many of them gaining their place in the restaurant.
Restaurant Andre has 30 seats. Everything feels intimate, curious and precise to its creator. Like being guests in the house of Andre Chiang.

Citizens of the world
"I was born in Iran, but grew up in Germany and went to school in the US. After school, I came back in Germany for work, moved to London, back again in New York and now I'm here in Singapore for 4 years. So now I'm from Singapore". This was the totally surprising answer one of the staff members gave to the simple question "Where are you from?". 95% of people would deliver a line of maximum 5 words.
"Citizens of the World" – that is the feeling we got from every team member at Andre. Quite the mantra of the entire country, but Andre made us so aware of it. 12 nationalities under the same roof. One big, diverse team. One family.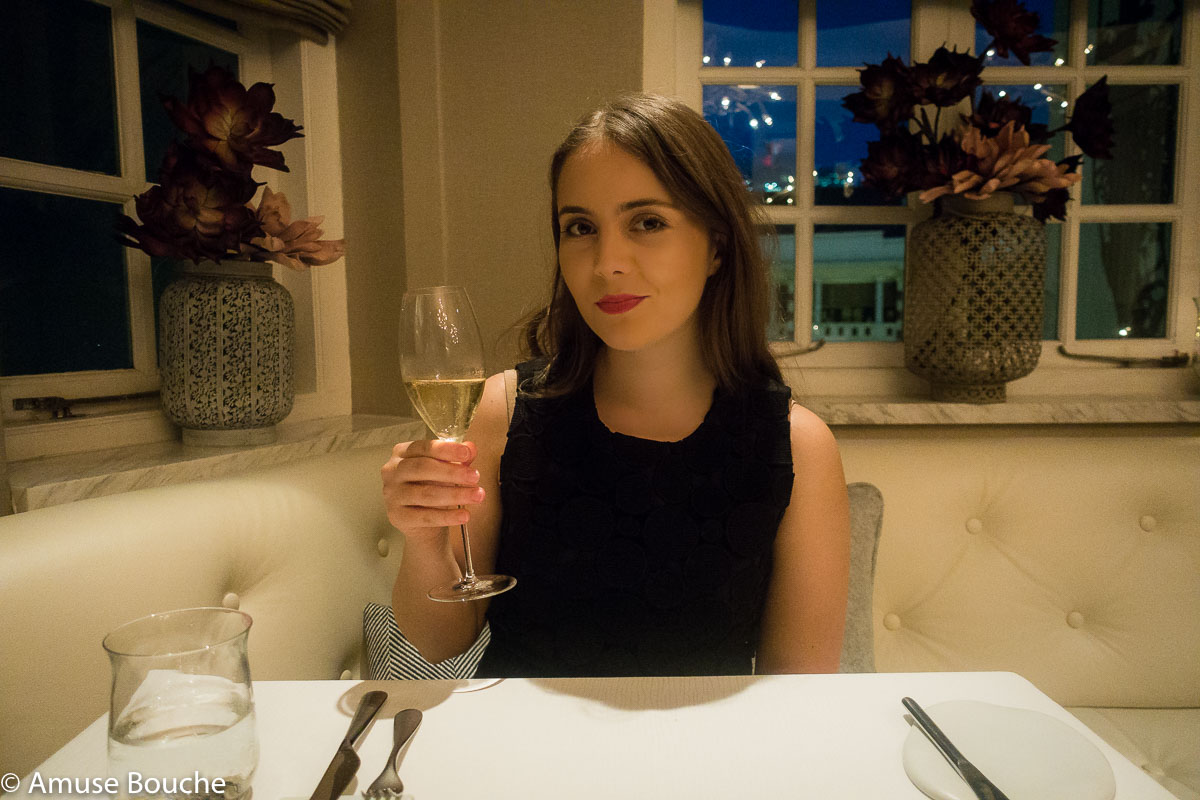 The staff's attitude and knowledge are always 50% of the experience for us. And we really enjoyed the approach at Andre, where every member of the team presents the dishes through his own filters in a very authentic way. The restaurant offers only one menu for dinner. With adjustments according to each guest's dietary restrictions, of course. So, it's a big plus when one manages to still deliver new interesting views about a plate that half of the guests in the room already ate it, so it was already presented for 2 or 3 times.
Pamela, Andre's wife, has a very important role in keeping everything personal. She is physically and emotionally involved in every stage of the journey. But let's talk about the food.
The Octaphilosophy
The menu is built around an unique concept – Octaphilosophy. 8 values of gastronomy get a memorable tribute at Andre restaurant. The attributes always remain the same, but the dishes associated to them change from time to time, according to seasons and other factors.
Pure, Salt, Artisan, South, Texture, Unique, Memory, Terroir came to our table in a surprising order. We had to guess along the way which plate meets which attribute. The only exception: Memory. The most special dish in the menu, unchanged since day 1.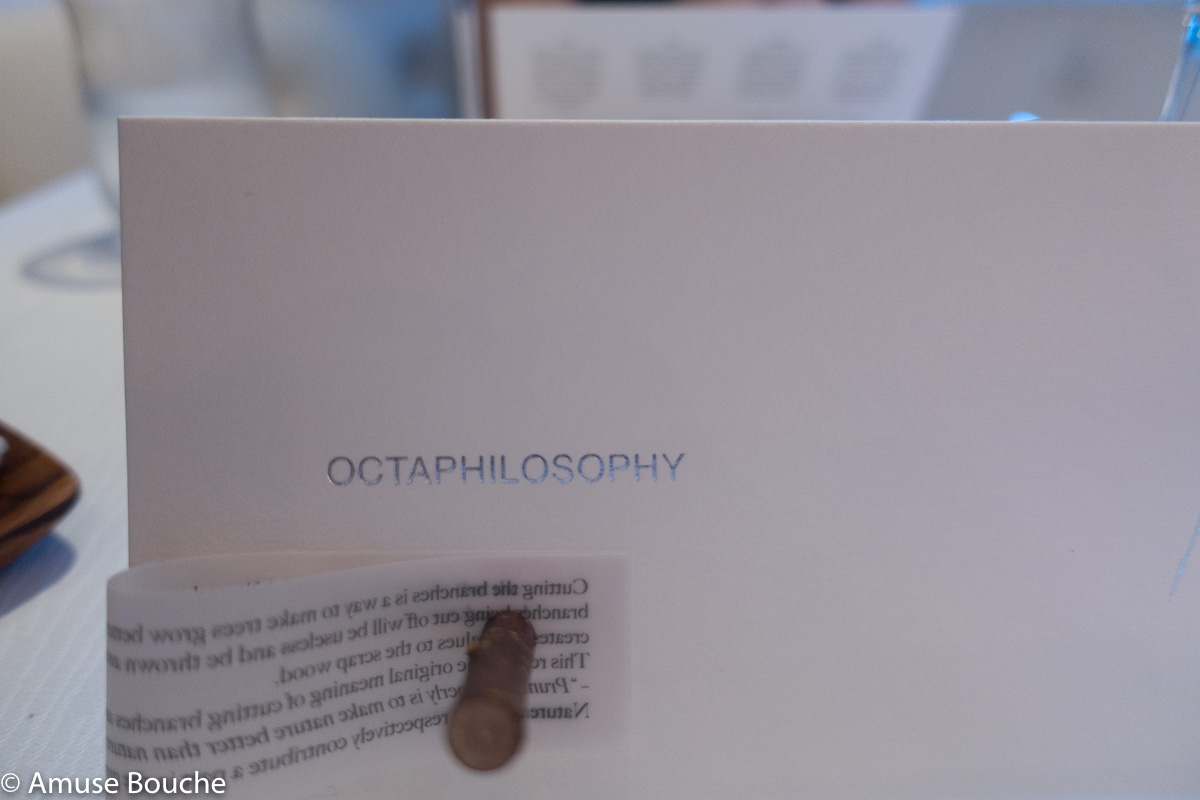 Instead of talking about techniques and ingredients, the Octaphilosophy moves the focus to ideas and emotions. It's a way of shifting the experience on emotional ground. 8 conceptual dishes, completed by many other starters and desserts. All in all, over 20 different plates and bites.
Act 1
Black cherry, red coral capsule
Baby mushroom croque en bouche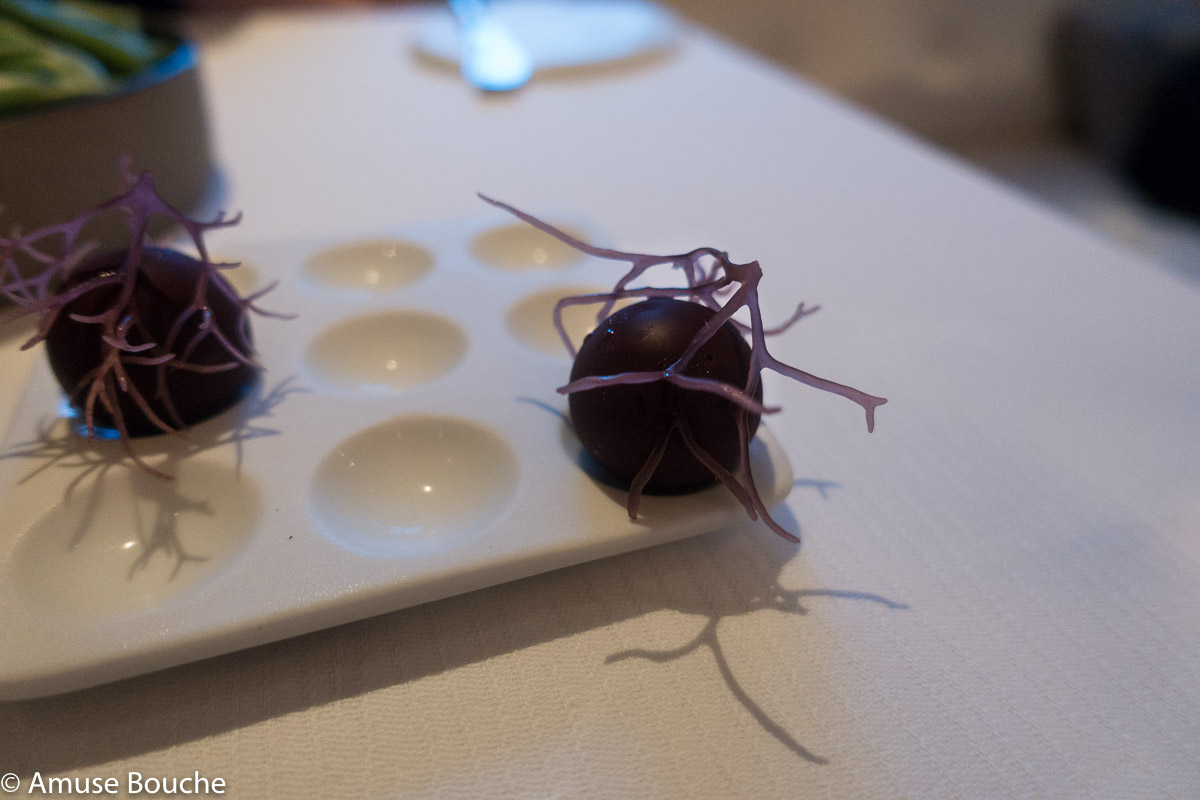 Sweet peas, sea urchin, tarragon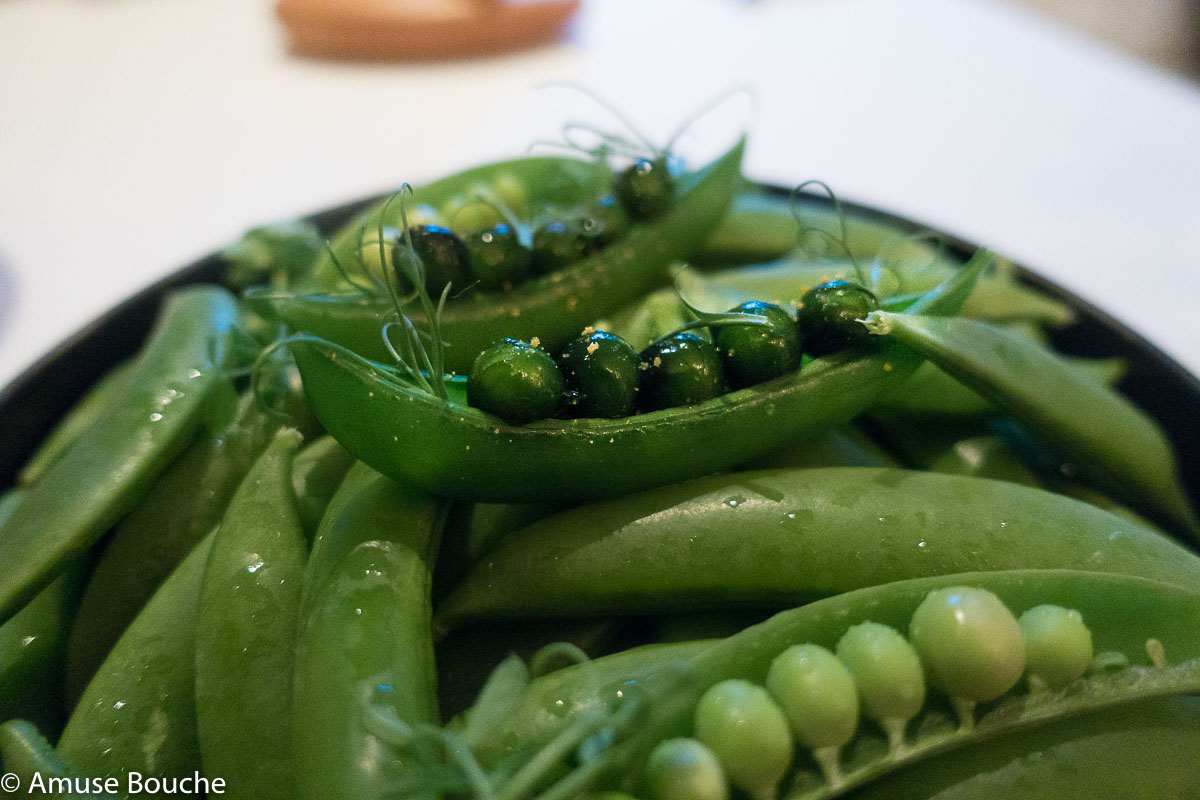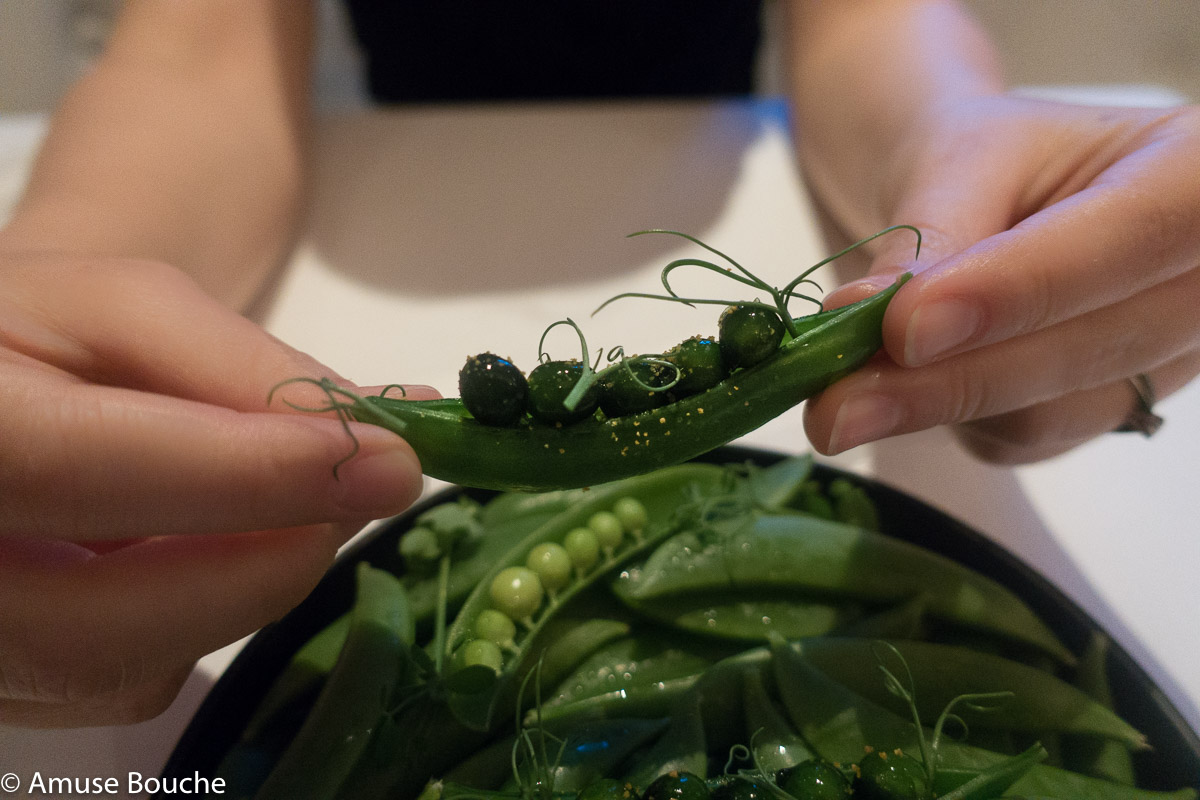 Burnt Cauliflower Masala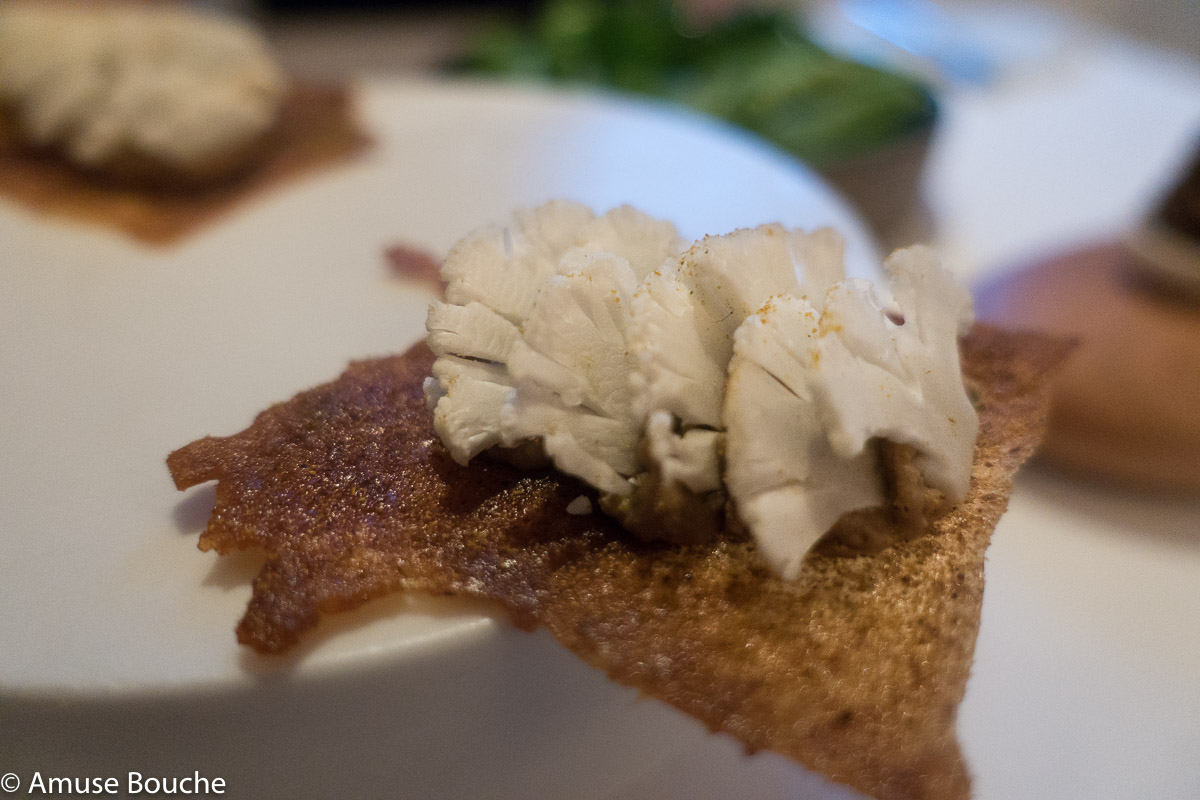 Abalone, kombu, liver
Fish&Chips
 – Just look at this amazing plating.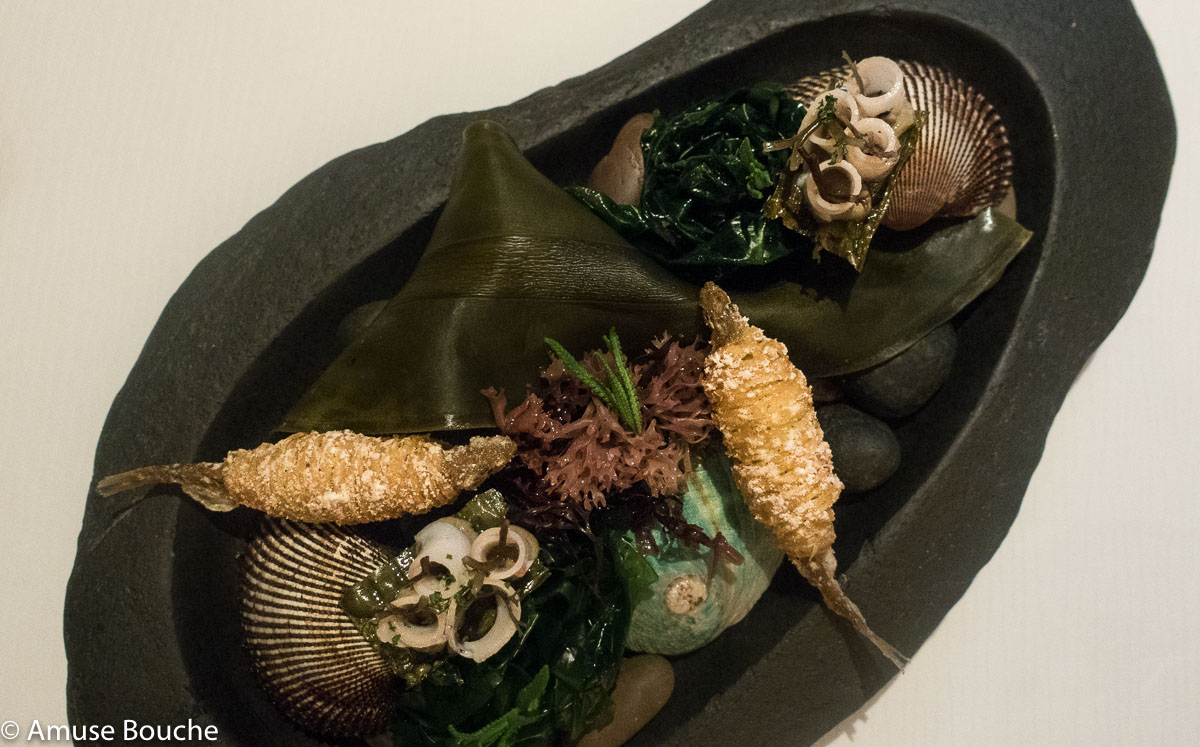 Beef, caviar, potato souffle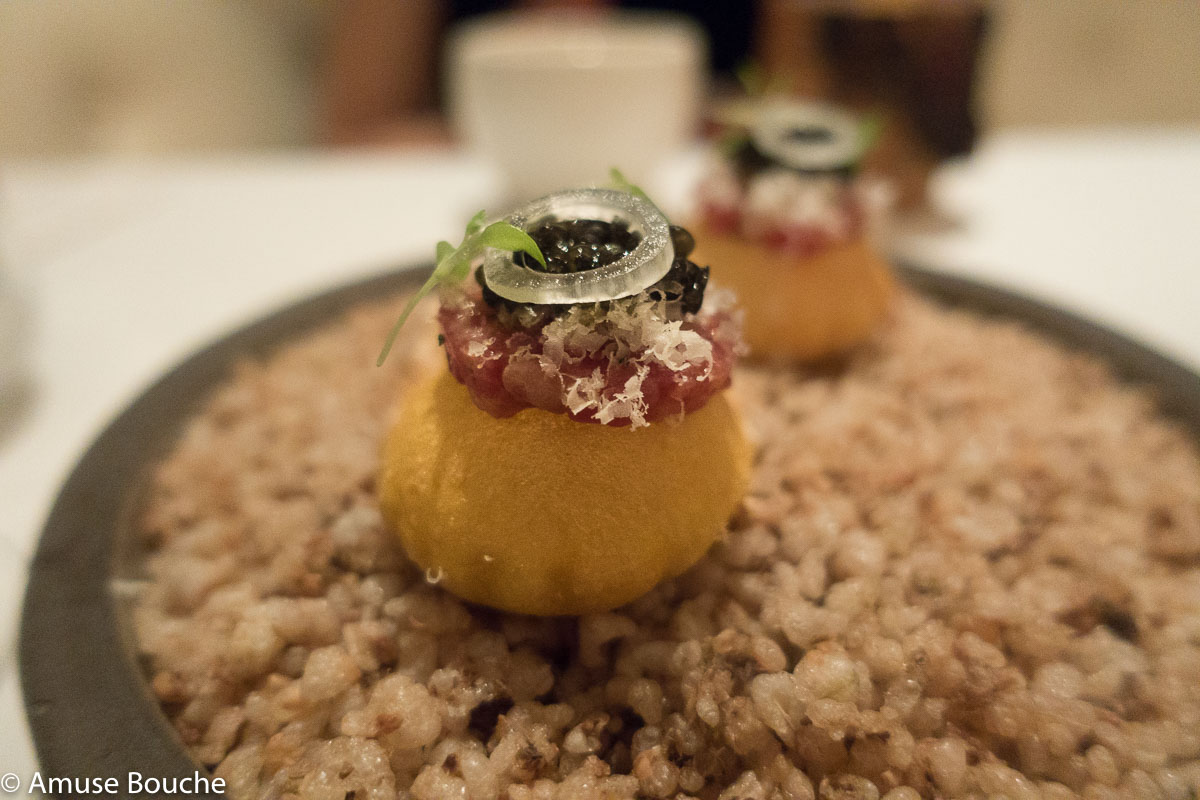 Miso, celeriac, wildflowers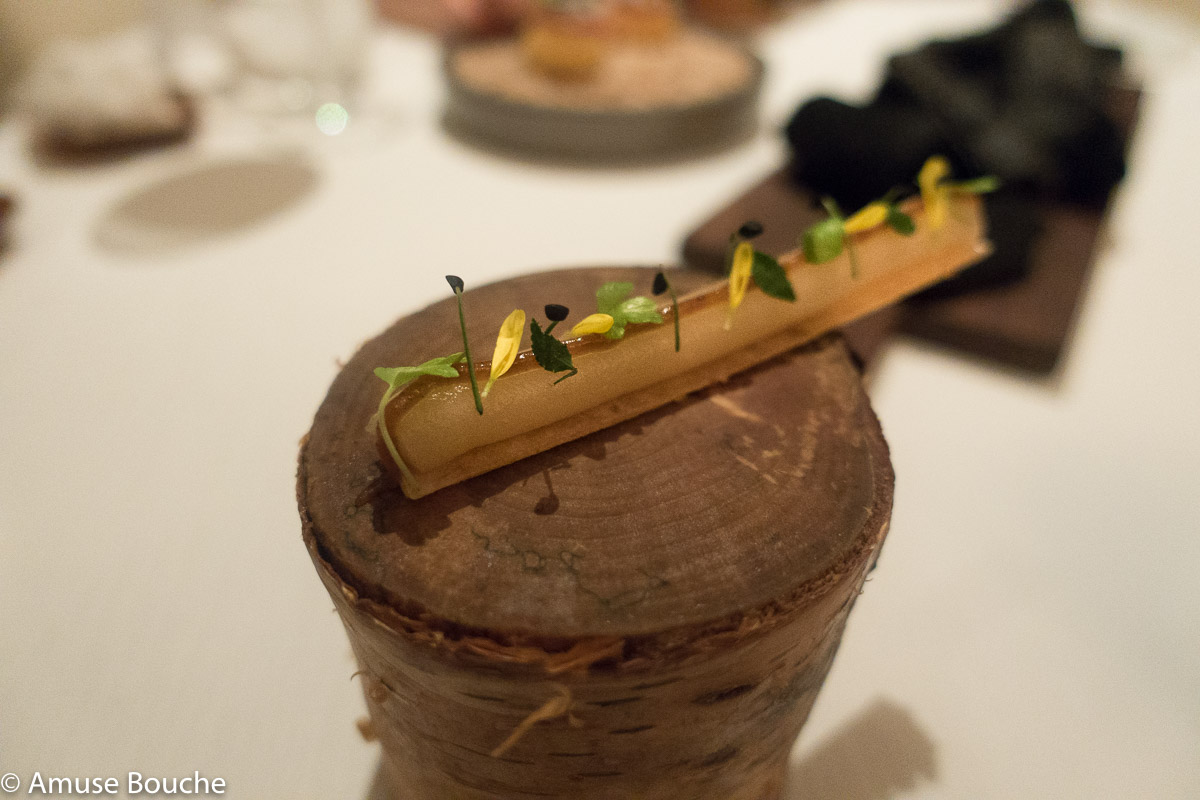 Charcoal, piquilos, sweet prawn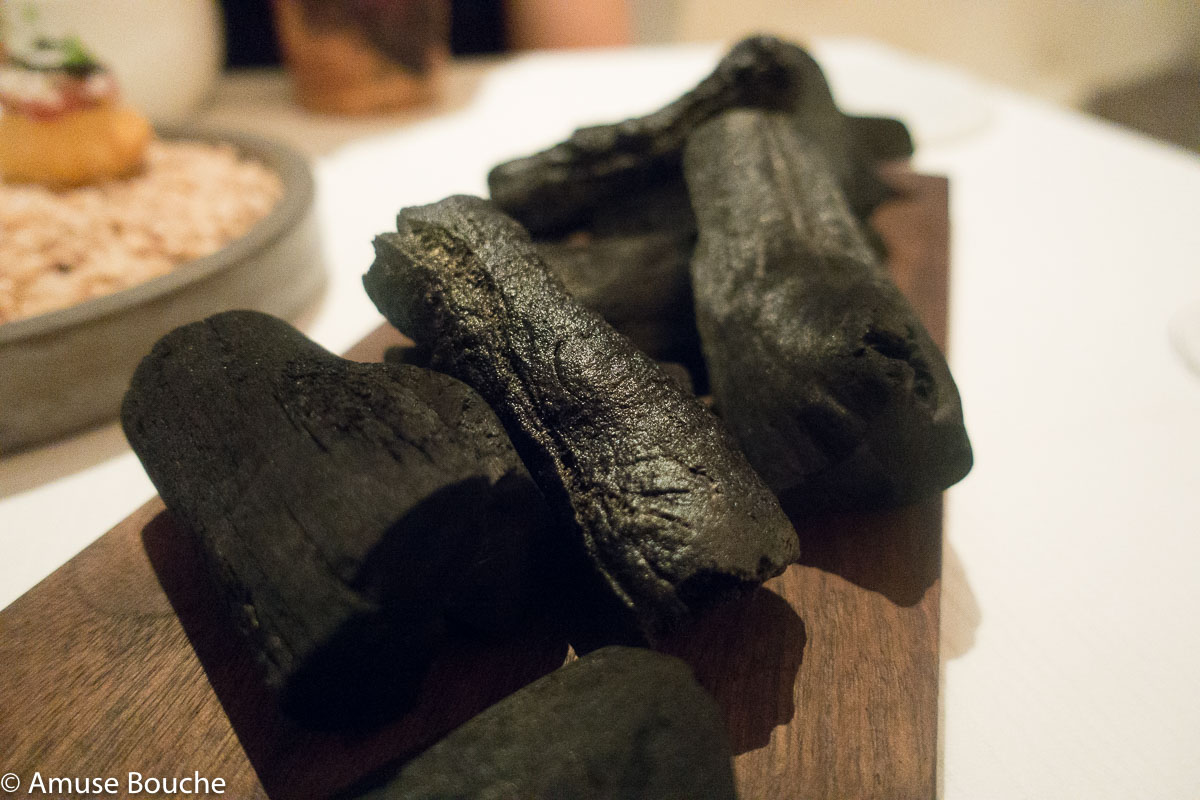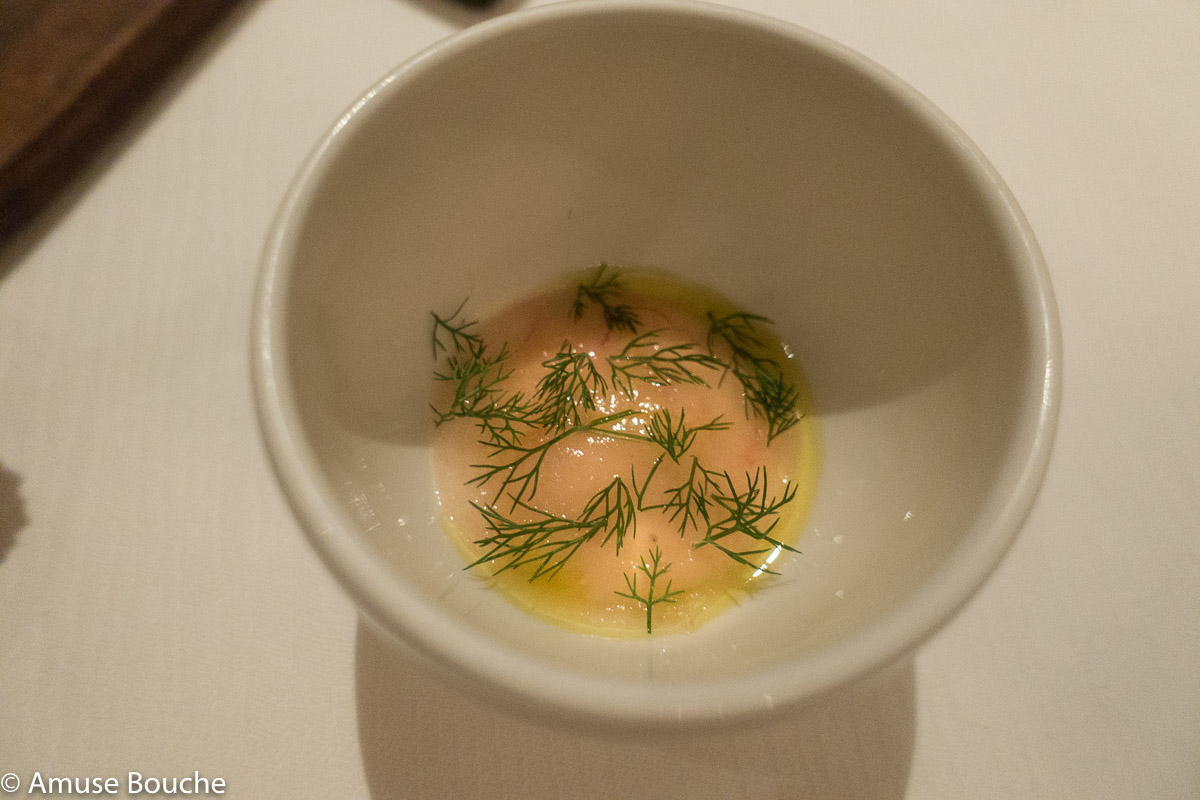 This is the dish we were talking about at the beginning of the article. A different approach on churros, infused with charcoal sitting alongside a soft, creamy prawn and Piquillo peppers sauce.
Act 2
TEXTURE  – A symphony of textures in different layers, with rhythm and complexity.
Our dish: Smoked swordfish, cucumber millefeuille, chrysanthemum jelly.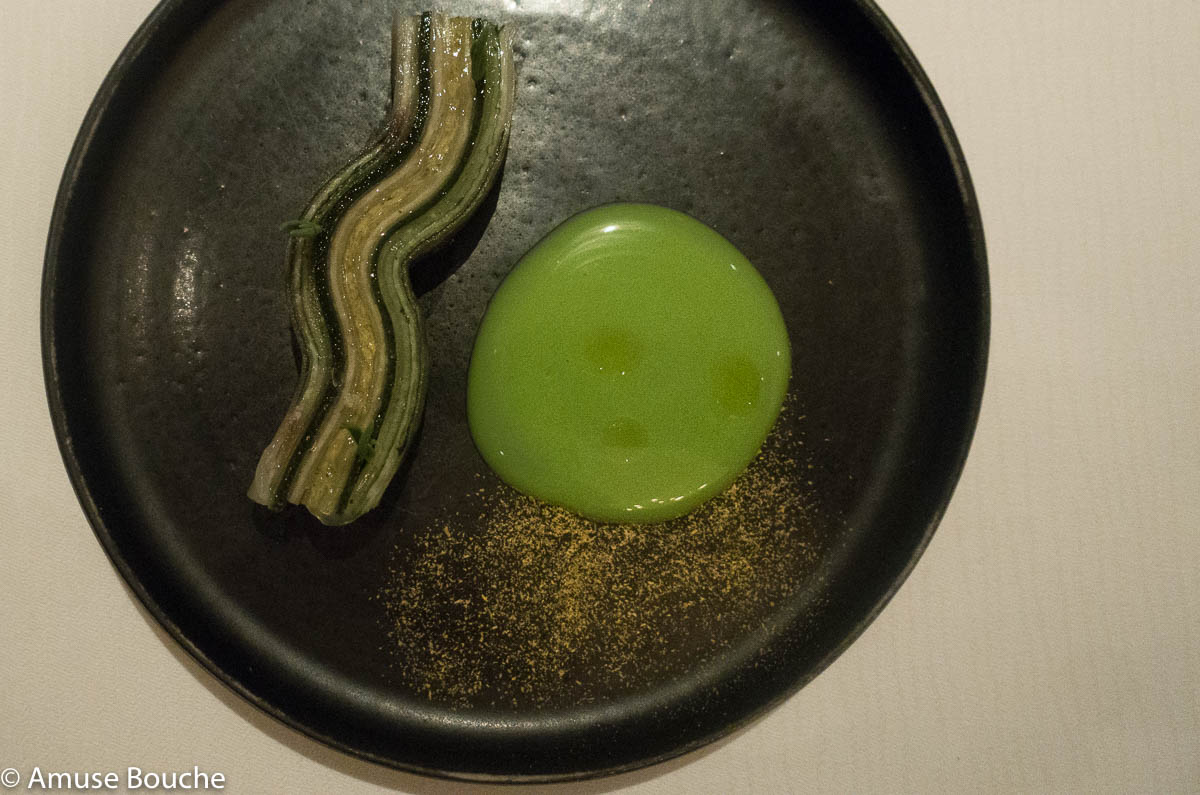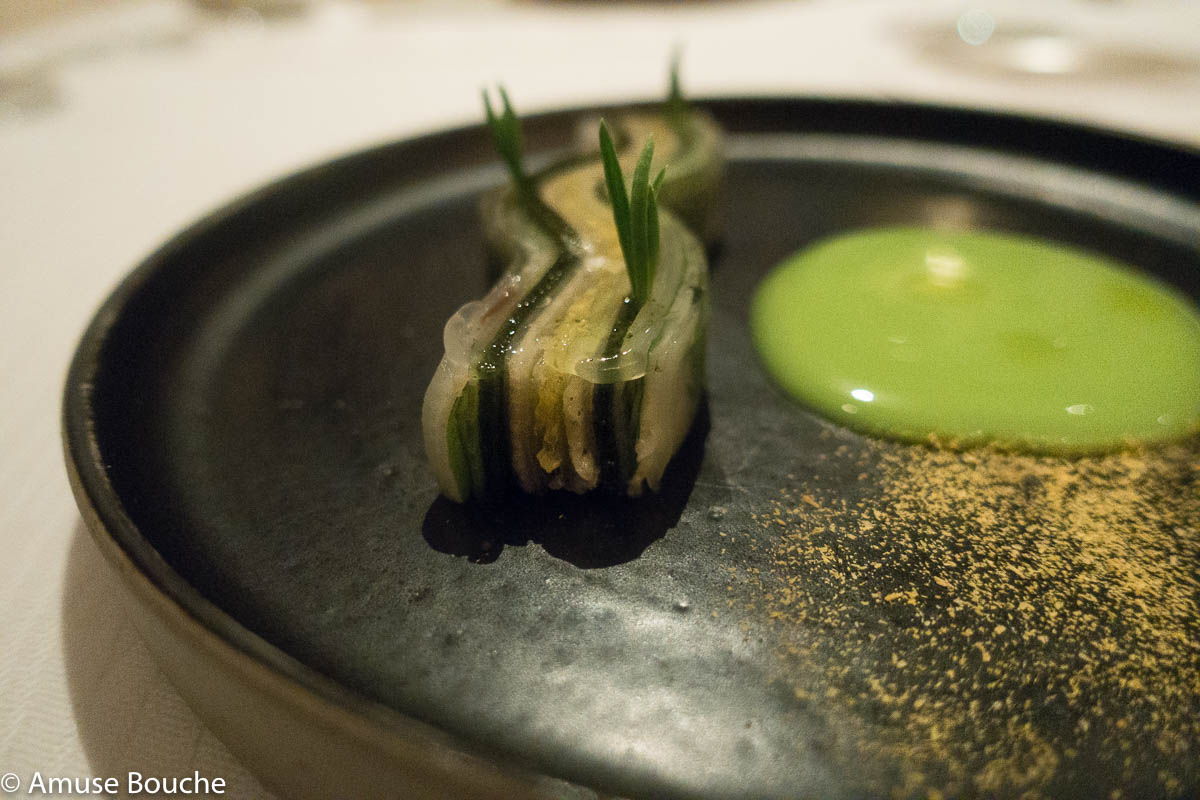 From smoky, to savoury and a bit acidic. From crunchy to extreme softness, to powders over creams. Everything in a memorable whole.
PURE – This attribute builds up on the idea that beauty is everywhere, in everything. And the truth sits in simplicity. So, to be able to reach its full potential, one ingredient is placed "on a stage" in its most natural, pure state.
Our dish: Kohlrabi ravioli, stone crab effiloche, leek water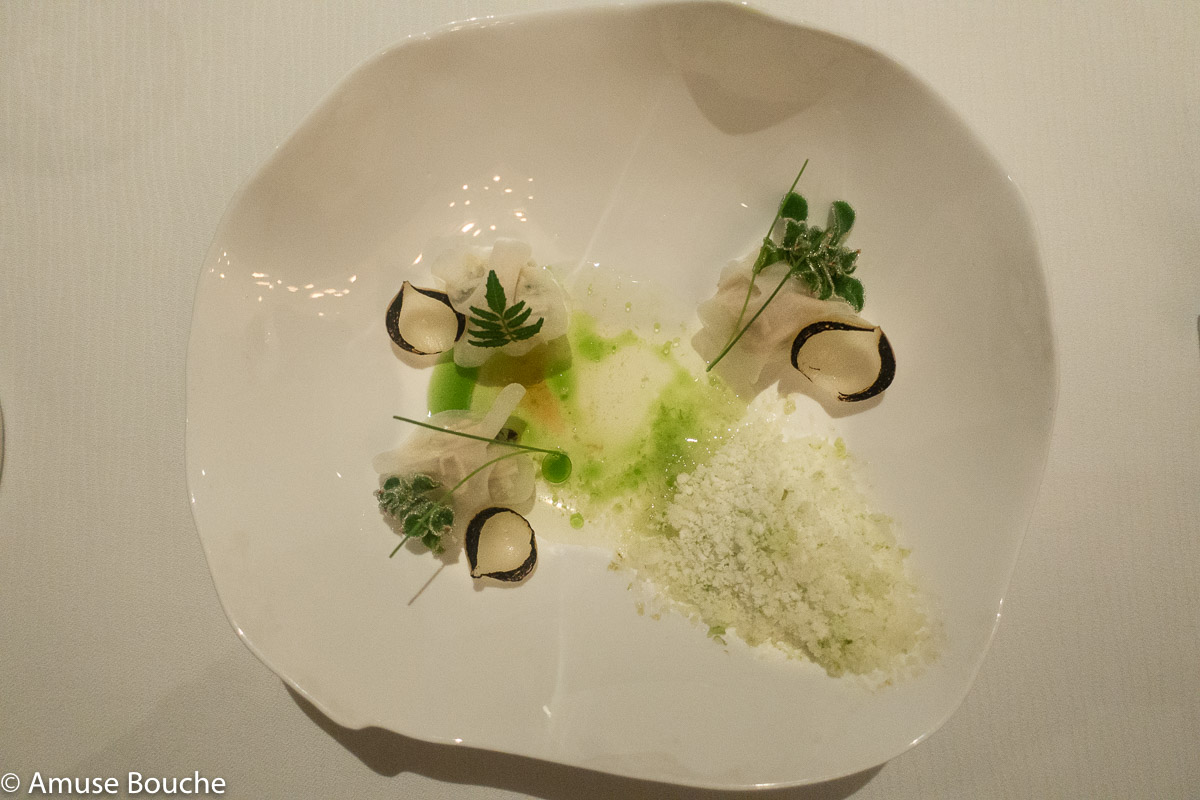 ARTISAN – In Andre's philosophy, the practitioners of the art of cultivation deserve to be celebrated. Because they bare the history and the passion on their shoulders and dedicate their life to the craft of turning simple ingredients into gold.
Our dish: 17 legume du moment, charred toro vinaigrette fermented broth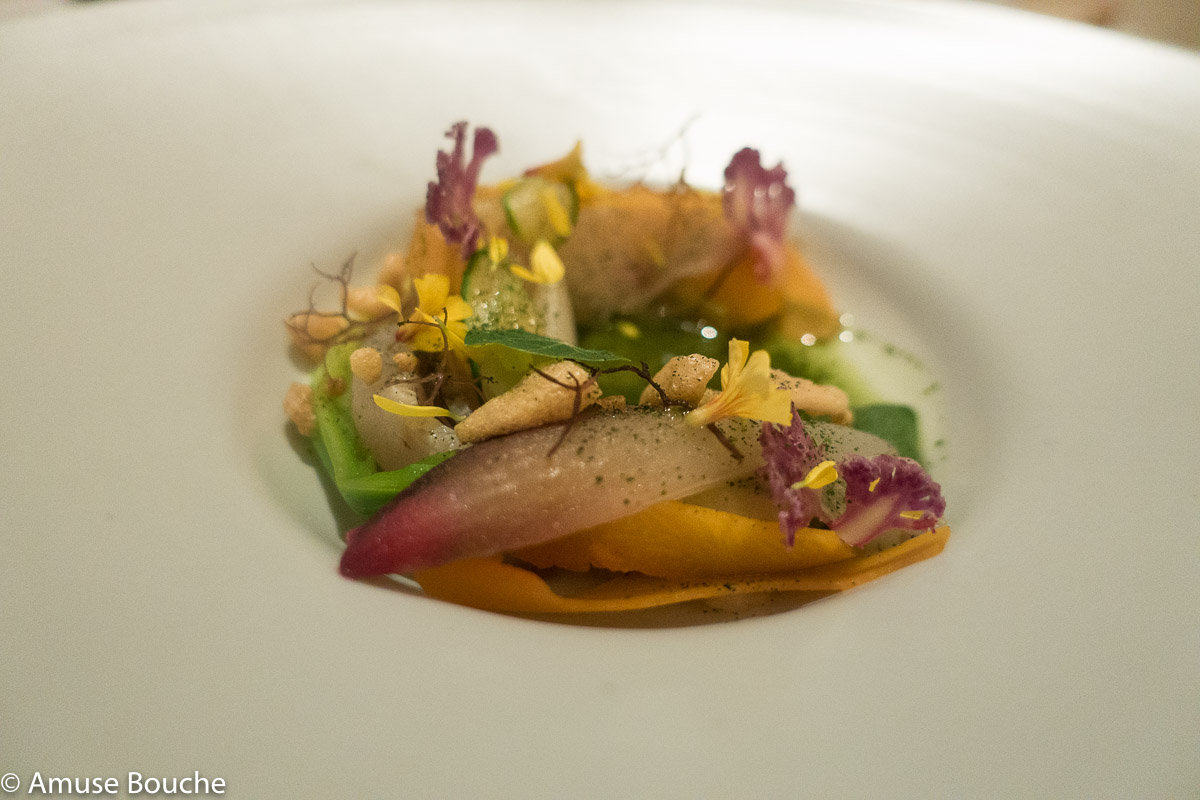 Artisan is the value (and the dish) that sits closest to our hearts. The humbling result of 17 top quality seasonal vegetables treated with respect.
SOUTH – This one is a reference to the South of France, a very special area on the world map in general and a special place for Andre. The place where everything started.
Our dish: Seared gillardeau oyster / scallop lasagna, caviar aubergine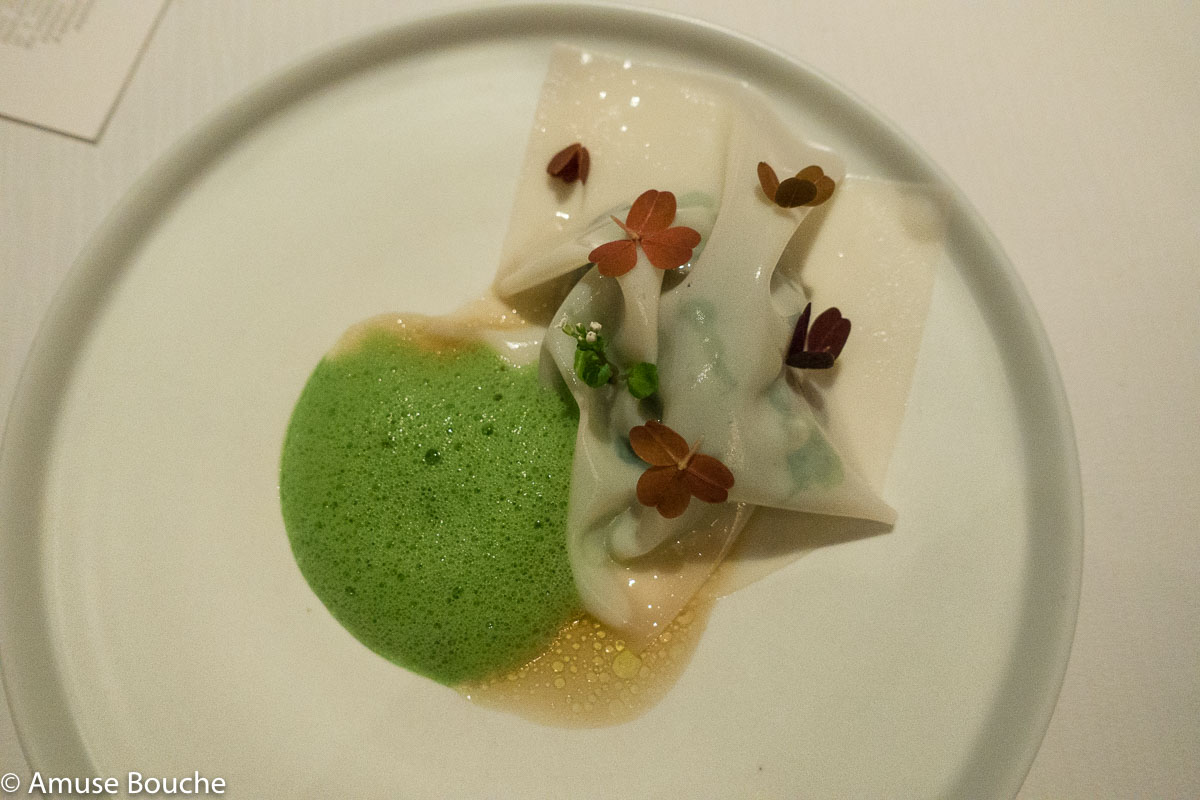 SALT – Salt in essential in so many ways. Starting with the way it used to be a form of payment or a way to preserve food to its ability to make a dish taste better. In chef's Andre Chiang vision, salt is the key of life.
Our dish: Squid spaghetti, kelp jus, sorghum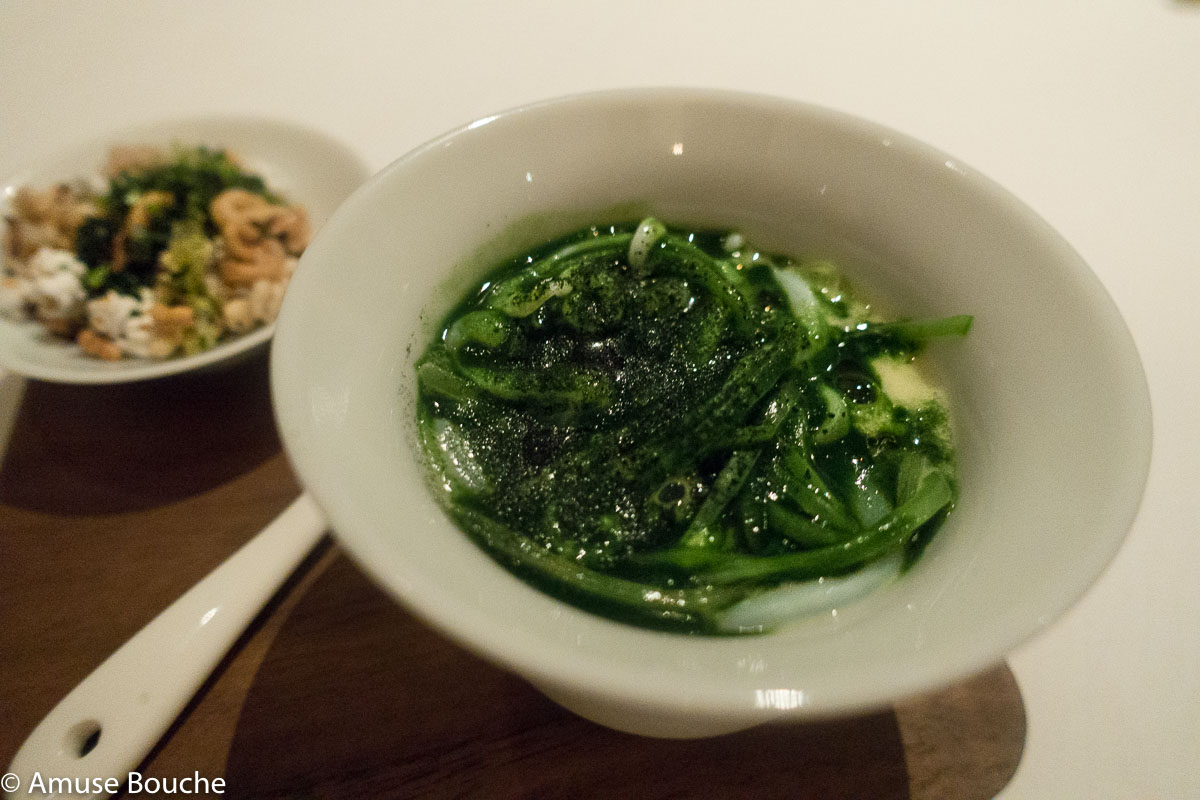 This dish was salted by its own resources, without any other addition. Stunning.
MEMORY – The most important reference for us as individuals – Memory. Our memories are our best friend. We are our memories.
Our dish: Foie gras royale, black truffle coulis, chives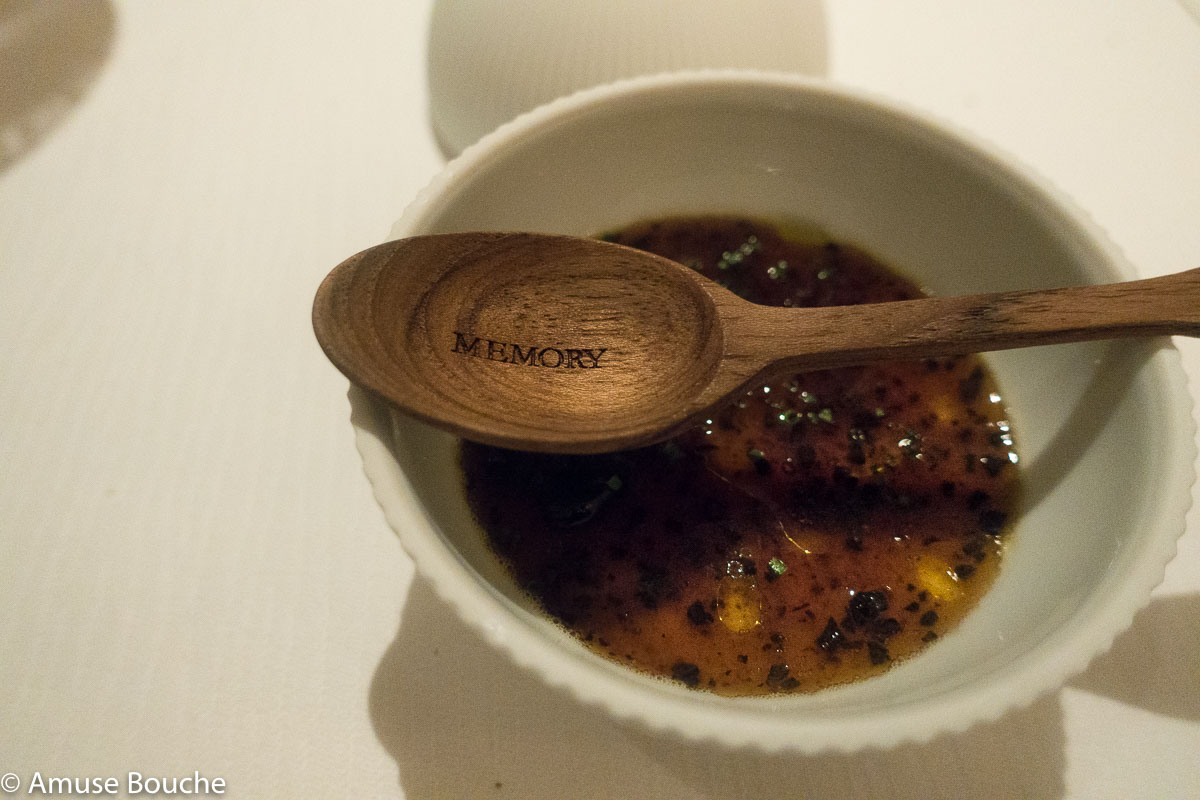 The first dish ever created by Andre Chiang back in 1997 when he was still in France is the only constant of the menu. A plate remembering him and to all of us tasting it about beginnings and turning points.
TERROIR – The characteristic of a specific place and time, tradition and culture, geography and climate – all incorporated into the ever-present origin.
Our dish: Cacao nibs, welsh lamb, Champignon mont-blanc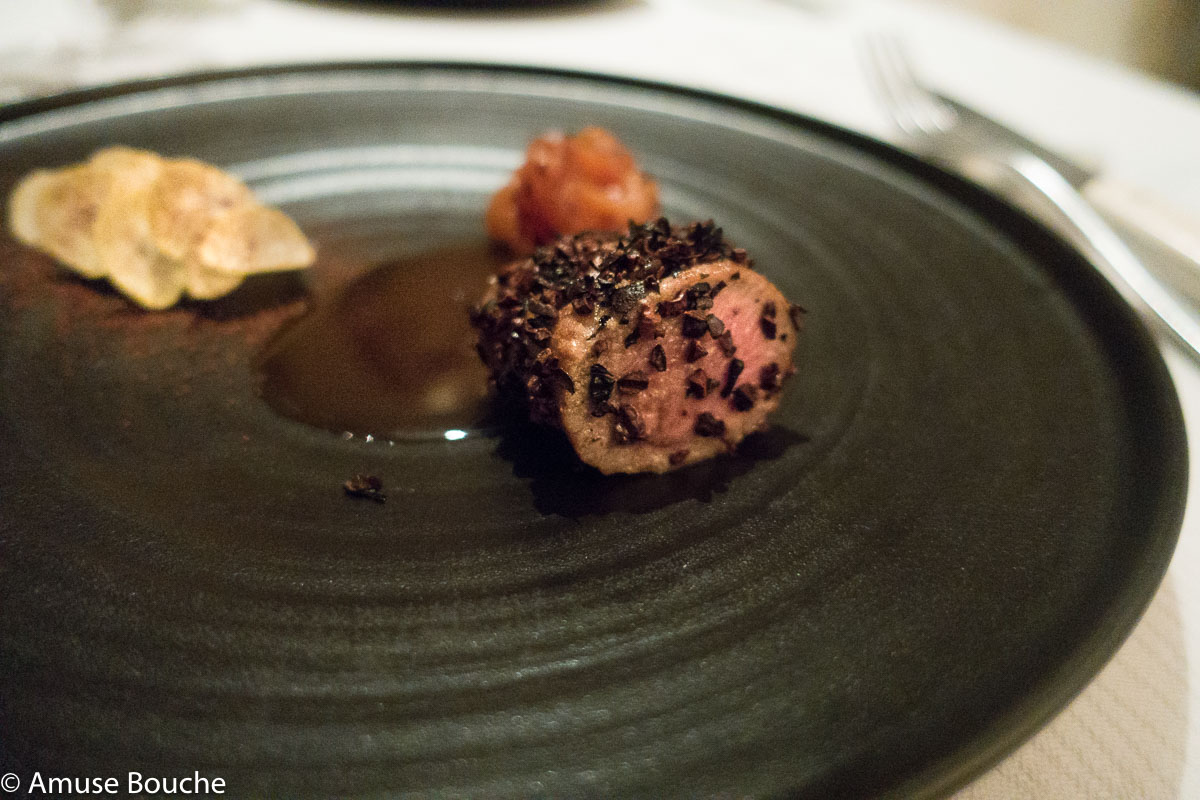 UNIQUE – One ingredient, one unique approach. A new way of seeing something, with imagination and curiosity, leaving behind everything you thought you know about it.
Our dish: Rice ice cream, amasake, rice puffs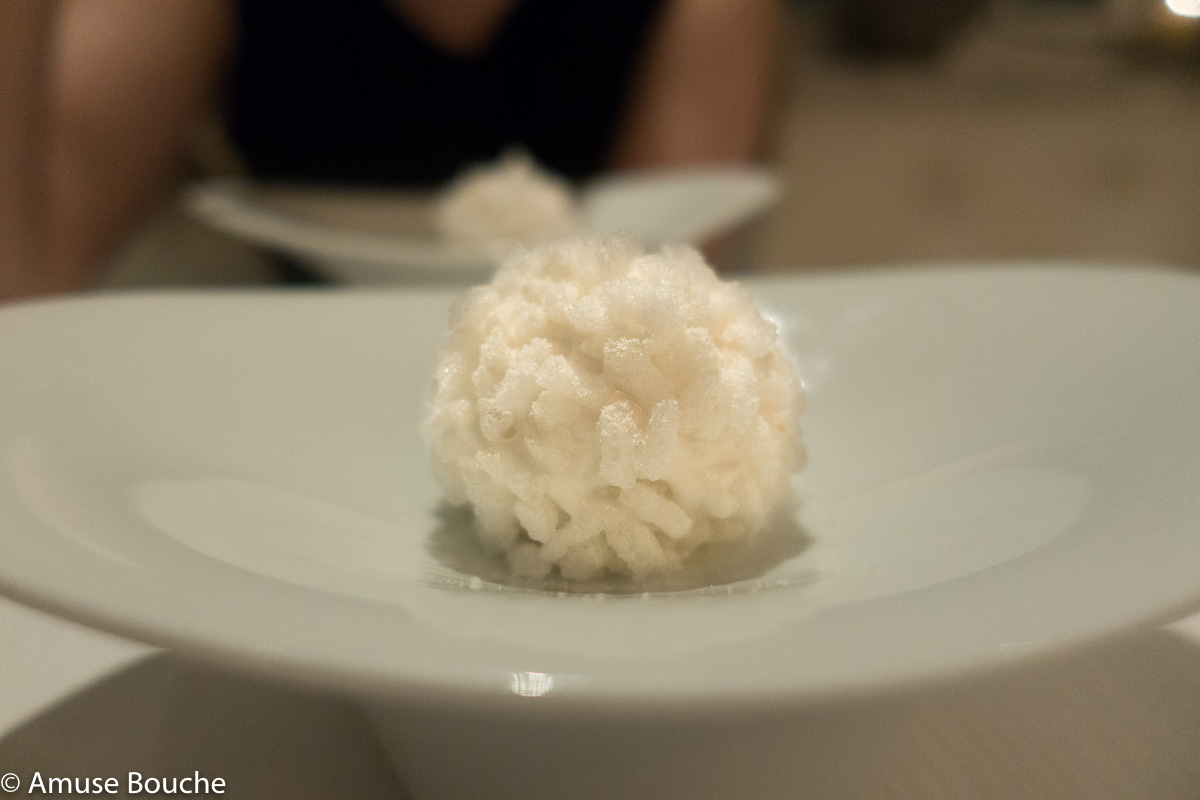 Rice 3 ways as dessert in one amazing result. This ingredient here is Japan's most precious rice, banned for exports. Part of an exclusive partnership with the high leaders of Japan, Andre Chiang enrolled to discover new depths of the rice offering the best sake to its country. And he found a creative, respectful and flattering way to do it.
Perche de vigne, muscadine grapes, pink coriander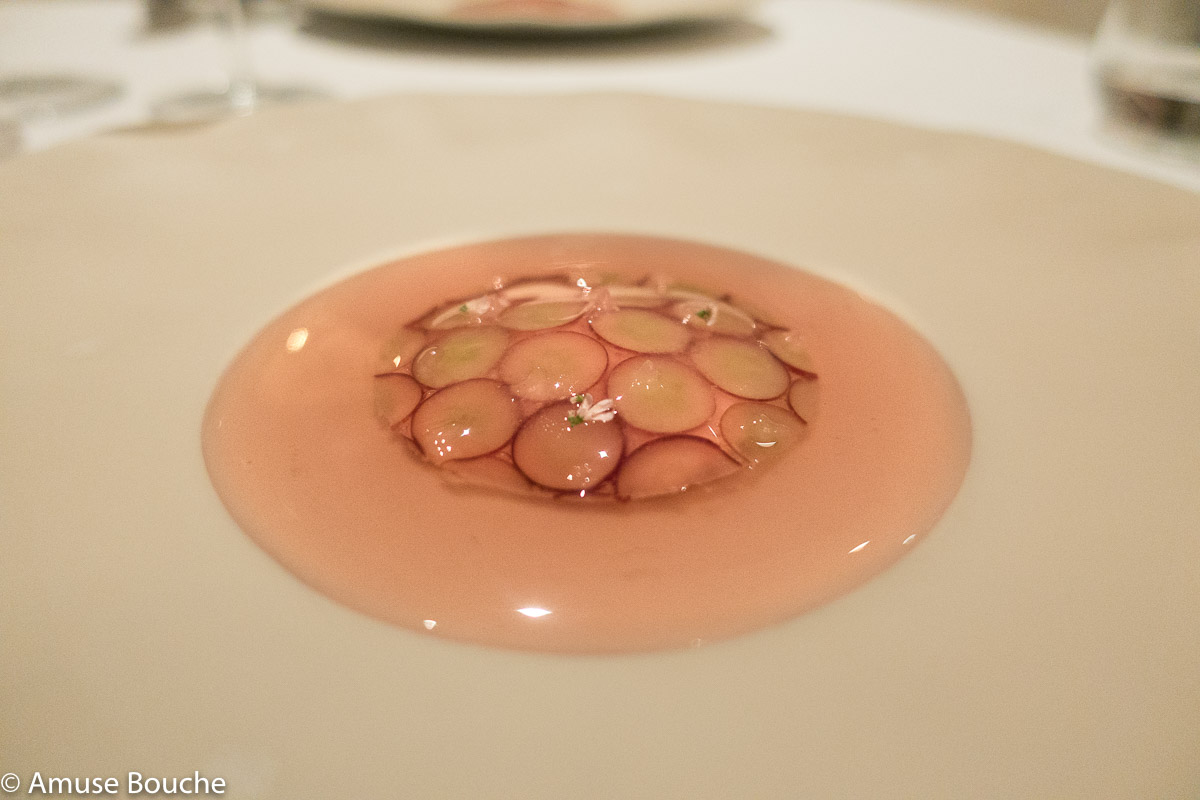 Hand cut grapes in a perfectly balanced dessert with subtle nuances and flavors.
Pickled plums, purple shiso granite, creme fraiche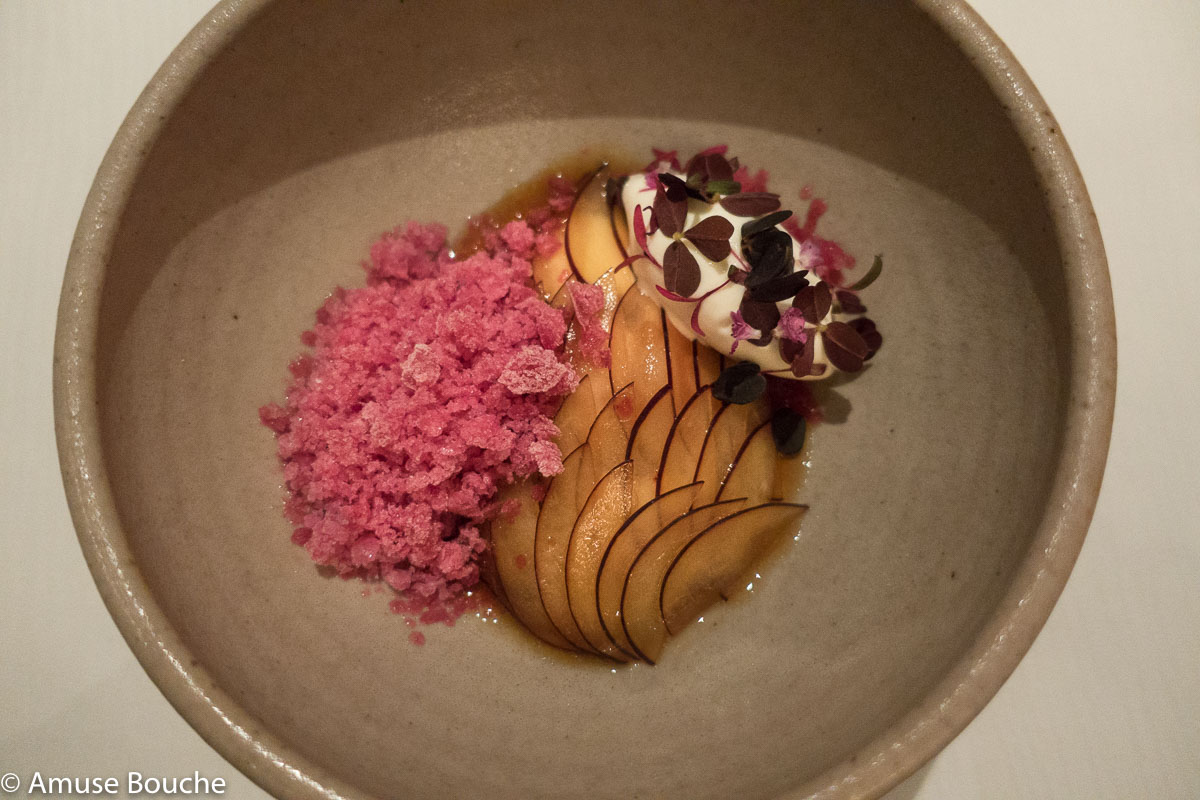 Act 3
Sucette / The noir / Financier / Madeline / Macaron / Pate de fruits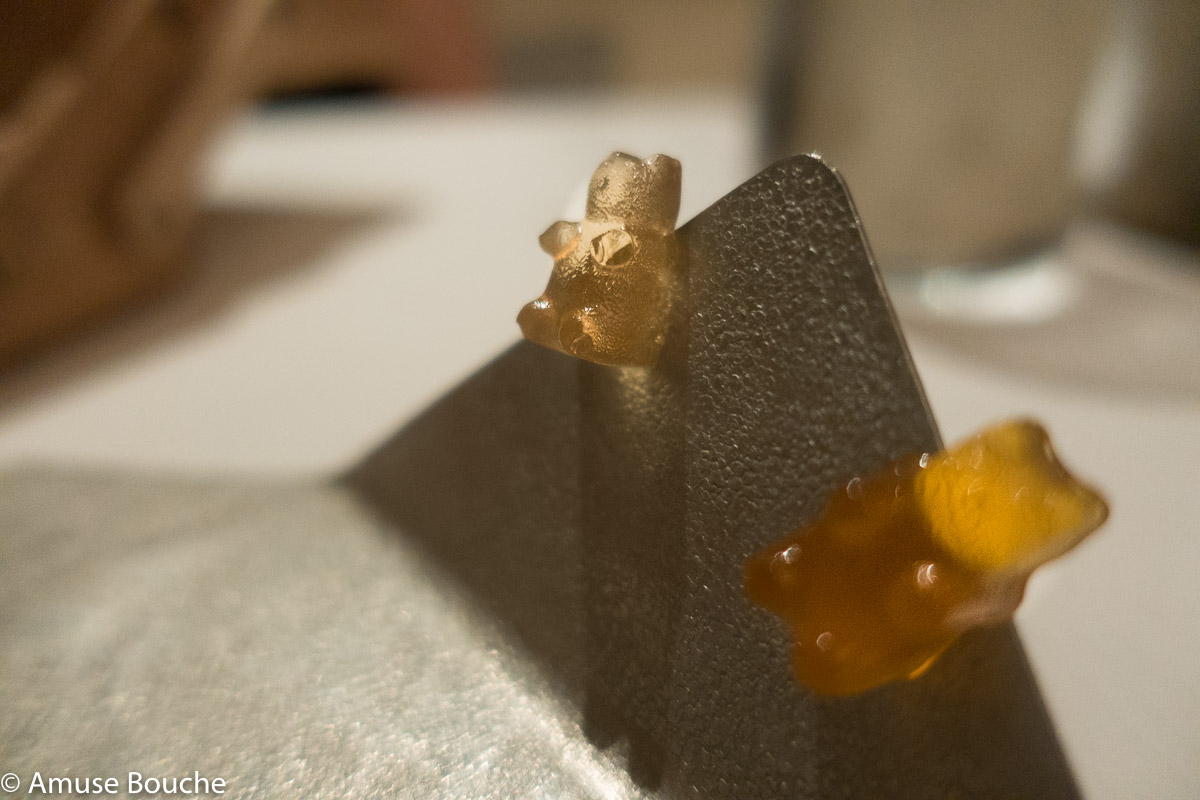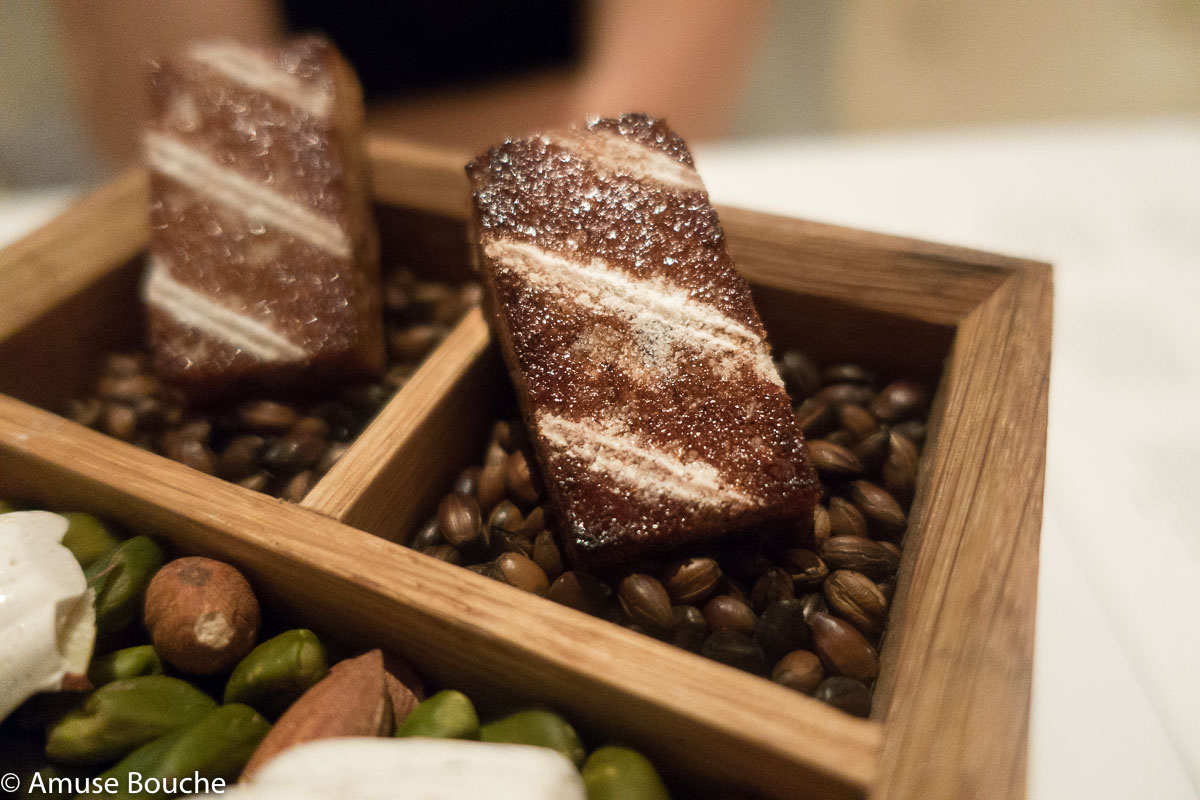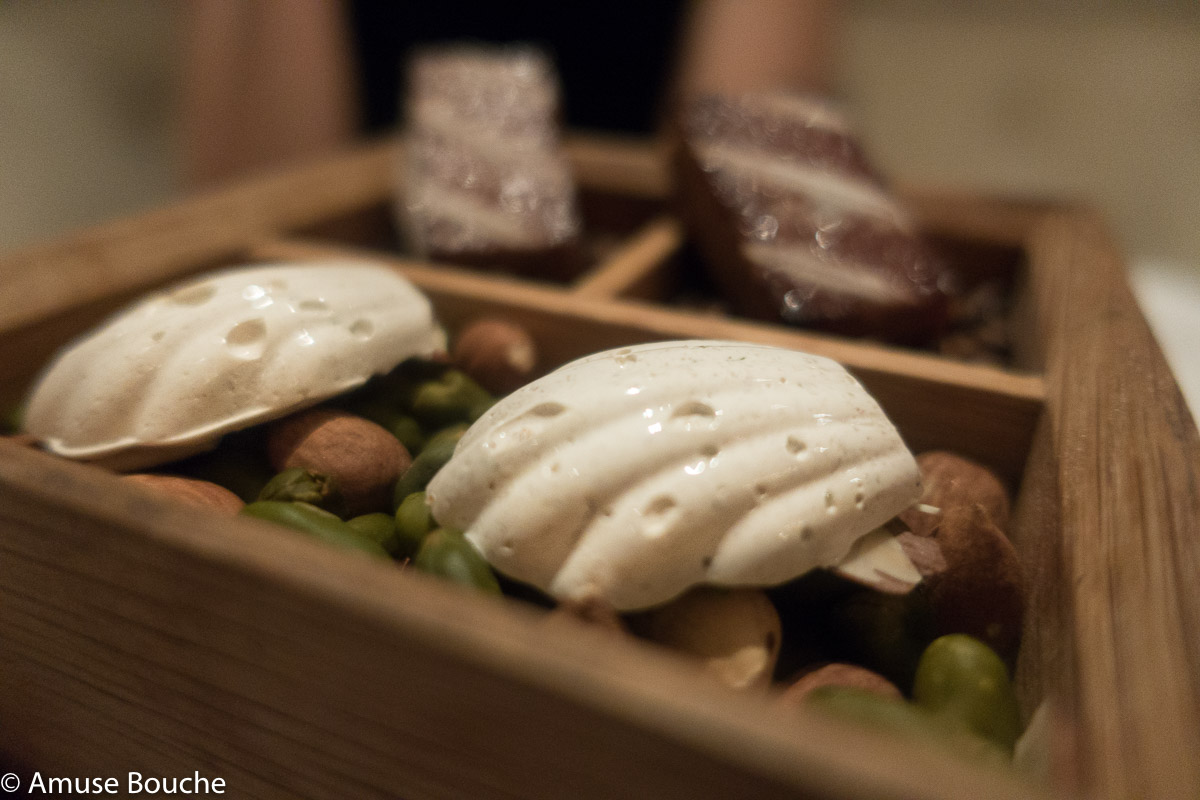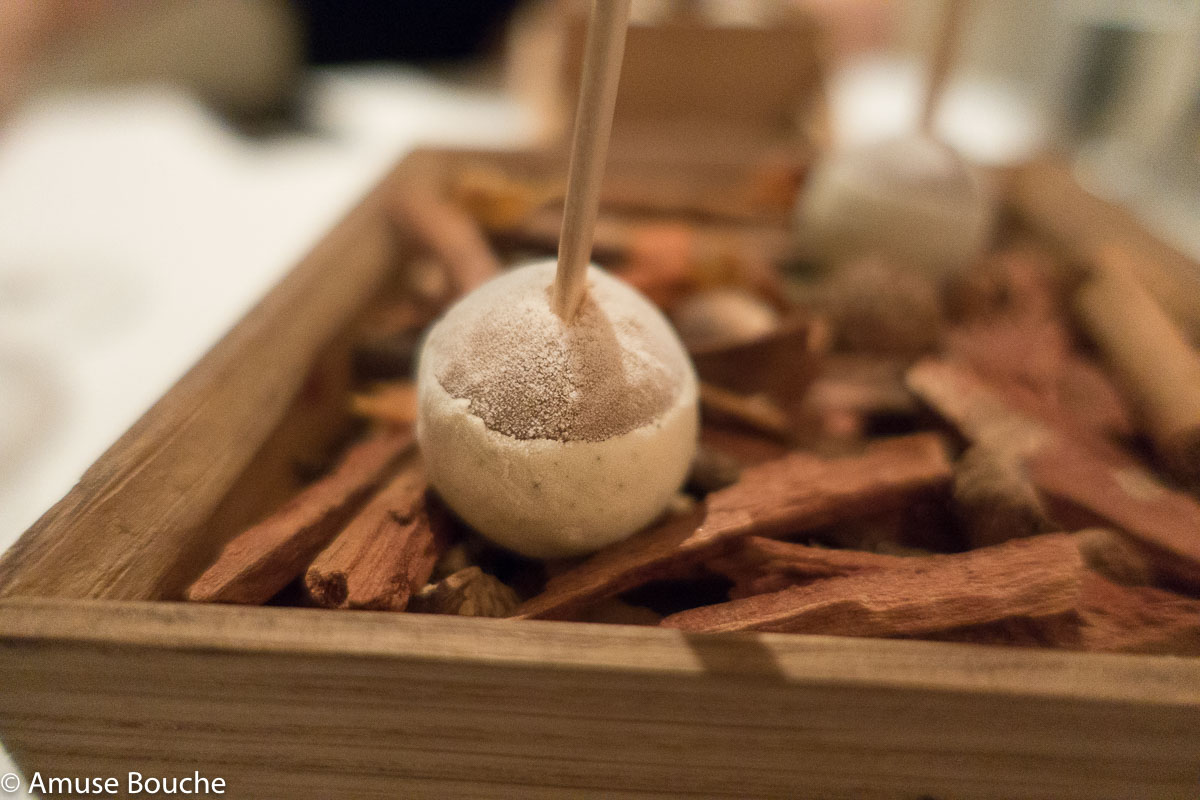 All in all, we felt the Andre experience exactly like The New York Times described it: "one of the top 10 restaurants in the world worth a plane ride".