"Do you also have oyster leaf?" we ask, still mesmerized by the discovery we made few years ago. "Sure, right here". We lean towards a particular spot in the great sea of pots, we pick a leaf. The familiar oyster taste in refreshing texture comes along.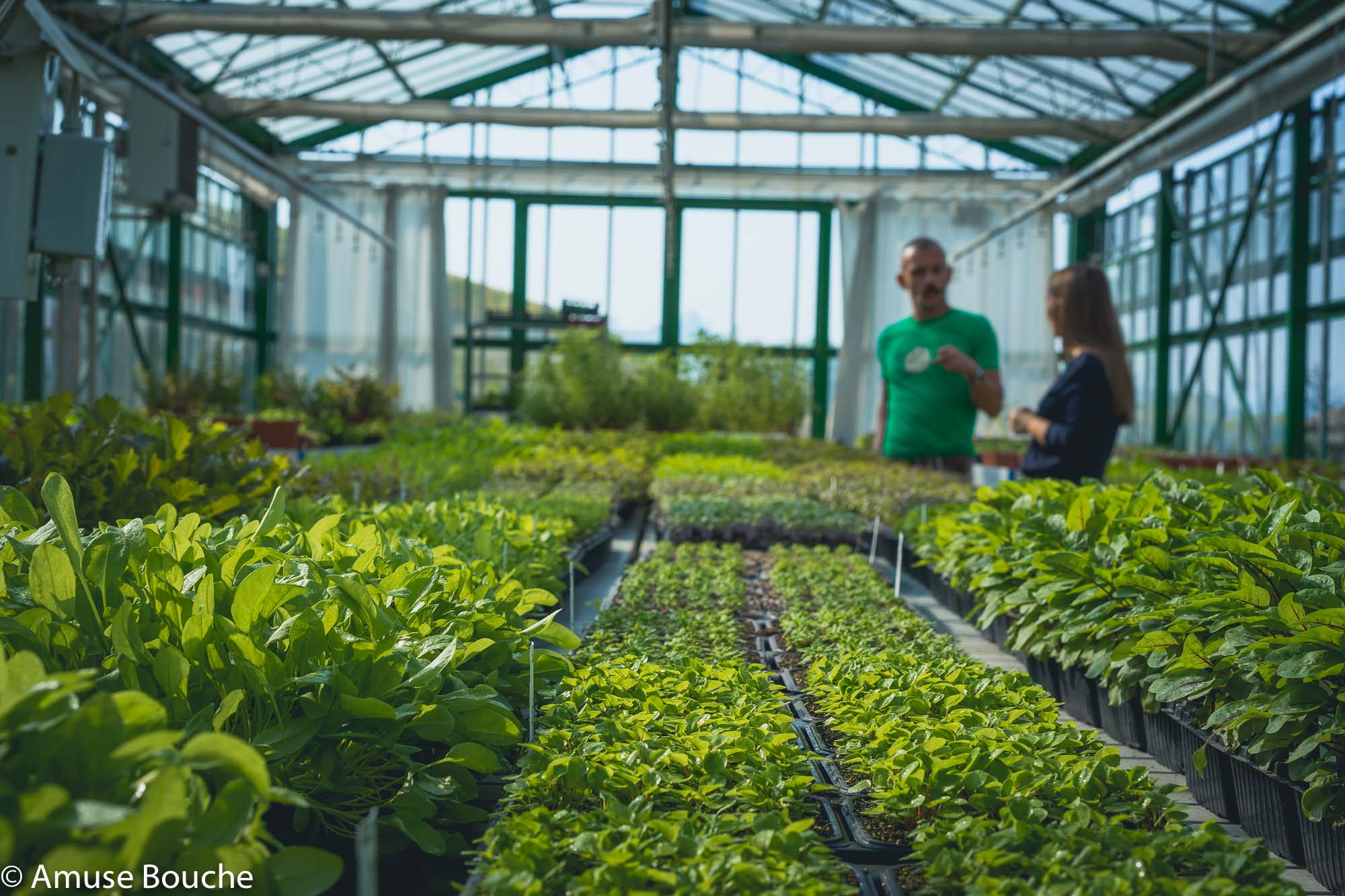 "You'll also like this one". We move a few steps away, we repeat the process. This time we get wild mushrooms flavour from the small green pick. "This is an experiment, but I don't think it's going to make it in the menu. The texture is not right". This time, aged cheese aroma touches our senses from a hairy frond.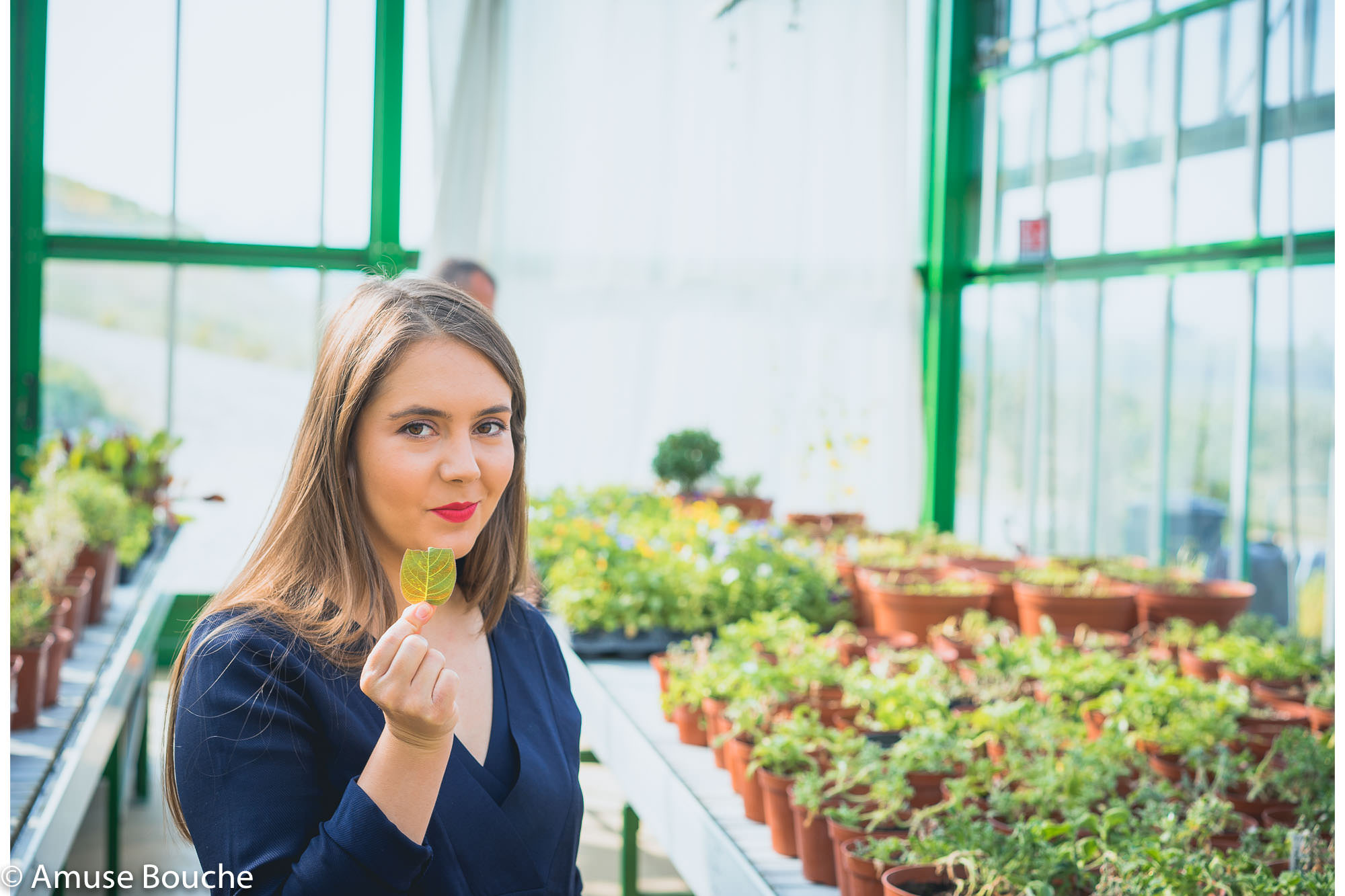 During the next hour, we tested the whole palette. From the most usual leaves in their freshest stage, to the most exotic, weird flavours and aromas to get from a plant.
This is how one Autumn Thursday started for us. In Piedmont, 13 km away from Alba, on an island of plants tucked between the vineyard hills of Barolo. Here, every morning, a batch of crisp ingredients starts the journey to the only 3 Michelin stars restaurant in the area, Piazza Duomo.
The garden. Our first meeting with Enrico Crippa's philosophy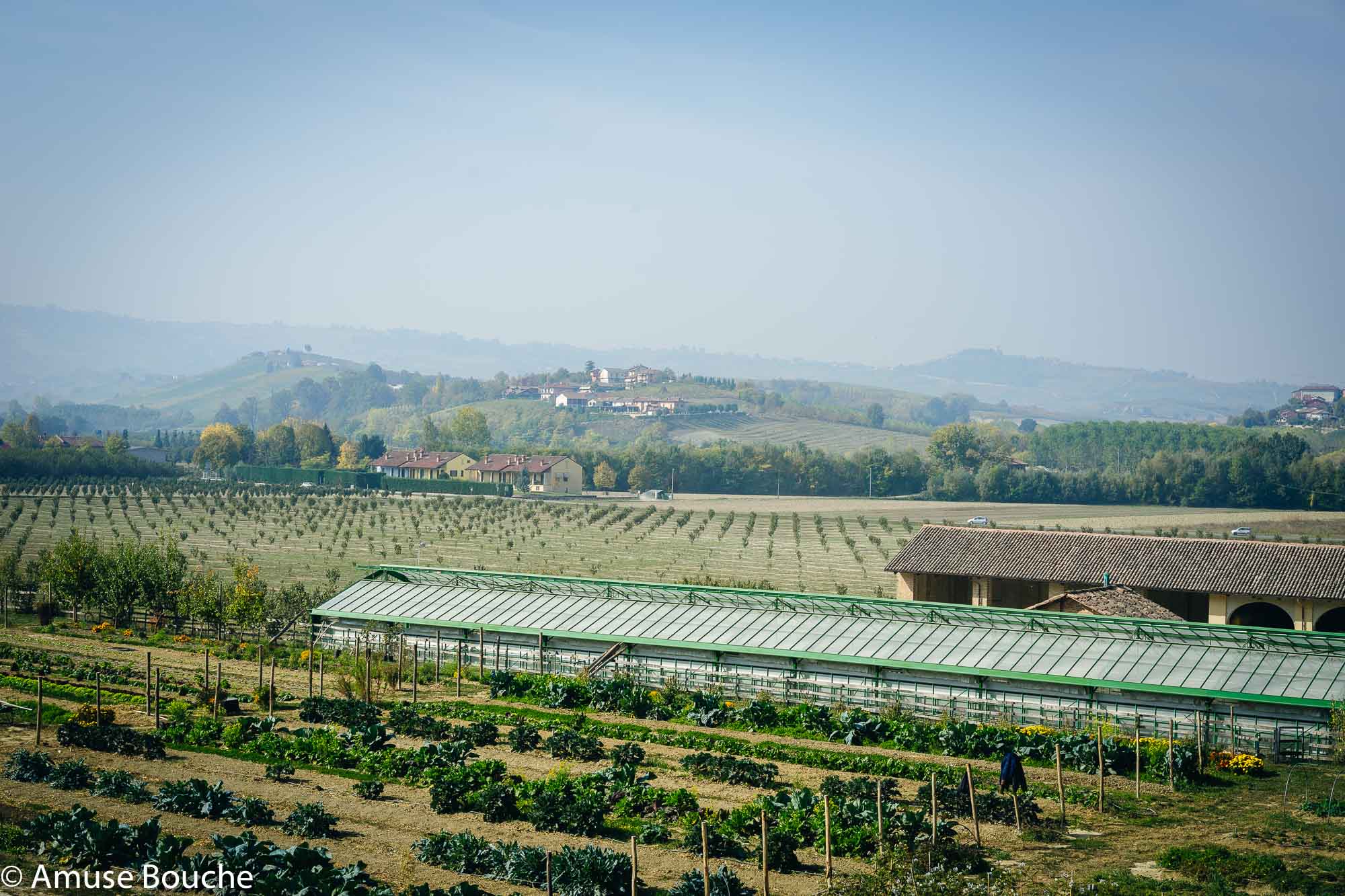 Generally referred to as "the garden", this is the source of all greens and vegetables at Piazza Duomo. Split in 3 different sections, it covers 2 hectares of land in Langhe county. It hosts around 500 plants from all over the world, cared and nourished from seed to fruit.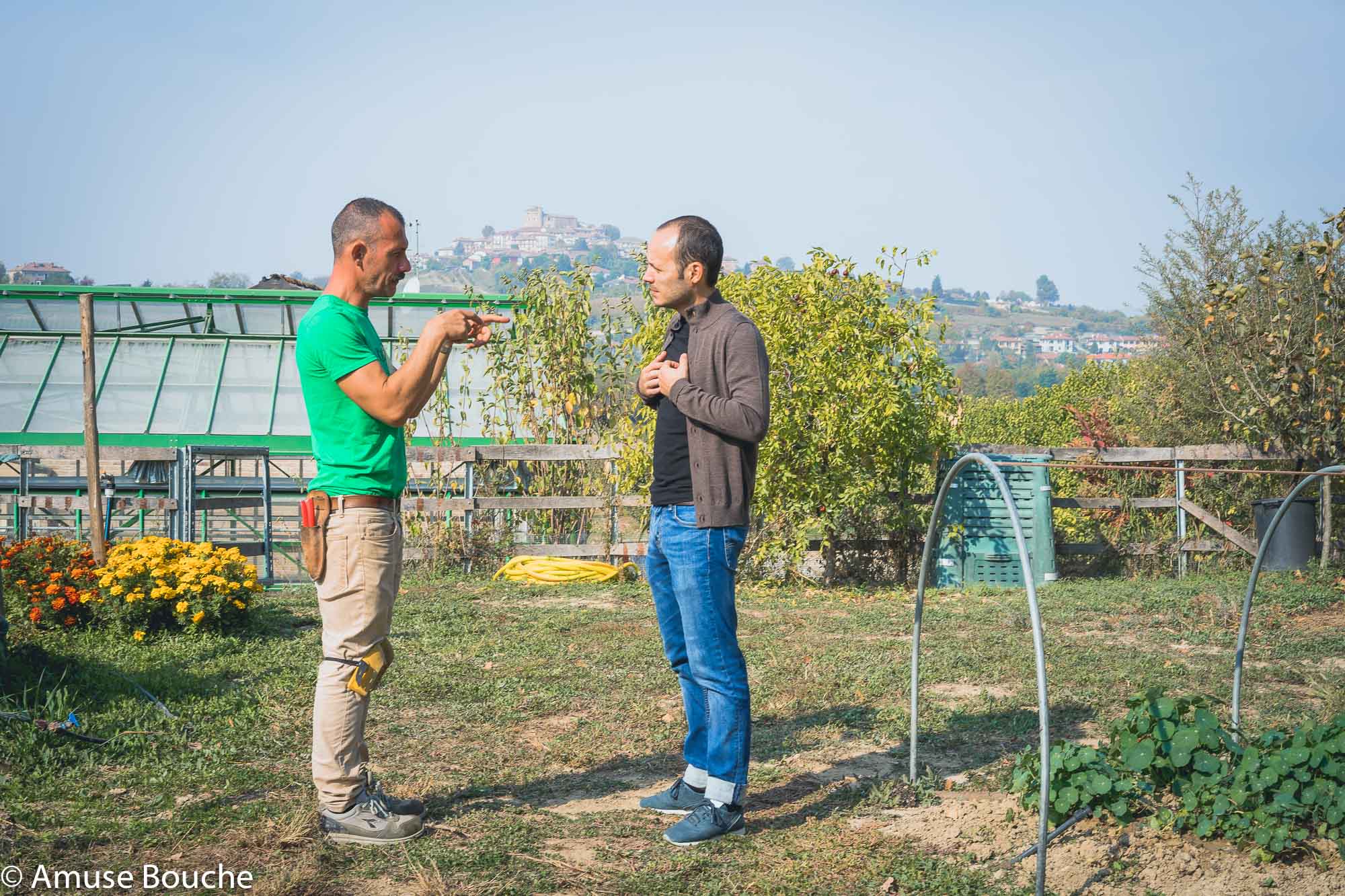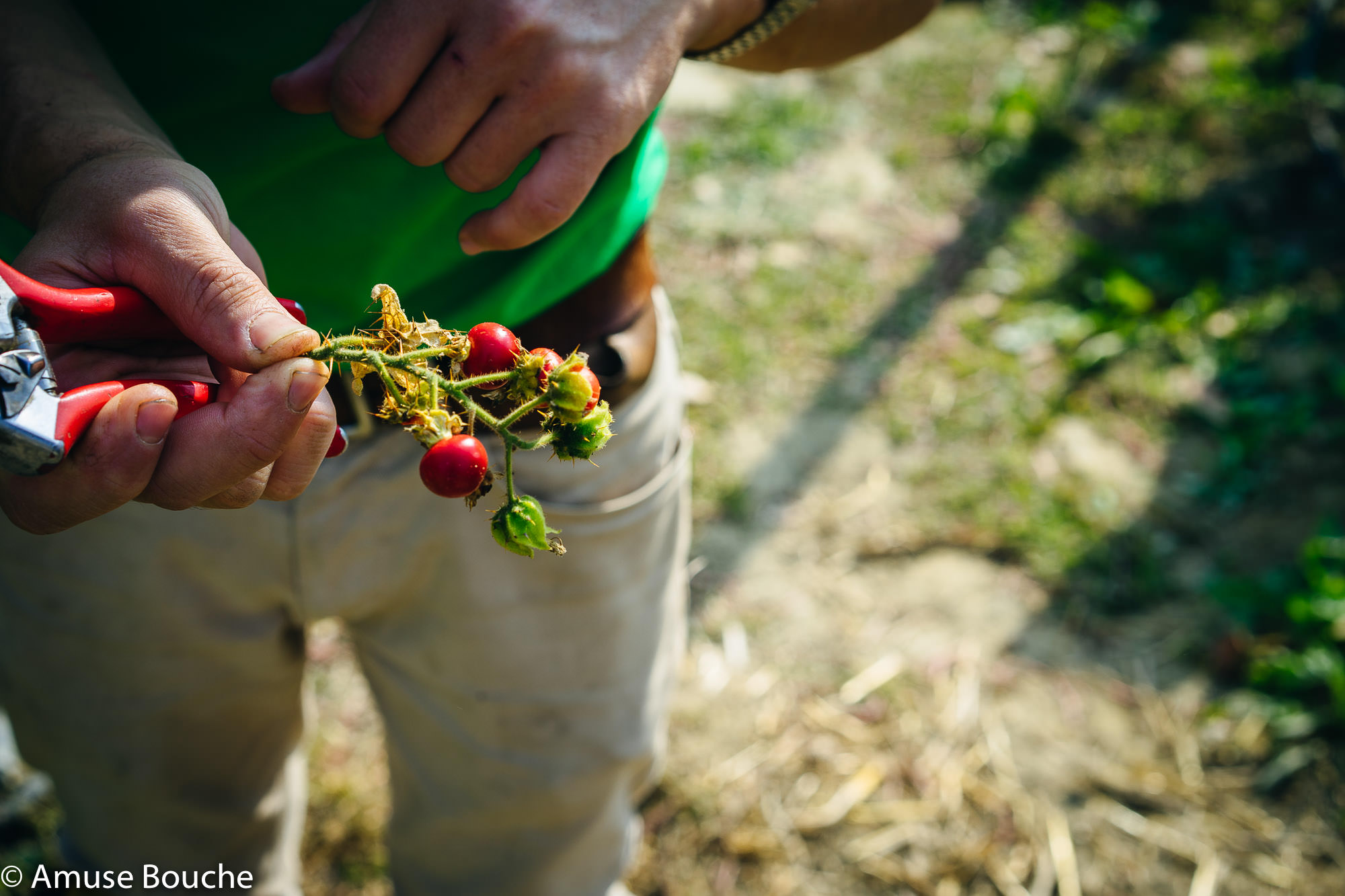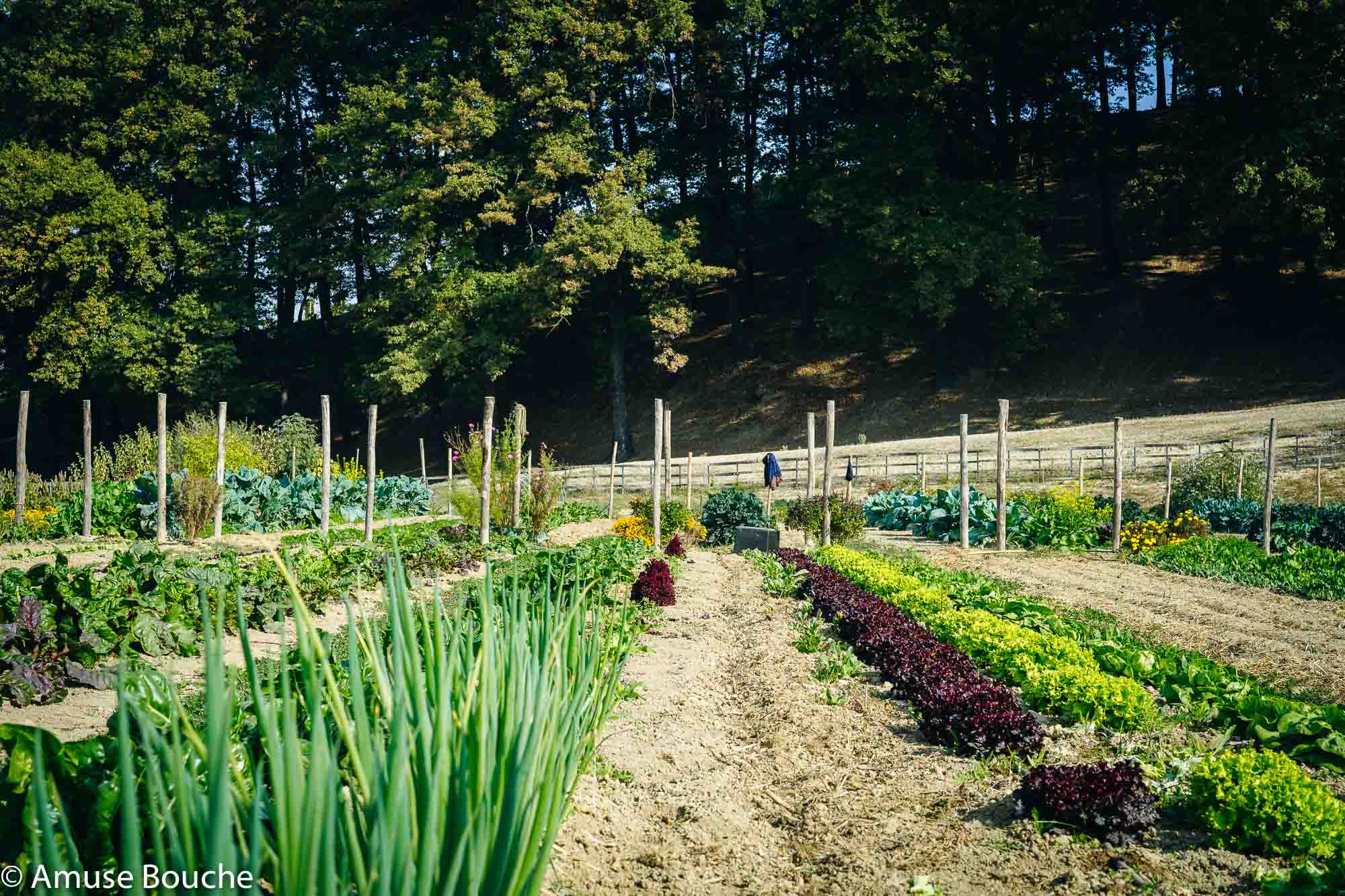 Everything starts and ends with respect for environment, for seasons and nevertheless for the natural growth rhythm of each plant.
Gardeners here even have some smart partnerships to get the job done in the most natural way. From time to time they "borrow" donkeys to get rid of the unwanted weeds in the garden or they offer accommodation to bee hives nearby to assure the pollination.
Our garden visit was pure backstage glimpse and our first contact with Enrico Crippa's philosophy. We also followed the path of the ingredients and went over to the kitchen that puts them under the spotlight. We went for lunch at Piazza Duomo, in the "house" of Enrico Crippa on 12th of October 2017.
Piazza Duomo – 3* Michelin, No.15 World's 50 Best Restaurants 2017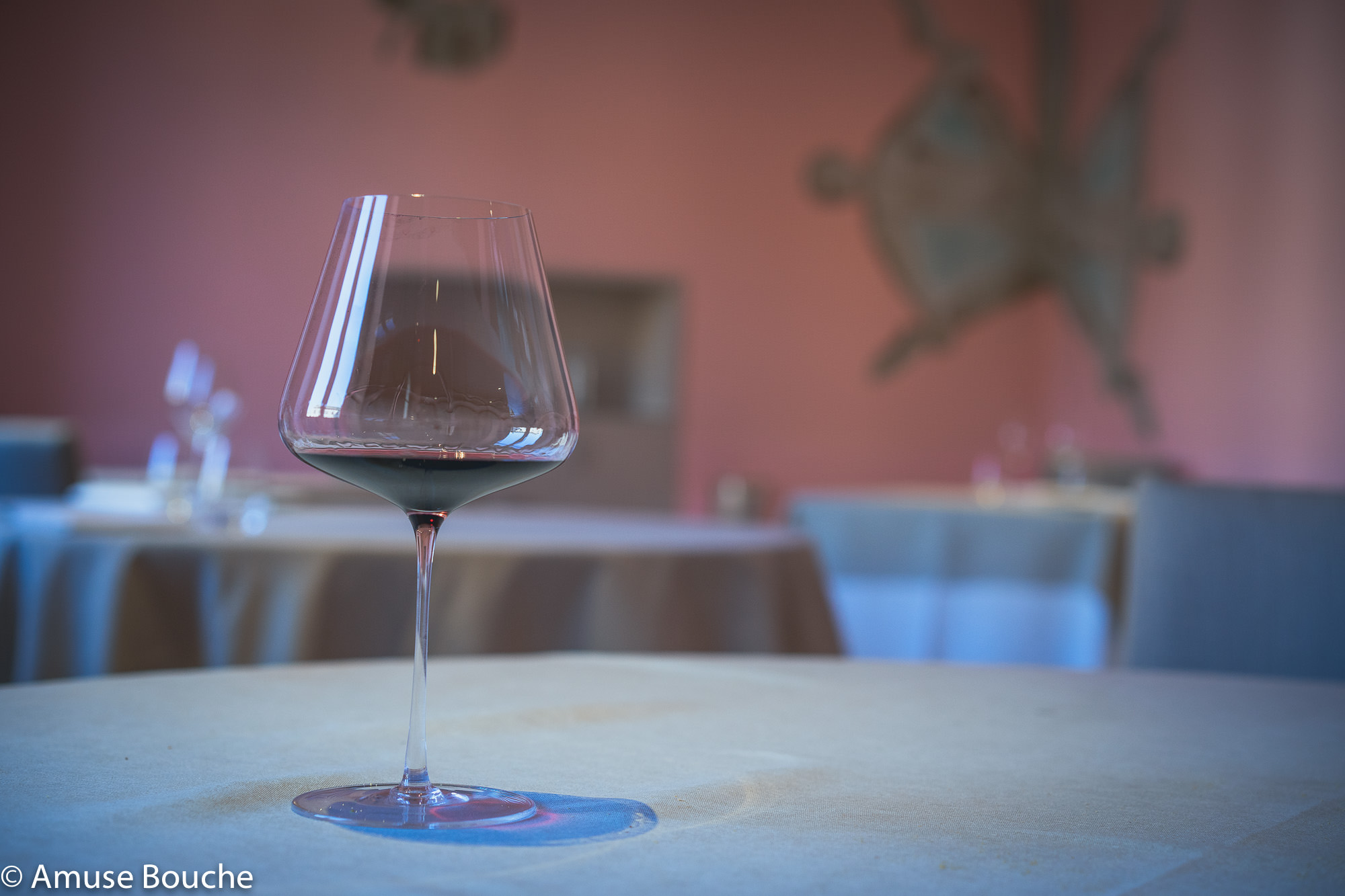 The restaurant is a partnership between chef Enrico Crippa and the Ceretto family. It seems it was match made by Carlo Cracco, a legend of the Italian gastronomy, followed by love at first bite from the Ceretto family. This is the story of 2003. By 2005 Piazza Duomo was opening its door for guests, in the discreet building near Piazza del Duomo in Alba. A construction that hosts today the restaurant Piazza Duomo, its little casual sister – La Piola and a few rooms designed to complete the guests' unique experience.
First confirmations that the new restaurant was making a real difference in Italy came along quickly. Piazza Duomo received its first Michelin star in 2007, the second one followed in 2010. The accolade of 3 stars was complete by 2013. The same year, Piazza Duomo entered the World's 50 Best Restaurants list. Today, the restaurant is placed 15th in the same top, the one that guides all our culinary journeys.
Enrico Crippa. Chef. Artist.
Enrico Crippa is an Italian chef who chose to widen his gastronomic horizons working along famous names in Europe and Asia. Among his mentors: Michel Bras in Laguiole, Ferran Adria at El Bulli, Antoine Westermann in Buerehiesel in Strasbourg, Gislaine Arabian at Ledoyen in Paris and the legendary Gualtiero Marchesi in Milan.
In 1996, he went to Japan to open a Marchesi restaurant in Kobe. This is the period that marked the most his personal style of cooking and approaching ingredients.
Enrico is now one unique mix. He has a plant and vegetables centric philosophy in an area where you can feel the fascination for meat products in every restaurant, trattoria or osteria. Enrico looks at traditions through his own lenses, ads Asian cooking techniques, elements inspired by his long travels and special attention for everything visual.
Our experience. Piazza Duomo in the white truffles season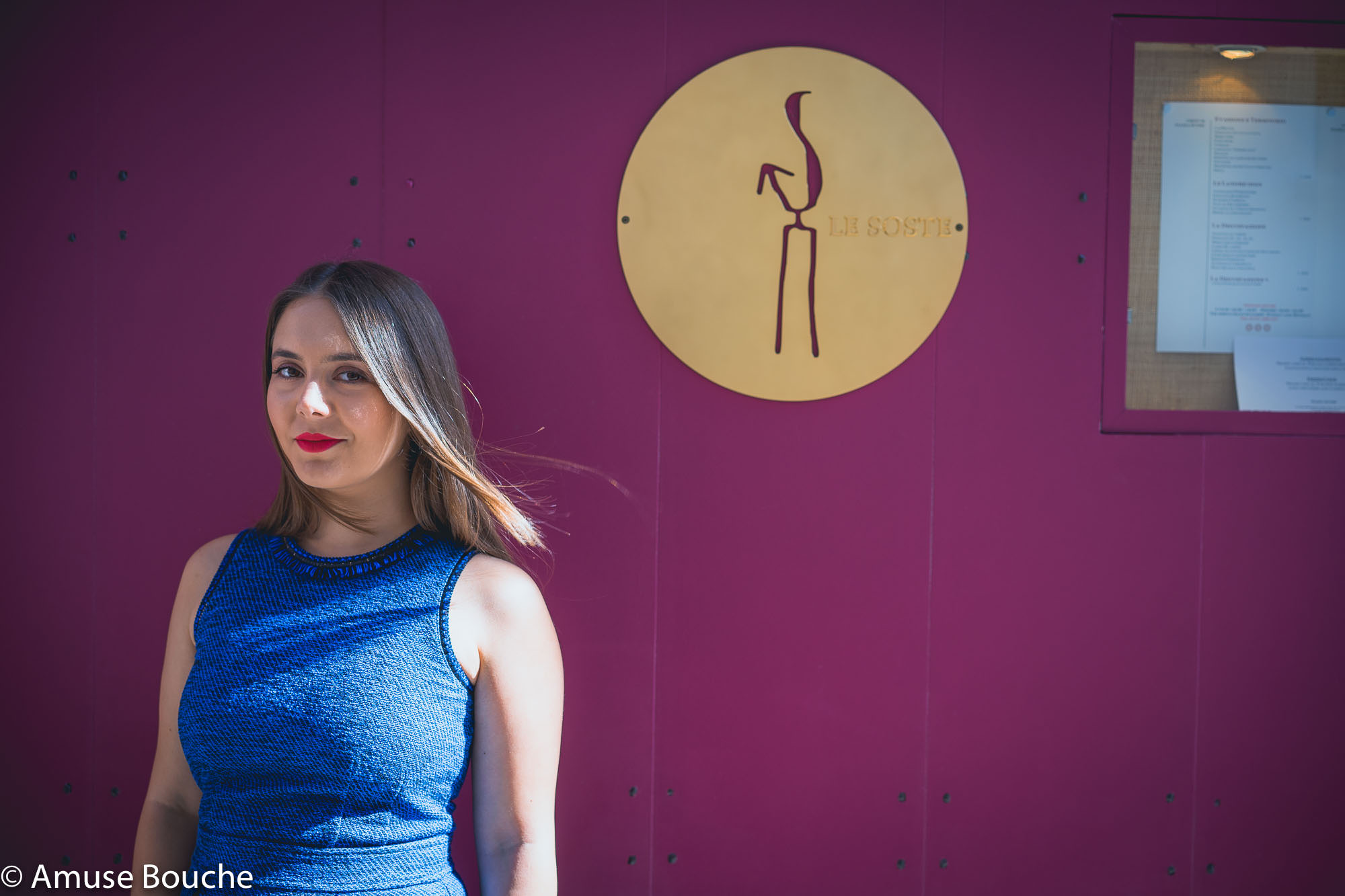 Piedmont is a culinary destination not to be missed. The amazing quality of ingredients here helps every place in every subregion to offer tasty meals.
Alba is considered to be the international capital of white truffles. The local breed of cows, Fassona, is widely known for its muscular hypertrophy that results in a low-fat meat, with light marmoration. Piedmont is famous for Tonda Nocciola, chestnuts, wild mushrooms, rabbit meat, Alta Langa potatoes, Jerusalem artichokes and over 50 different types of cheese. And a lot more products are sourced in the rural regions of Piedmont. This is how Piazza Duomo manages to bring its ingredients from less than 50 km away.
It's a big challenge to make a real difference here, in the region where you can have an amazing casual tartar just around the corner for something around 10 euro. And people are so attached to their culinary traditions, they lack interest in "new" and gastronomic development. Italy is famous for its tradition and regional approach to food. Here the energy and time of each generation is focused on preserving the individual heritage and identity of each region. Placed in this context, Piazza Duomo is even more provocative.
Art on and off the plate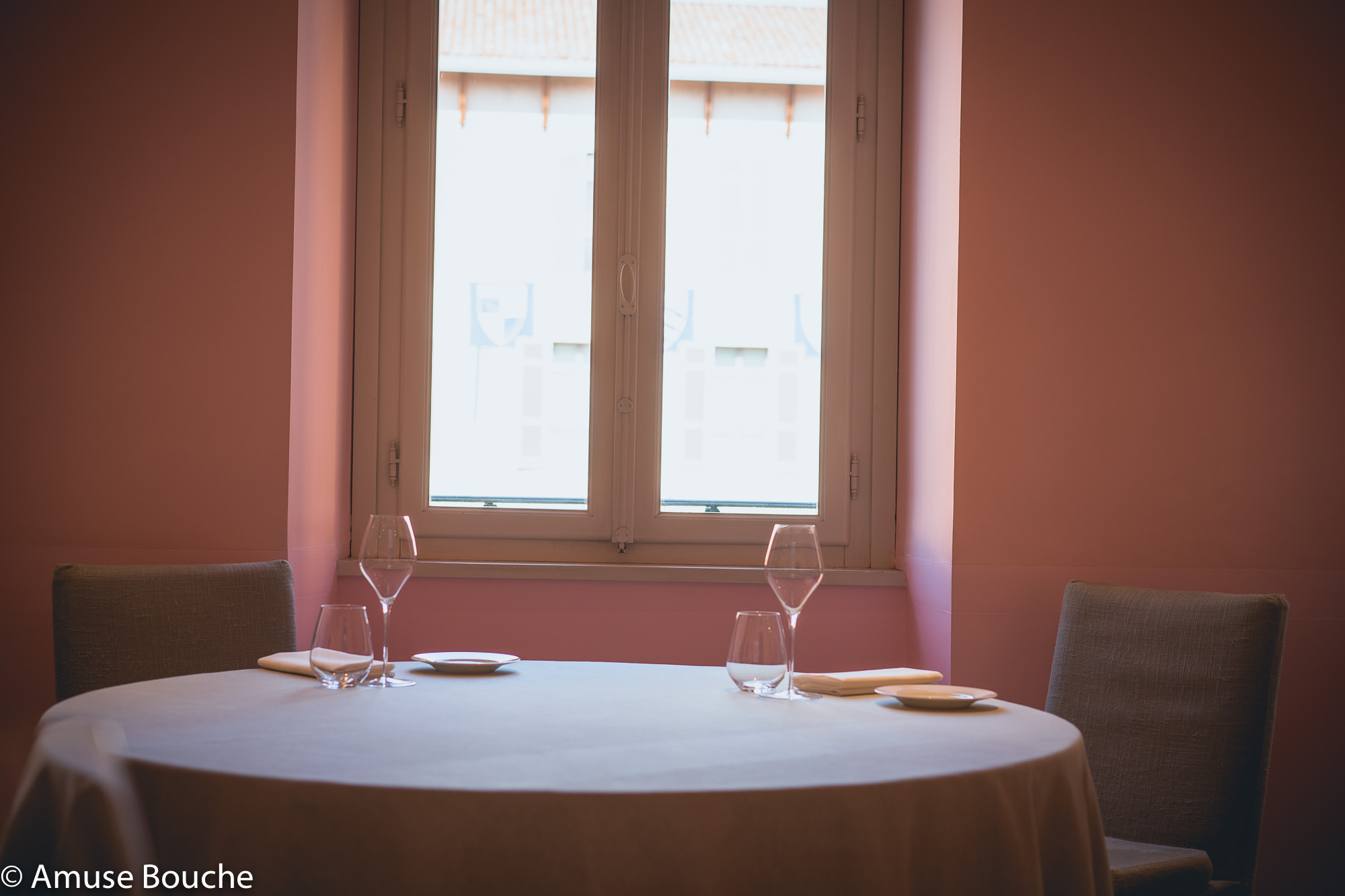 Piazza Duomo is a destination by itself. Located just 2 steps away from the central square of the city, its entrance is discreetly positioned on the side of the building facing the dom. A big wooden door painted in a strong warm colour.
When we enter the building, the tones go softer. The walls of the dining room are covered in a delicate shade of pink, proudly bearing a fresco by Napoletan artist Francesco Clemente.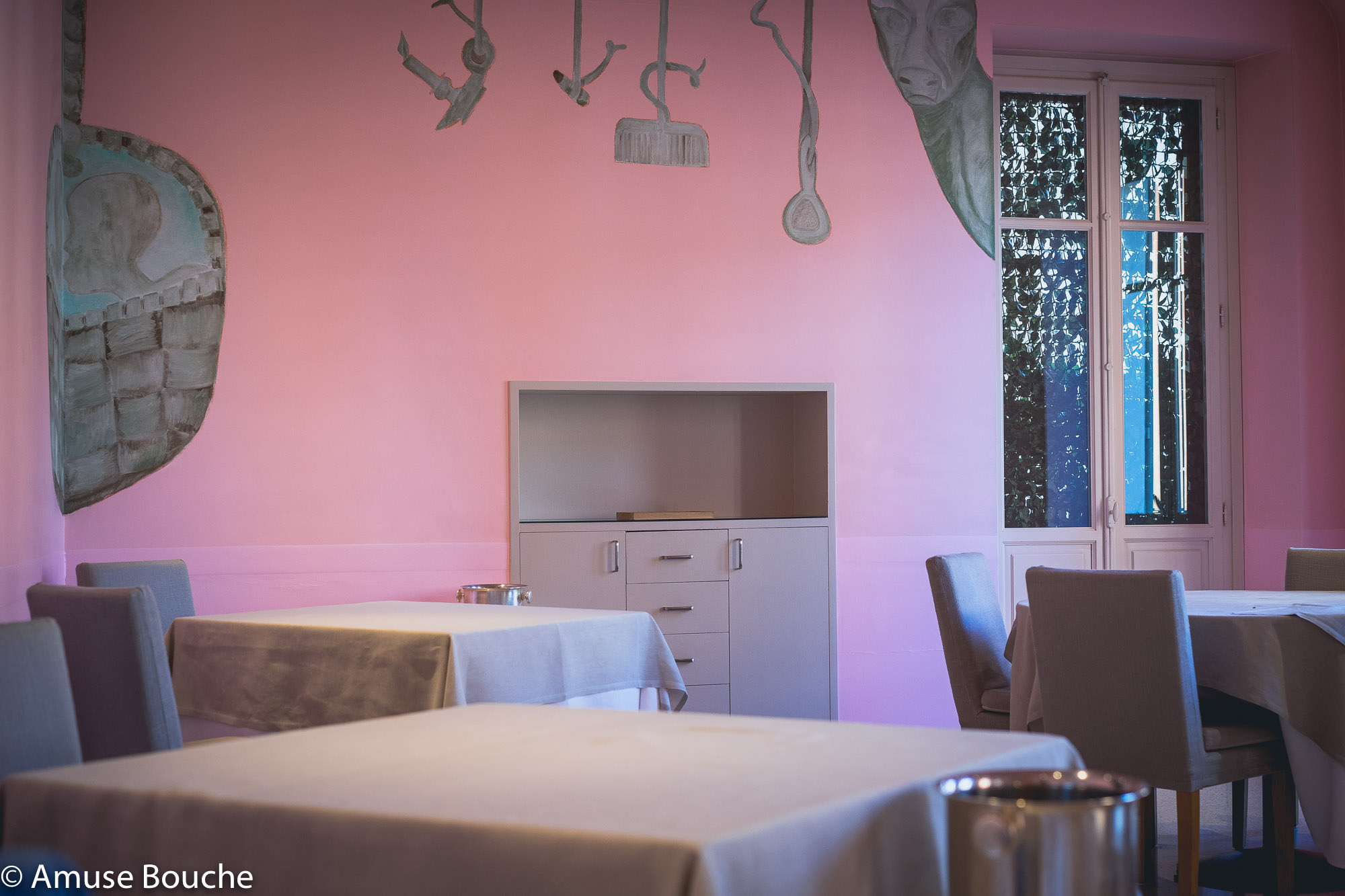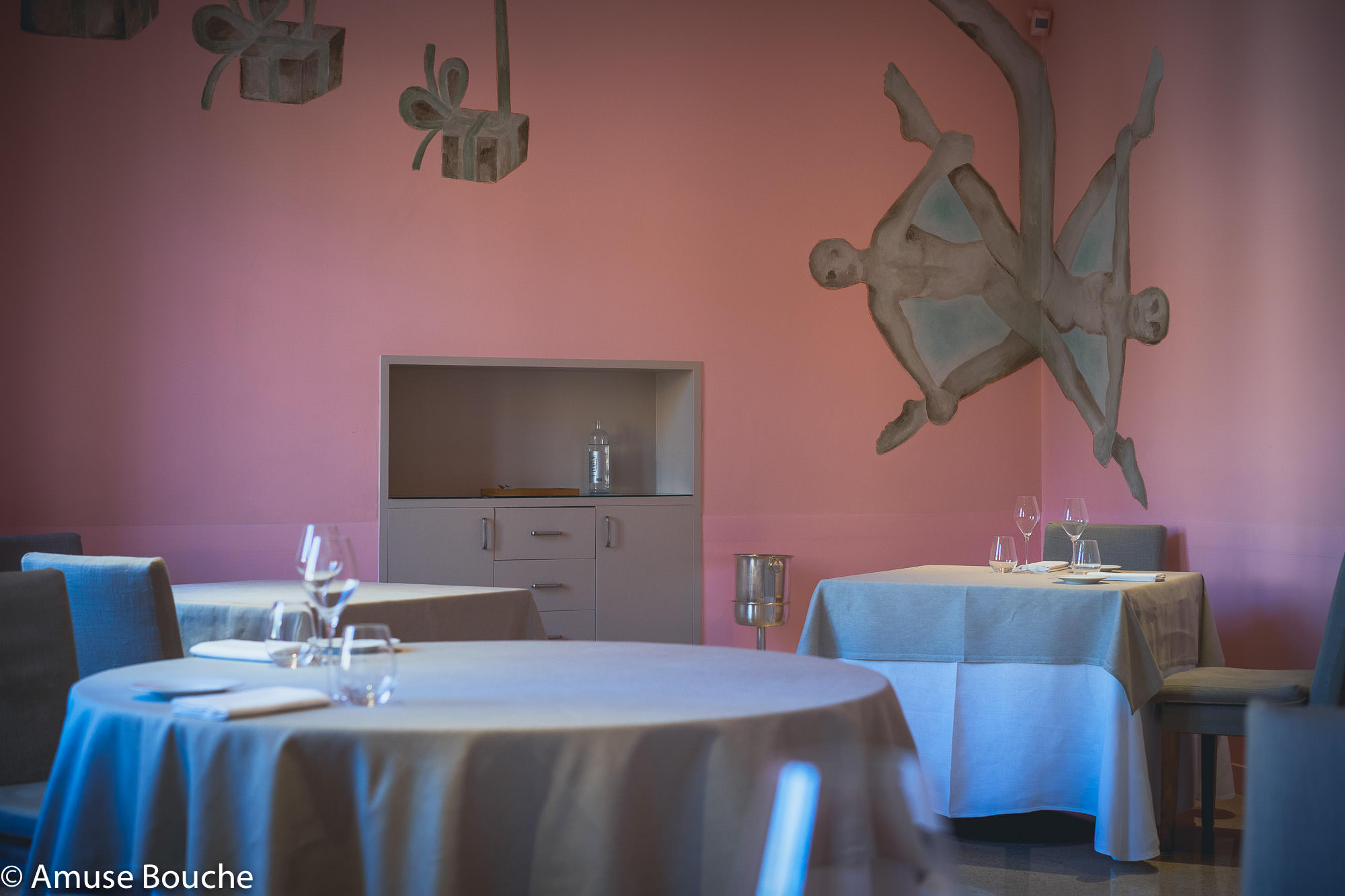 We are led to our table. A deer looks at us from above. We order a glass of sparkling to celebrate the moment. It's time for a toast. We manage to spill the wine on the table right after our chin-chin moment. If we had any dose of strain in our system, it all went away along with the bubbles torn on the table cloth.
Seasonal menu and fresh white truffles
Our entire trip was built around the meal at Piazza Duomo. We had this on our bucket list for a while, experiencing the truffle menu crafted by Enrico Crippa. We planned the holiday so we could be in Alba during the white truffle season.
Our culinary journey at Piazza Duomo was a mix between the seasonal menu and the dishes created especially to accommodate white truffle shavings.
You can feel some of Enrico's influences from the start, the small bites. The Swiss chard sponge with a tuna sauce on top and a dip of caper powder came along with a cream of foie gras, crunchy corn and Gingerino foam – an Italian aperitif, alcohol free, made of citrus fruit and spices.
Swiss chard sponge with a tuna sauce on top and a dip of caper powder.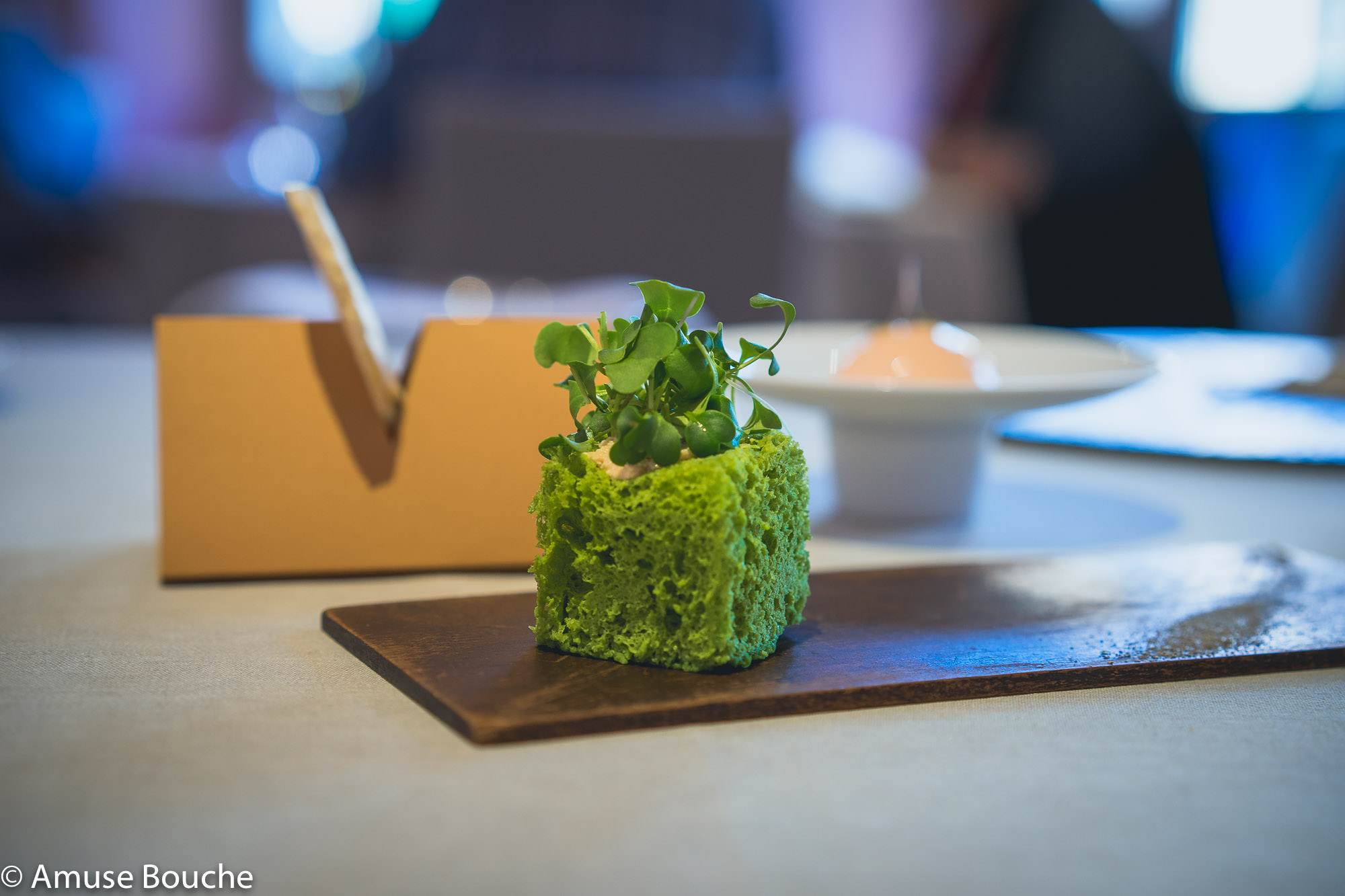 Next, the fake olives. Probably the most popular heritage of El Bulli. Langoustine tartar and beef tartar, both dressed as olives.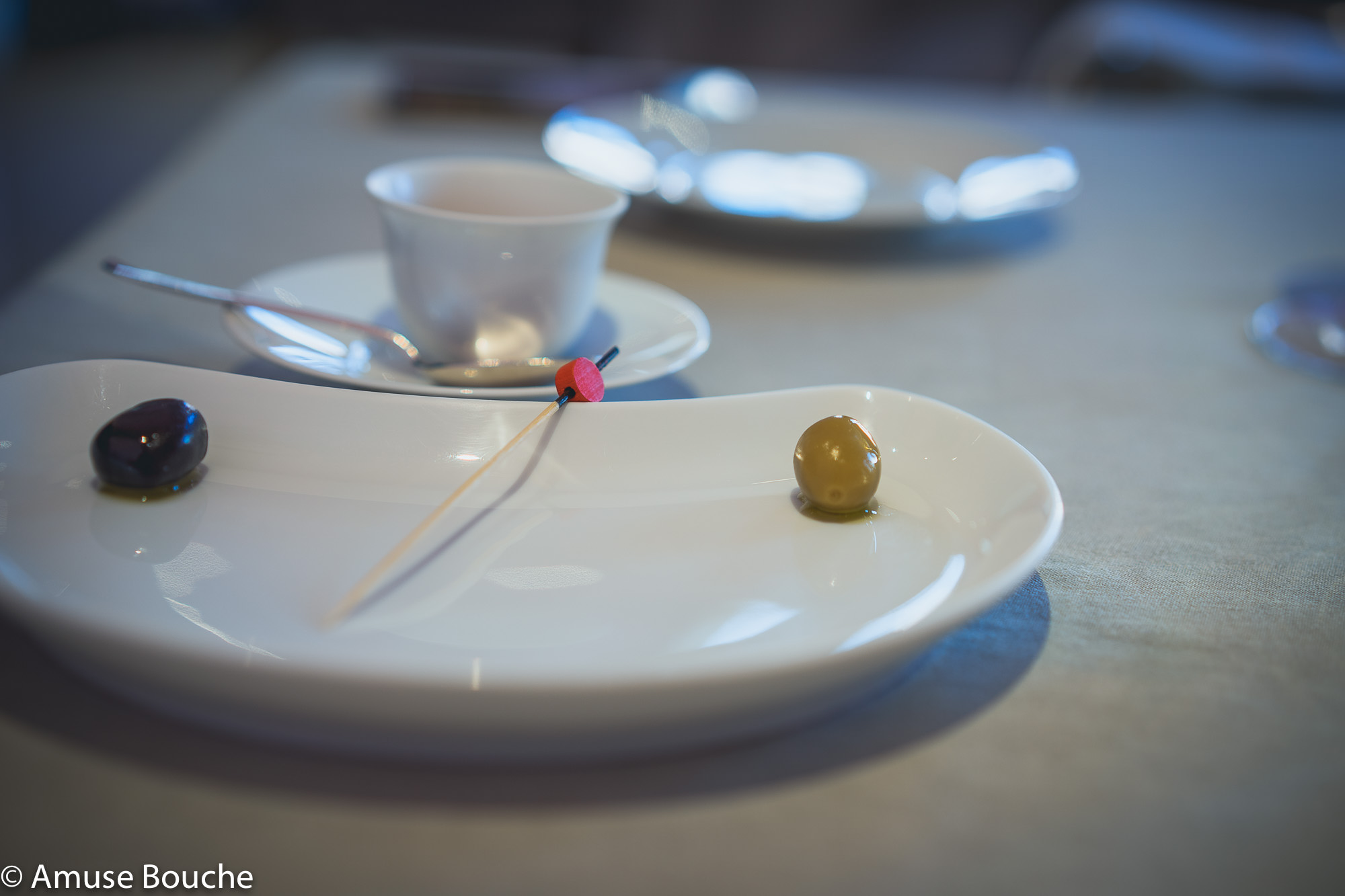 Piedmontese Antipasto
No less than 9 different small bowls per person. There are restaurants that could serve a full menu based only on this dish 🙂
This was an impressive display of creativity, colour and hard work. The idea behind is related to the traditional Italian family meal. Even if you're not an Italian, you know what we're talking about. It's quite a classic movie scene, let's say. Big family around the table, a lot of food options on the table. Everyone takes what he wants and mixes everything the way he likes. The warm, cosy atmosphere is built around familiarity and the pleasure of sharing.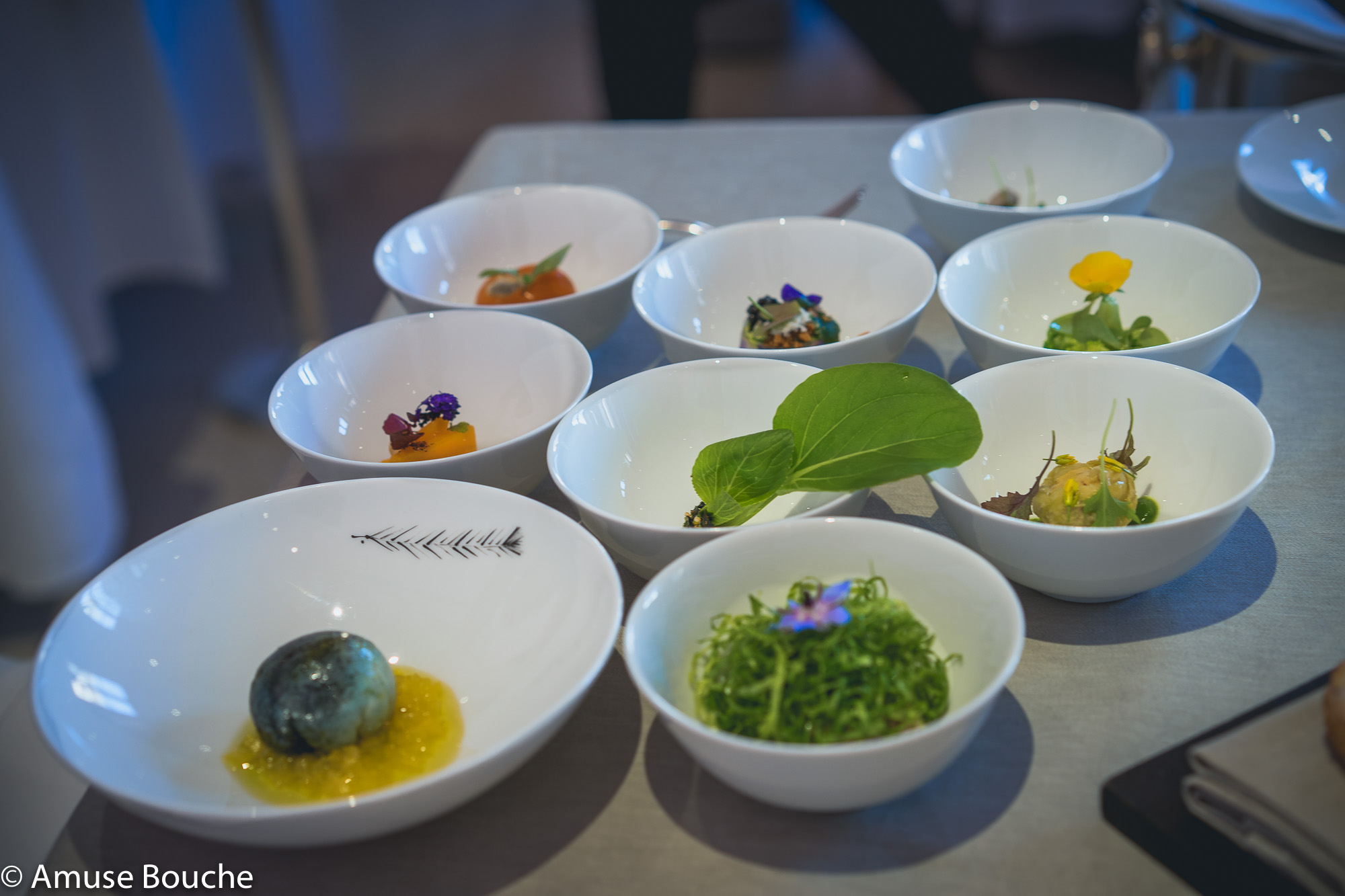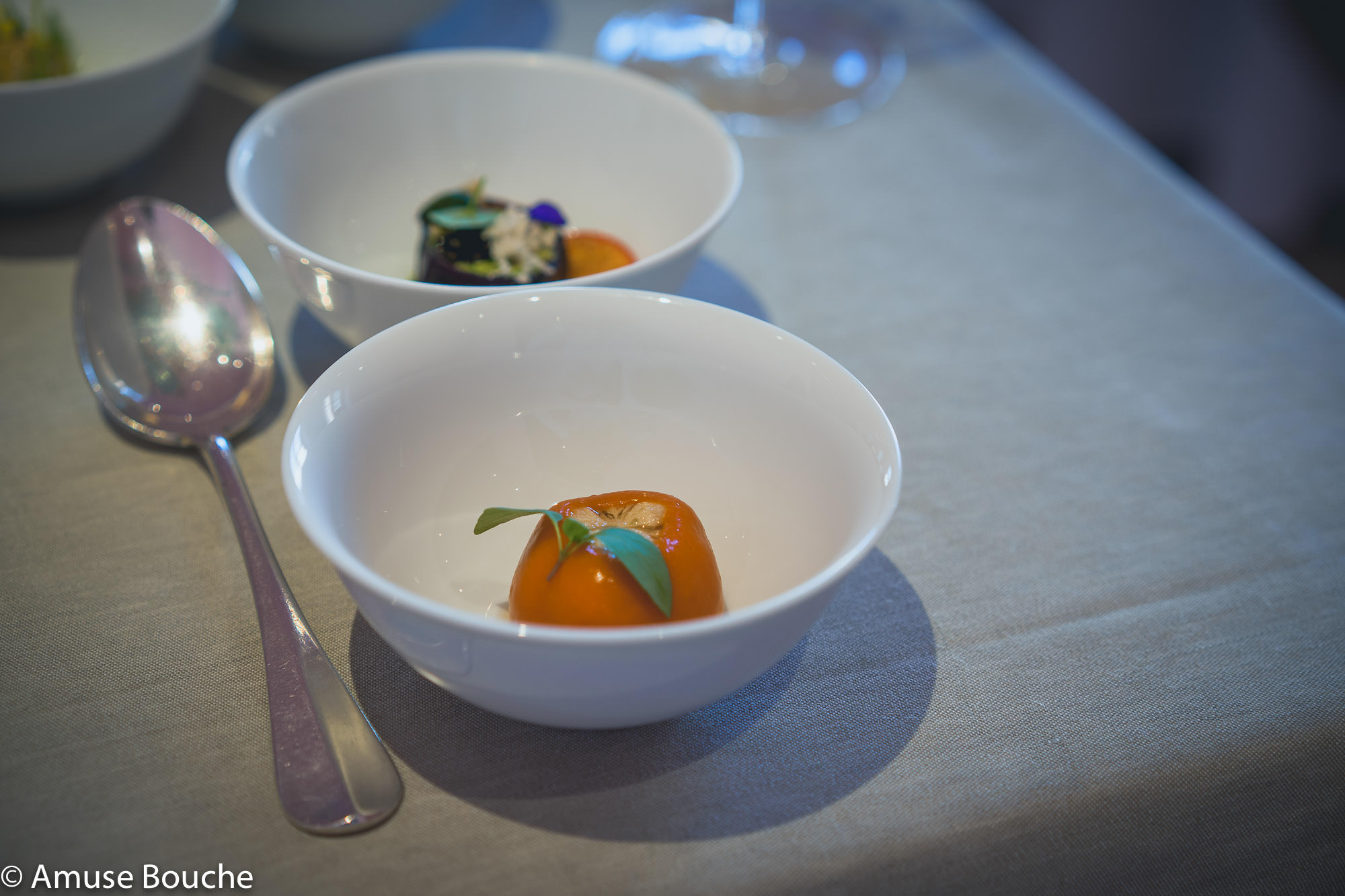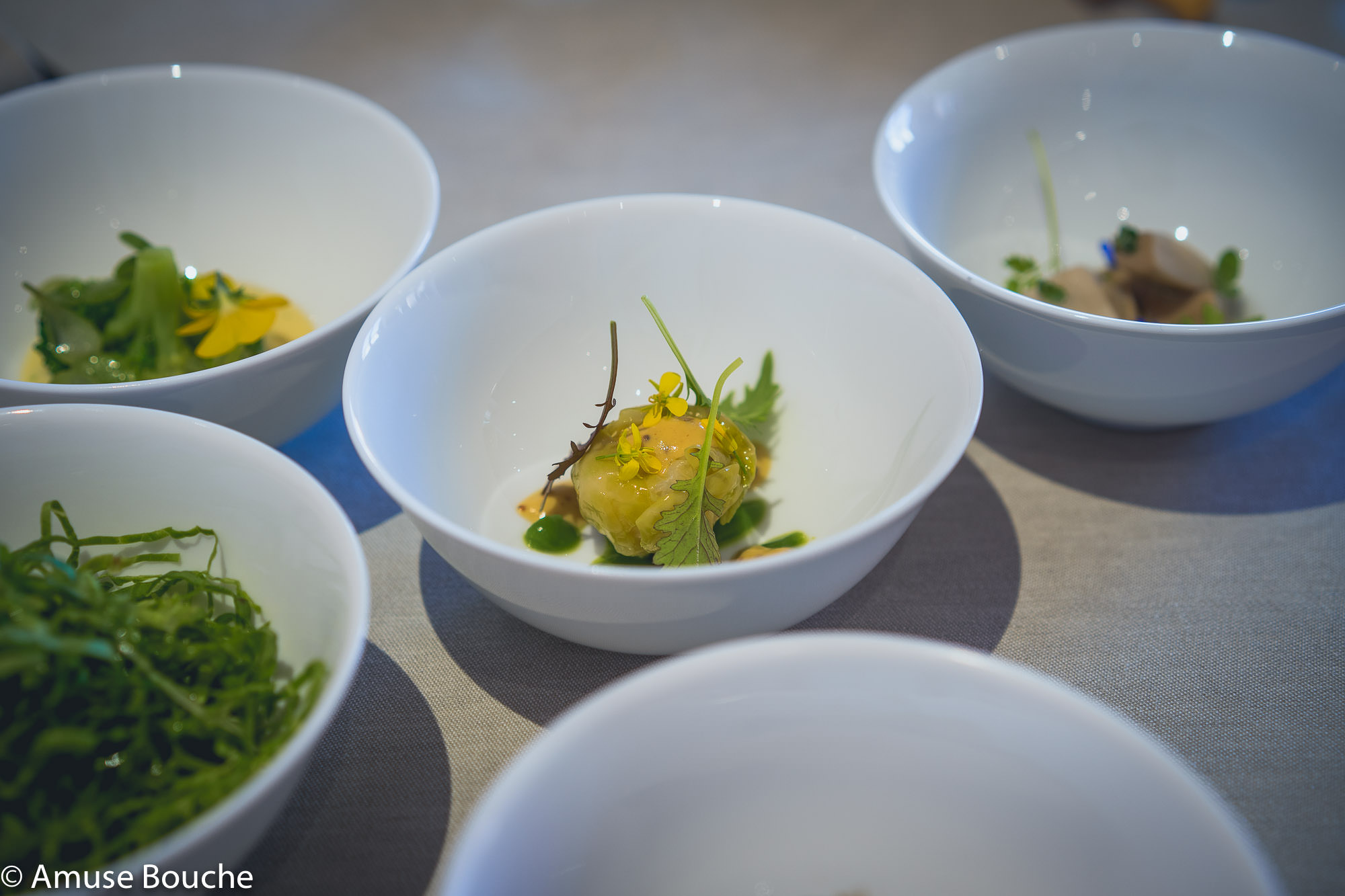 SALAD 21…31…41..51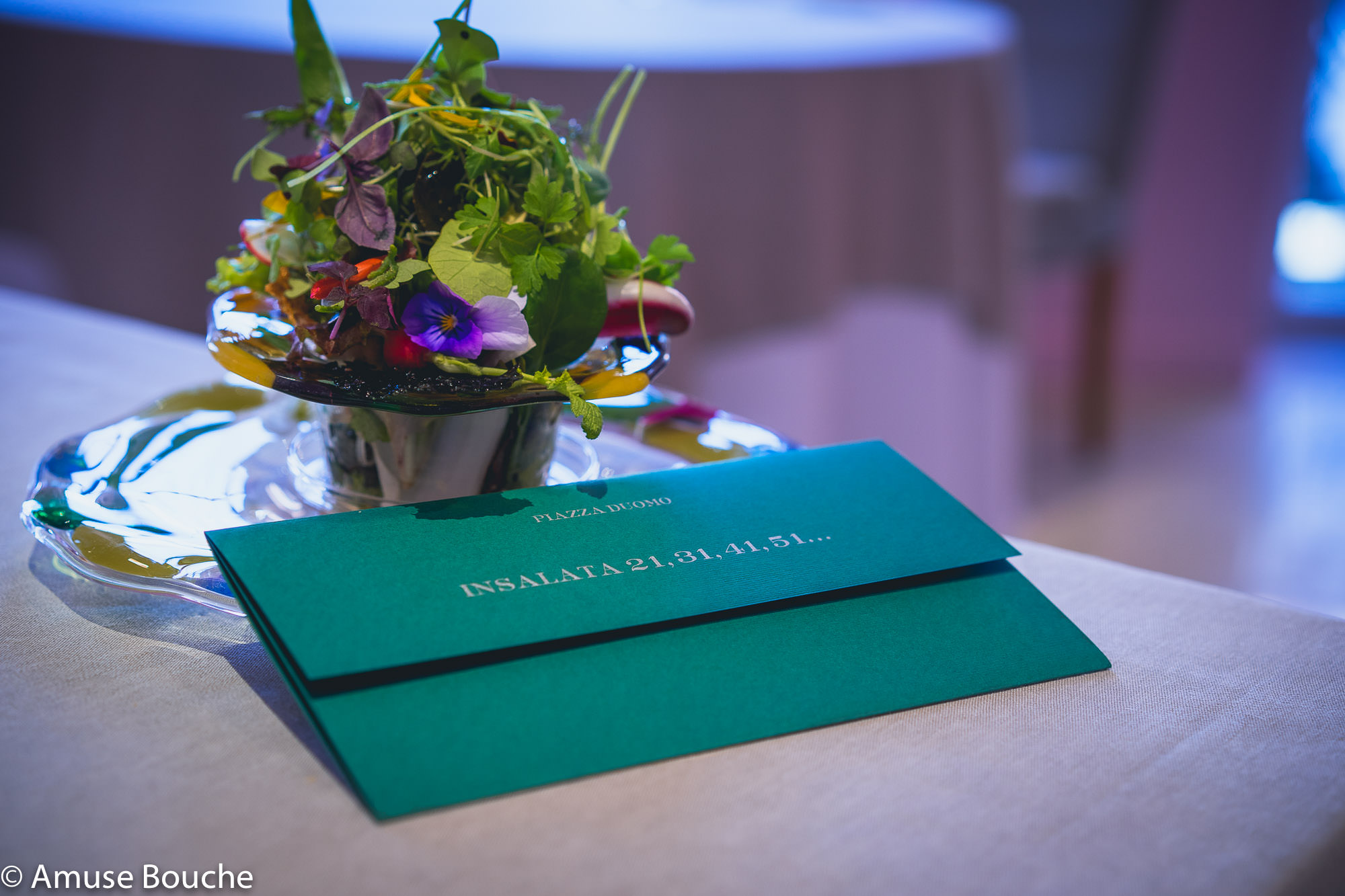 Can you get emotional over a salad? Never thought it's possible. Until the famous signature dish from Enrico Crippa – SALAD 21…31…41..51 . The plate that brings at the table, in the purest shape, the garden we visited before the restaurant. The name "21..31..41..51" states the variation of the plants and vegetable included in salad during the year. A generous number in the warm season and a more modest amount when temperature drops and the sun is less friendly. Our version – 119 pieces.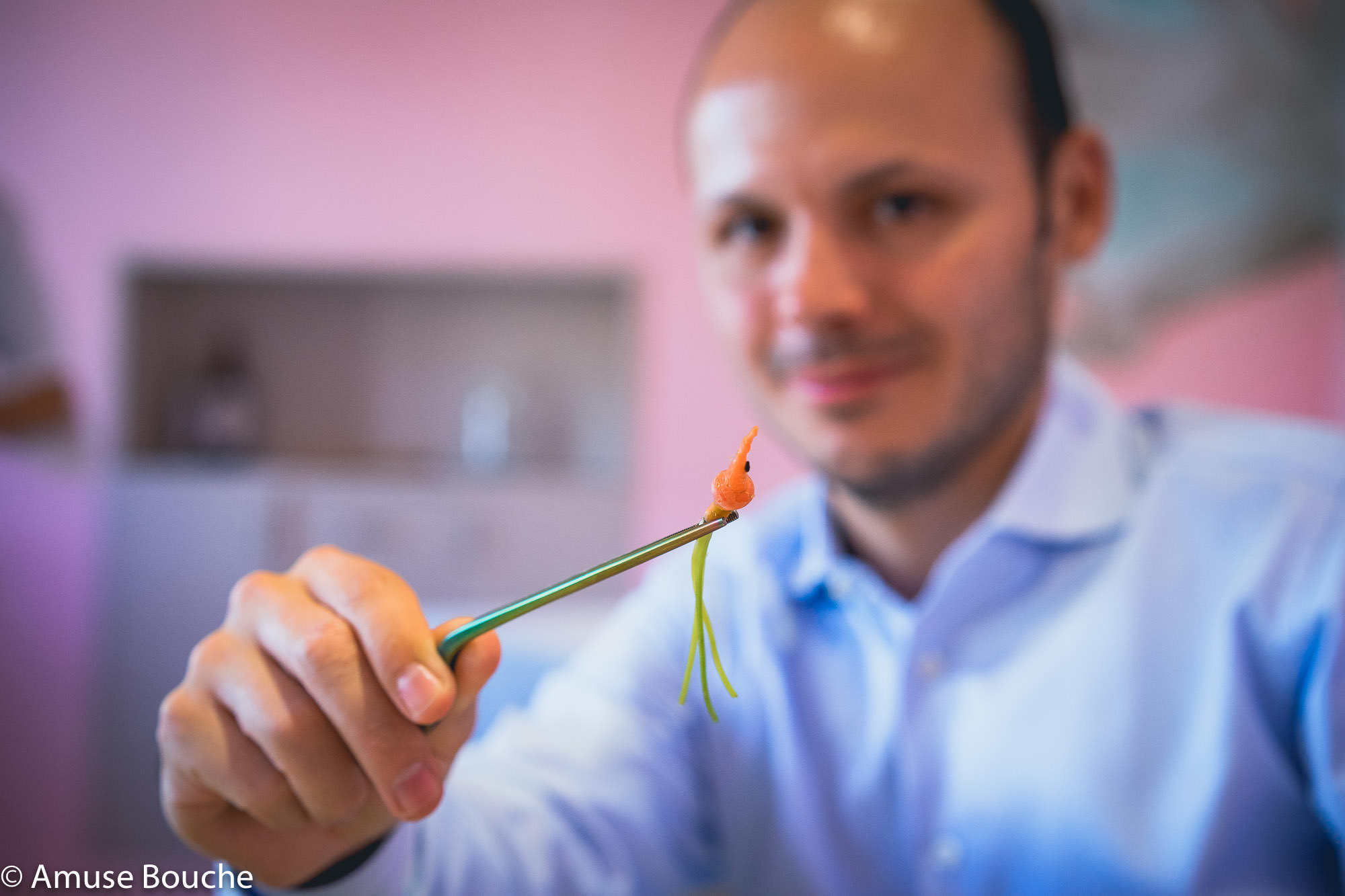 The top layer was barely touched, just amazingly fresh plants enjoying each other's company. From sweet to peppery, from nutty to wild mushrooms, our palate was sent into a journey of flavours by this salad. Going down to the base, the olive oil dressing made its way. At the end, a bowl of dashi.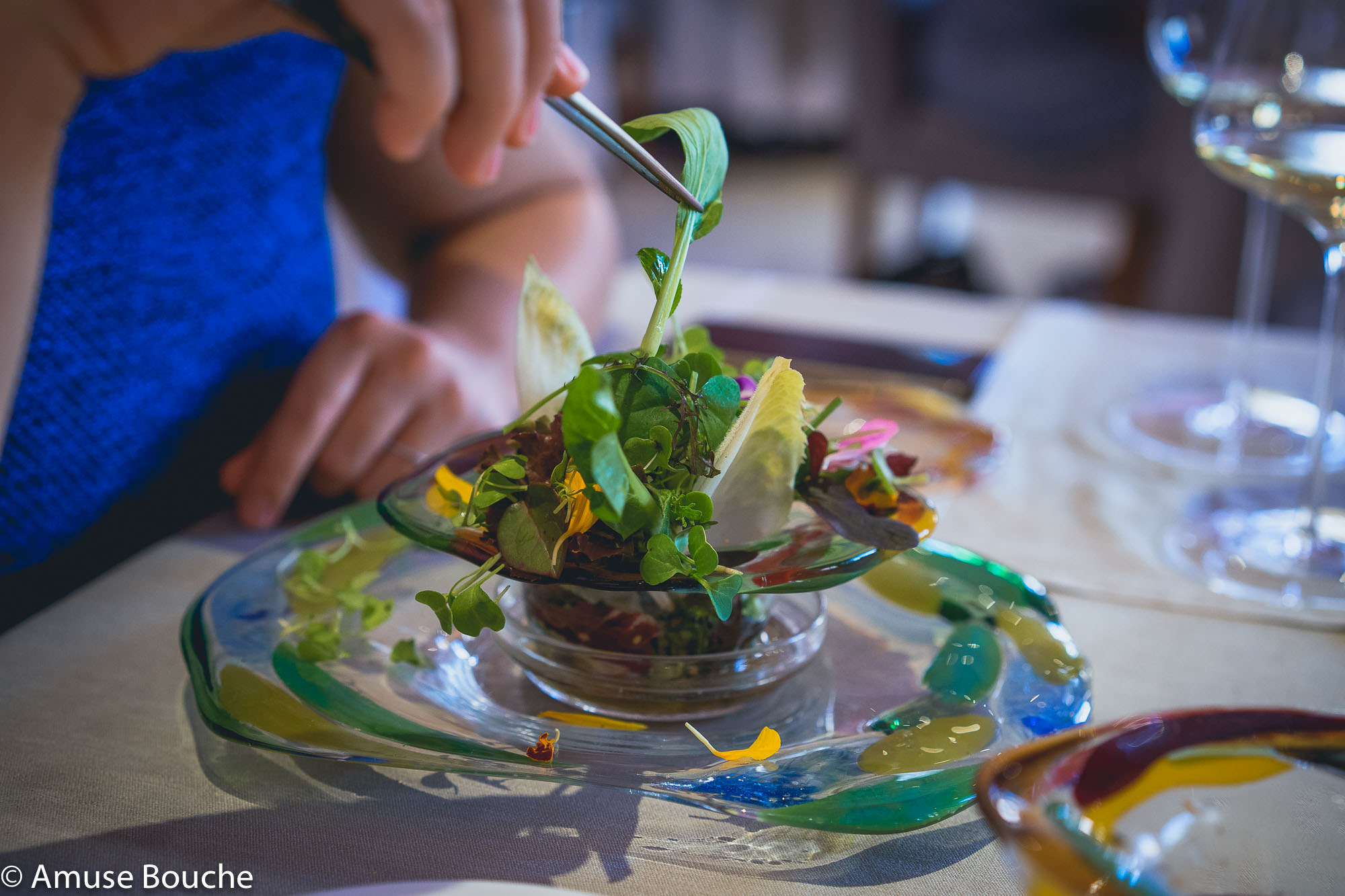 Fact: It took us app. 30 minutes to explore and eat this salad.
SCALLOPS, SEA URCHINS, PECORINO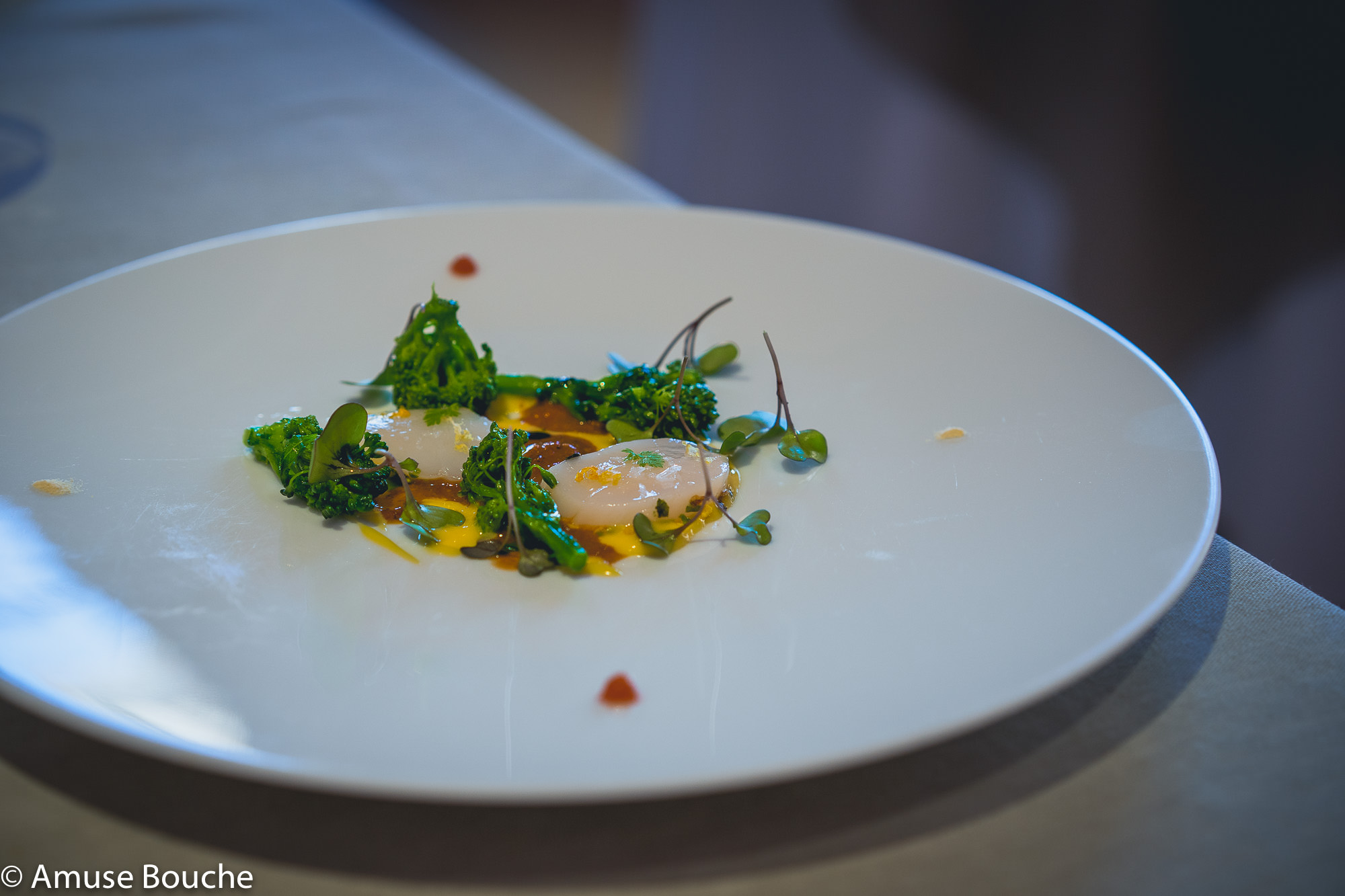 Two things that you will surely notice during the culinary journey at Piazza Duomo – the presence of leafs or flowers in most of the dishes and the Japanese influences. This is a sample, one of our favorite dishes – Beautiful raw scallops, sea urchin and cime di rapa. The Pecorino sauce is perfectly balanced by the fruitiness of umeboshi.
Umeboshi ->Japanese pickled plums. Ume fruit is like a mix between plum and apricot.
COD AND PUMPKIN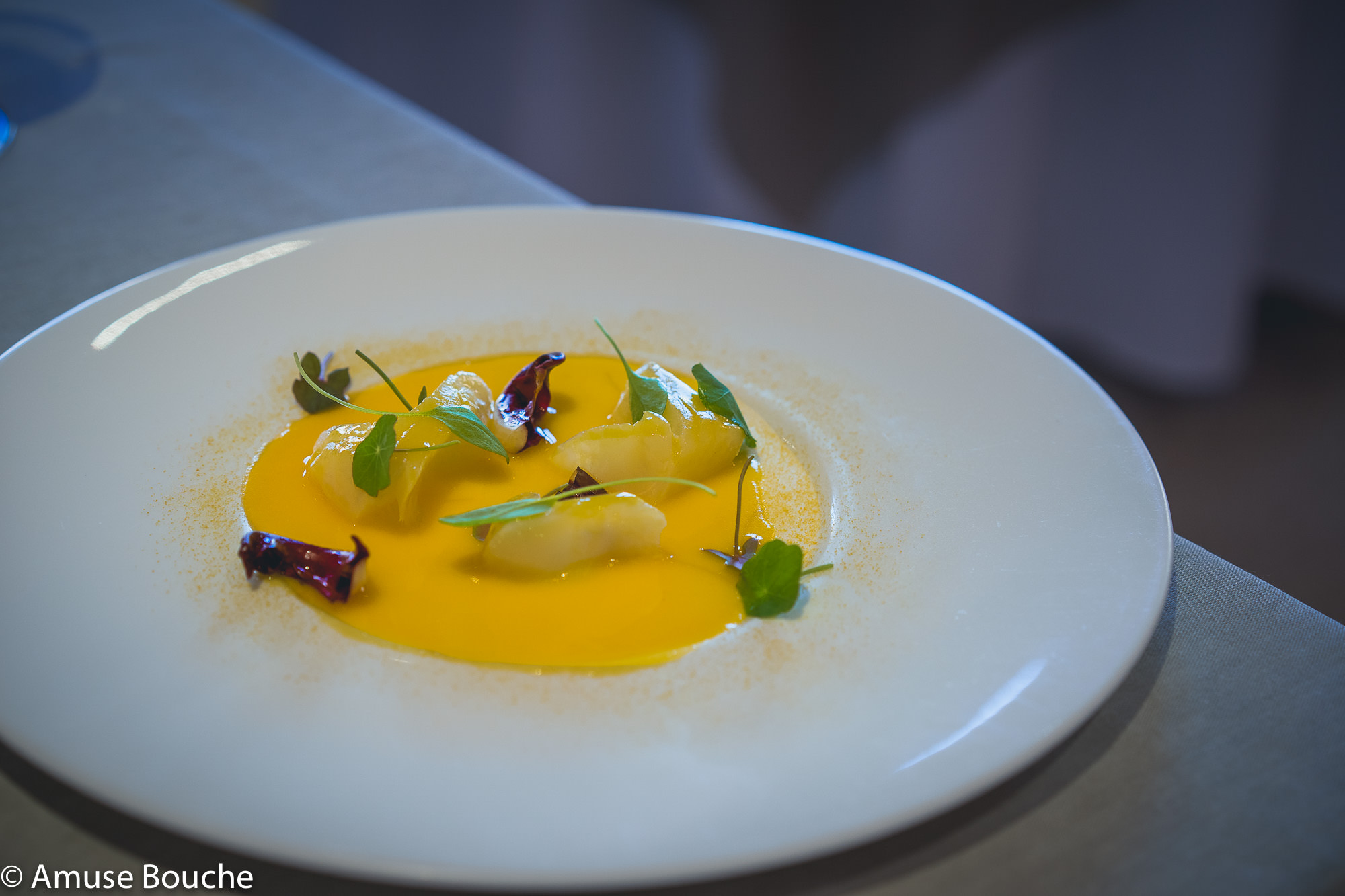 A dish about Enrico Crippa's quest for simplicity – Cod and Pumpkin.
MUSHROOM BALLS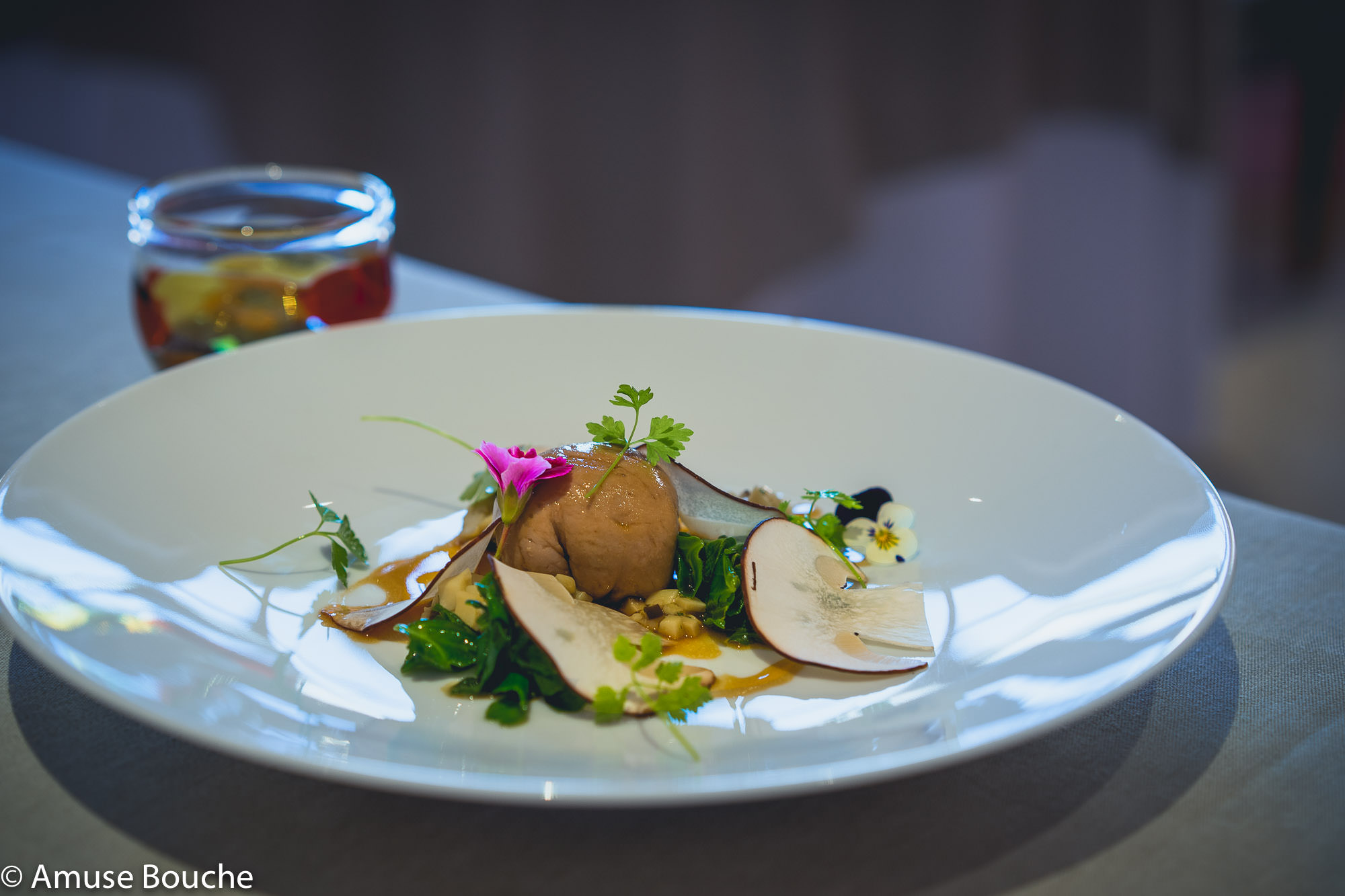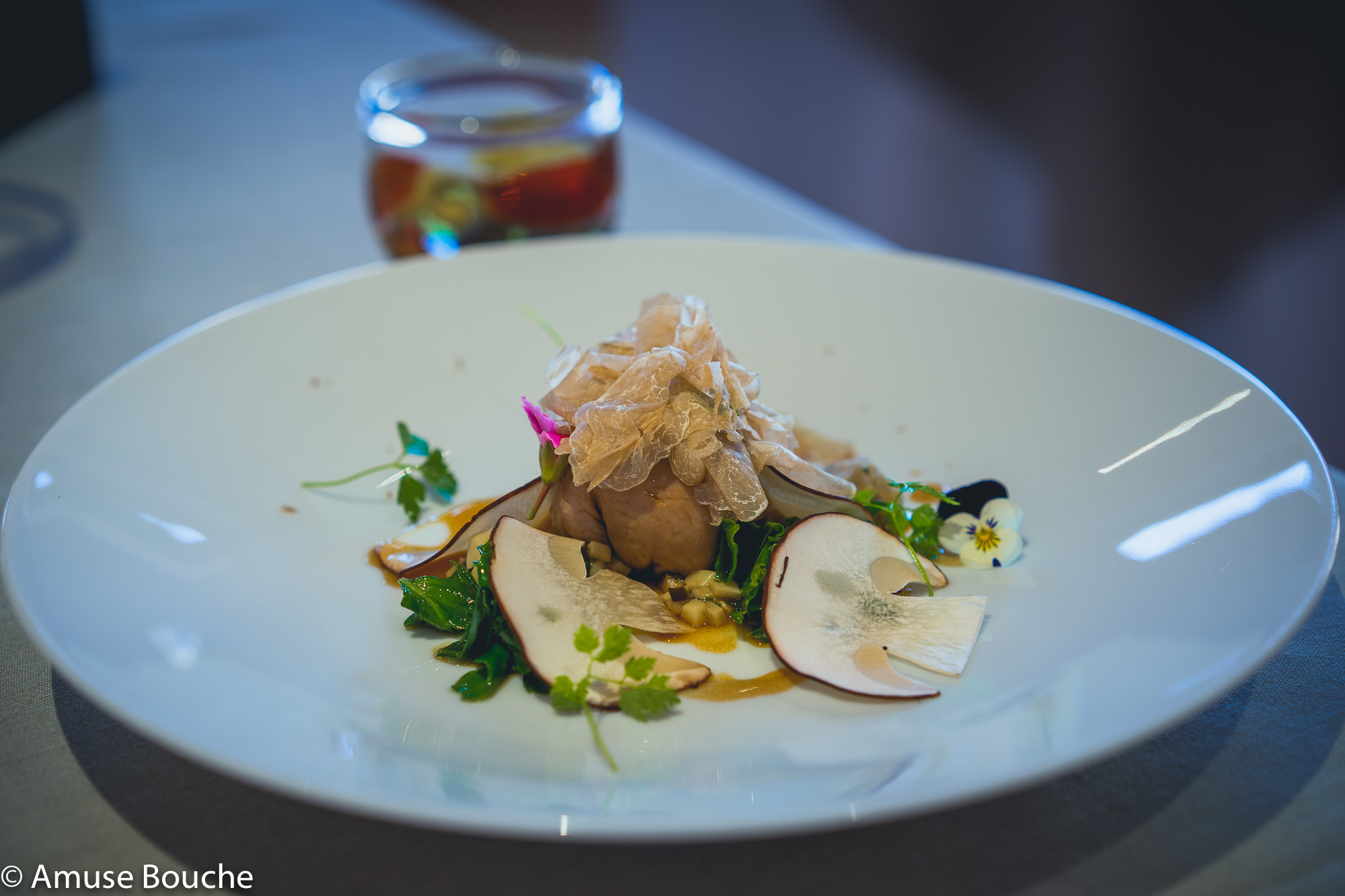 We got to the main reason we came to Piazza Duomo in October, probably the best place in the World where you can enjoy some White Truffles. This Mushroom based dish was perfect for enjoying a generous portion of this delicacy.
POTATOES CREAM, LAPSANG SOUCHONG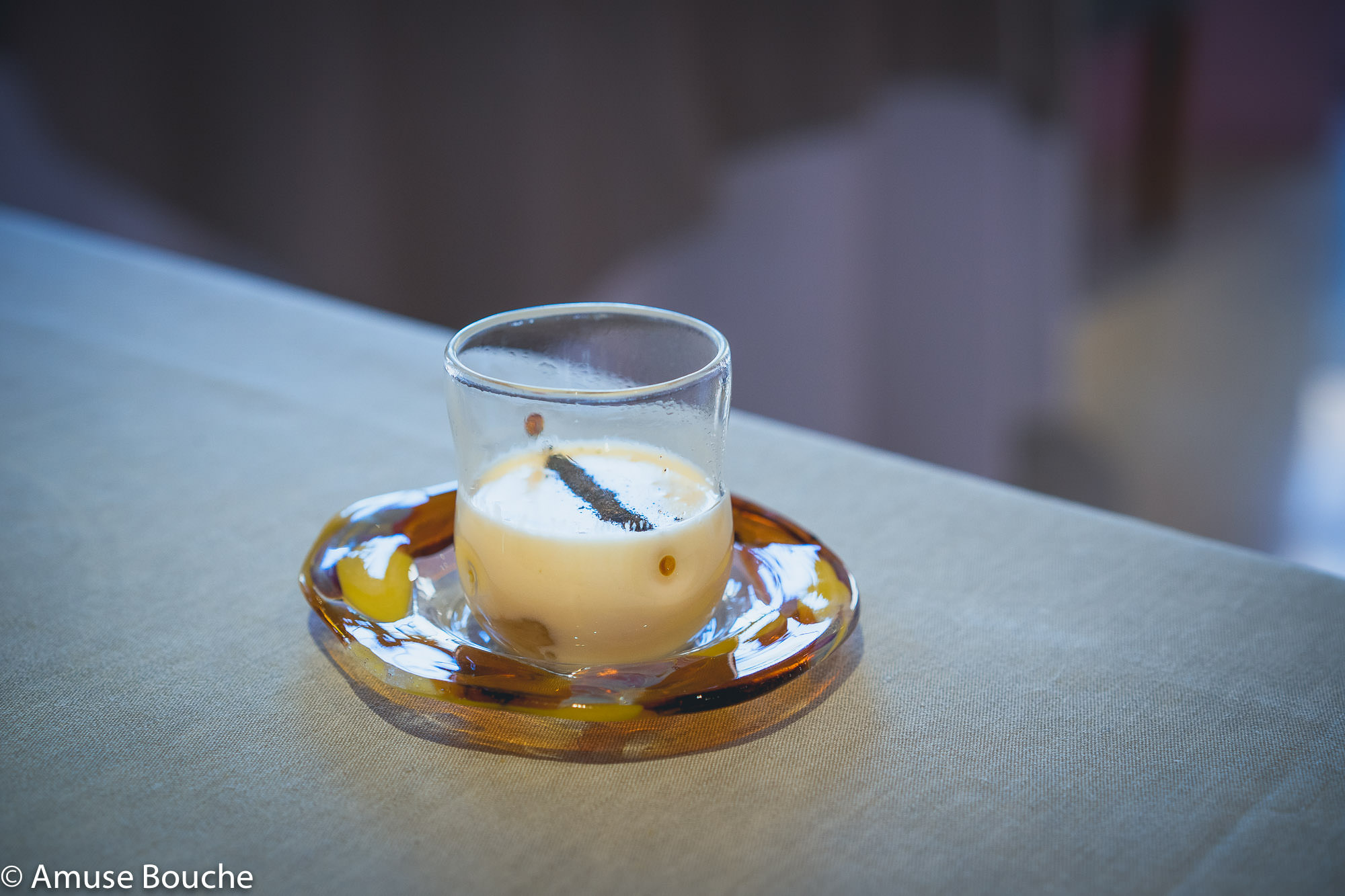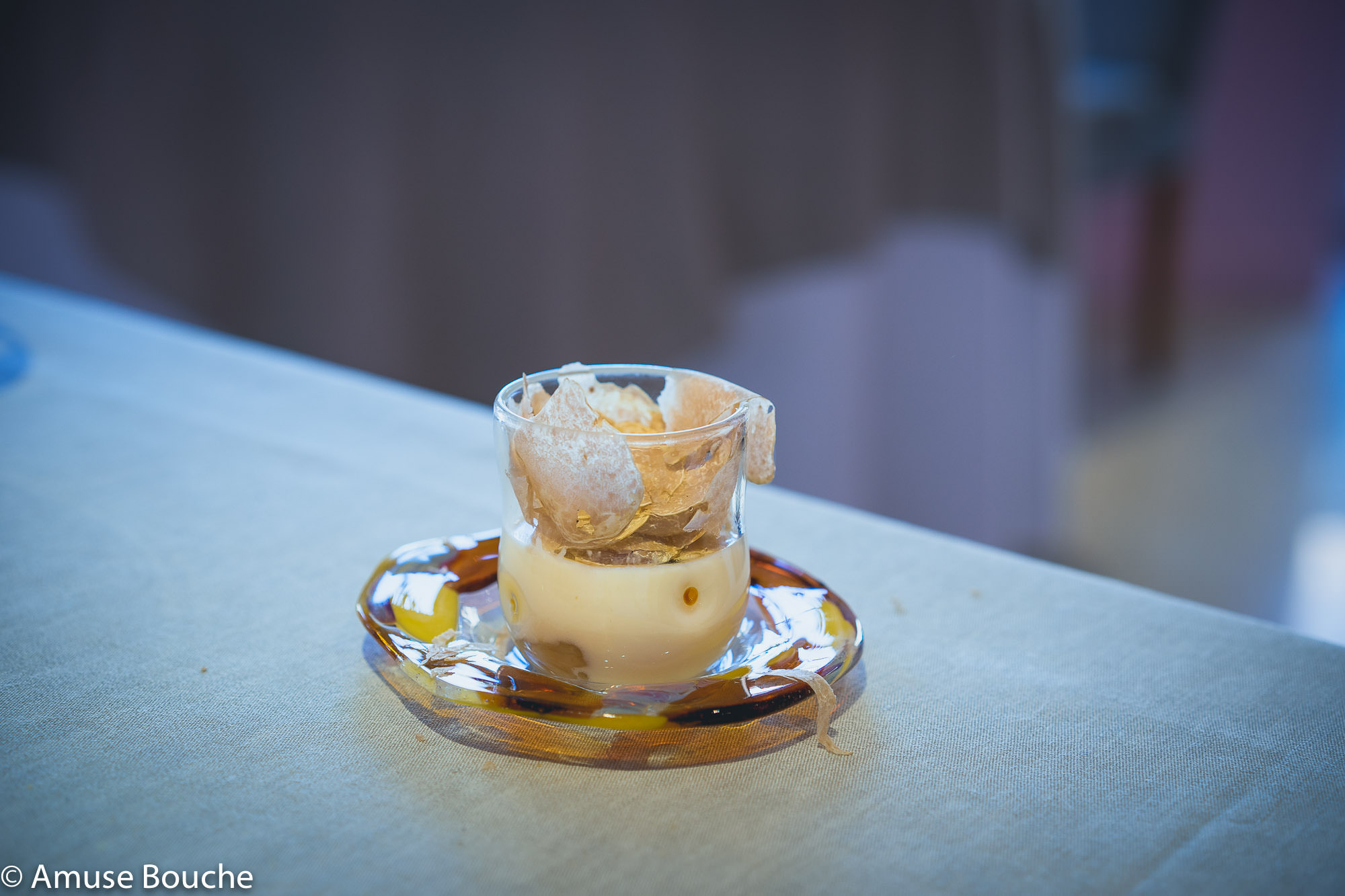 This is a classic, one of Enrico Crippa's signatures –  Potato cream with lapsang souchong tea with quail egg and white Alba truffle. If we have to choose only one dish to serve with White Truffles, this is the one. "I consider this dish the link between me and the territory, crossing my passion for Asia, represented by tea", chef Enrico Crippa.
COTECHINO AND LENTILS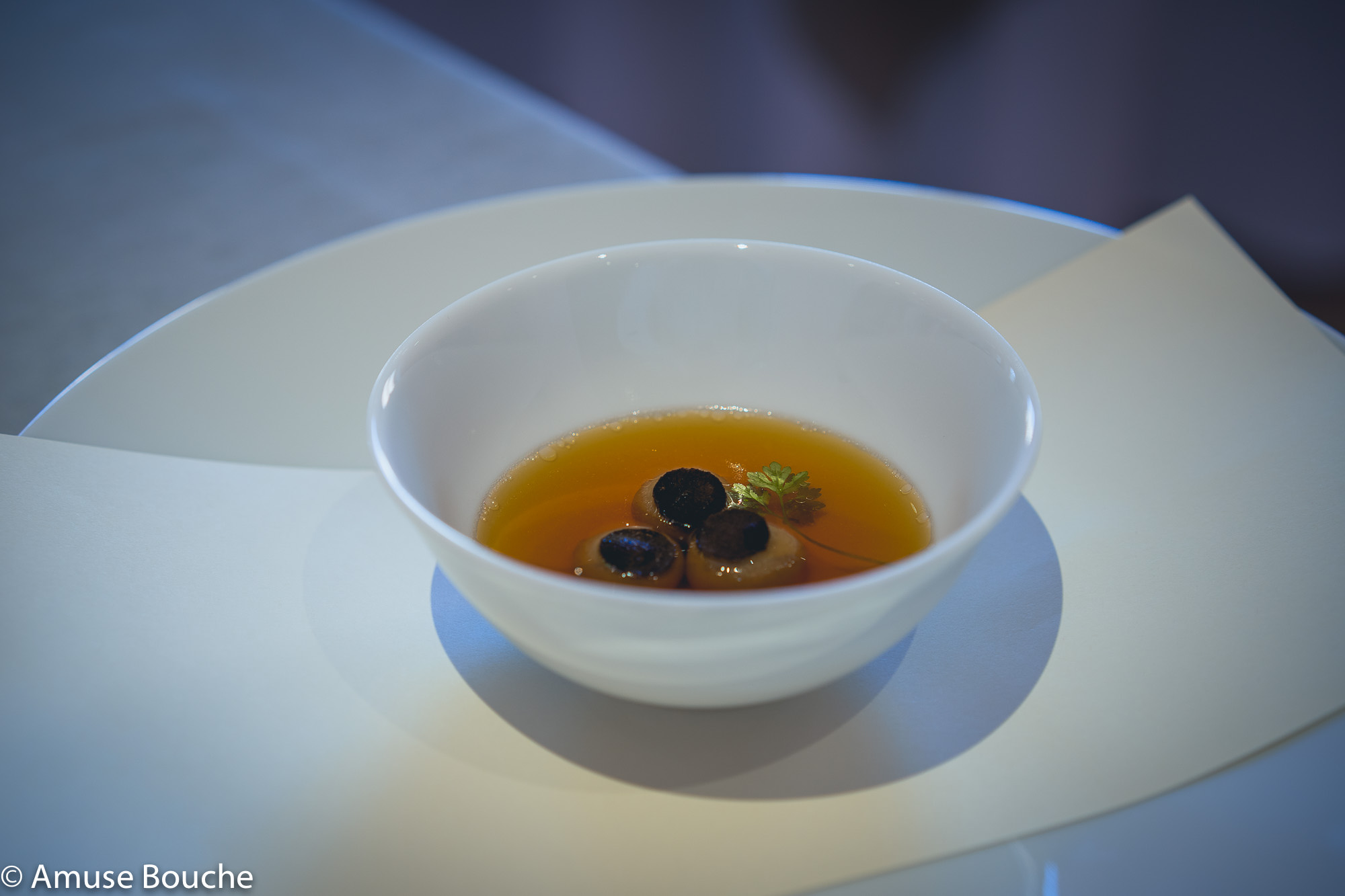 A modern take on a local dish. The Fake Lentil Balls were filled with minced meat, garnished with black truffle and served in a rich beef broth.
PIEDMONT RISOTTO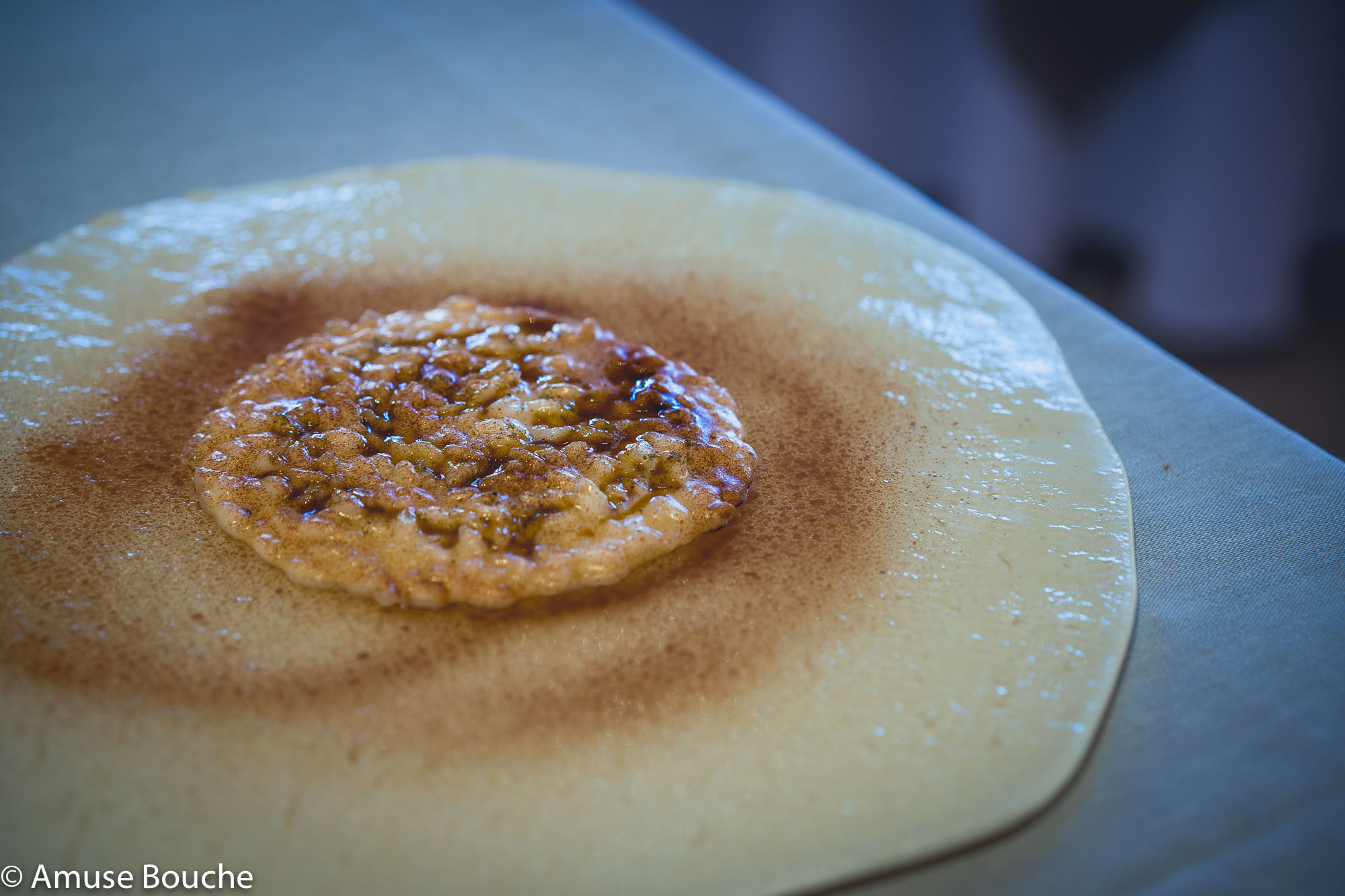 If you are looking for a simple Risotto then you should look somewhere else. The Risotto Piedmonte at Piazza Duomo is cooked in liver sauce and chestnut broth and sprinkled with cocoa powder. Intriguing and delicious at the same time.
PLIN, FONDUE CHEESE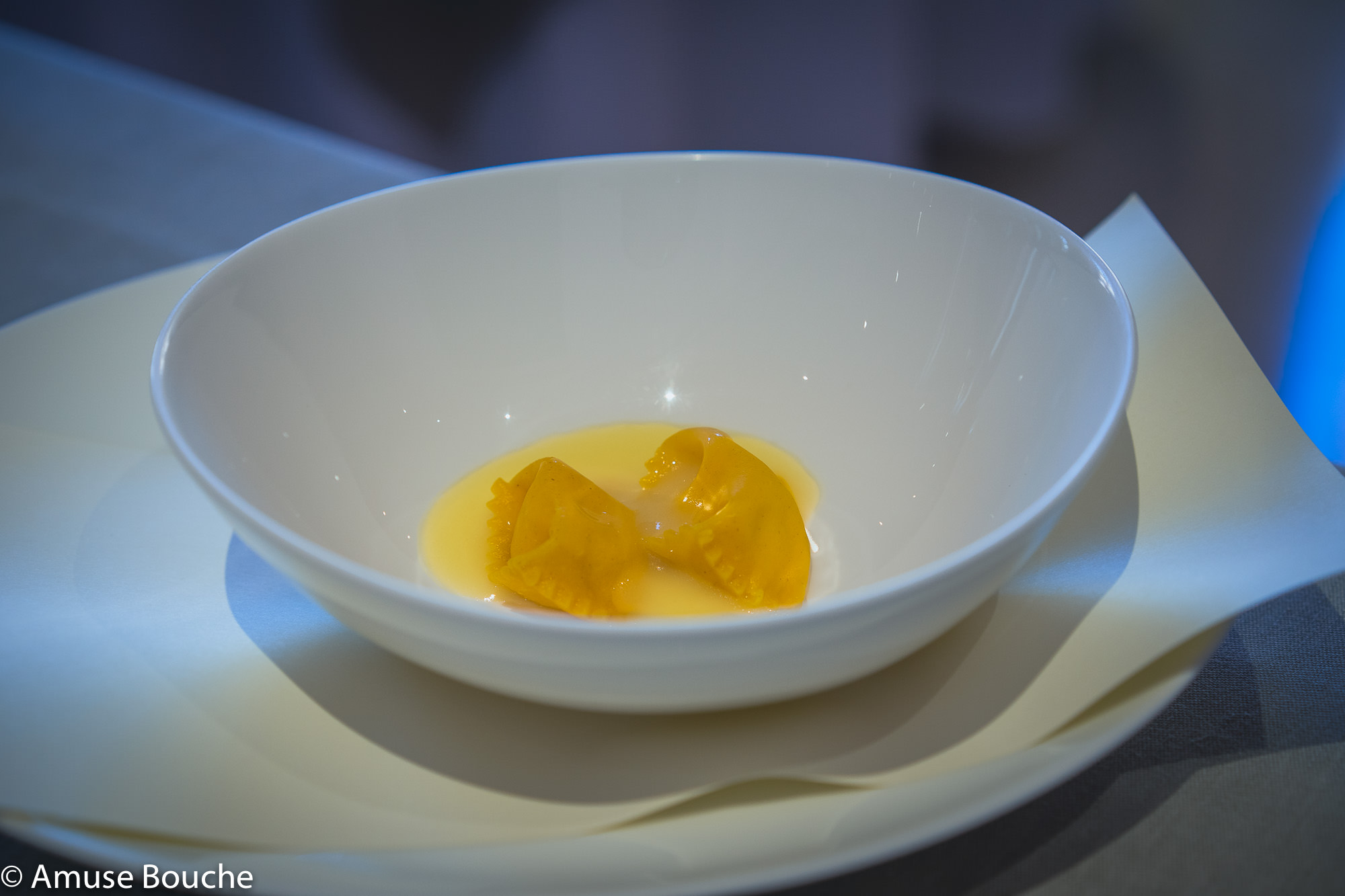 Plin is a popular local type of pasta.
PIGEON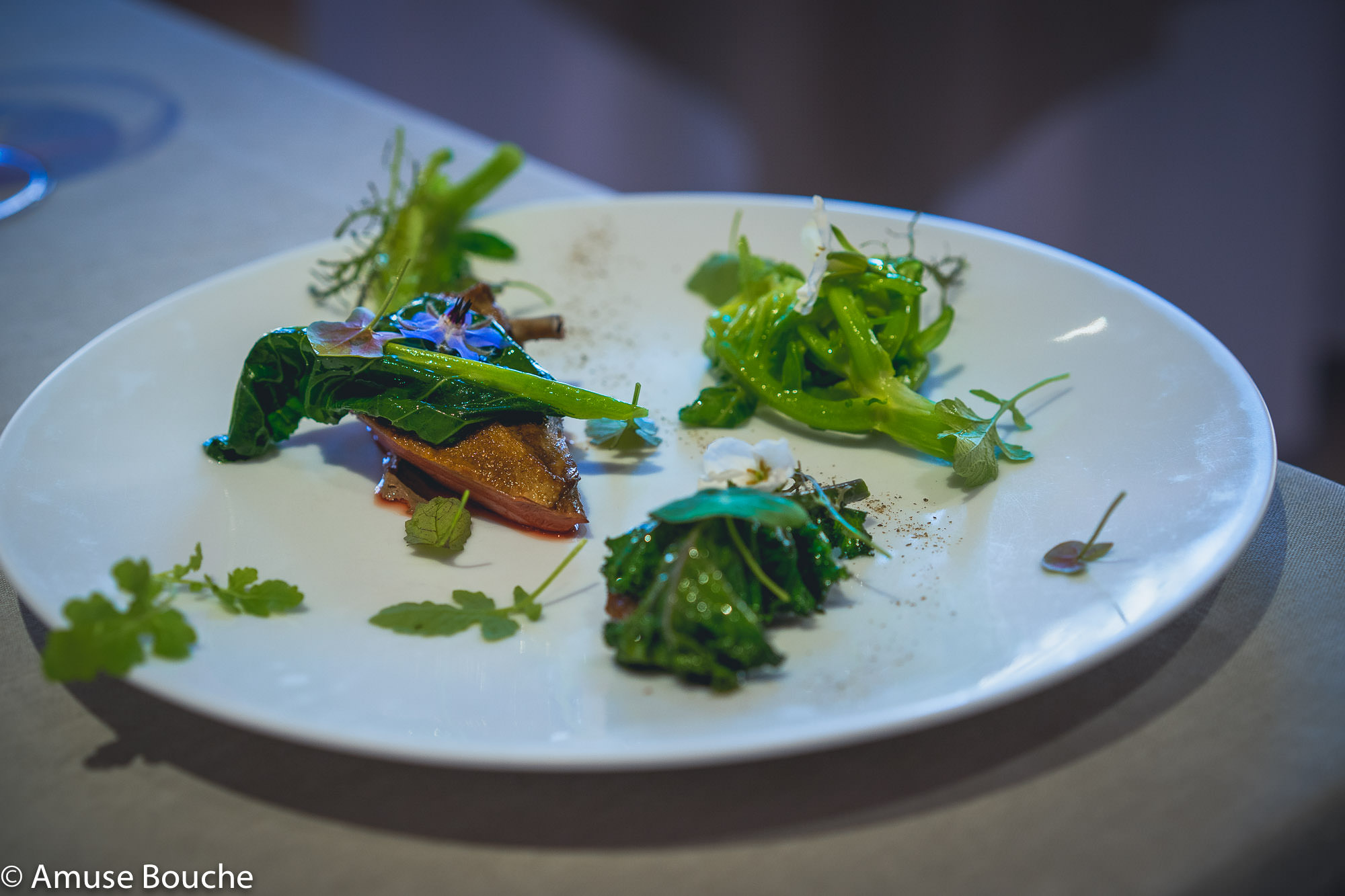 Enrico Crippa's garden at its best in the final course before dessert. Plus a perfectly cooked pigeon.
SWISS CHARD, RICOTTA, PISTACHIO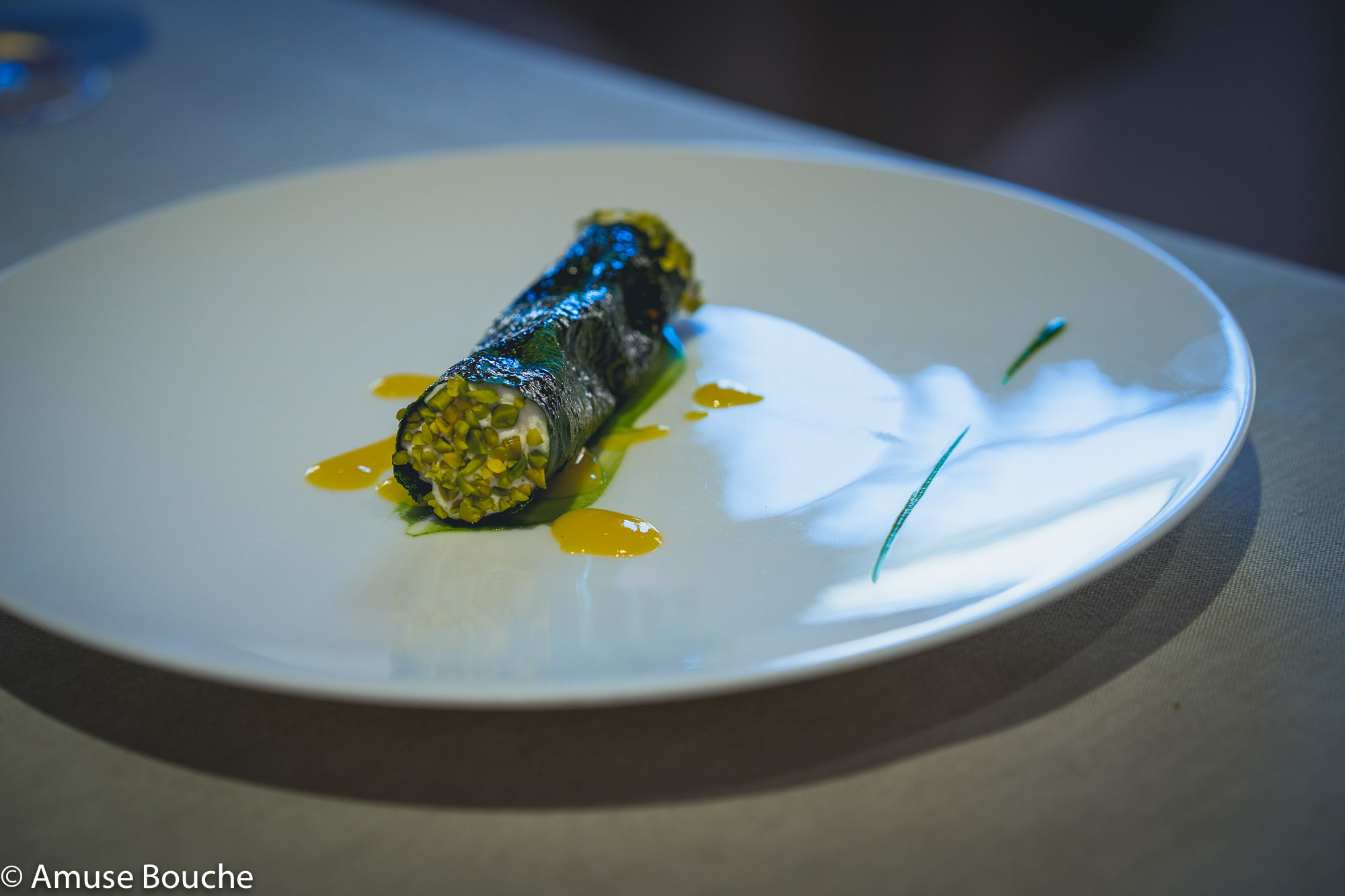 A Crunchy chard cannolo stuffed with ricotta and pistachios.
Wines
The Cerrito family has, above all, a long history in producing wine. Secondly, Piazza Duomo sits in Piedmont, the home of Barolo, Barbaresco, Montalcino.
Therefore, wine lovers, have no fear, you will be spoiled! Over 1800 labels from the region and all over Italy, plus a great selection from France. They all compose the wine book at Piazza Duomo. We went for the "100% Piemonte" wine pairing option, to get a better sense of the terroir.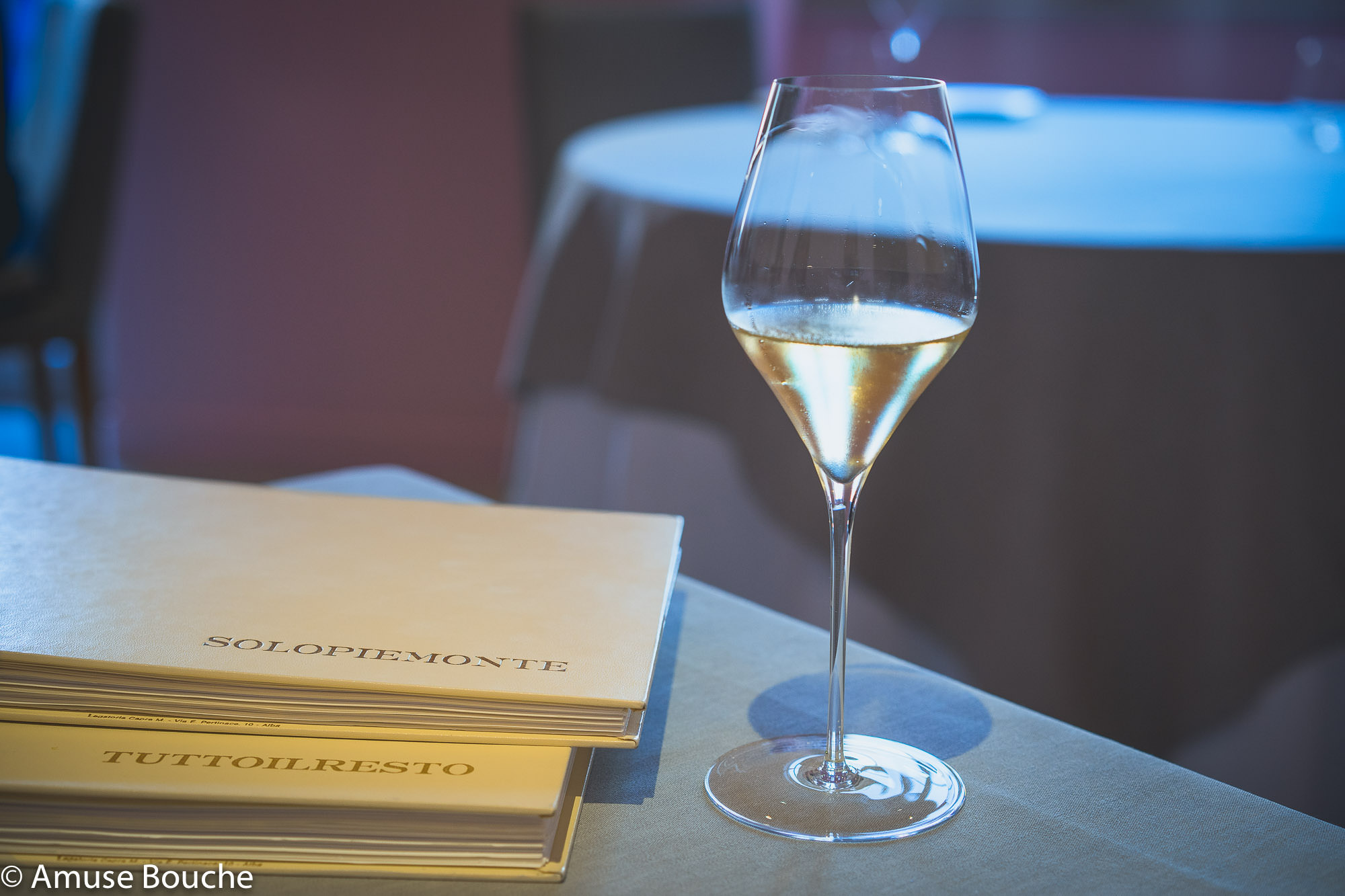 Piazza Duomo is one special experience. The technique, the imagination, the preoccupation for ingredients, the hard work and dedication of Enrico Crippa made it to our hearts.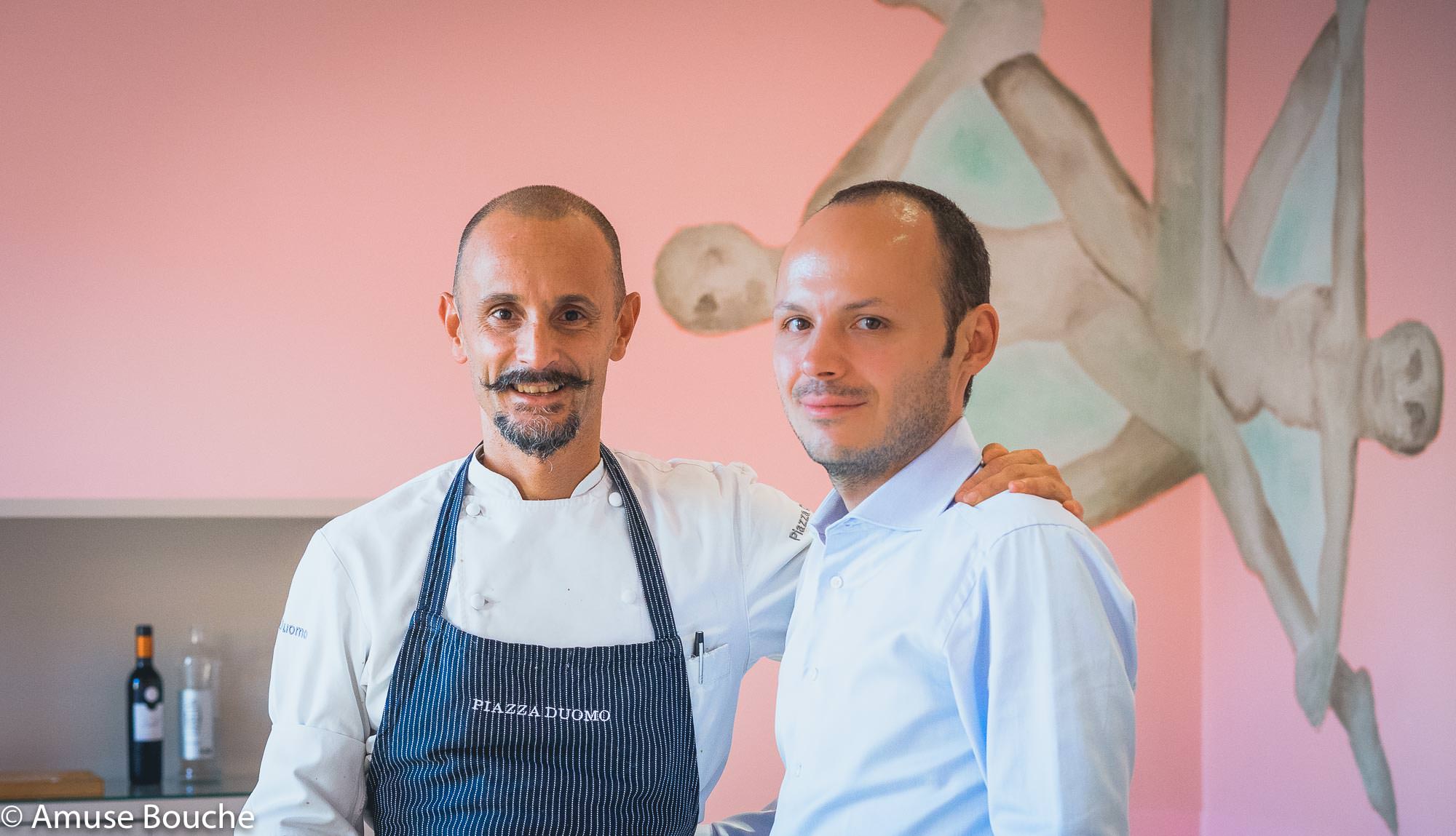 So, thank you chef for one memorable day in Piedmont!