Heston Blumenthal is one of the most prolific chefs in the world. Known as "The Mad Scientist", Heston is an atypical chef for whom scientific knowledge and understanding are very important in the kitchen.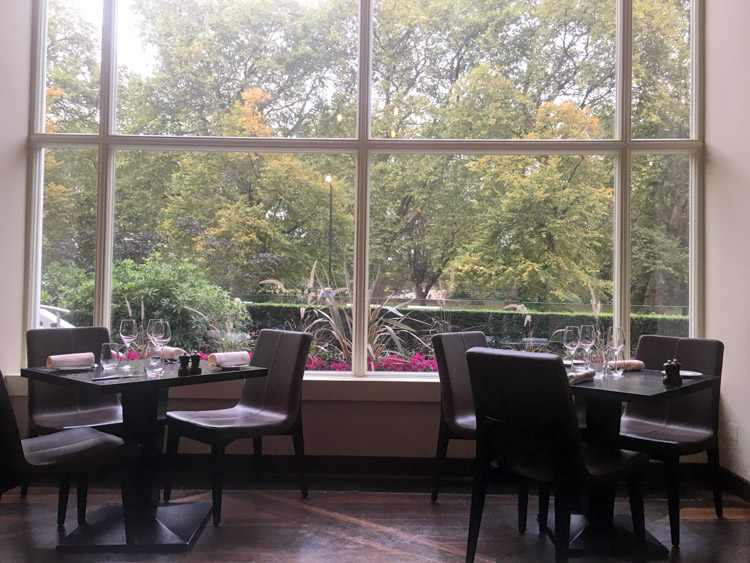 In terms of culinary research and innovations, the global industry puts Heston on the same page with Adria Ferran. During his entire career, Heston deconstructed all sorts of myths and recipes, piece by piece, in order to put them back together in a new way, using modern techniques. This approach got him a few honorary titles from a series of British Universities and the Royal Society of Chemistry Membership.
Heston Blumenthal owns one of the most famous restaurants in the world, Fat Duck (3*), voted No.1 in World's 50 Best in 2005. A restaurant we're planning to visit in the near future.
Another well-known restaurant concept with a different approach is Dinner. The restaurant that perfectly completed our agenda during our recent visit in London.
Dinner by Heston Blumenthal
Dinner by Heston Blumenthal is the chef's tribute to British culinary history. It's his own way of "giving back" and underline once again the pride he holds for his origins. So over 10 years, Heston and his right hand from Fat Duck, chef Ashley Palmer-Watts, thoroughly investigated and researched historical dishes from 1300 until 20th century. Which they transposed into the menu at Dinner, using modern techniques.
Dinner by Heston Blumenthal was opened in 2012 under the command of Ashley Palmer-Watts, Heston remaining only a guarantee of the concept and quality. The restaurant received its first Michelin star in 2012 after less than one year of operation, the second following in 2013. Dinner was also "Highest New Entry" in the World's 50 Best in 2012. Directly on No. 9. It's still in the top today, no. 45 in 2016 list.
We had this restaurant on our wish list for a long time (right next to the Fat Duck which reopened recently) and we managed to visit it for lunch in October 2016.
Location & Atmosphere
Dinner by Heston Blumenthal occupies a large space in one of the most famous luxury hotels in London – Mandarin Oriental in Knightsbridge.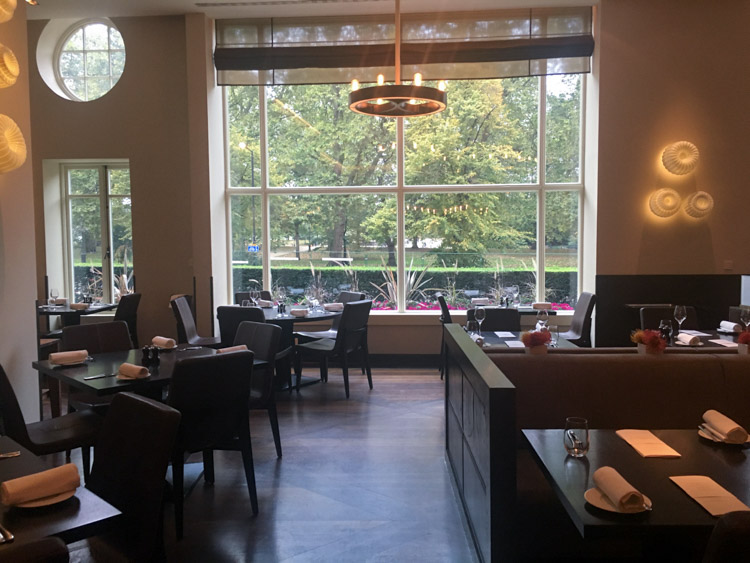 The interior is clean, elegant, classic with a dose of British traditionalism. The dining area has 120 seats, with well-spaced dark wood tables, no tablecloths and a view towards Hyde Park. Dinner is one of the largest restaurants with Michelin stars we visited so far and at the same time one of the noisiest.
The atmosphere is relaxed, quite informal, atypical for a Michelin-starred restaurant placed in a luxury hotel.
The kitchen has transparent glass walls, offering "backstage access" for the guests. Some of the highlights: the custom-made Swiss rod surrounded by fire-woods and a pulley crafted after a version used by the royal court somewhere in the 16th century.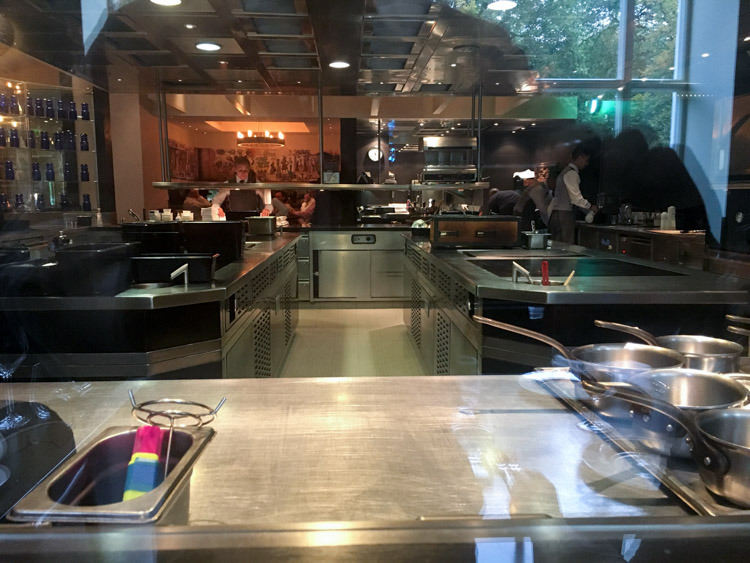 What surprised us right from the entrance was the subtle smell of food along with a slight flavour of "smoked". At first we found it a little strange and a bit disturbing, but we understood along the way how they are part of the game, part of the concept.
Menu
Heston is a scientist. He makes experiments, tests ingredients or cooking techniques and he is a master at combining contrasting flavors in his dishes. But at the same time he likes to keep things under a common appearance. So the Dinner menu may initially seem a bit too common for the restaurant's reputation and the fame of working "outside the box" that precedes Heston.
But once you taste the dishes, lots of flavors and nuances reveal on your palate. Because, behind the seemingly common food there is a lengthy, complex process involving many techniques, ingredients and spices. Another interesting subtle note integrated in the concept is the "smoked" flavor present in one form or another in every dish – from starters to desserts. A touch that reminds of the old days when people used smoked ingredients in their food.
This approach transform the whole Dinner experience in a controversial topic. On one hand are those who perceive just the common / "comfort food" attribute of the menu and are not impressed. And on the other hand are those who recognize Heston's atypical style in all the subtle sensations hidden in each dish. We have to be honest an say that even within the Amuse Bouche family opinions are somewhat divided regarding certain courses.
There is no tasting menu at at Dinner. Only a la carte choices. The menu is mostly untouched since the beginnings and every dish comes along with a mention of the source of inspiration. Meaning the year and the book that provided the original recipe.
Dinner has some famous dishes, so we already had a list in mind before our visit. But we consulted the staff before taking the final decision. The staff here is very generous with information and personal opinions. They offered us a lot of details about ingredients and the cooking process of the dishes.
We decided to go with 3 starters "to share", one main course each, 2 desserts plus the ultra-popular ice cream.
STARTERS

1. Meat Fruit (sec 13-15)
Meat Fruit is the restaurant's signature dish, in the spotlight since the opening of Dinner at the Mandarin Oriental. It's a delicate chicken liver parfait dressed as a tangerine, reproduced in detail. Even the surface layer is mandarin jelly.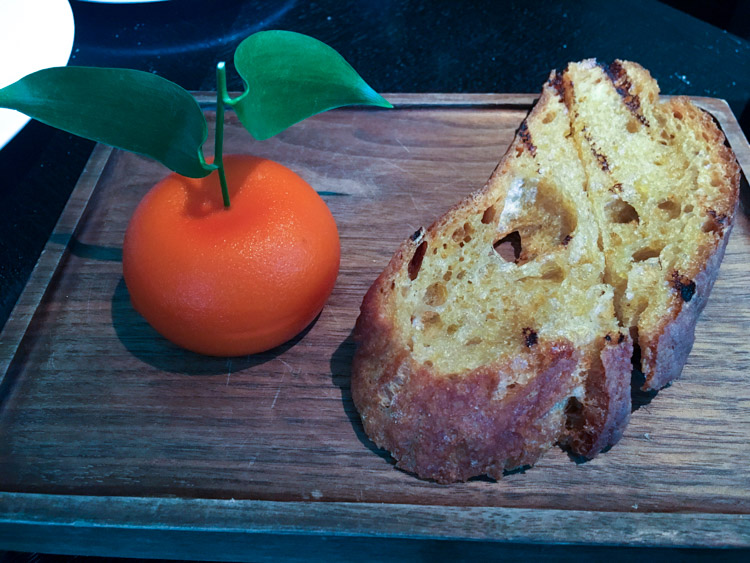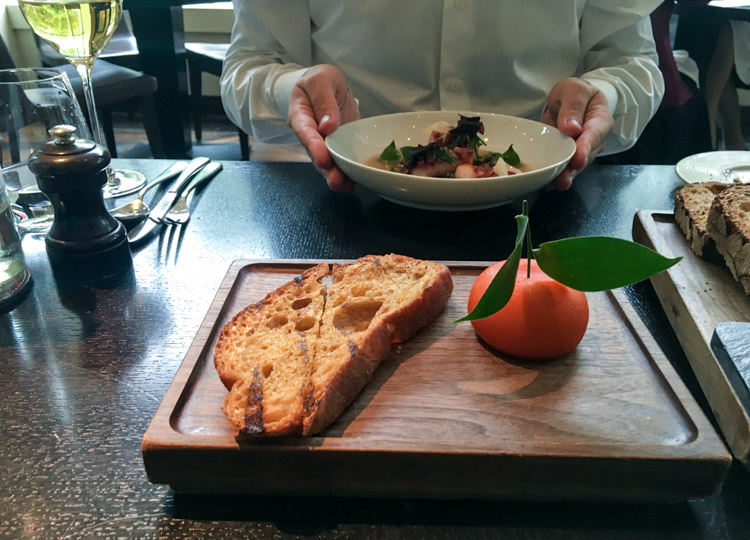 2. Frumenty (1390) Grilled octopus, spelt, smoked sea broth, pickled dulse & lovage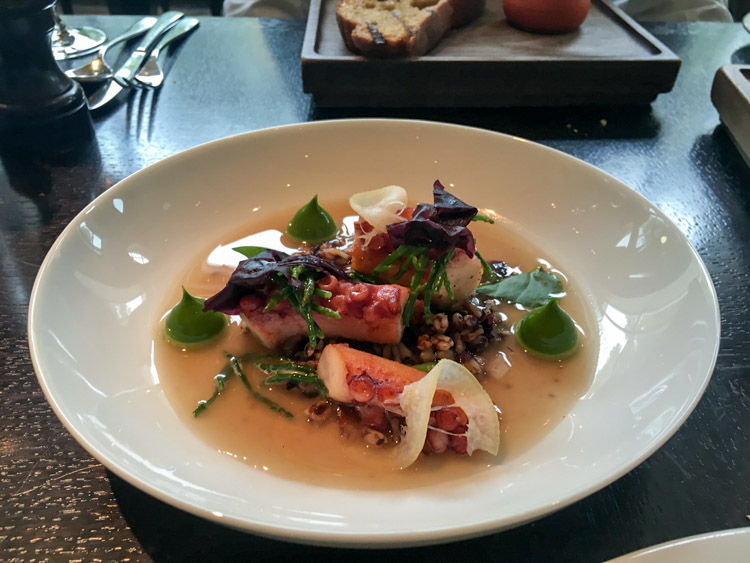 Probably the dish with the most pronounced and sharp flavors. Octopus cooked sous vide and completed on the stove, which adds that smoked flavor we mentioned earlier. Smoked concentrated seafood stock, marinated red algae and some other elements that added extra texture: lovage puree and spelt.
3. Rice and Flesh (1390)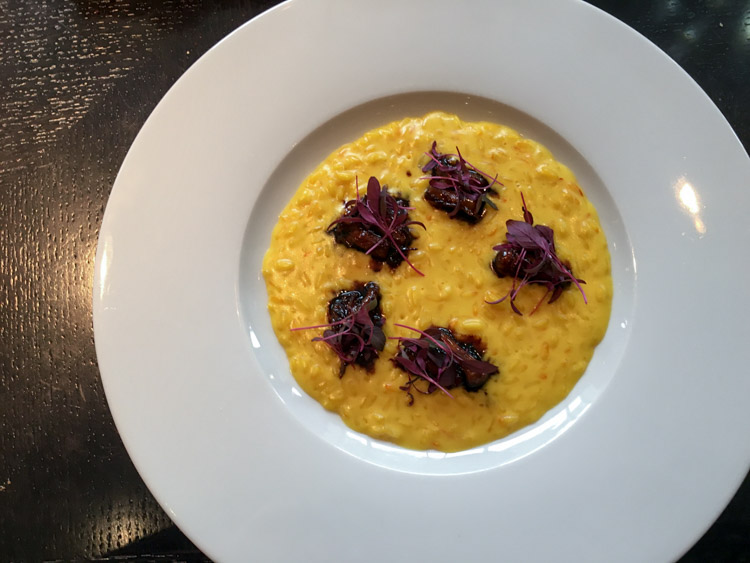 An excellent risotto with saffron, wine sauce and ox tail.
MAINS
4. Powdered Duck (1850)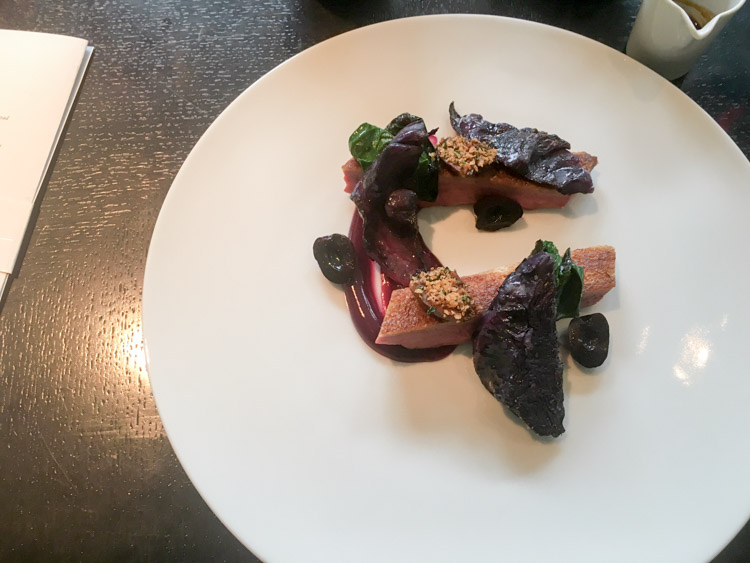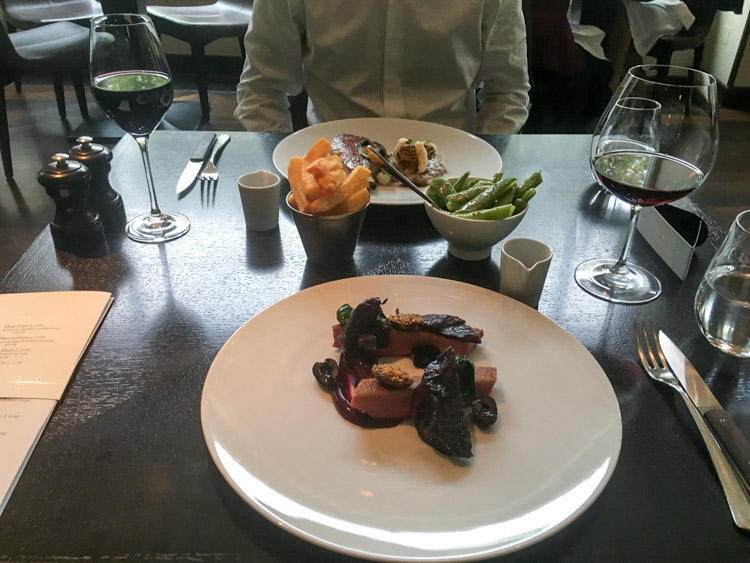 The duck is marinated about 45 minutes in a bath of spices, then cooked sous vide and finished on the stove, similar with the octopus from Frumenty. During this time the skin of the duck is cooked separately, 24 hours sous vide and finally reattached. The dish is served with a very concentrated sauce made out of duck stock and spices. An excellent preparation..
5. Rosted Iberico Pork Chop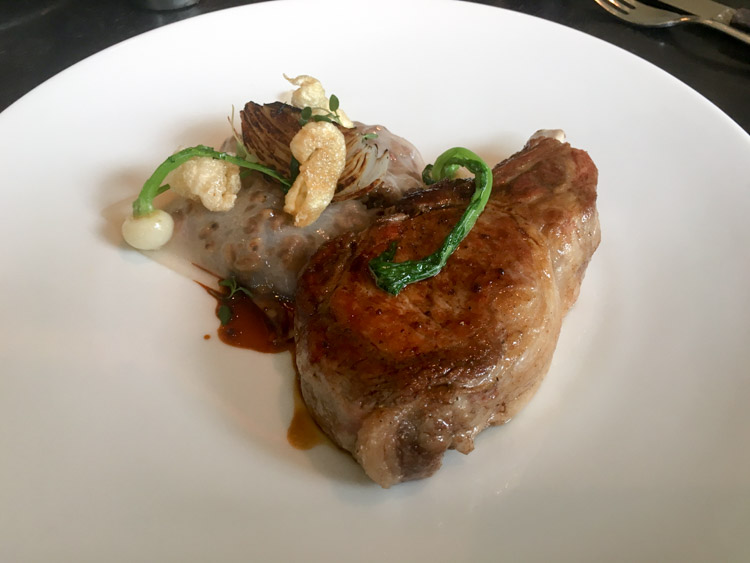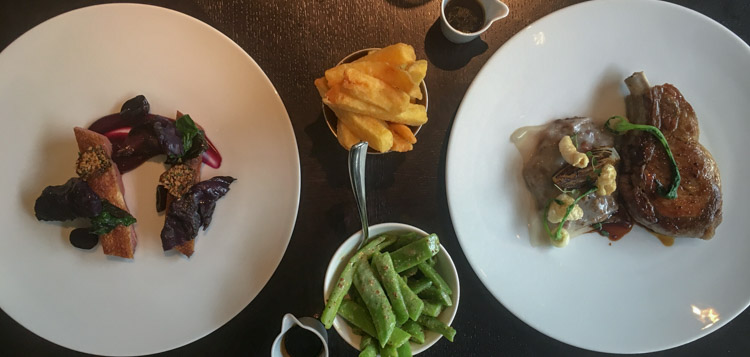 Beyond the excellent meat, many flavors in this dish come from the spelt cooked in a concentrated stock made out of vegetables, spices and certain parts of the pork leg.
DESSERTS
6. Tipsy cake (1810)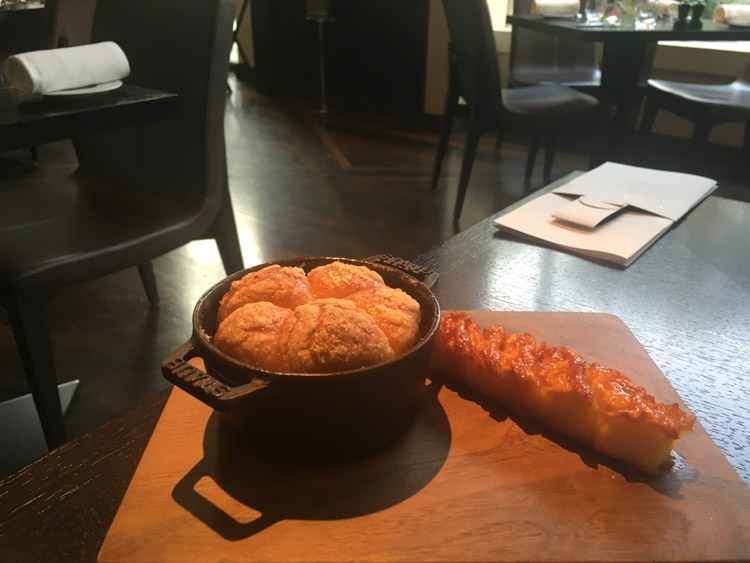 Tipsy cake is the signature dessert from the Dinner menu – roasted pineapple served beside a sponge cake with sherry and brandy moist. The smoked flavor of the fruit balances the sweetness of the cake.
7. Taffety tart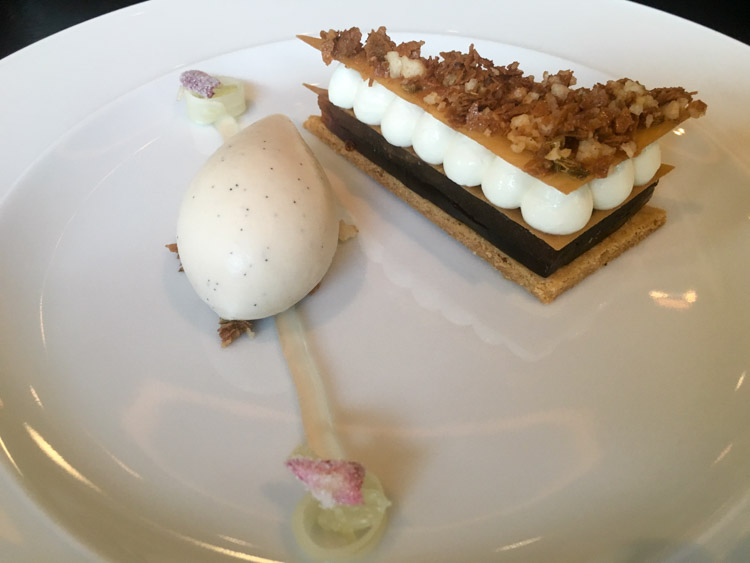 This dessert is lighter and more elegant than tipsy cake. Many flavors, layers and textures. Contains crispy vanilla biscuit, two layers of apple jelly different from each other as flavor, cream of rose petals, crystallized fennel seeds, rose petals and almonds. It comes with vanilla ice cream and caramelized fennel.
8. Ice cream
This was the "Alice in Wonderland" or "Charlie and the Chocolate Factory" moment. A little bit of table entertainment for the end of our meal, to remind us that you're still in "The Mad Scientist's house."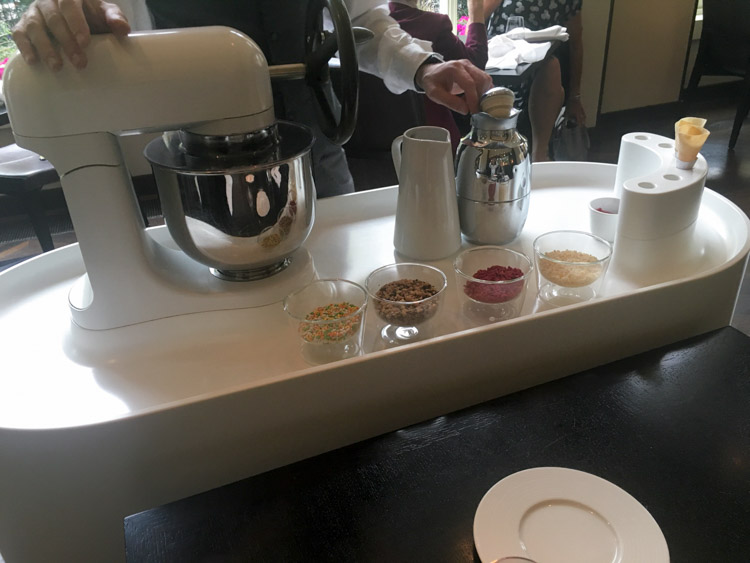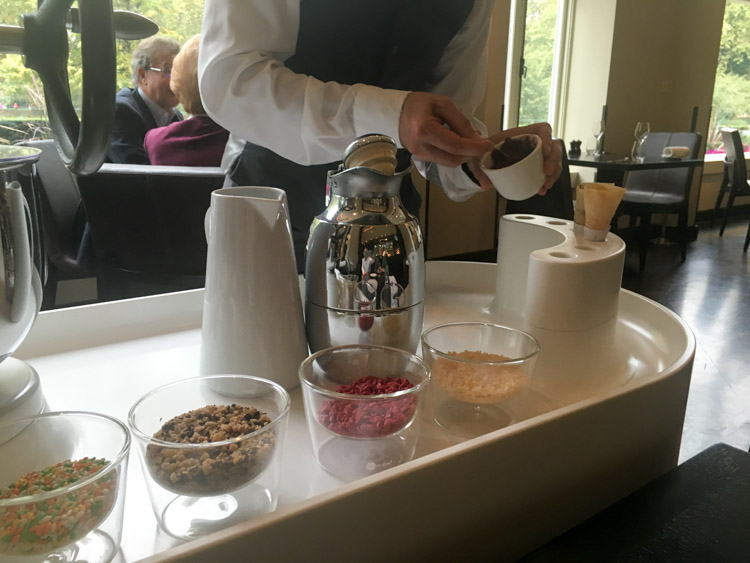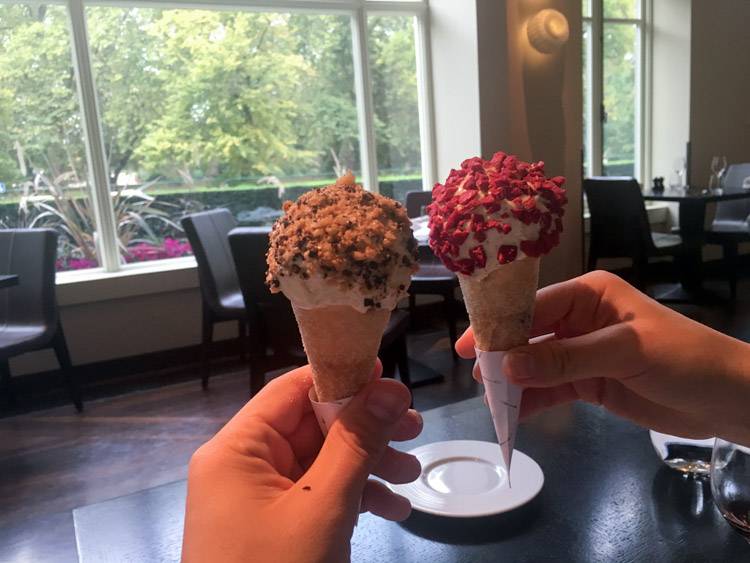 So everything goes like this. They bring a trolley to each table that orders ice cream. The trolley is created exclusively for Heston by a famous designer and it looks something like an old sewing machine or like a magician table. The ice cream composition is poured in the designated compartment and right after it comes the liquid nitrogen. After a few minutes of twisting everything manually so it doesn't get clog, the ice cream is ready to be topped and served.
Service
The service is quite friendly and straightforward. The staff members provide a lot of  information about the menu from the start, detailing how everything is cooked but also personal choices, their favorite dishes. They're not at all hesitant about expressing personal opinions about what they like and how they perceive certain ingredients.
Wines
We went "by the glass", with paring for every course,  taking 100% into consideration the staff's recommendations. It's probably the best option, given the mix of dishes.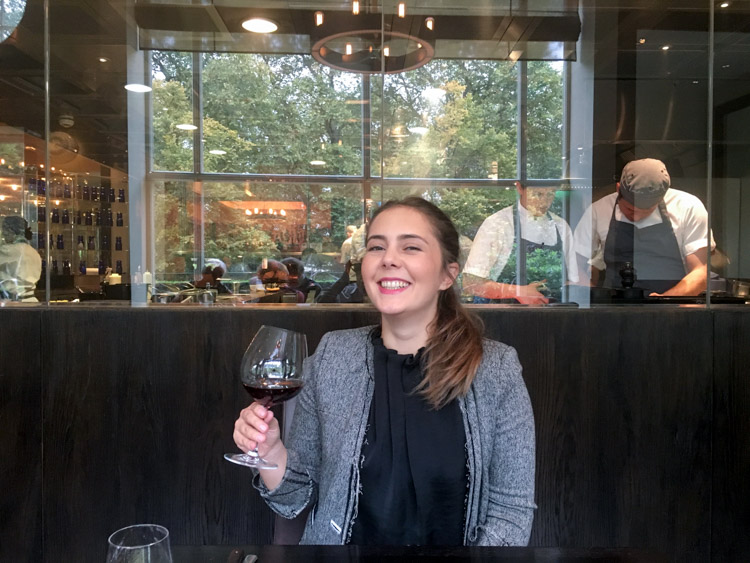 Dinner by Heston Blumenthal was a special, atypical experience for us. We can't consider it to be the best meal we've ever enjoyed, but it's clearly a restaurant that plays "in the big league." And offers a delightful, refreshing, sophisticated, satisfying experience in an apparent simplicity, without all the "rigors" specific to restaurants at this level.
Good to know:
Dinner is open for lunch and dinner every day. And is relatively easy to make a reservation because of its large capacity.
A table with two starters, main courses, desserts, ice cream and a glass of wine for each dish takes you somewhere around £ 300.