El Celler de Can Roca is currently ranked 2nd in World's 50 Best list, after Osteria Francescana in Modena.
El Celler de Can Roca is also the only restaurant we had to reserve 1 year in advance so far. The good side – we had plenty of time to plan carefully an entire holiday in Barcelona built around this experience.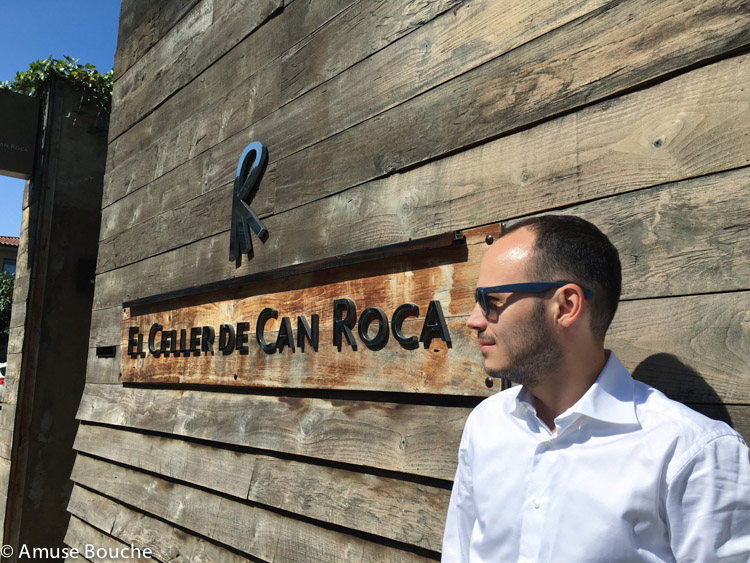 El Celler de Can Roca, a familly affair

El Celler de Can Roca is a family business. A restaurant with a story in which the Roca brothers are the main actors. Some of the best in the world. Joan Roca (the elder brother) is the head chef, Josep Roca is the sommelier and Jordi Roca (the youngest brother) is the pastry chef.
The story begins in the 60's when the parents, Josep Roca and Montserat Fontane, have opened the restaurant /bar Can Roca in Taiala, a suburb of Girona. The childhood playground for the Roca brothers.
El Celler de Can Roca was born later, in 1986, when Joan and Josep Roca (the big brothers) have decided to open their own restaurant close by. They got the first Michelin star in 1995, followed by the second one in 2002. Finally, El Celler de Can Roca received the third star and highest distinction from Michelin in 2009.
But the success and transformation of Roca brothers into global superstars is related to the World's 50 best Restaurants list. El Celler de Can Roca was named the best restaurant in the World in 2013 and 2015.
The 3 brothers have proven themselves as a team but also individually winning numerous awards like the Best pastry chef in the World in 2014 ( Jordi Roca).
The restaurant in Girona writing history
The current location dates from 2007. It's a generous space, custom-built especially for El Celler de Can Roca, very close to the initial restaurant. For us, it was about 10 minutes  via taxi from the center of Girona. After one hour train ride from Barcelona.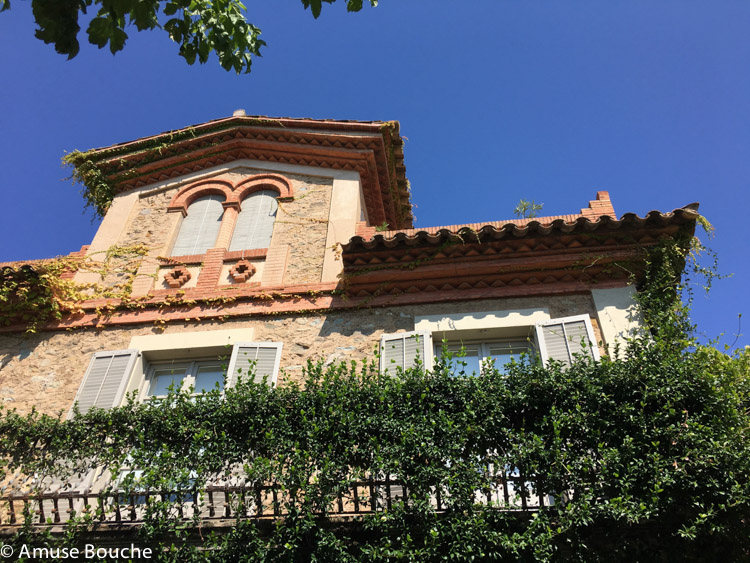 The restaurant  has a big lounge area and a terrace for welcoming guests. This is where we started our experience, accompanied by a glass of Cava, special production for El Celler de Can Roca.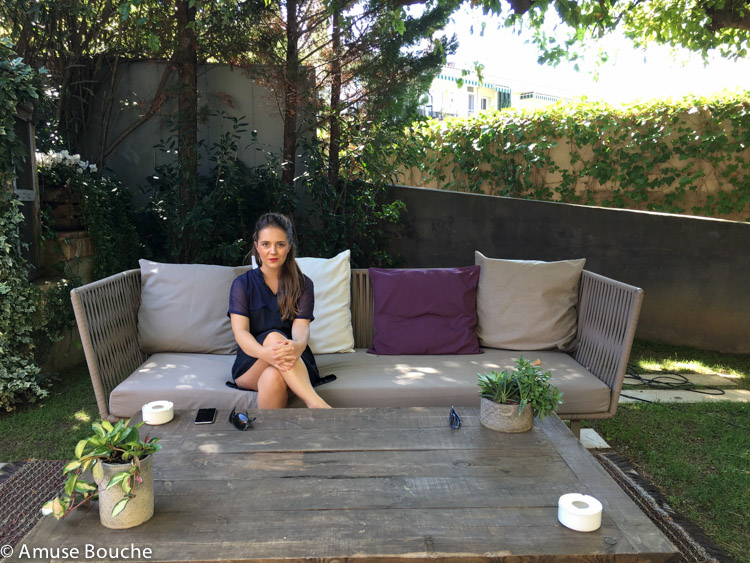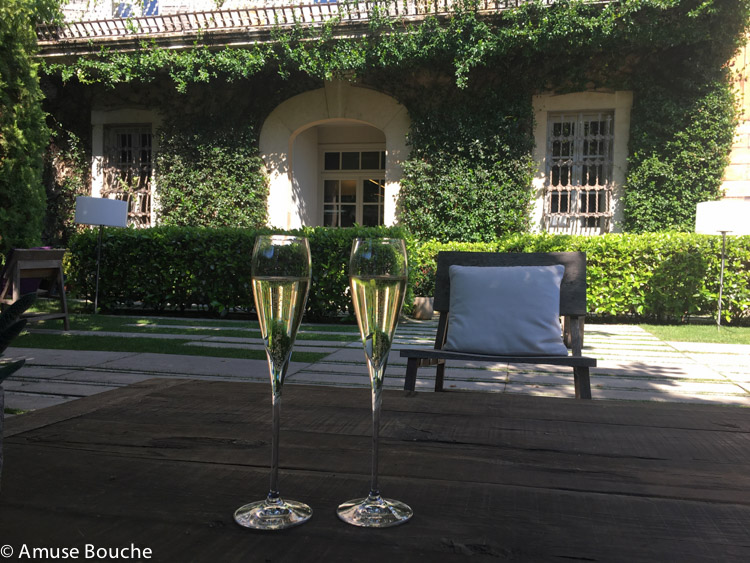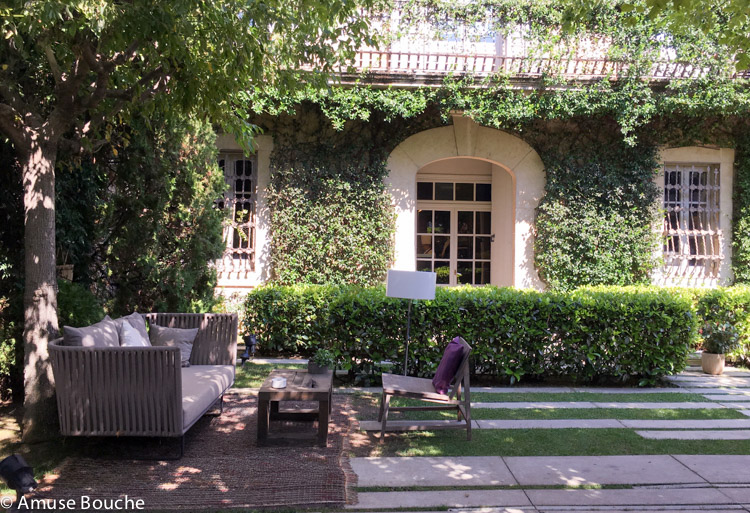 There are 3 main areas, almost equal in terms of size (app. 200 sqm): the kitchen, the wine cellar and the dining area that can accommodate 48 guests.
The dining area is "clean" and elegant. The huge glass walls allow natural light to come in creating a nice atmosphere.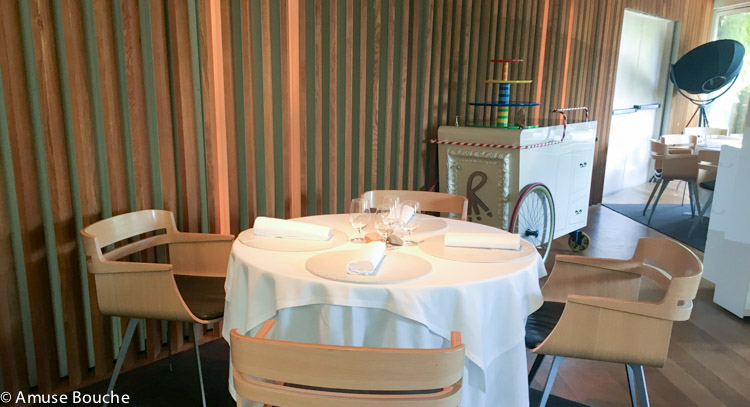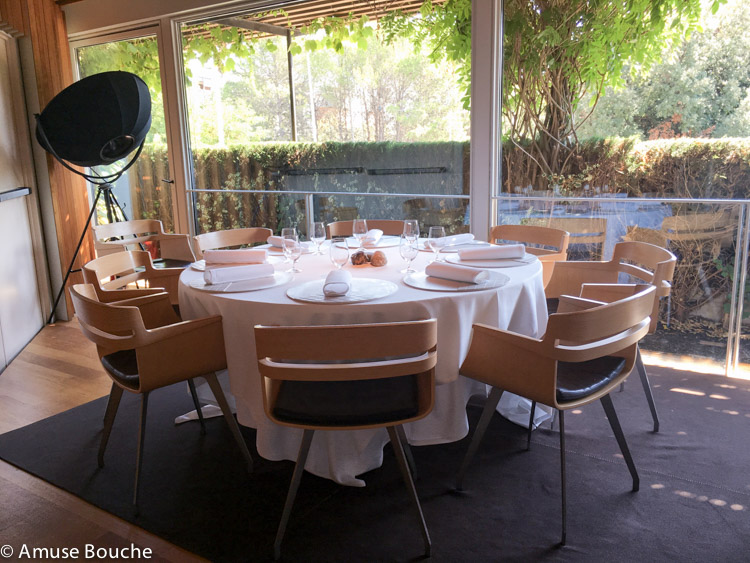 Every table hosts a group of 3 small rocks of different sizes – a symbol for the 3 brothers and the Roca family.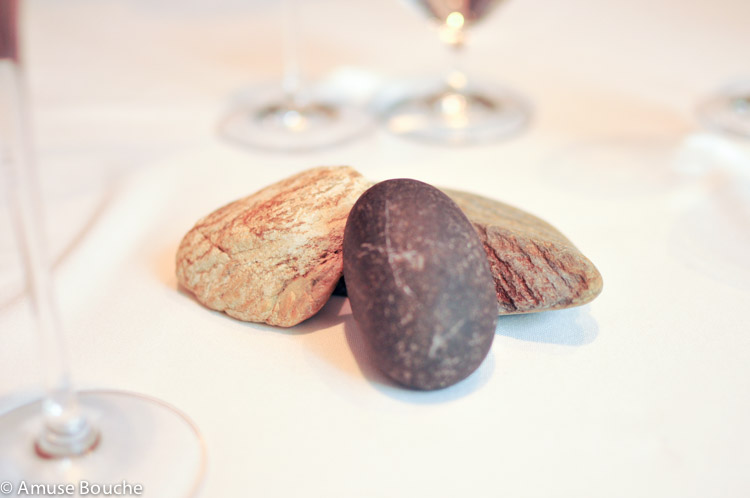 Menu  
The cooking style is a mix of Catalan tradition and avant-garde cooking techniques. They call it Modern Freestyle. We had two tasting menus to choose choose from: Classic (8 dishes) and Feast (14 dishes). We usually like to go with the classics and most famous dishes at our first visit in a top restaurant. However, we have read a lot before our visit about the Feast menu as being the best option. Also, we wanted to enjoy more of the Can Roca experience. So, we went on with the Feast Menu, together with wine paring.
The beginning of our meal was great. We had around 15 mises en bouche before the actual menu. In terms of volume, it's probably the maximum we have seen so far at a top restaurant. As much as we remember 🙂
The first tastings : Around the world. The mises en bouche arrived to our table in a paper globe, symbol of the earth. Inside we discovered 5 delicious small bites inspired by Joan Roca's travel experiences around the world.
Thailand: thai, chicken, coriander, coconut, curry and lime
Japan: miso, cream with nyin
China: pickled vegetables with plum cream
Peru: "Causa limena"
Korea: panco fried bread, bacon with soya sauce, kimchi and sesame oil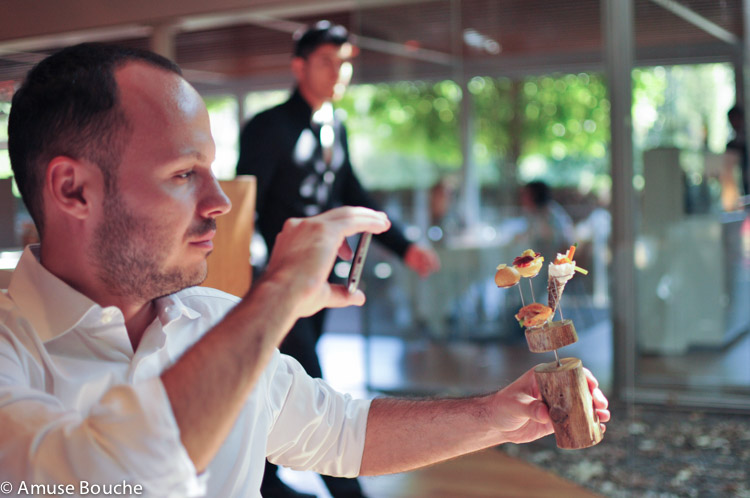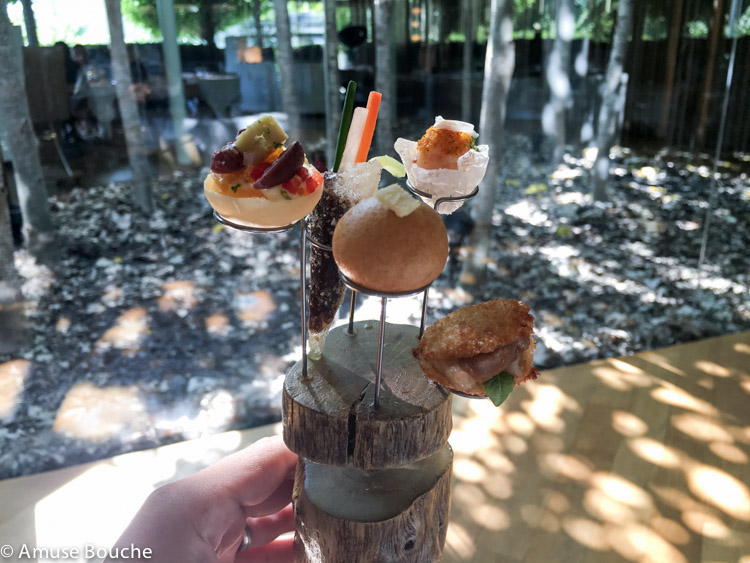 What followed is a storytelling dish – 5 bites arranged on a 3-d paper plate with pictures of the brothers and some elements from their childhood in Girona.
Memories of a bar in the suburbs of Girona
Breaded squid, kidney with Sherry, Pigeon bonbon, salt cod with spinach and pinenuts, campari bonbon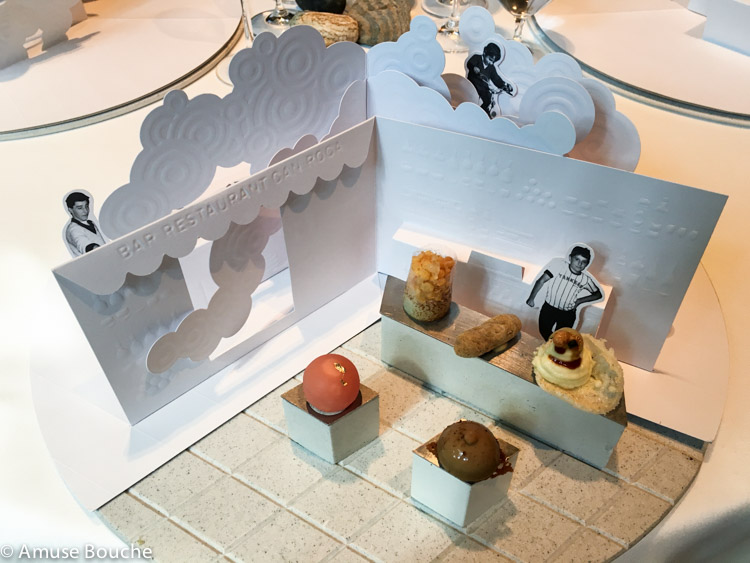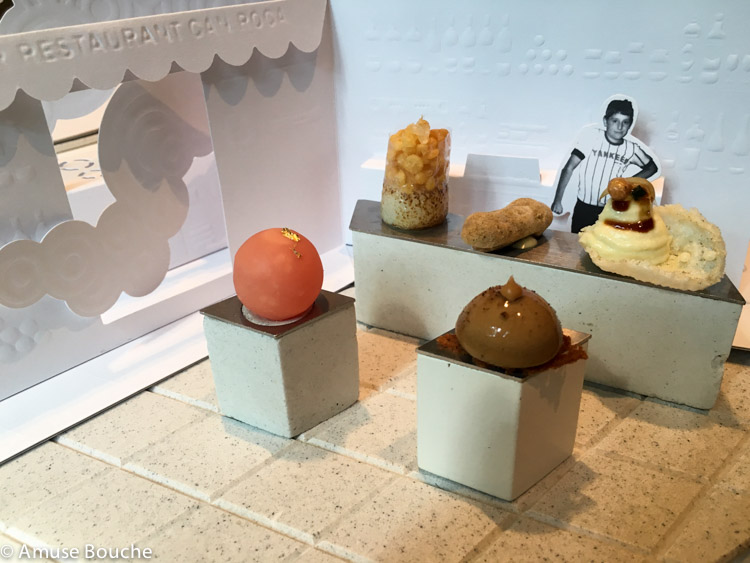 Then a Can Roca classic: green olives icecream served directly from a miniature olive tree.
Green olives icecream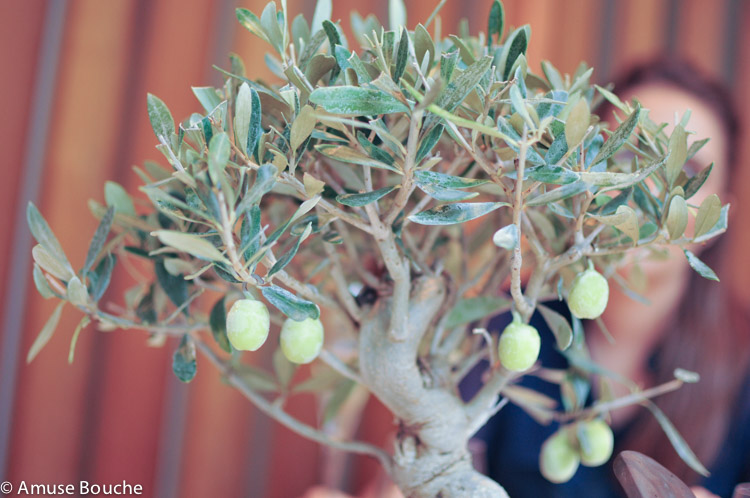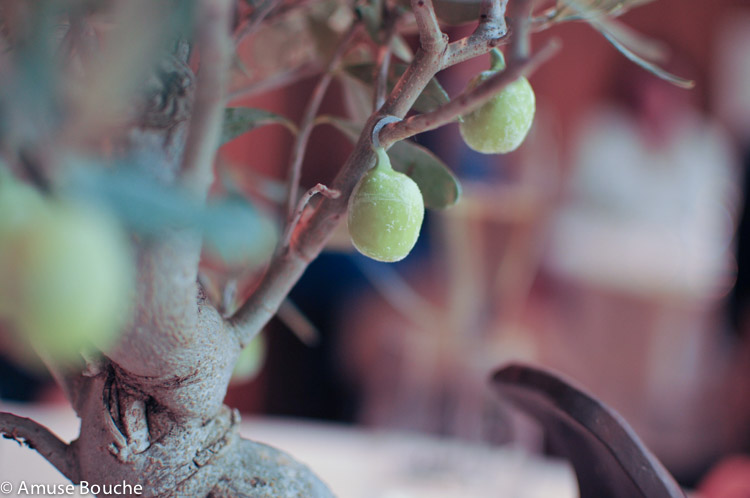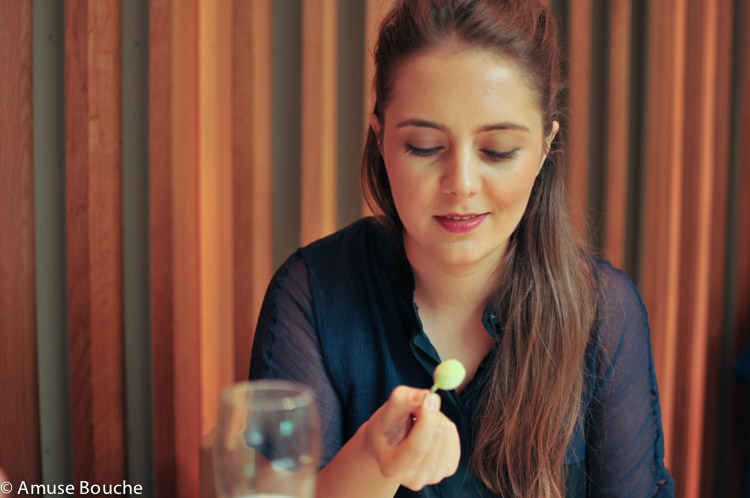 Starfish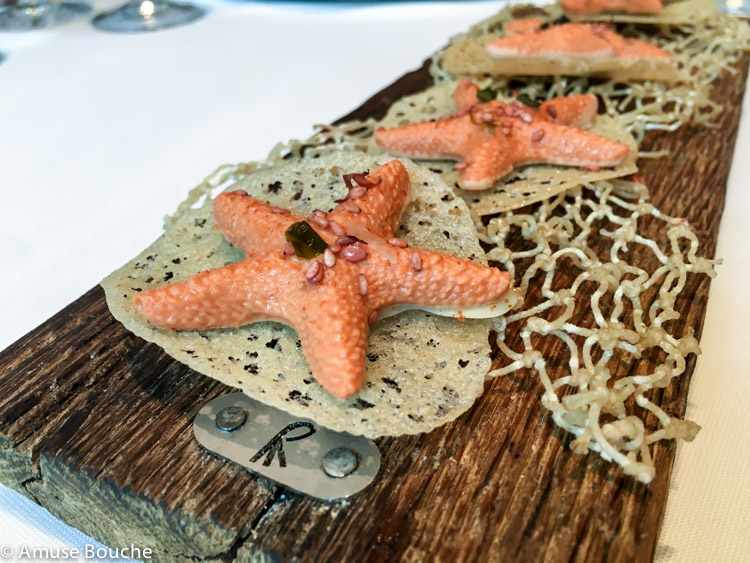 Coral Escabeche mussels, Seabrem ceviche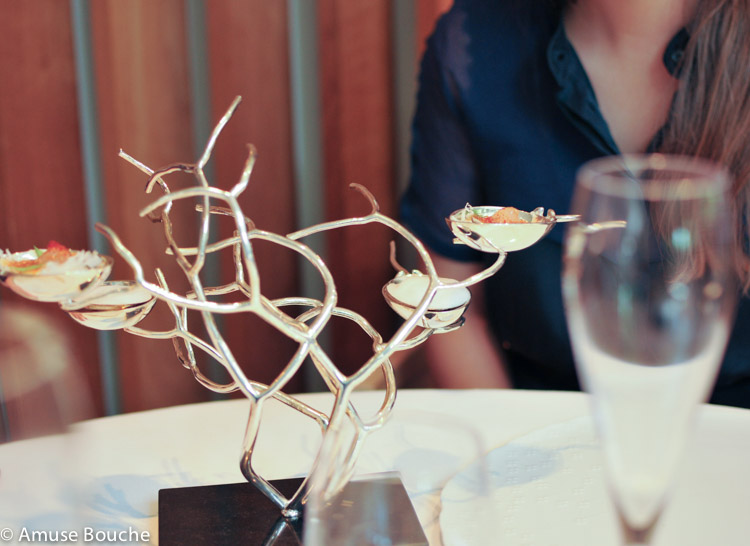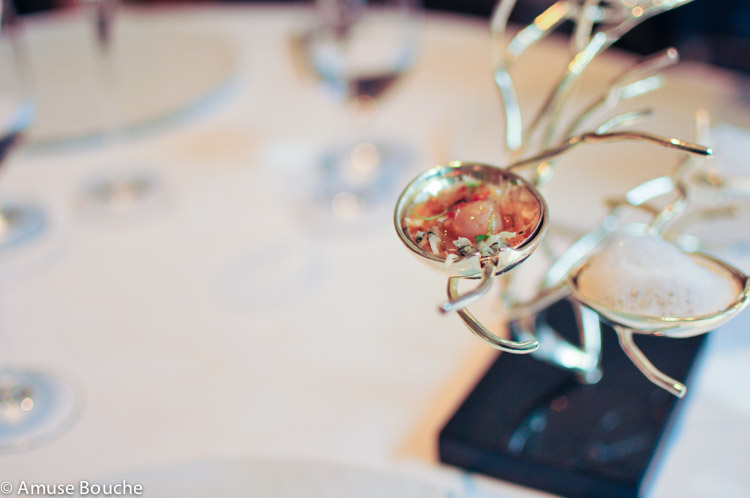 Boletus edulis brioche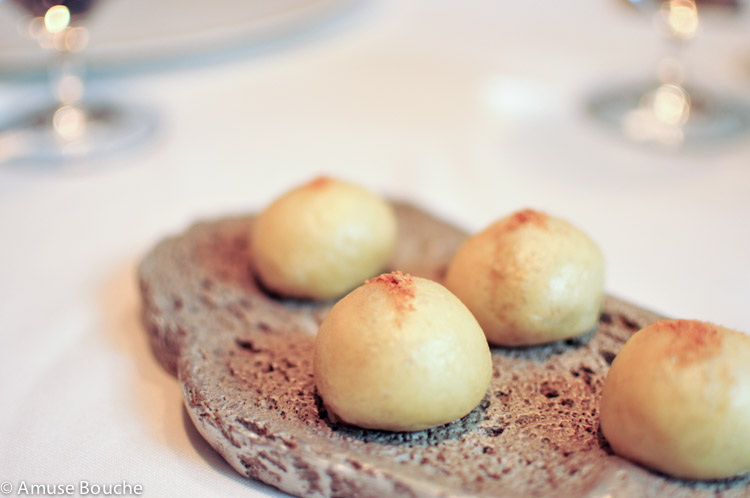 This part of the Can Roca experience was outstanding. Tasty small bites, deep flavors, creativity, storytelling and emotion. This is exactly what we were expecting from El Celler de Can Roca. So, we were ready for the main menu.
#1. Green salad
Avocado, lime, cucumber, Chartreuse, sorrel, green shiso, tarragon, rocket, oxalis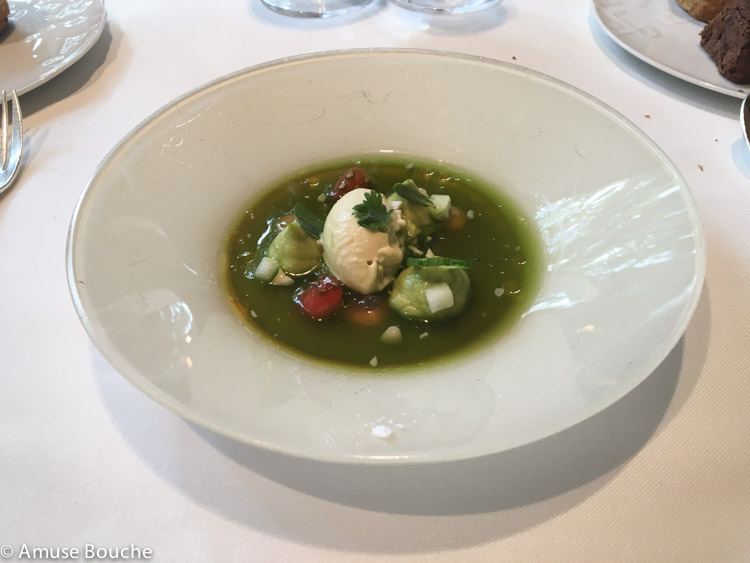 Wine pairing: Soleas Saca de Primavera 2016 Manzanilla en Rama D.O. Sanlucar de Barrameda
#2 Red mullet with kombu
prickly pear foam, sea anemone, salicornia, Katsuobushi vinegar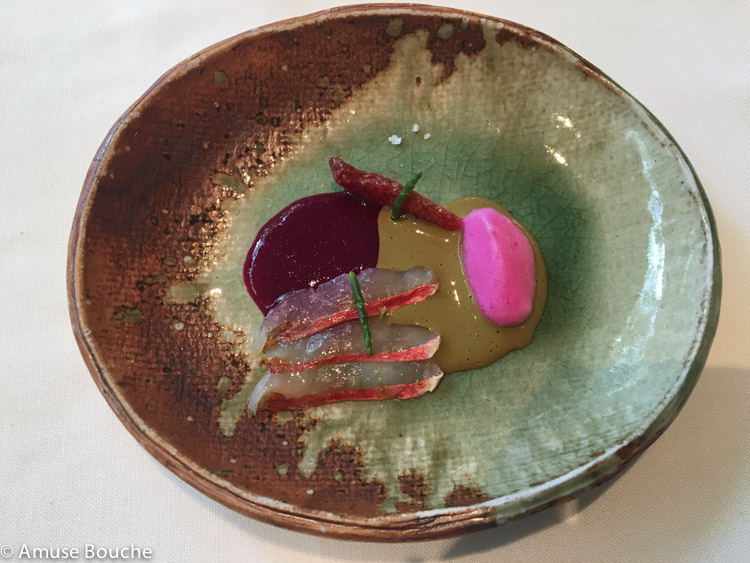 Wine pairing: Domaine Vacheron Le Paradis 14 A.O.C. Sancerre
#3 Oyster
fennel sauce, black garlic, apple, seaweed, mushrooms, distilled earth and sea anemone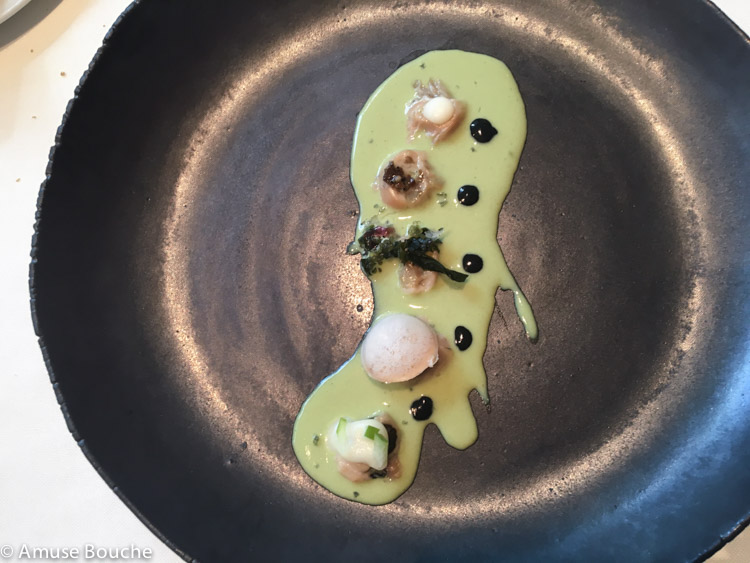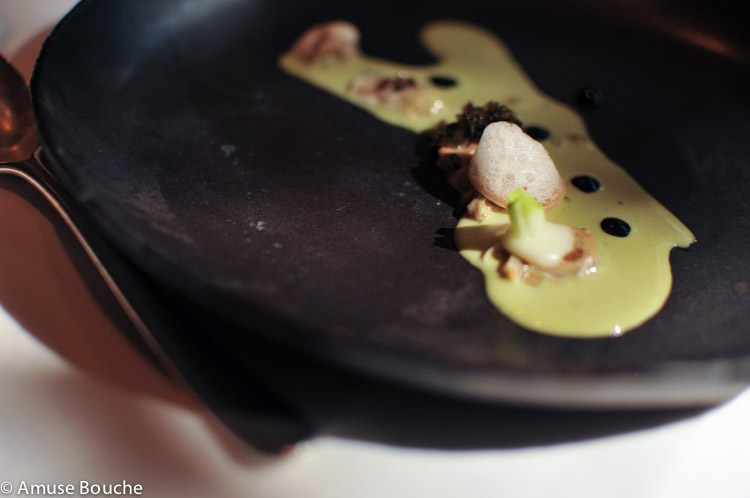 Wine pairing: Contraparede 11 D.O. Rias Baixas
#4. Langoustine with cocoa beans sauce
black mole with chocolate and mantis shrimp cream with coconut and boletus edulis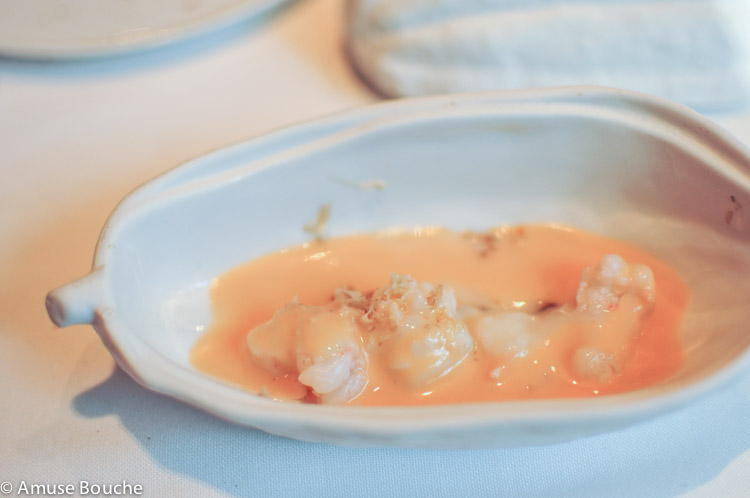 Wine pairing: Chateau de Rontets Les Birbettes 12 A.O.C. Pouilly-Fuisse
#5. Baby squid with tempeh of "ganxet" beans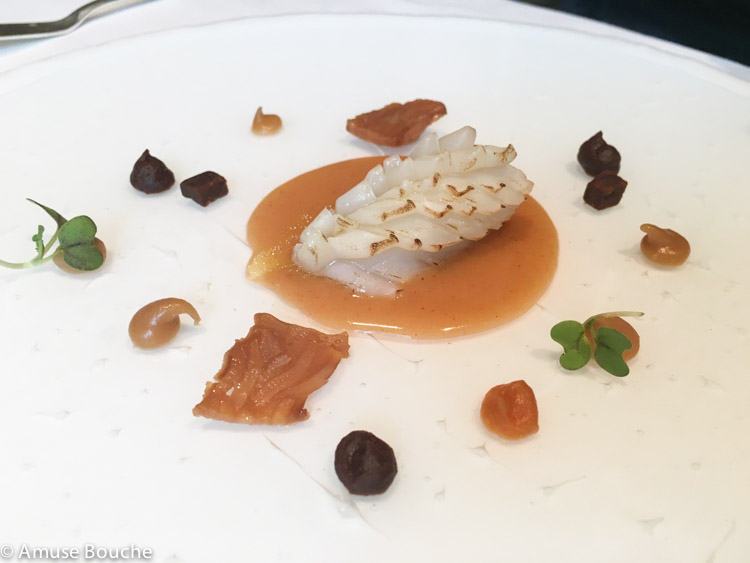 Wine pairing: Navazos Nieport 14 Vino Blanco Jerez
#6. Prawns marinated with rice vinegar
Prawn's head sauce, crispy prawn legs, seaweed veloute and phytoplankton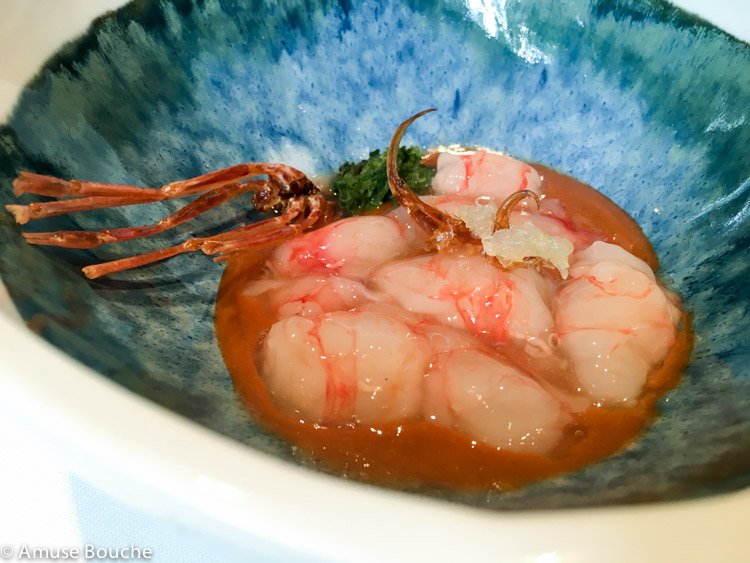 Wine pairing: Heymann-Lowenstein Uhlen L 12 VDP Mosel
#7. Red skate confit with juice of charcoal-grilled pepper and rhubarb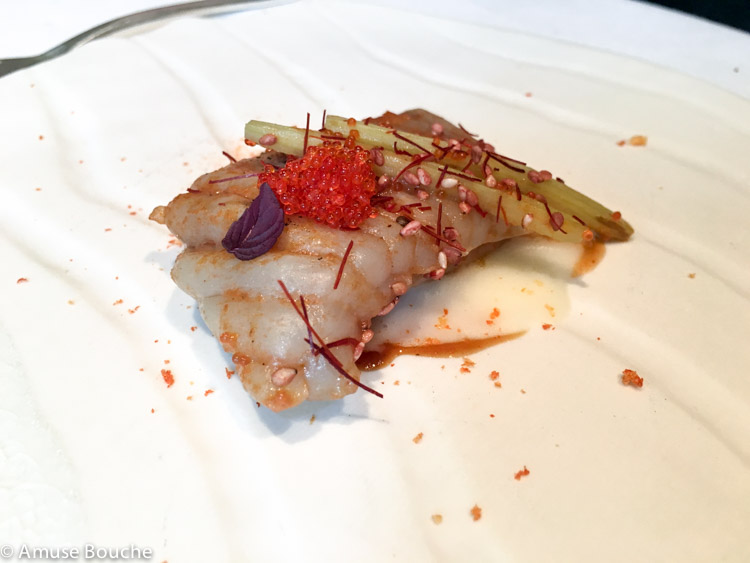 Wine pairing: Partida Pedrer Rosat 14 D.O.Qa. Priorat
#8. Blackspot seabrem with "samfaina" Blackspot seabrem, bone juice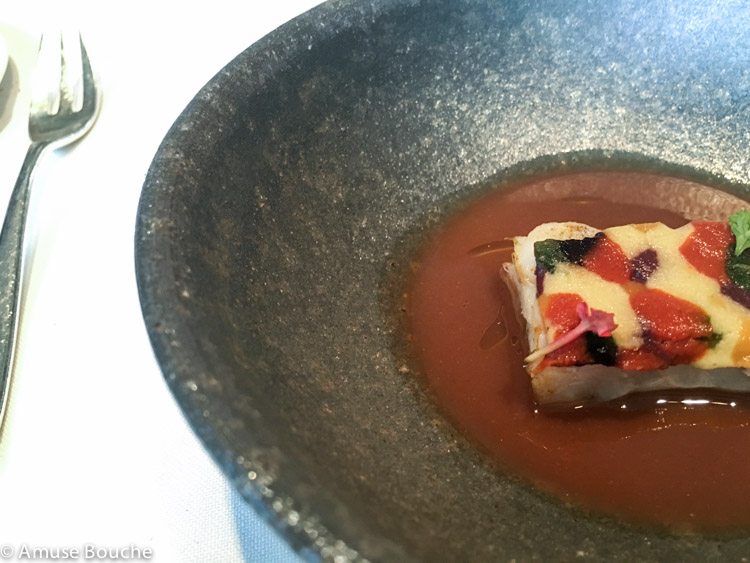 Wine pairing:  Carles Andreu 14 Trepat D.O. Conca de Barbera
#9 Iberian suckling pig
with salad of green papaya, thai grapefruit, apple, coriander, chilli, pepper, lime and cashew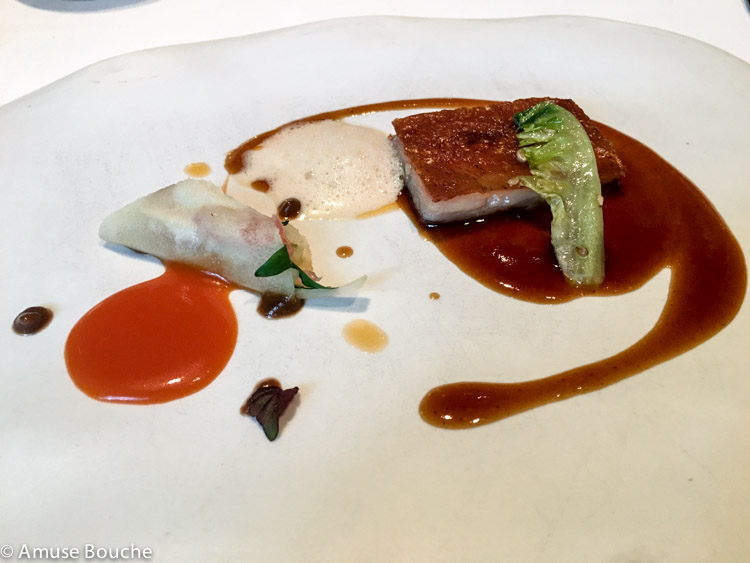 Wine pairing:  Finca Valdeolmos Goyo Garcia Viadero 11 D.O. Ribera del Duero
#10. Lamb with eggplant and chickpea puree, lamb's trotters and spicy tomato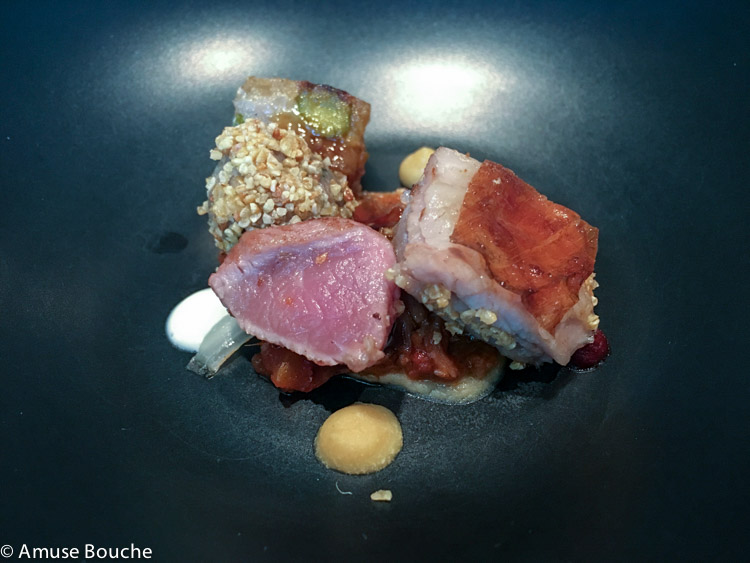 Wine pairing: Alain Verset 10 A.O.C. Cornas
#11. Scarlet veal oyster blade
beetrot bearnaise sauce, charcoal-grilled watermelon, candied red fruits, wood-grilled pepper, merken and purple shiso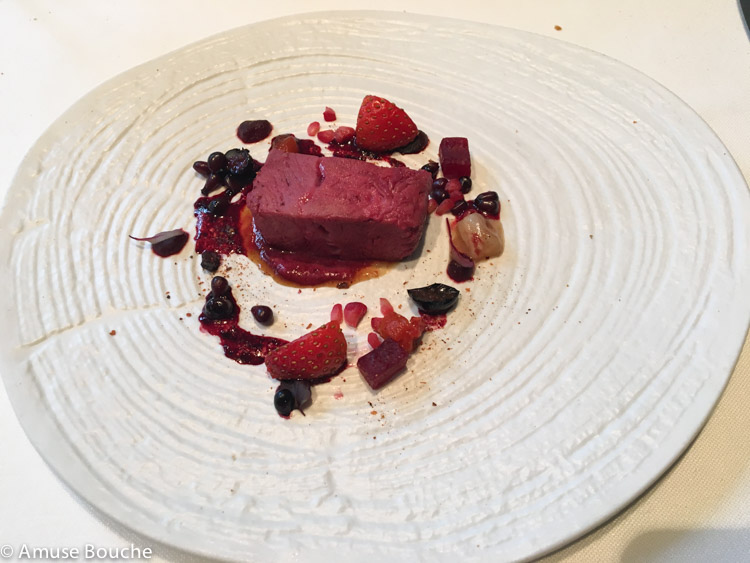 Wine pairing: Dofi 09 D.O.Qa. Priorat
#12. Rainy forest
sand distillate water, carob cookie, fir tree dust, anise's ice cream, fennel and fir tree granite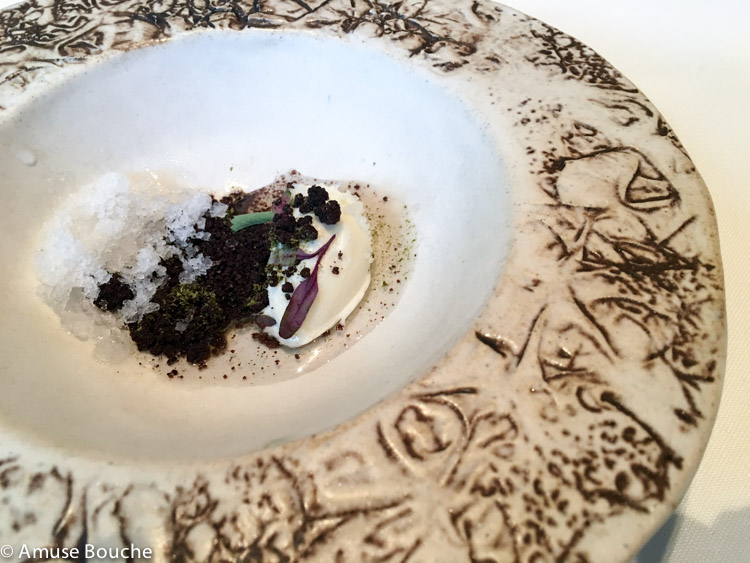 Wine pairing: Maximin Grunhauser Abtsberg Kabinett 08 VDP Mosel
#13. Orange colourology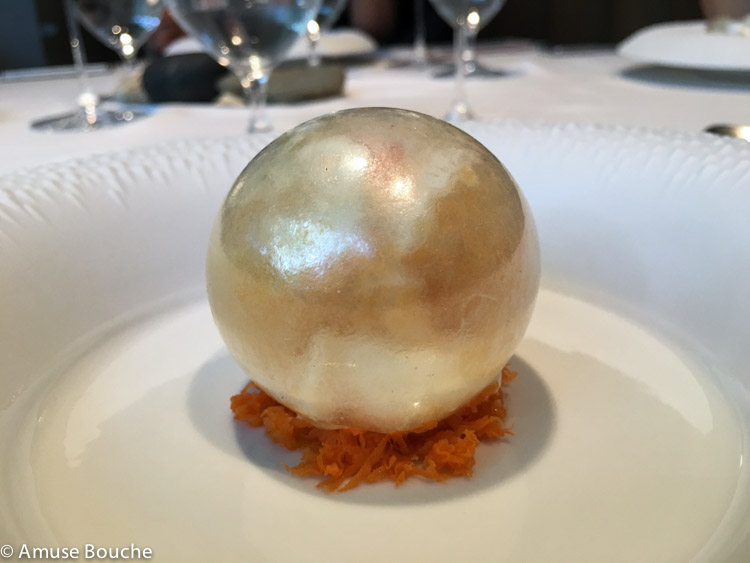 Wine pairing: Matias i Torres 12 D.O. La Palma
#14. Cuban cigar box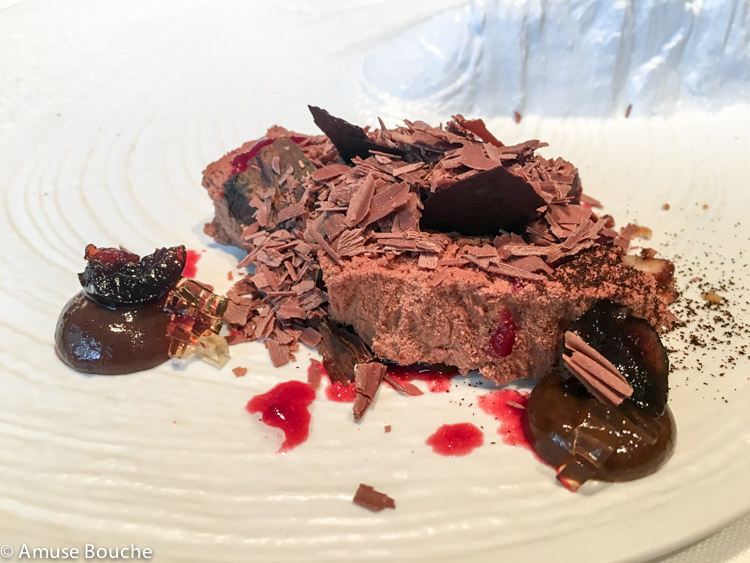 Wine pairing: Henriques & Henriques Malvasia 20 anos D.O.C. Madeira
Service
This is not the strong suit of the Roca business unfortunately. But maybe that day was just a strange day for the staff.
We had some odd happenings, including plates on the table with one ingredient missing, empty glasses of water and wine constantly arriving after the food.
All in all, we keep great respect for what this place means for the global culinary world and the pieces of gastronomic history the Roca brothers have put together.