Gordon Ramsay is a true celebrity-chef and owner of a culinary empire. It has a lot of successful TV shows in his resume, bestselling books and restaurants across three continents that brought him over the years an impressive number of Michelin stars. He is also the chef with the highest number of memes over the internet, thanks to his excessive use of "F" word and creative insults in the kitchen.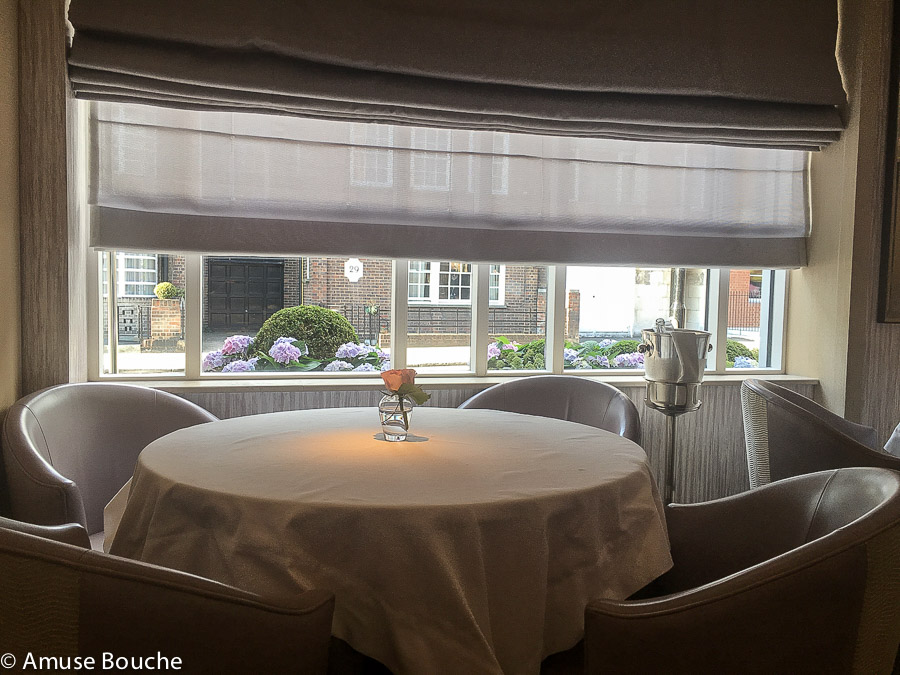 Although the Gordon Ramsay group has 30 restaurants nowadays, Gordon's first restaurant in Chelsea is still "the flagship". And the only one holding 3 Michelin stars. We had this restaurant on our list for some time. So, Gordon Ramsay at Royal Hospital Road was the first reservation we made for our recent visit in London.
Gordon Ramsay, the restaurant
Gordon Ramsay started his career working alongside big names like Marco Pierre White, Albert Roux, Pierre Koffman, Joel Robuchon and Guy Savoy.
Gordon Ramsay Restaurant is his first solo restaurant, positioned in the place of another landmark restaurant in the culinary history of England – Tante Claire of Pierre Koffman.
RGR opened in '98 and by the end of 2001 it already had the third star it holds today. Gordon Ramsay became the first Scottish chef awarded 3 Michelin stars and also joined the extremely small league of 3-stars restaurants in England. Today, Britain has 4 restaurants at this level, two of which are in London: Alain Ducasse at the Dorchester and Gordon Ramsay.
Until last year, responsible for cuisine at Gordon Ramsay Restaurant was Claire Smith, part of the team since 2008. And also the only female chef in the UK who held the accolade of 3 stars. After the wave of attention and popularity acquired in this position, Claire decided was time to open her own restaurant, also part of the Gordon Ramsay Group. So, she took a step back in the position of consultant for Gordon Ramsay Restaurant and the head-chef position is now occupied by Matt Abe, a chef with Australian roots and a 10 years history within the group.
Location
Gordon Ramsay Restaurant occupies a small, intimate place on Royal Hospital Road in London's Chelsea neighborhood. Actually, it's probably the smallest 3-star Michelin restaurant we've been to so far.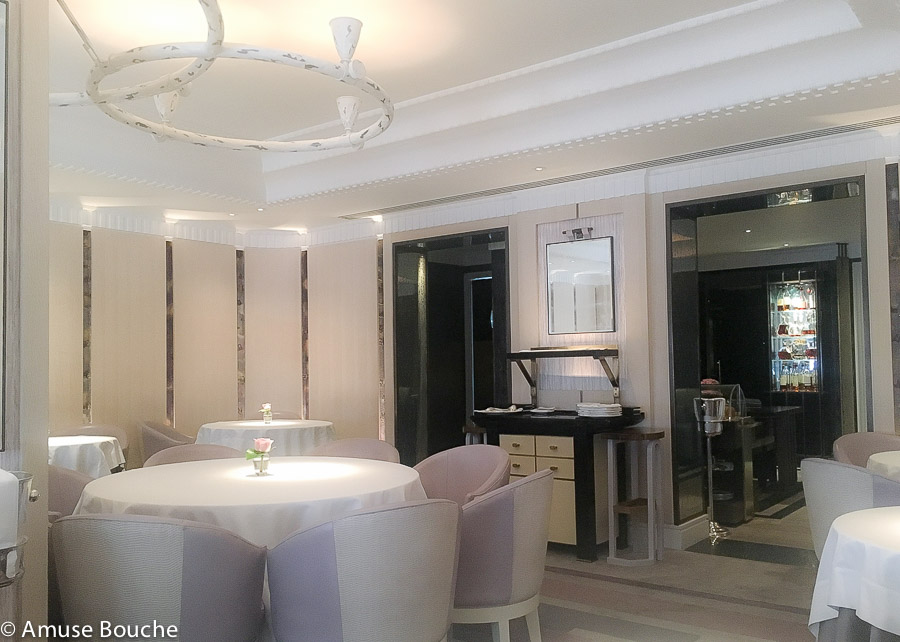 The space between tables is quite tight. If you're curious, you can effortlessly find out what the guys at the next table are talking about. And every time someone stands up from a chair or two members of the staff have to walk on the same "corridor", the person moving taps the other on the shoulder to avoid the smallest gesture that could lead to incidents.
The interior is simple and classic. Large wooden wall panels, white tablecloths and fresh roses on the tables. The "statement" element in the room: circular, white wooden chandelier decor.
Menu
Gordon Ramsay Restaurant is open for lunch and dinner Monday – Friday. It offers a lunch menu of 3 courses at 65 pounds, one seasonal menu 7-course (including sorbet and cheese) at 185 pounds, a la carte menu, vegetarian menu (3 courses) at 110 pounds and the Prestige Menu including the restaurant's signature dishes – 7 courses at 145 pounds. The latter was also our choice.
Our meal began with a smoked egg yolk in shell, served with bacon, mashed potatoes, cheese, chives and a subtle aroma of truffles.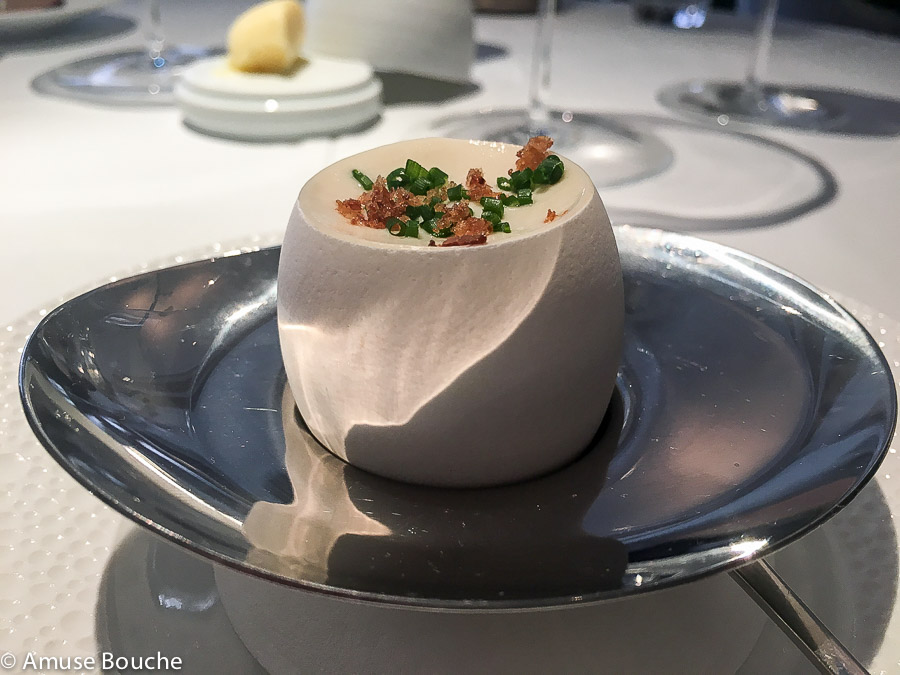 Special mention for the onions and bacon bread we discover at this point of our meal. We kept of asking for extra throughout the entire meal kind of bread.
The Prestige Menu
1. Pressed foie gras – greed apples, turnips, watercress, smoked duck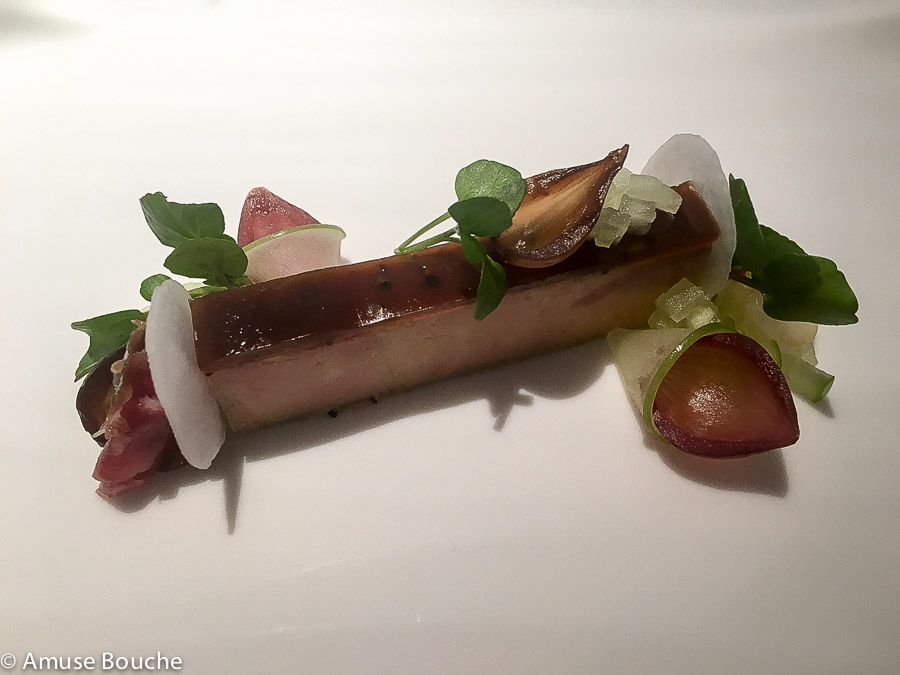 One of the best dishes with foie gras that we've ever ate. We can compare it with the dish from L'Atelier Joel Robuchon in Paris.  In this case, our favorite combination of foie gras (green apple) got an extra acidity level from the marinated onion. A well-received touch along with the "weight" of the main ingredient.
2. Ravioli – lobster, langoustine, salmon, oxalis and wood sorrel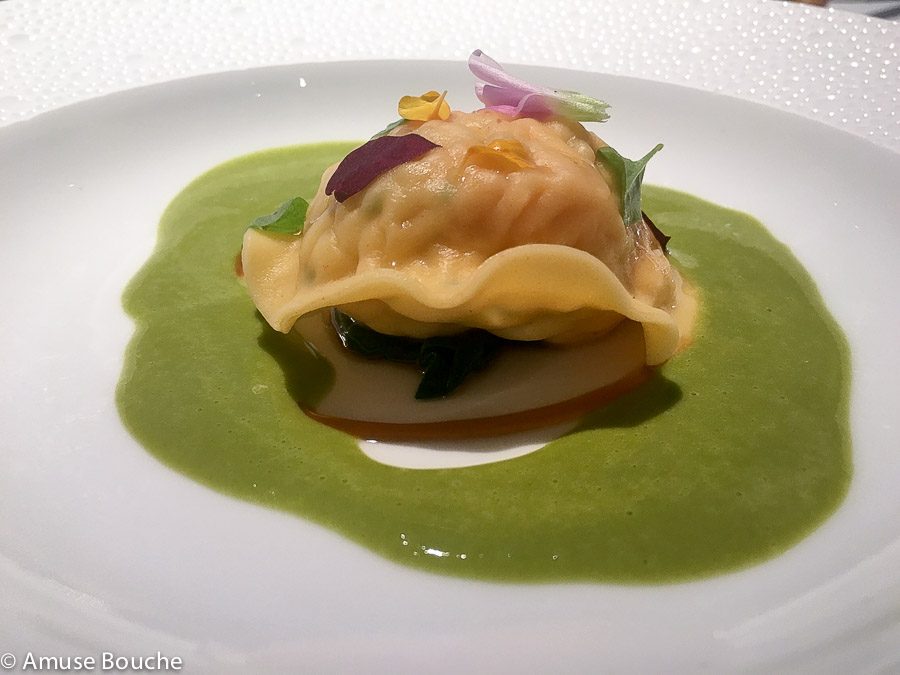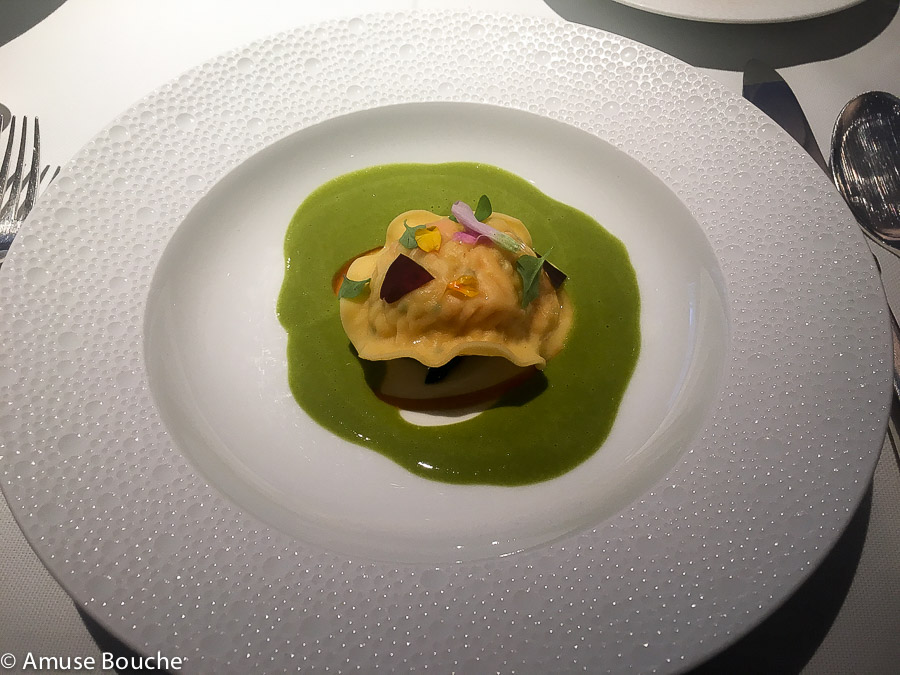 This is Gordon's most famous dish since the beginning of the restaurant.
3. Poached Isle of Gigha Halibut – Atlantic king crab, finger lime, ras el hanout infused broth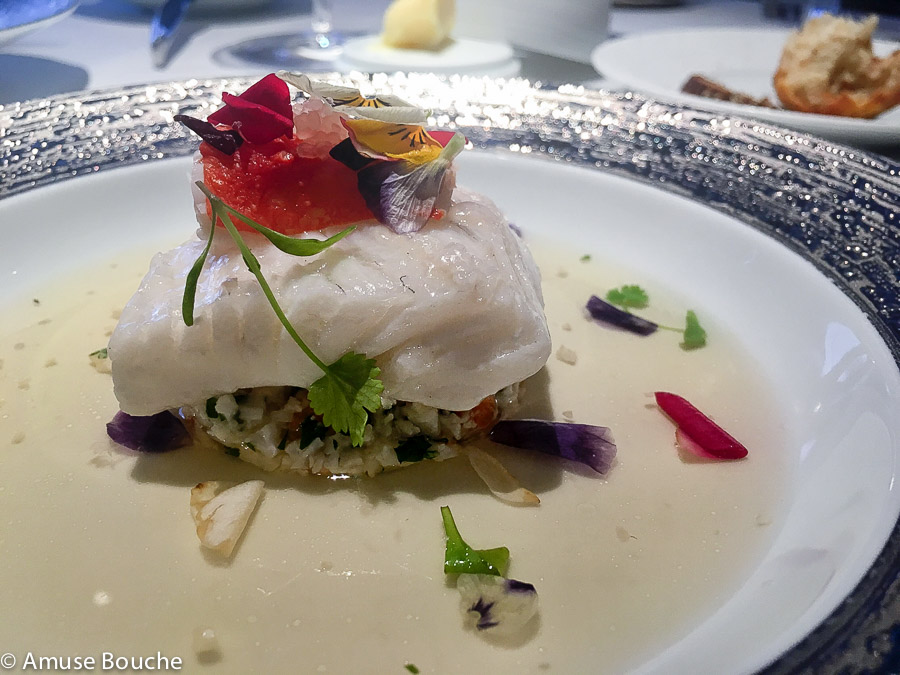 Fish perfectly white, juicy, sitting on a bed of cauliflower couscous, pine nuts and red pepper. The top layer includes king crab and caviar finger lime. Once this great looking story got on our table, they added the finishing touch – an infusion of African spices, rose petals and rose water. Creative, tasty, surprising, with some extraordinary textures.
For the main course we had two choices. We decided to taste both, so we ordered differently.
1st choice: Roast pigeon – sweetcorn, lavender, honey, plum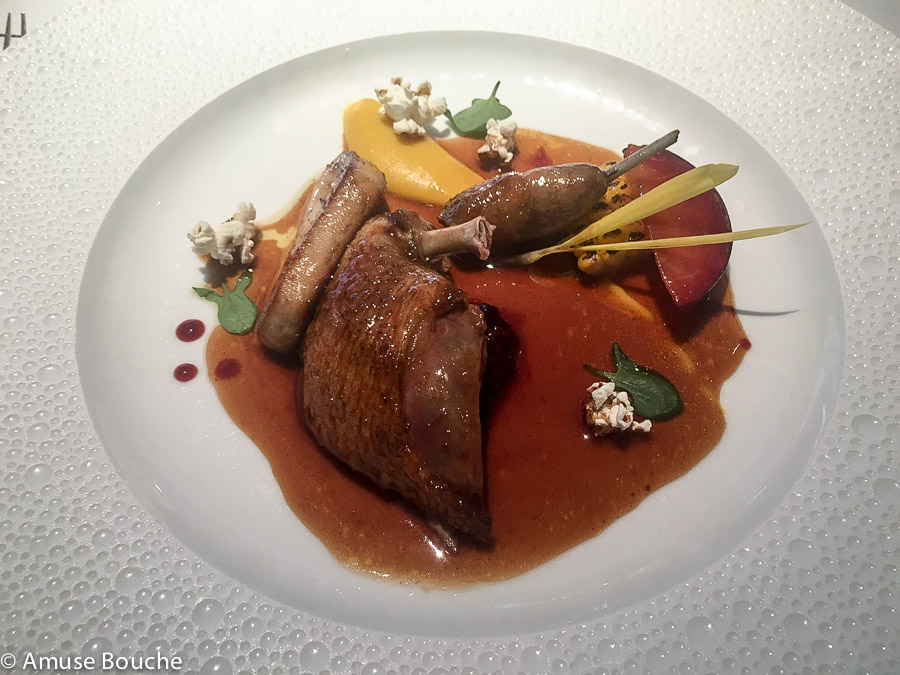 Bresse pigeon, perfectly cooked, served with foie gras.
2nd choice: Braised, confit and roasted Herdwick lamb – autumn vegetable navarin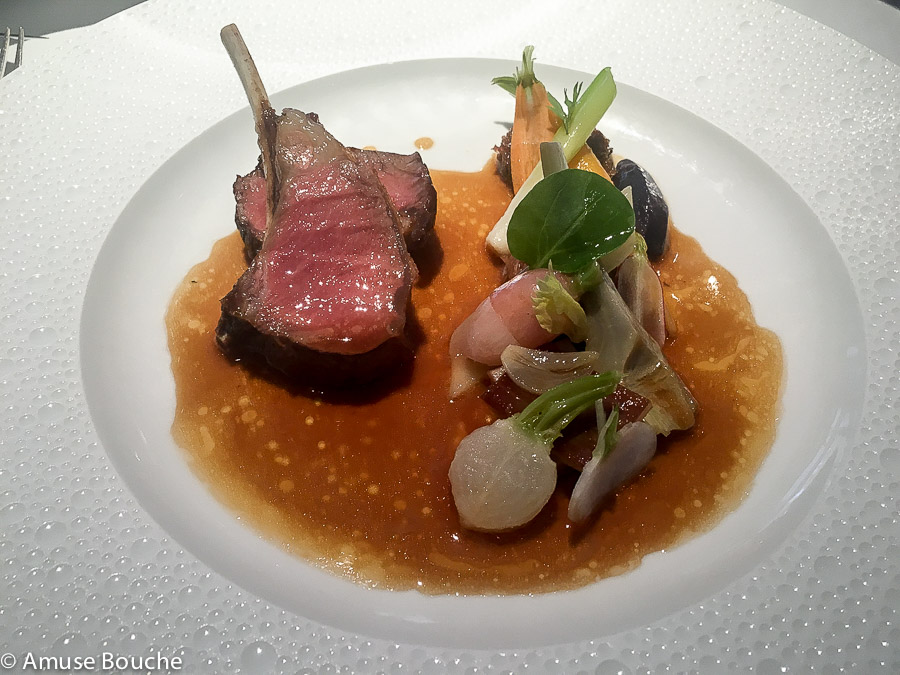 Several parts of the lamb (leg, rib, shoulder) cooked using different techniques.
5. Soup – raspberry, lime, verbena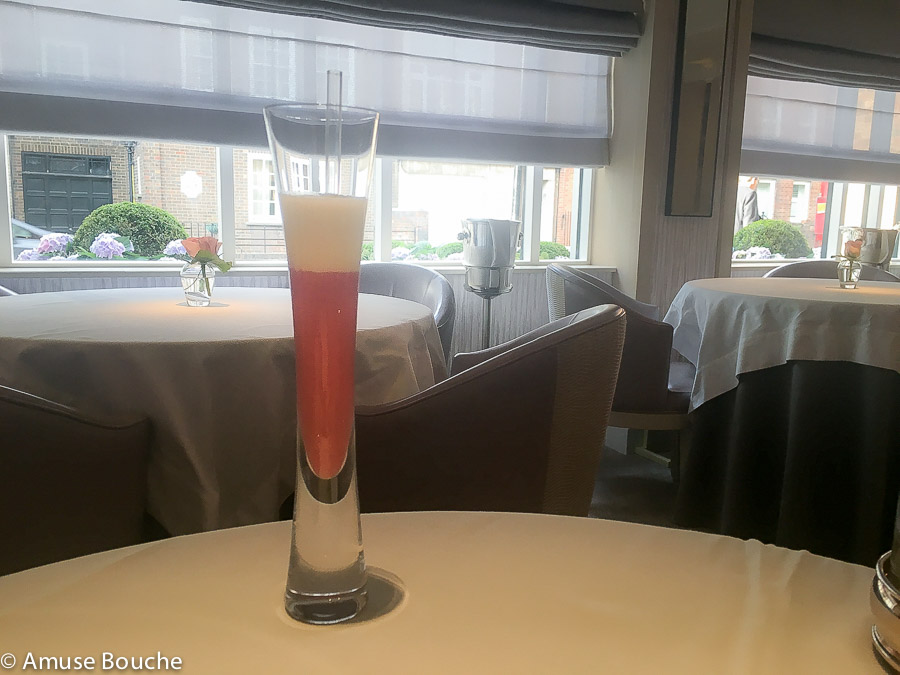 6. Sorbet – lemon, lime, bitters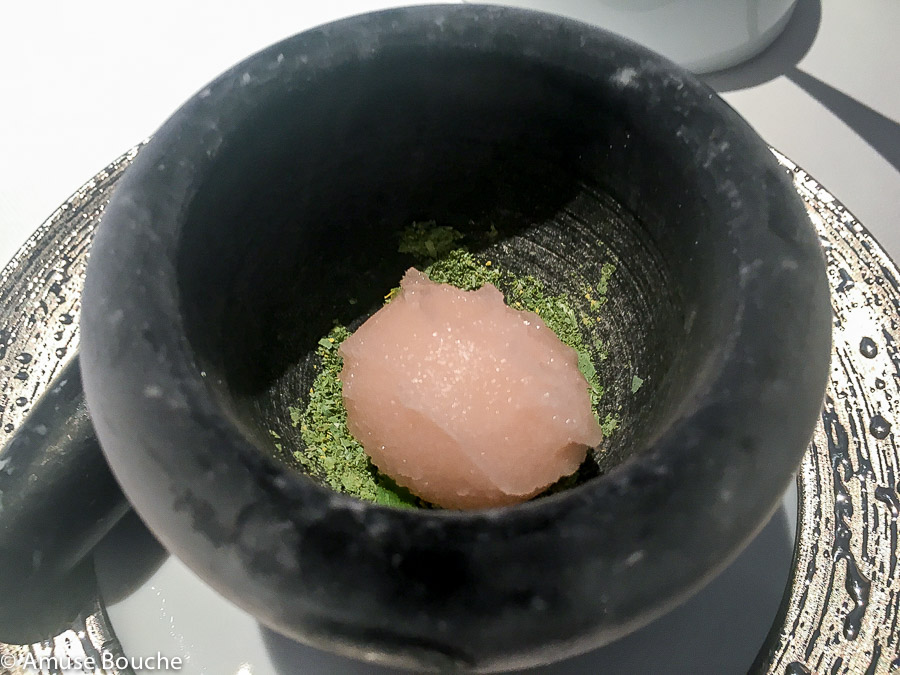 7. Lemonade parfait – honey, bergamont, ship's milk yoghurt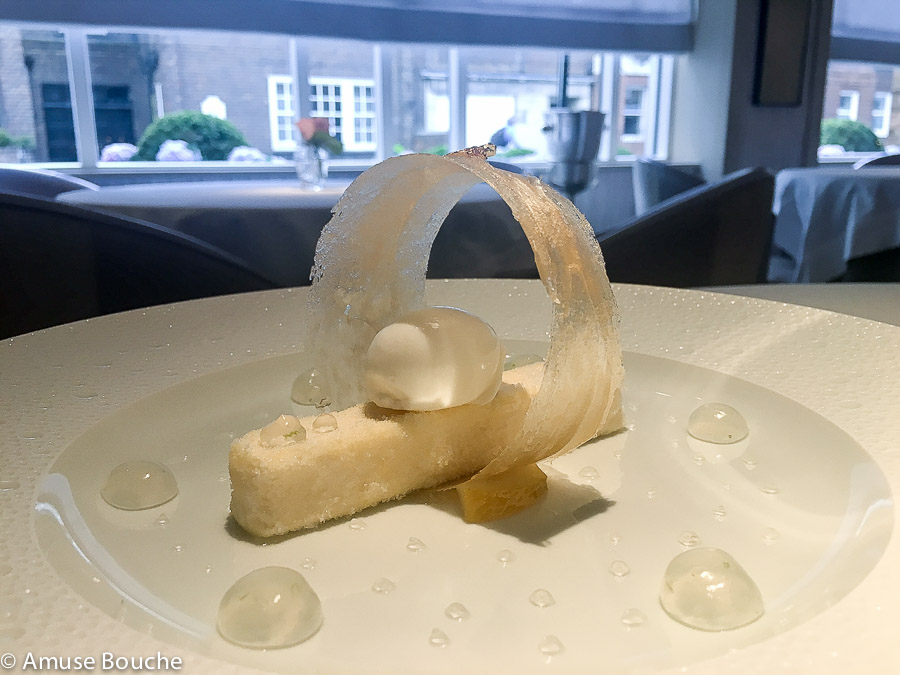 An elegant and decadent dessert "with a touch of gold".
Wines
We went for a half bottle of white for the first part of the meal – Condrieu, Stephane Montez Condrieu Domaine du Monteillet 2014 – and two extra glasses for meat and dessert.
Main dish: Domaine Henri Gouges Clos des Porrets Monopole, Nuits-Saint-Georges Premier Cru, France 2007
Desert: Arima, Gorka Izagirre 2007, Basque Country
They also have wine pairing including options by the glass from the menu.
Service
The service is flawless. But given the small space, the attention feels a bit overwhelming at times.
Gordon Ramsay Restaurant is also one of the very few places where the headwaiter walks among the tables bearing the special mission of finding topics of discussion with the guest. And he gently delivers "Gordon Ramsay Group" messages along the way.
Finally we had the opportunity to visit the kitchen, which fits the size of the dining space.
Our lunch at Gordon Ramsay was tasty with some classy, excellent cooked dishes. We can totally understand why GRR is such a hit among English people when it comes to anniversaries and special occasions.