Aroma is one tasty and romantic restaurant in Rome. It has 1 Michelin star and an amazing view over the Colosseum, one of the main attractions of the city.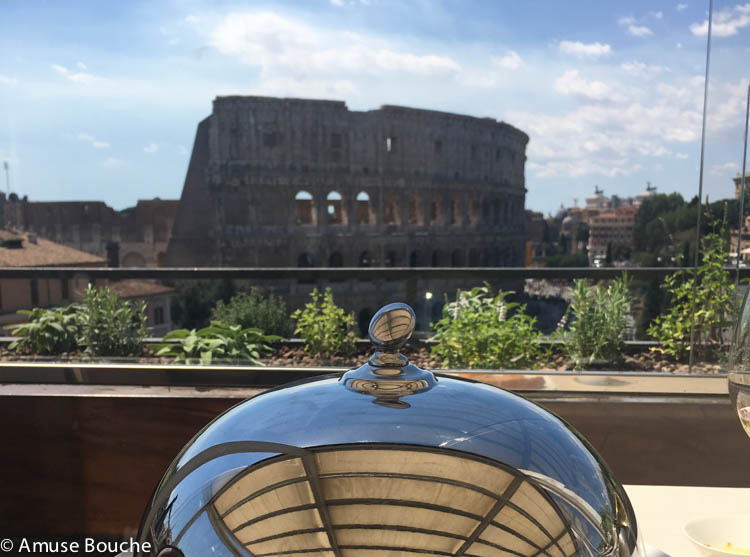 Aroma, alongside La Pergola, is a constant presence in most charts including restaurants with the best view in Italy and worldwide. We must admit that the spectacular view here is one of the main reasons we made this reservation. It's a really romantic place.
Bonus: we used a special offer from Mastercard Priceless Cities platform and got a table in the first row on the terrace and some welcome drinks. Quite a cool option, because the terrace is small and the restaurant usually gets its booking with 2-3 months in advance for the view.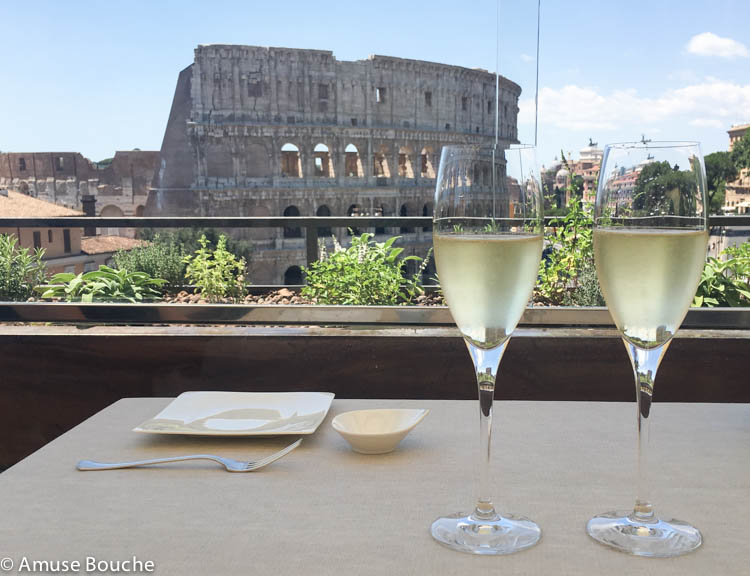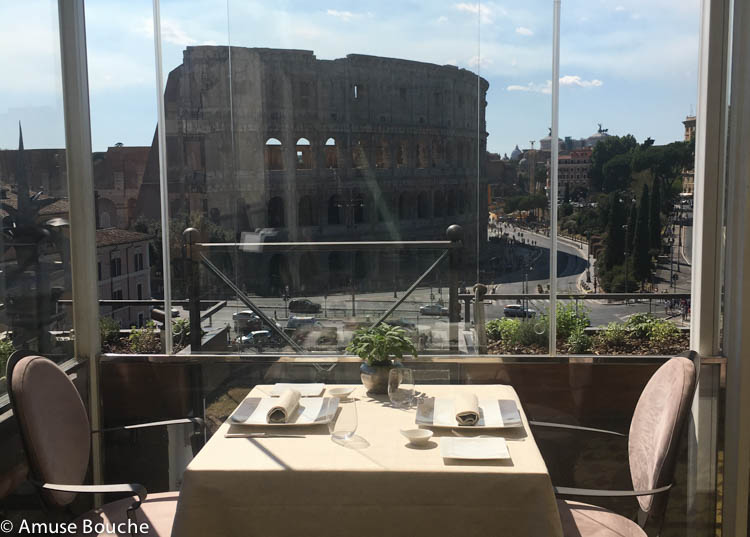 Location
Aroma is located on top of Palazzo Manfredi boutique hotel ( 5*), a 17th century villa built over the remains of old gladiator pits. It is said that nearby, there used to be the biggest gladiator school in the Roman Empire. Right next to the Colosseum.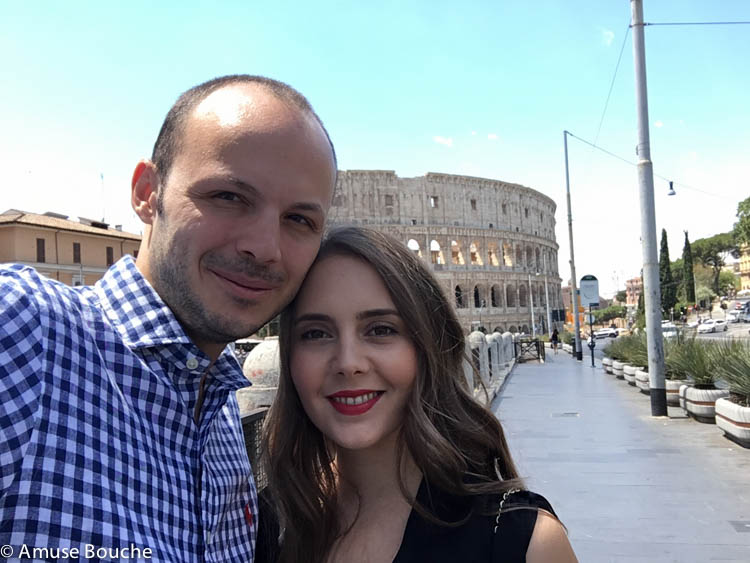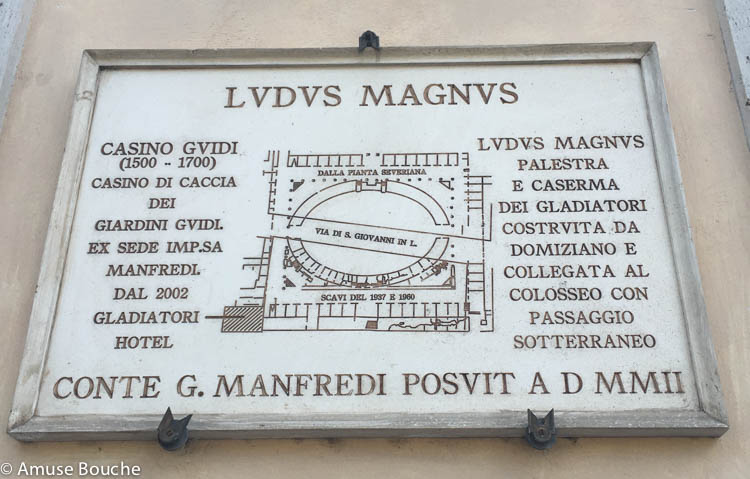 In 2002 the villa was transformed in a small boutique hotel by count  Goffredo Manfredi, a well known Italian entrepreneur. The hotel is today part of Relais & Chateaux network and its restaurant has 1 Michelin Star starting 2005.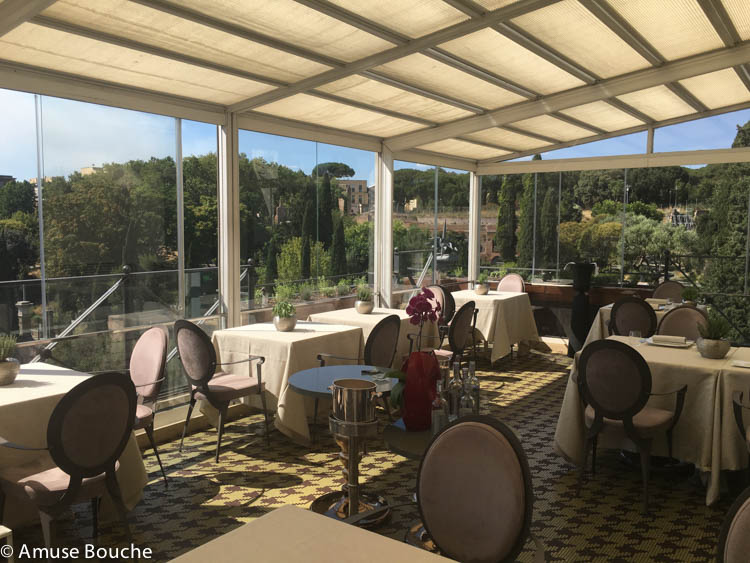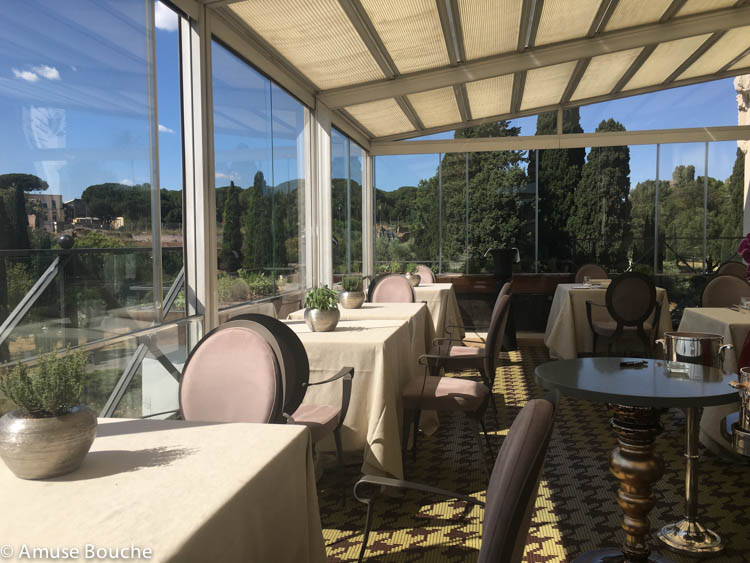 During the warm season, the culinary experience at Aroma takes place on the amazing terrace covered in glass. Everything is chosen and placed so that it gives a relaxed and elegant feeling, without distracting the guests' attention from the spectacular view of the Colosseum. During the cold season the terrace is transformed into a lounge area and the eating experience goes inside, in a quite small dining room with large windows and a more contemporary design.
Menu
The seasonal menu at Aroma is the vision of chef Iorio Giuseppe. The menu includes only the best regional ingredients, procured fresh every day.
We went to Aroma for lunch. They serve the same tasting menu for lunch and dinner. 7 dishes for 150 euro without drinks and 230 euro with wine pairing. We wanted the experience to last as long as possible, so we chose the latter.
Our menu at Aroma
1. Octopus stewed in a glass with parsley sponge and potato foam
Pairing: Bionoc artigianale beer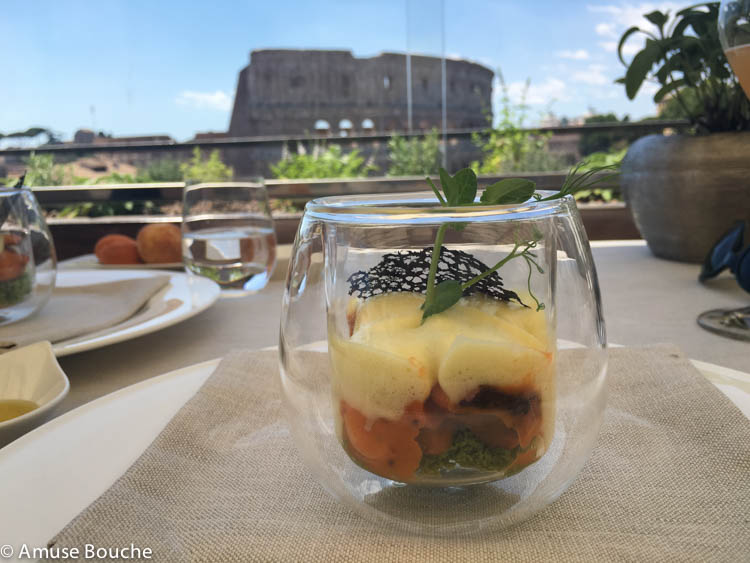 2. Iberian pork flavored with "Gin Mare", salsify velouté, fermented garlic and almond air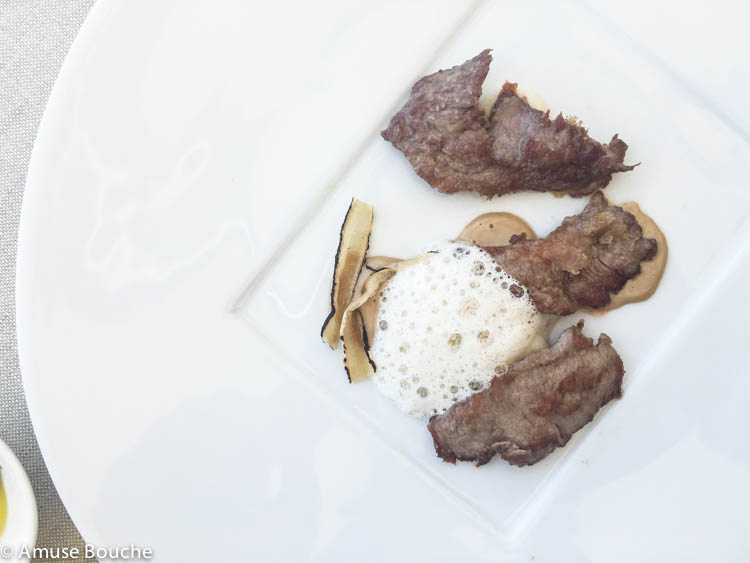 Wine Pairing: Collio Sauvignon Vigna Runc, 2014
3. "Ravioli" pasta filled with buffalo mozzarella and "Cantabrian Sea" anchovies on a carrot extract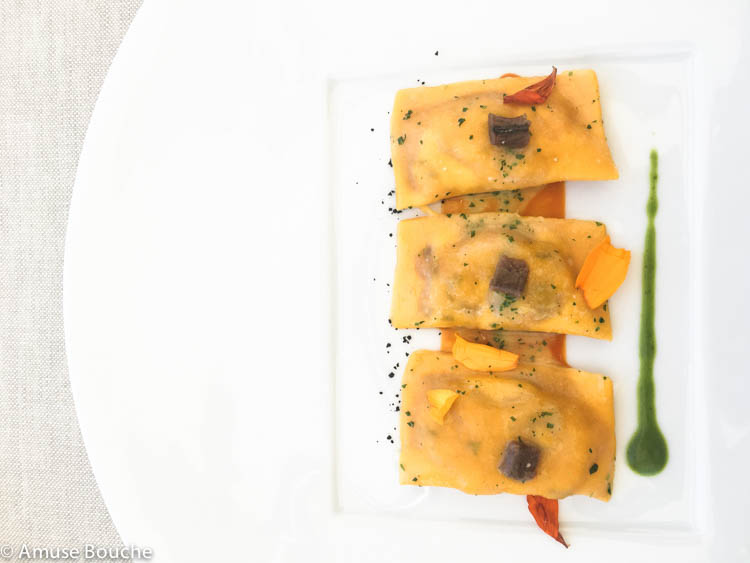 Wine Pairing: Bosco Falconeria, Catarratto 2014
4. Green "Lasagnette" with quail and chanterelle mushrooms, smoked "Provola" cheese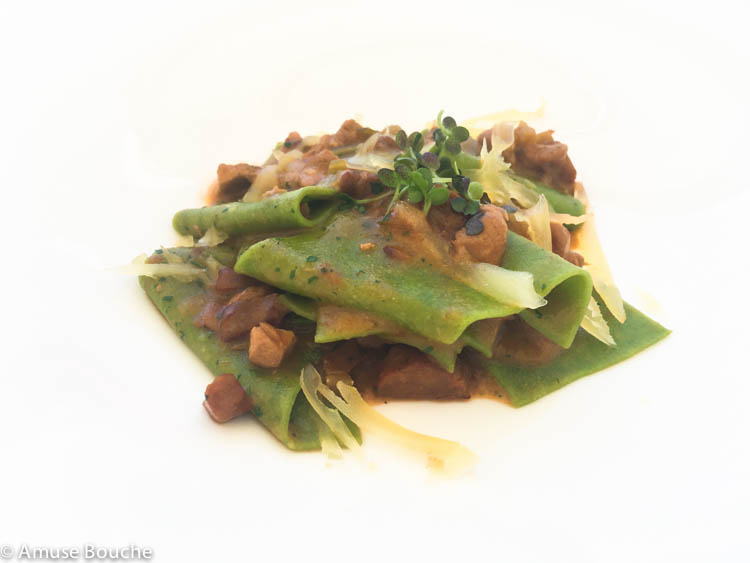 Wine Pairing: Il Rogito, Cantine del Notaio 2014
5. Sautéed scallops on a red Swiss chard with vegetable and olives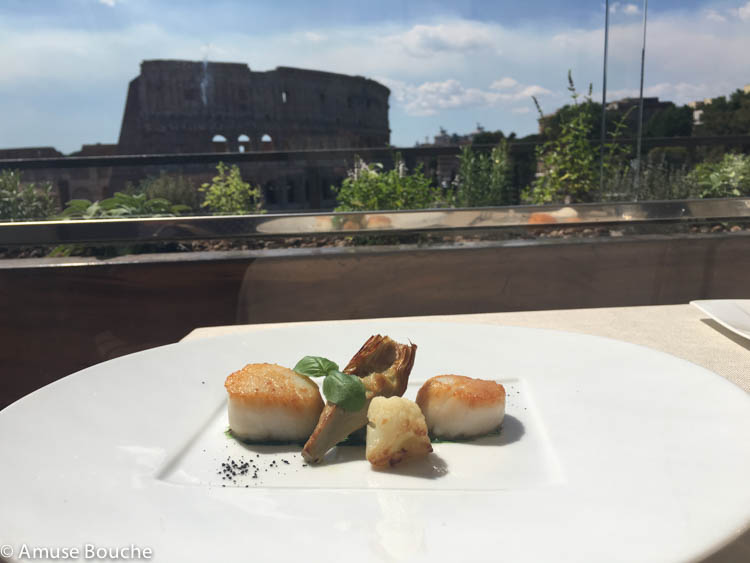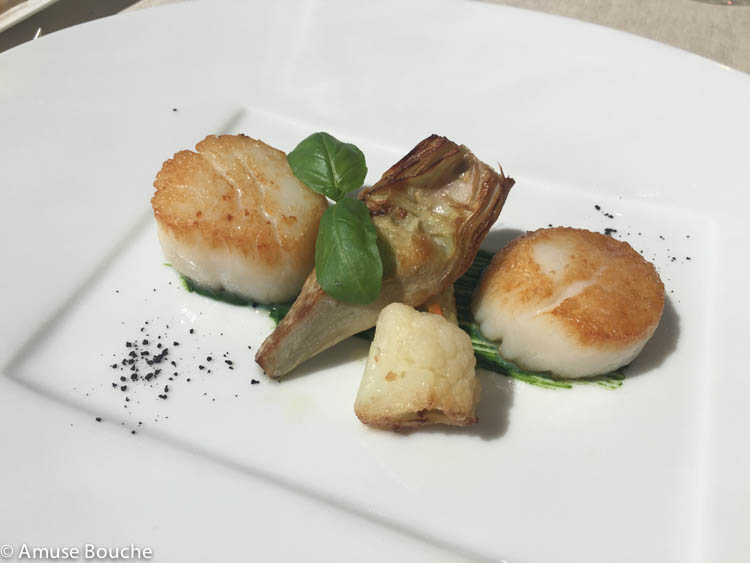 Wine Pairing: Champagne  Philippe Gonet Rose
6. Suckling pig with apricot compôte and fennel potatoes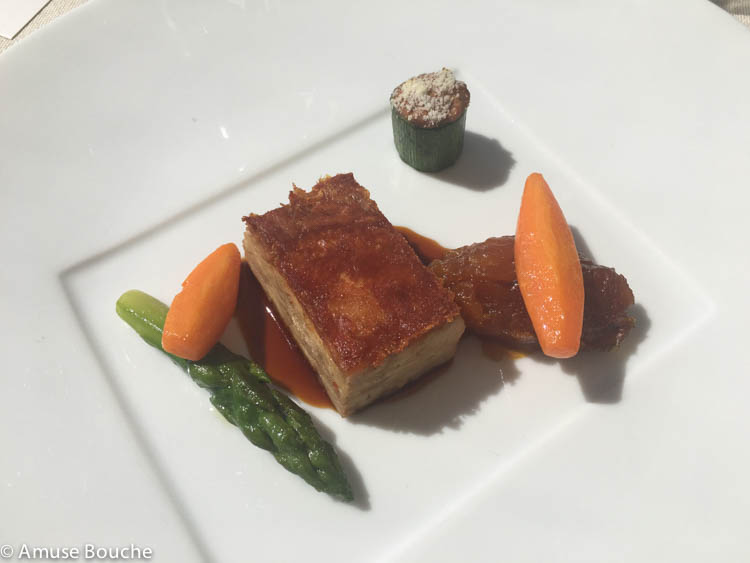 Wine Pairing: Habemus 2013, San Giovenale
7. Guanaja 70% chocolate brownie with wild berries cream, false lavender marshmallow, radish sorbet on chocolate crumble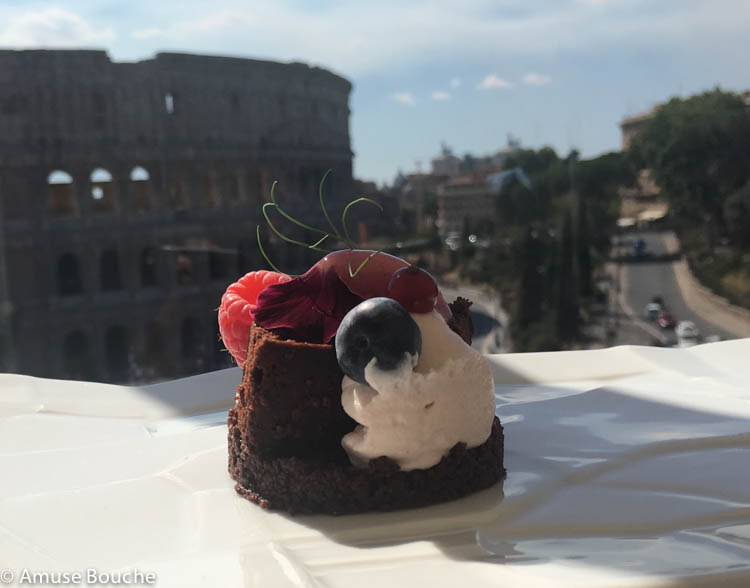 Wine Pairing: Ben Rye, Passito di Pantelleria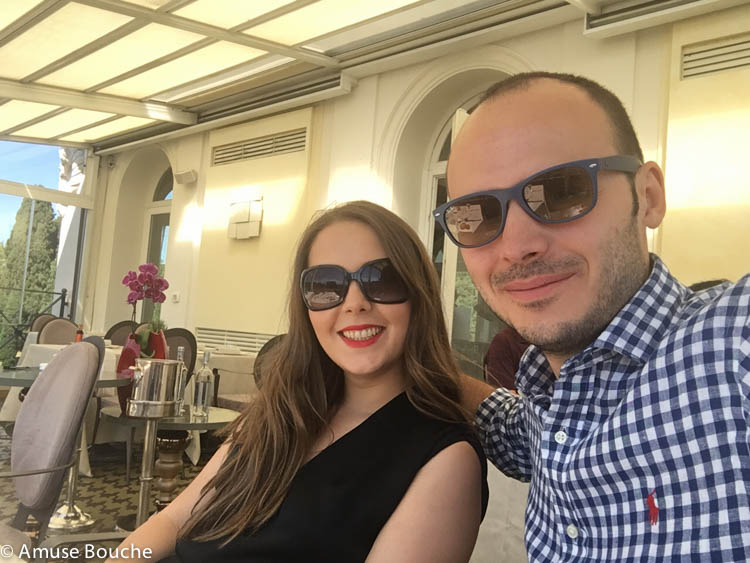 The wine list at Aroma includes around 400 labels, mostly wines from all over Italy, but also an interesting selection from The New World.