We usually have more time for breakfast during the weekends, so we like to make it count. Either cooking something special for the first meal of the day at home, or going out early in the morning. We settle for the first option most of the time, but when we want to be pampered and enjoy a good breakfast out in the city, we go to one of these 5 places we listed below.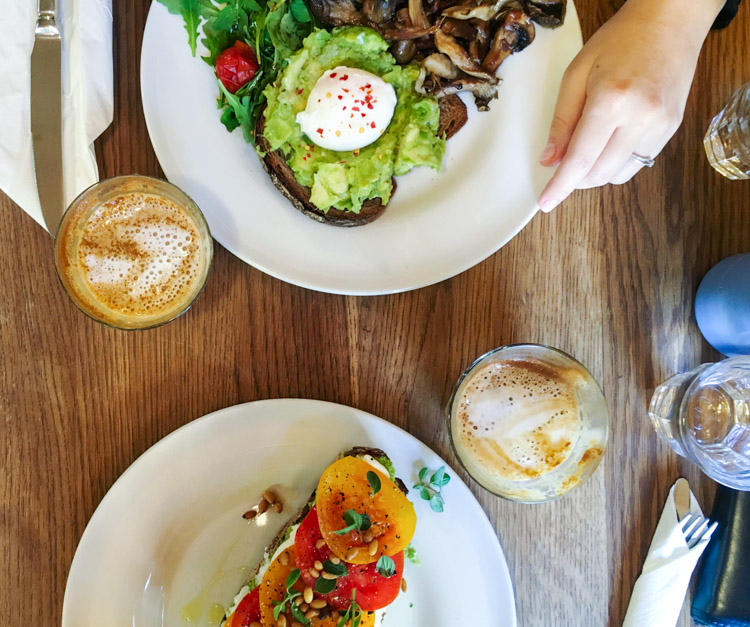 Every selected place has a special breakfast menu with different kind of eggs, salads, homemade pies and other pastry goodies, pancakes, jams, fresh juices and so on.
When we pick a place, we keep in mind the distance we have to cover to reach our breakfast destination and also the time frame we need to draw for a meal there. Cause there are places where things go fast and others that are more suitable for slow mornings.
1. Frudisiac
Frudisiac is our favorite place to pamper our mornings all week long. It's the youngest place in the list. Started as the small Scandinavian sister of Rue du Pain (both having the same owner), but became really fast the "hip" place in town for brunch&breakfast.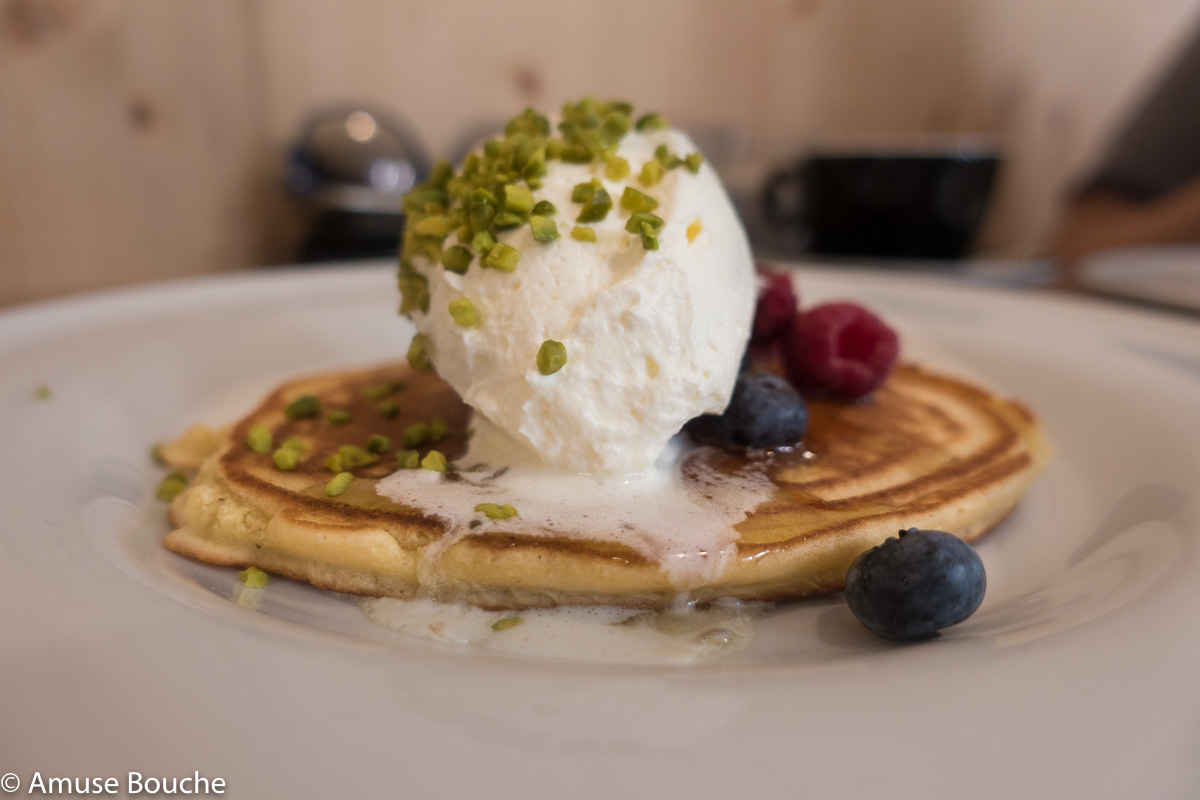 We like the big social table here, the healthy menu options combined with the best pancakes in town and some great desserts from Rue du Pain. They have avocado toast in different set combinations, but you can also decide your own mix, poached eggs, a great ham&cheese, granola and good coffee from DROP – a small micro roastery in Sweden.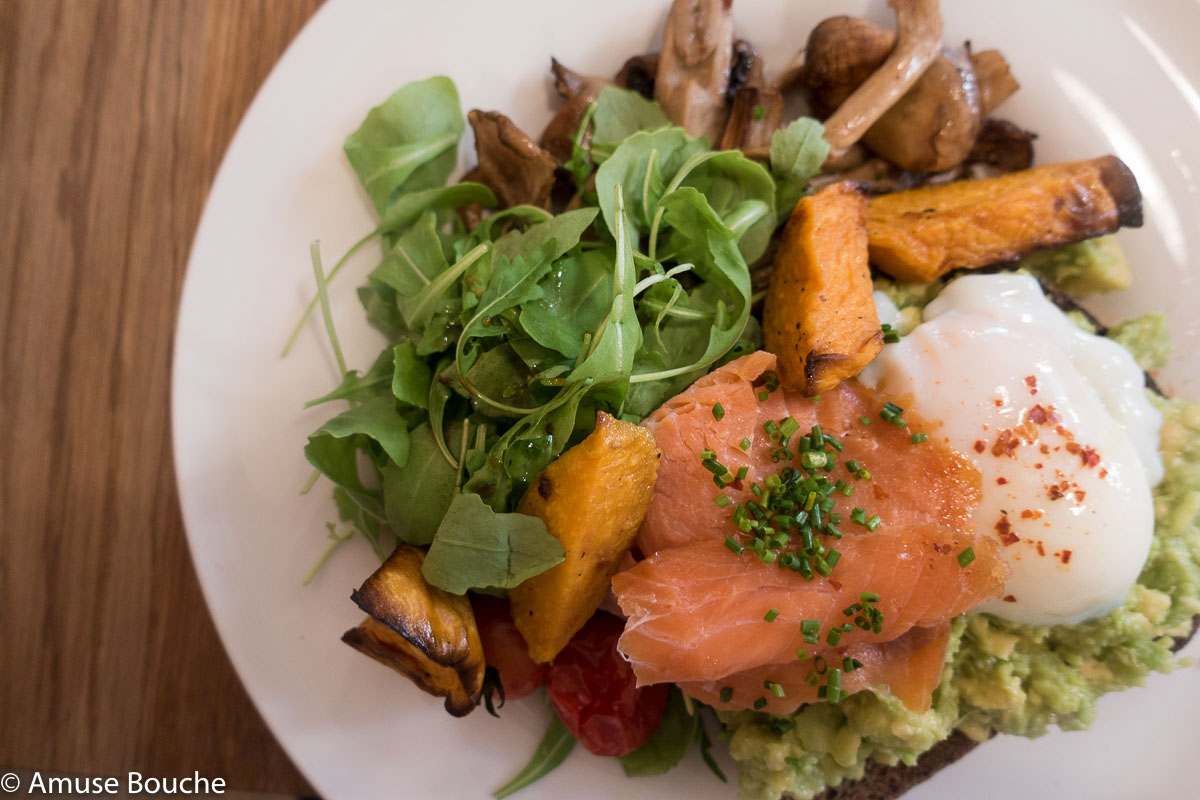 What do we eat here: Egg-vocado with extra mushrooms, Burrata Toast, Pancakes with ricotta and lime, Frudisiac Salad
Location: Frudisiac occupies a "Nordic Cottage" on  Intrarea Bitolia 4
Serving time: short/ medium
2. Uptown
Uptown is the most quiet and less crowded option in the list. It's also the only place in Bucharest where we found Bella Dona eggs, meaning poached eggs on a bed of polenta, pancetta and tomatoes. Meanwhile they've removed the dish from the menu, but they still make it if you ask nicely 🙂
They also have American pancakes, with butter and acacia honey. Uptown is great for a business breakfast also.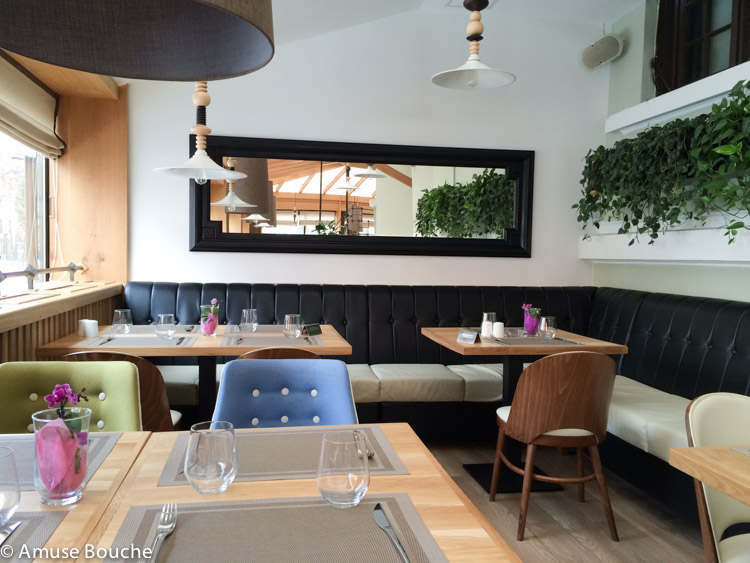 What do we eat here: Bella Donna eggs, Florentine eggs, omelette with mushrooms and herbs, American pancakes with different type of jams and honey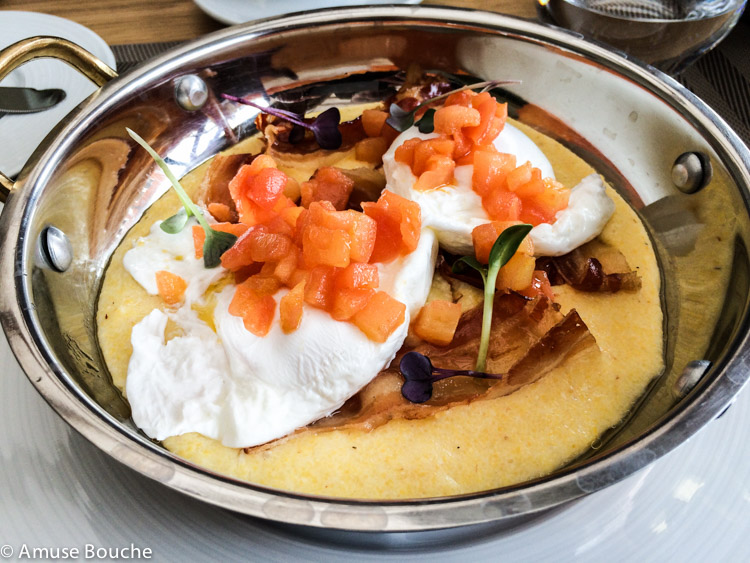 Location: Occupies a historic villa in the quiet Northern district, next to The Romanian Cultural Institute and The Italian Cultural Institute. Address:  Str. Rabat 2
Serving time: medium/long
3. Fior di Latte
We usually go to Fior di Latte when the feminine half of Amuse Bouche wants to start the morning light with the best yogurt with granola and fresh fruit. Or when we both want to splurge with some "gelato artigianale" next to our pancakes or coffee. Or we just want to indulge with some good breakfast options with an Italian touch.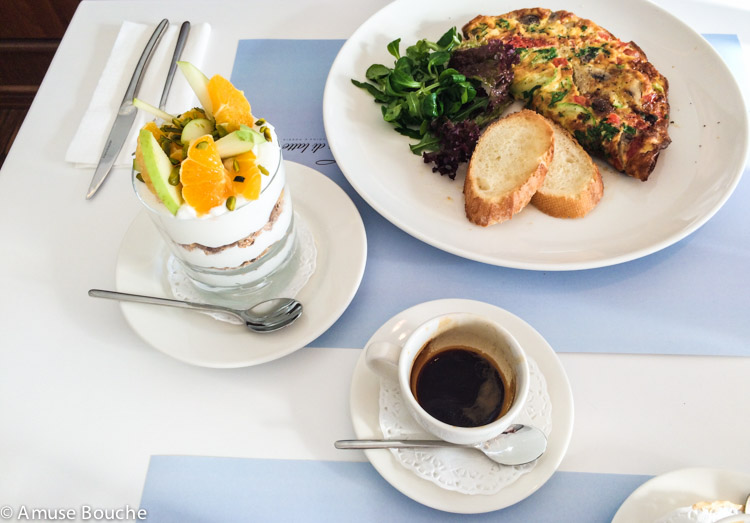 What do we eat here: yogurt with granola and fresh fruit, omelette with pancetta and pecorino, quail eggs and mushrooms, pancakes with caramelized strawberry, pistachio and ice cream, coffee with homemade ice cream (the Italian cafe affogato)
Location: Bd. Primăverii 19-21
Serving time: medium/long
4. Rue du Pain
Rue du Pain is probably the most appreciated breakfast spot and brunch option among our friends. The defining word for Rue du Pain is consistency. For years, weekends at Rue du Pain mean a noisy happy mix of young couples, expats, families with toddlers, girlfriends gangs catching up and great pastry options. Despite its french essence, this place always reminds us of one of our favorite places in Prague: BakeShop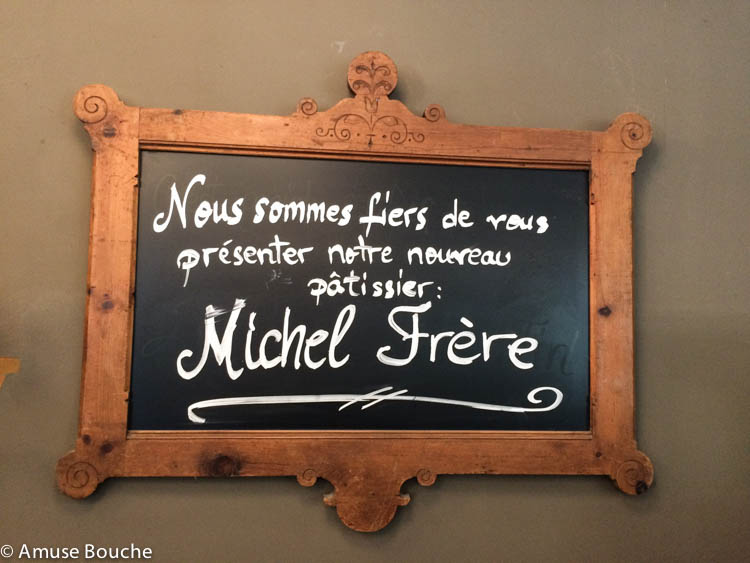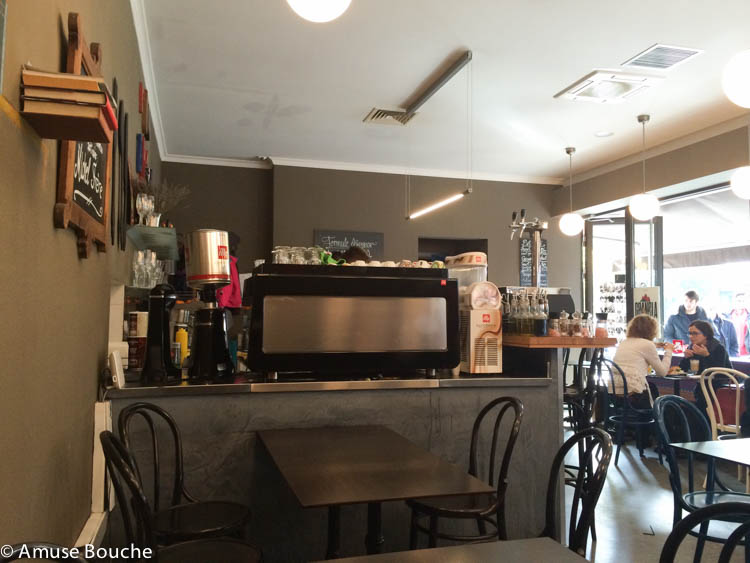 The breakfast menu here is quite generous, with options starting from various type of eggs, sandwiches and quiches, to granola and best brownies in town.
What do we eat here: Vanilla Cheesecake, Quiche Lorraine cu vanilie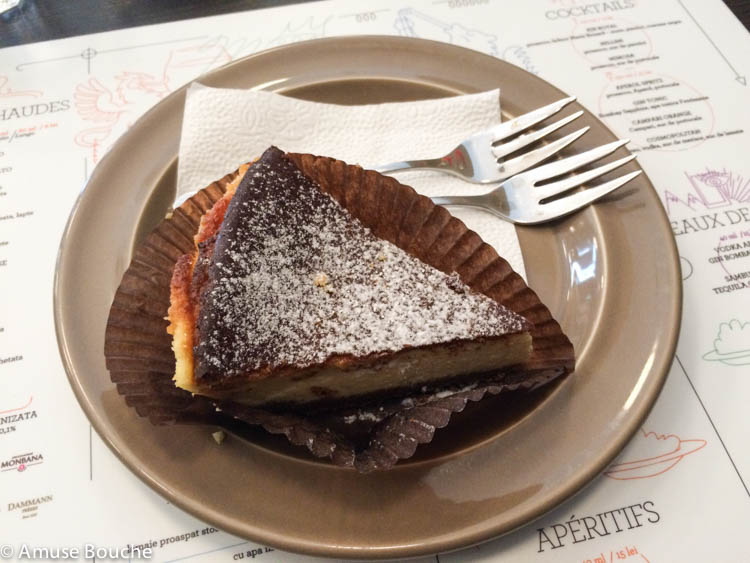 Location: Calea Floreasca 111-113
Serving time: short/ medium – depends on what you choose from the menu 🙂
5. Chocolat
We like Chocolat because it offers some complete classic breakfast plates in addition to some great pastry.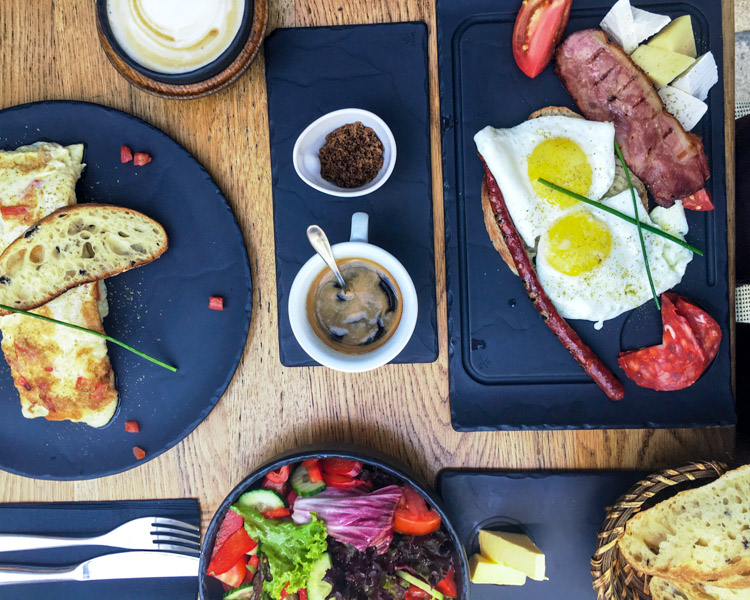 What do we eat here: salty breakfast (2 free range eggs different styles, salad, bacon, sausages, cheese, butter, bread basket and espresso), crostini with tuna, prosciutto crudo, Parmiggiano Regiano and asparagus or feta cheese, basil and dried tomatoes. Or Eggs Benedict with asparagus and bacon.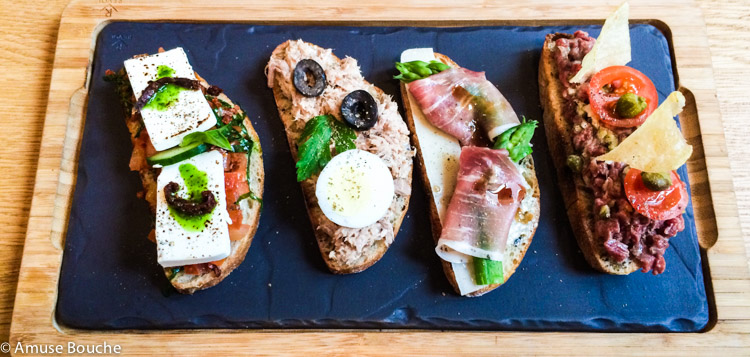 Location: Chocolat Ateneu – Str. Episcopiei Nr 6
Serving time: short